United, BBC Two |

reviews, news & interviews
United, BBC Two
United, BBC Two
Emotional dramatisation of Man U's 1958 Munich tragedy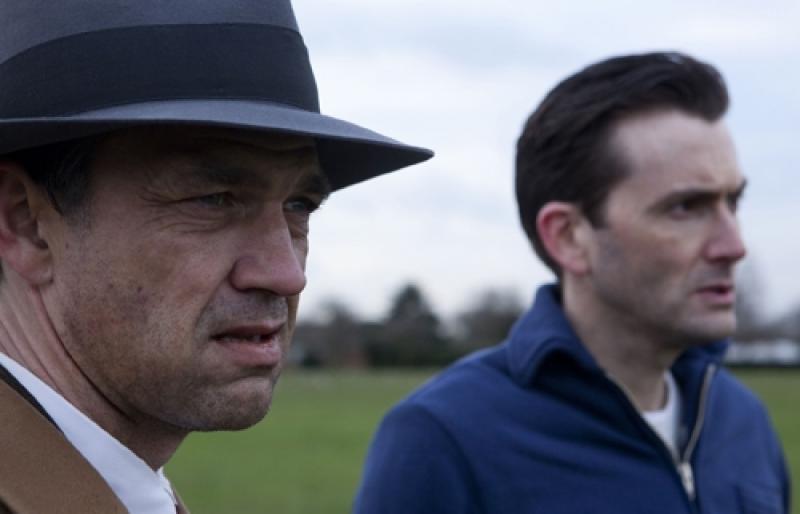 Matt Busby (Dougray Scott, left) and Jimmy Murphy (David Tennant) assess the progress of Busby's Babes
As the makers of The Kennedys discovered recently, turning history into TV drama can be like locking yourself in the stocks and inviting all-comers to hurl coconuts at your head. This dramatisation of the 1950s Manchester United team and its traumatic near-destruction in the 1958 Munich air disaster has been duly lambasted by Sandy Busby, the son of former Manchester United manager Matt Busby, and others who were affected by the real-life events.
But it never set out to be a documentary (though writer Chris Chibnall seems to have stuck pretty faithfully to the facts), and it's difficult to argue that it did anything but honour those who died and celebrate the team's extraordinary resilience. Three months after the crash, Manchester United played Bolton Wanderers in the FA Cup final at Wembley, and though they lost 2-0, just getting that far was an astounding achievement.
You won't lose much money betting that recreating legendary sporting occasions for the cameras will descend into bathos, and United's director James Strong wisely didn't try to. He deployed a handful of judiciously selected newsreel snippets in authentically primeval black and white, but chiefly the story was told through a series of absorbing and forceful scenes between the main protagonists, in the dressing room, in the pub, on the training ground, or inevitably in the cabin of the team's doomed aircraft. It would probably translate effectively to the theatre.
The sense of a postwar, working-class North of England was effectively evoked not by furiously ladling on props and window dressing, but by carefully chosen detail - boys playing football in the alley between back-to-back terraced houses (pictured above), old-fashioned football boots hanging on locker-room pegs, and most of all in the young players' instinctive deference to manager Busby (Dougray Scott) and coach Jimmy Murphy (David Tennant). Without wishing to get sociological on yo' ass, the piece successfully projected a sense of United as a tightly knit organism rooted in its local surroundings in a way that has become inconceivable in today's game, with its money-mountains, oligarch owners and squads of absurdly paid mercenaries. This, it implied, was where the team found the strength to rebuild after Munich.
To that end, Chibnall had created several bravura scenes for Tennant, of which he took full advantage, wielding Murphy's hills-and-valleys Welsh accent as both club and rapier. When the young Bobby Charlton (played with wide-eyed innocence by Jack O'Connell, pictured left) inquired plaintively if he was ever going to be allowed to play in the first team, Murphy took him out onto the Old Trafford pitch to explain how it was the field of dreams for the sprawling Manchester conurbation: "Over there, that's where the cotton boys stand. There's the joiners, the dockers, the millers. Nothing in common until they're here. We are their pride..." Murphy probably never said it, but he would have felt it.
Equally rousing was Murphy's dressing-room pep talk to the lads before a game against Charlton Athletic, which happened to be Bobby Charlton's debut. Having theatrically asked if there was anybody here from Doncaster or Salford or Barnsley, cueing celebrations for various United players, he wondered if there was anybody from Charlton. Obviously not. "Good," he said, "because I bloody hate Charlton. Apples and pears, jellied eels, pearly kings - shut up you south-London sods!" (coach and team, pictured below)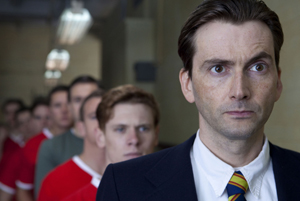 Sandy Busby wasn't happy with Dougray Scott's portrayal of Sir Matt, and the fabled manager had certainly been boiled down into a gravelly essence-of-football persona complete with barely comprehensible coal-and-molasses Scottish accent. Yet, dramatically, he worked superbly as the team's Father Superior and mentor of the so-called "Busby Babes" (as Man U's present incumbent Alex Ferguson admits, "Sir Matt was a lot calmer than me.") Big tip of the hat, too, to composer Clint Mansell, whose simple themes on strings and piano helped to generate a massive emotional charge at pivotal moments, as the action swung from euphoria to tragedy and some of the way back. United broke your heart, then did its best to patch it up again.