On the Edge, Channel 4, review - fast and furious new dramas |

reviews, news & interviews
On the Edge, Channel 4, review - fast and furious new dramas
On the Edge, Channel 4, review - fast and furious new dramas
4Stories initiative to promote young writers and directors bears fruit
Wednesday, 15 August 2018
Outstanding: Ria Zmitrowicz in 'Through the Gates'
Television drama is living through a golden age, yes, but one thing mainly absent from the vast choice available on terrestrial and streaming broadcasters alike is the short story. Short dramas used to be a regular fixture on television, when schedules were more fluid and pre-satellite channels less risk-averse.
Half an hour in and out to tell a punchy story on a low budget – it was a keen test of a writer's mettle, and a good way to blood talent. So
On the Edge
, part of
Channel 4
's 4Stories initiative to bring on new writers and directors, is a welcome addition to TV ecology.
The three films being shown in the current season, all filmed in Wales and attracting classy casts, riff on different aspects of the criminal justice system, the young people caught in its thorns as well as their older minders. Through the Gates and A Mother's Love were shown consecutively on Tuesday night. That Girl follows on Wednesday. They can be consumed together or separately on All4. The tone of the first two was wildly and strategically different.
Through the Gates, written by Georgia Christou and directed by Stella Corradi, explored the burgeoning and officially discouraged connection between Amy, a young serial offender (Ria Zmitrowicz) and her parole officer Tessa (Wunmi Mosaku), with an emetic pooch thrown in. Amy, in and out of prison, was a profoundly damaged young adult whom the system had failed and who had come across no one capable of showing her love or understanding, not even by her own shattered grandmother. Tessa meanwhile was entrenched in a no-ties shag-buddy relationship with her married boss (Craig Parkinson), who liked Tessa to be on top but only in the bedroom. Zmitrowicz, who was so outstanding as one of the young victims of sexual grooming in Three Girls, was able to show her sparky side here: Amy's blunt sense of humour was her support and survival mechanism. "Think my hymen's grown back," she said after Tessa kept her waiting too long outside her office. "Mine too, funnily enough," said Tessa, coming right back at Amy with her own array of sarky asides. Christou's sleekly plotted writing (abetted by Corradi's fleet directing) packed a lot in to the allotted slot, and slalomed with great economy and skill between comedy and commentary, between searing heartache and a final uplifting tableau.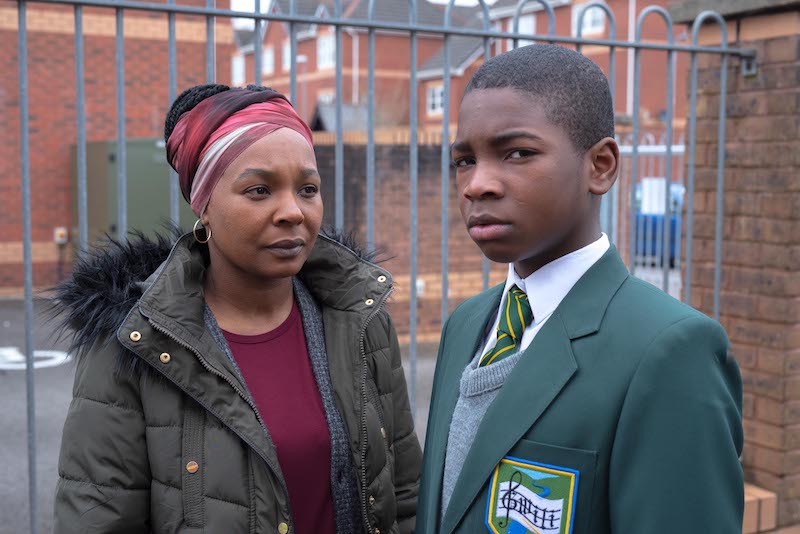 A Mother's Love, written by Janice Okoh and directed by Anwar Boulifa, wore a much longer face. It told of the moral conflicts endured by Josephine (Nadine Marshall) and her 11-year-old son Ishmael (Keajohn Jennings Dillon, in a mature and affecting performance) as he agreed to testify in court to a gang murder witnessed on their estate. To keep Ishmael from harm they went to live with her sister Claudia (Carryl Thomas), whose snotty husband (Cyril Nri) resented what he saw as a squalid intrusion from the ghetto in their pristine middle-class home. Before she accepted the police's offer of witness protection Josephine took the opportunity to call her insufferable brother-in-law a coconut. (Pictured above: Nadine Marshall and Keajohn Jennings Dillon)
The script here felt a little more constricted by the tight confines of the 25-minute slot. It took on substantial themes which seemed to yearn for deeper examination – class division in the black community, a child's fear of social ostracism, a mother's instinct to protect her son whatever the ethical cost. But Okoh should get more room for manoeuvre next time round. The idea is that 4Stories' writers have earned the right to a bigger slice of the schedule. Other broadcasters - including Netflix - should take note, and follow suit.