Dame Edna Rules the Waves / The Graham Norton Show, BBC One review - two ways to run a talk show |

reviews, news & interviews
Dame Edna Rules the Waves / The Graham Norton Show, BBC One review - two ways to run a talk show
Dame Edna Rules the Waves / The Graham Norton Show, BBC One review - two ways to run a talk show
Titans of the TV sofa ring in the New Year
Tuesday, 31 December 2019
Housewife superstar Dame Edna gets down with Chic
Talk shows can go one of two ways. You can create a welcoming space where your guests can kick their shoes off and start telling daringly revealing anecdotes. Alternatively, there's the Dame Edna formula where the guests are cannon fodder for the host.
At 85, the Dame isn't as laser-sharp as she was 20 years ago, and her guests wore barcode badges so Edna could flash up their details on a screen, but you wouldn't dare play poker with her. The fiction for this BBC One show was that she had taken to the high seas on the cruise ship Ocean Widow to safeguard her ill-gotten earnings, having been "inappropriately touched by the taxman". Otherwise it was business as usual, though Edna's erstwhile mute companion Madge Allsop is now deceased ("she's no longer with us but the chair is still damp," quipped the gross-out Dame) and has been replaced by her sister Mabel, a husk of a woman easily mistaken for a corpse.
Resplendent in fire-alarm pink on a gilt throne, Edna chewed through her guests like a wood-chipping machine. First up was Sharon Osborne, a woman feared for her volcanic temper and a vocabulary that would make Snoop Dogg blush, but reduced to simpering coyness in the presence of the Dame. Edna was taking no prisoners. "Of course I recognise you," she said sympathetically, "but you've been to the panel-beaters a few times, haven't you?" Osborne admitted she'd had four facelifts, and was forced to agree that "an intimate part of her anatomy" has been surgically overhauled.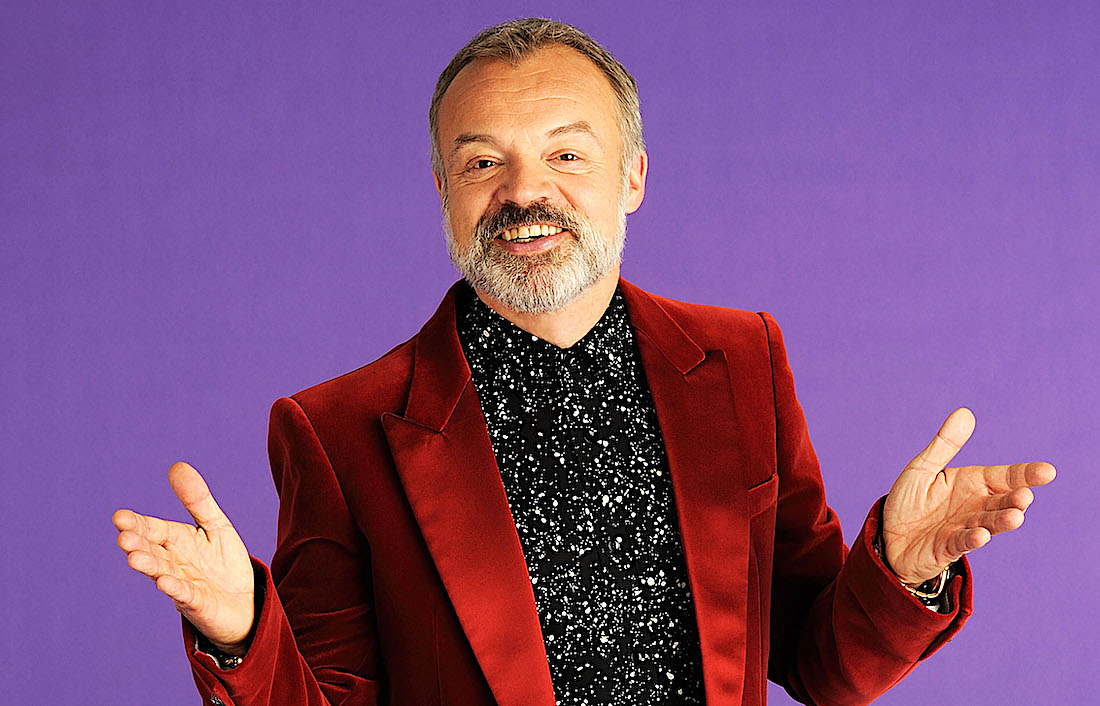 But Sharon was failing to hold Edna's attention, so chef Rick Stein was dragged out for a brisk working-over ("there was room for improvement" at his Padstow restaurant, he was informed). Judge Rinder fared slightly better, but Emily Atack's stories about loving mermaids and eating cheese were idiotic, while Joe Sugg ( a "social media star") had the impact of a feather landing on a rice pudding. In truth, we'd have got better value from Edna doing a 50 minute monologue before the finale of Chic playing "Le Freak", but maybe she's getting bashful in her dotage.
Unless the host wants to do all the talking, the secret of a successful chat show is not just getting the most prestigious guests, but picking ones who get along with each other. This doesn't always work for Graham Norton (pictured above), and somebody sometimes ends up stranded in Siberia on the farthest frontier of the sofa, but for this New Year edition (★★★★) he'd got the chemistry bubbling exuberantly.
Recruiting Tom Hanks never hurts, because he's like everybody's favourite millionaire uncle shoving a glittering sack of anecdotes under the Christmas tree. He was here with co-star Matthew Rhys to plug their new film A Beautiful Day in the Neighbourhood, in which Hanks plays a character so saintly he makes even film critics weep with joy. His megastar aura almost turned this into The Tom Hanks Show featuring Graham Norton.
But everybody had brought a little something. Stephen Graham had brilliant stories about making Scorsese's The Irishman, and how he was summoned for meetings with Robert de Niro and Joe Pesci like a lowly foot-soldier ordered to kiss the ring of his criminal overlords. Florence Pugh described the queenly radiance of Meryl Streep in Little Women, Cardiff-born Rhys recalled trying to mimic a Cockney accent in the last-ever episode of Columbo, and Anthony Joshua – who's almost exactly twice the height of Stephen Graham – rang a bell by swinging a big hammer. It was all so cheery that even Melanie C's disco song "High Heels" didn't sound that bad.