Eat Pray Laugh!: Barry Humphries' Farewell Tour, London Palladium |

reviews, news & interviews
Eat Pray Laugh!: Barry Humphries' Farewell Tour, London Palladium
Eat Pray Laugh!: Barry Humphries' Farewell Tour, London Palladium
Shameless Dame Edna, her Svengali manager and seedy intruders hit comic heights as ever
Saturday, 16 November 2013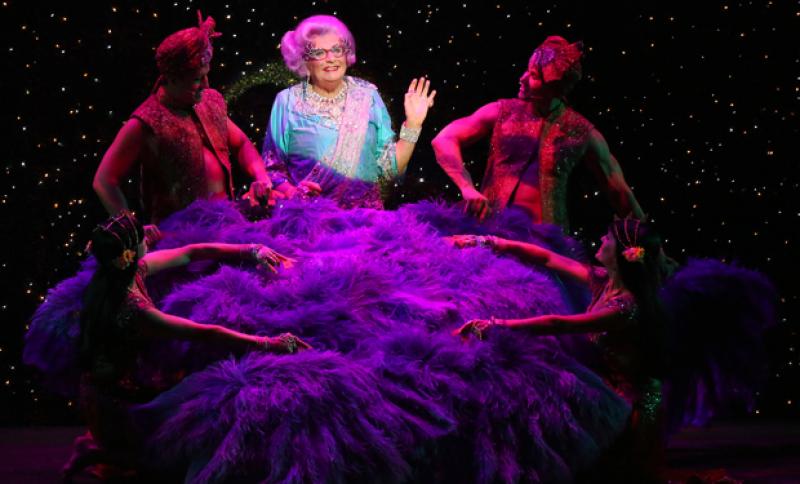 Dame Edna gives ashram wisdom in Barry Humphries' last stand
Now here's a funny thing, possums. Back in 1990 when one great Australian Dame, Joan Sutherland, gave her farewell performance, another, a certain housewife superstar from the Melbourne suburb of Moonee Ponds, seemed closer to retirement age. Now La Stupenda is no more, Dame Edna is a gigastar and it's her turn to shrill a gladdie-waving goodbye to her adoring public. She doesn't look a day older, nary a hair out of place in that immaculate lilac coiffure.
Daring to upstage her in a final speech is manager Barry Humphries, still with his hand in the till while Edna gives all for her art; a "senior" like him ought to know better at nearly 80.
As befits a role-model for glamour, the Dame has admitted first half "intrusions" from a warm-up group of, shall we say, less elegance in antipodean cultural attaché Sir Les Patterson, his reverend brother who prides himself on having touched every young person he knows and the ghost of Sandy Stone, ruminating on his suburban life and looking out for his widow as she crumbles in a care home. Sandy's monologue feels like something from the bygone age of vaudeville, but that's partly the point: these sacred monsters of Australian life are impervious to change.
Sir Les (pictured right with Carly Meyers by Alastair Muir), expectorating and trouser-coughing as usual, is still the very model of an un-PC Gold Coast redneck, now counting Rebekah Brooks among his, erm, intimates – amazingly, the patter shocked and disgusted some members of the XYZ-list celebrity first night audience – and Sandy, who never crossed the seas even as far as Tasmania, shares the views once unfortunately expressed by Dame Joan about Asian influx. Dame Edna, excoriating "vagina decliners" and "fur traders", suffers from acid reflux as she recalls her visit to fur-friendly daughter Valmai and butch partner in – more reflux – Stoke Newington.
The shtick hasn't changed much in 30-odd years, but it's what most of us want. We anticipate with glee the chronicle of bitter family disappointments in the Everage clan, the haranguing of the paups up in the gallery, advised to clap with one hand and hold on with the other. The front rows of the stalls provide rich pickings with the usual questions about bedroom design and husbands or wives, any communication problems always turned on the interviewees (one woman, Edna decides, must be in an "acoustic trough").
If there's a twist it's that while Sir Les has become a celebrity chef, stumbling to the toilet between barbie-ing horsemeat rissoles, Dame Edna has been on an ashram in some ill-defined part of the east. Her new-found skill in detecting karmic sexual auras leads her to unite two more members of the audience in her new role as wedding celebrant. Strapping Tom's wife, relaxing in her pajamas in Petts Wood, is phoned up to be told she is now his ex and must rejoice in his new love for game old Maureen, who may not have heard of monogamy and expects more entertainment after the show from members of Dame Edna's fit entourage.
Simon Phillips' role as director is mainly to facilitate Humphries' first-half costume changes with a few special effects and an acrobatic double, Jack Jefferson, who one feels could have laid the tumbling on a little more outlandishly. Sandy (pictured above) flies off on a mould encrusted sofa and the double Edna bumps in on a giant elephant. There's a killingly funny celebrity exposé mockumentary to preface the Dame's long-awaited arrival; I won't spill the beans about any of her Zelig-like photo opportunities with the good, the bad and the ugly.
While it's a shame there aren't trumpets and a full West End orchestra for the great farewell – tour logistics, I guess – boyish Nick Len does a stylish job on the piano and is roped in as the Rev Patterson's latest unfortunate object of desire as well as Edna's ashram acquisition with whom she will retire to Bali.
The songs are fewer than usual and with only a couple of treasurable lines apiece, but the expected floral finale has a cheesily spectacular design by Brian Thomson (pictured right by Alastair Muir). Of course the first night audience – had Edna been able to identify its fellow-comic, criminal and fragrant elements, she could have had a field day – got gladdies to wave and waggle. Paups at future performances will presumably have to bring their own.
As befits a role-model for glamour, the Dame has admitted first half 'intrusions' from a warm-up group of, shall we say, less elegance
rating
Share this article