Cockroaches, ITV2 / Crims, BBC Three |

reviews, news & interviews
Cockroaches, ITV2 / Crims, BBC Three
Cockroaches, ITV2 / Crims, BBC Three
Two new sitcoms are run up the flagpole. How long will they stay there?
How long will they survive? The cast of ITV2's 'Cockroaches'
Commissioning new sitcoms is a notoriously imprecise science. The first episode, and sometimes the first series, finds a sitcom at its least sure-footed. Keen to tell you all about itself, it tends to behave out of character, gabbling nervously and exaggerating every gesture. It might never find its feet, but you can rarely tell from one half-hour introduction. My own personal hostage to fortune was to have a sense of humour bypass when reviewing Father Ted.
(But then episode one wasn't that funny.)
Channel 4 used to hold an annual sitcom festival which searched for wheat among the chaff of TV comedy scripts. Half-hour plays were performed in front of an audience. Attendance was like wandering around a turkey farm. I remember one year seeing a play about a woman who takes permanently to her bed to lead a rich interior life. Another united three men on a hospital ward who had nothing in common but their gallstones. In another, cavemen had discovered political correctness. I remember quite liking a cheerful piece about a bombastic African dictator exiled to a flat in London. But in most instances, the feebleness of the situation was easily surpassed by the paucity of the comedy.
If you like that joke, then you'll enjoy the wanking rota in 'Crims'
Some things never change. There are still ideas that don't really have legs, and still they are finding their way past the green light. Take Cockroaches (**), a new offering from ITV2. The idea of Freddy Syborn's script is that a nuclear holocaust has wiped out most of humanity, leaving teen couple Tom and Suze (Daniel Lawrence Taylor and Esther Smith) to roam the rural wastelands with their small child, conceived in haste on the night the bomb changed everything. Essentially, it's the classic Seventies drama Survivors with jokes.
That's the theory anyway, but alas the laughs are few and far between. The first few minutes, before disaster strikes, promised much. A newscaster warned of impending Armageddon, adding that no one had bothered to tell Africa and South America. The British Prime Minister (Robert Bathurst, not his first time as a comic PM: see also Hislop and Newman's comedy My Dad's the Prime Minister) was happier answering questions in Latin, a bit like You Know Who.
Spool forward a decade, and the future looked very like the past: jokes about not getting any sex, about in-laws, about cultural reference points (Suze reminisced about a blessed yesteryear in which "we had music, we had literature, we had Ant and Dec"). Suze supplied precious breast milk to both father and daughter, a joke much more creepily explored in Little Britain. The cast enlarged when they encountered a tribe of wood-dwelling dropouts led by Oscar (the ubiquitous Jack Whitehall), a Jafaican-spouting trustafarian ("Who talks like that?" wondered Tom). By the end of the first episode, attempting to enact the climactic immolation from The Wicker Man, he had been defeated. Tom accidentally hacked off his wanking finger.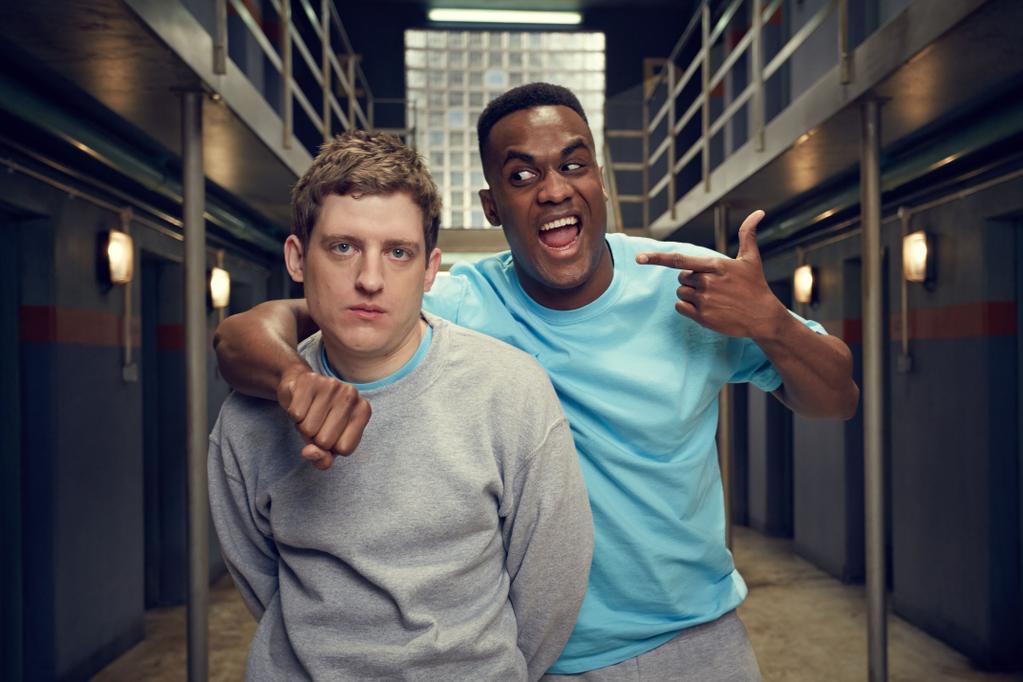 If you like that joke, then you'll enjoy the wanking rota in Crims (***). This new sitcom, which first aired on 8 January, is set in a young offenders' institution where Luke and Jason (Elis James and Kadiff Kirwan, pictured right) have lately been banged up. The main joke is that Luke, wrongfully imprisoned, is eager to stay out of trouble but can't help incurring the wrath of both staff and inmates while also worrying about his faithless girlfriend. James is a likeable presence, and despite looking about 10 years too old for the role, finds different ways to play panic, fear and anxiety.
The script is by Adam Kay and Dan Swimer, whose basic premise has more going for it than Cockroaches and yet, with the fusillade of gags about bodily fluids, body parts and sexual incontinence, it feels as if the bar has been set too low. It's no excuse pinning the blame on the BBC Three demographic. This was the channel which proved with Gavin and Stacey that it knows how to involve organs not located in the underwear region, such as the brain and the heart. Winston Stanley Fletcher can rest easy in his grave.