Armistead Maupin's Tales of the City, Netflix, review - sex and dope soap is back in San Francisco |

reviews, news & interviews
Armistead Maupin's Tales of the City, Netflix, review - sex and dope soap is back in San Francisco
Armistead Maupin's Tales of the City, Netflix, review - sex and dope soap is back in San Francisco
The pioneering stories of LGBT+ lives and loves resume with new faces and old
Joint venture: Olympia Dukakis returns to Barbary Lane as Anna Madrigal
It helps to be of a certain vintage to appreciate the first impact of Tales of the City. Armistead Maupin's column, begun in the San Francisco Chronicle in 1978 as a frank and joyous portrayal of gay culture, became a series of half a dozen cult novels. These started appearing in the UK from the mid-1980s.
It was a British broadcaster, Channel 4, which began the project of adapting them as
dramas
in 1993, joined for the second series by Showtime who did the third on their own in 2001.
The next three novels, which culminated in the departure from San Francisco of its female protagonist Mary Ann Singleton, were never adapted. Now Netflix has assembled the same main characters and thrown them all together in contemporary San Francisco where Anna Madrigal is still presiding over her ramshackle home in Barbary Lane (recreated on a soundstage in, of all places, Brooklyn). As a rubber-stamp of authenticity, the author's name is enshrined in the title: Armistead Maupin's Tales of the City, although he's more of an executive producer (as is original star Laura Linney).
If you do the math, all the returning characters who were 20 in the late 1970s should be 10 years older. Among Barbary Lane's new younger residents are Shawna (Ellen Page), the daughter adopted by Mary Ann and her then husband Brian Hawkins, who must be in her mid-30s rather than 20s. In a way that no one ever quite was in the original novels, Shawna is so contentedly undecided about which way she swings she gets sucked into the ravenous maw of a married couple who enjoy "team sports". Then there's Jake (Josiah Victoria Garcia), a female-to-male transsexual who, having previously been a lesbian, is discovering an attraction for men. This may feel like an appended on-trend plotline, but it actually has been scavenged from Mary Ann in Autumn (2010). And lest we forget, Maupin was a very early adopter of transgenderism as a source of stories.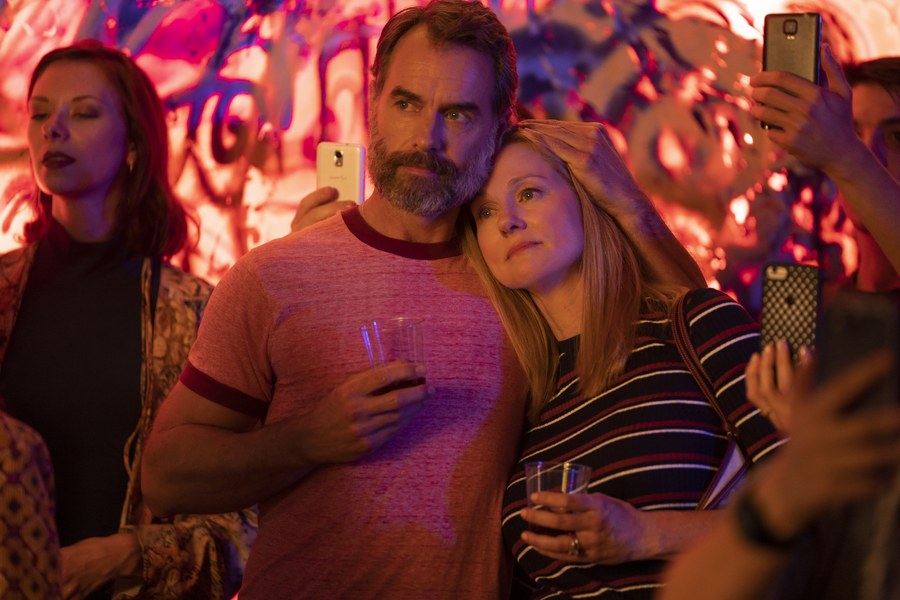 Which brings us to Mrs Madrigal (Olympia Dukakis), who turns 90 in the first episode, occasioning a party which is a slick way of assembling the cast list. Mary Ann (Laura Linney), nervously dragging a grumpy husband with her, comes back from exile in the east to watch her blow out the candles and reckon with her past. The husband has gone by episode two, leaving Mary Ann to plunge head first into a midlife crisis.
Dukakis and Linney provide the two most emotionally enriching performances (though Page is very watchable as a wounded bird with a thick skin). Along with Barbara Garrick as DeDe Halcyon Day, who is now a sozzled single philanthropist, they are the only cast members who have a through-line from the first ever series. Paul Gross, who played Brian in the original show before ducking out, is back with silver hair and a weird obsession with dating women who look exactly like Mary Ann. In the tall and ripped Murray Bartlett (pictured above with Linney), Michael "Mouse" Tolliver is onto his third actor. With his hot younger boyfriend Ben (Charlie Bennett) he is the only one of the original characters who is getting any sex, and sex that is shot in a far more full-on way than Maupin can have ever imagined possible when the first series was dropped by PBS after protests at a gay kiss.
Showrunner Lauren Morelli, a graduate of Orange Is the New Black, and the writers to whom Maupin has handed over custody of his intellectual property have carefully pastiched his taste for sugary soap, characters who wear their hearts on their sleeve, and exploring on-trend sexual issues. If you've known the older characters for 35 years, not much has changed: Mrs Madrigal is still a krank who rolls joints and incubates secrets, Mary Ann from the Midwest is fussy and uptight, Mouse a naïve romantic softie and Brian a loveable klutz. The younger ones look like something of an acquired taste, espeically the tedious twins who do performance art. But the show needs them to reel in a new demographic. The polyamorous doings of Shawna, who is hit on by LGBT+ video historian Claire (Zosia Mamet, pictured above right with Ellen Page) and the agonies of Jake and his girlfriend Margot (May Hong) could not be more precision-targeted at a woke audience.
The one area in which this new Tales of the City doesn't ring true is as a tribute to San Francisco. Maupin no longer lives there – he's just moved to London, driven out by tech's wholesale takeover of the city. The original had an element of reportage as it dispatched news from the frontline about bathhouses, Quaaludes and Aids. The new one really ought to be stuffed with geeks in chinos who work for Google and can afford the sky-high rents. They are the city's true inheritors. Instead, this frothy neverland is a pleasant place to while away the hours.