Sunny Afternoon, Harold Pinter Theatre |

reviews, news & interviews
Sunny Afternoon, Harold Pinter Theatre
Sunny Afternoon, Harold Pinter Theatre
Ray Davies's Kinks saga has heart and soul as well as musical brawn
Wednesday, 29 October 2014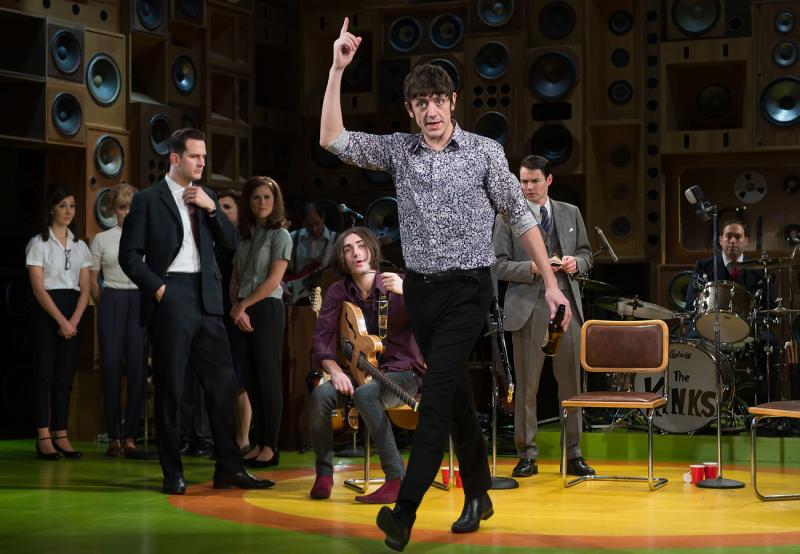 You really got me: John Dagleish as Ray Davies (foreground), with brother Dave (George Maguire) on guitar
The bittersweet career of The Kinks is portrayed to surprisingly potent effect in this fast, funny and sometimes poignant musical, now transferring to the West End from the Hampstead Theatre. No mere "jukebox musical" – though it's crammed with songs – it finds space for some kitchen-sink drama, a bit of psychotherapy and a few smart insights into the Sixties pop business.
Ray Davies wrote all the music as well as the original story, from which playwright Joe Penhall has spun a pacey and eminently performable script. The stage-show format has to skate briskly over issues like dubious publishing contracts or management skulduggery, and a psychiatric symposium would have its work cut out to unscramble the often poisonous rivalry between Ray Davies and his guitarist brother Dave, but the thrust of the story is vividly conveyed. And while Ray Davies's penchant for old-time music hall has often been remarked upon, it's remarkable how comfortably his songs dovetail into the drama.
In Britain, The Kinks notched up 17 Top 20 singles and five Top 10 albums, and these days Ray Davies is regarded as one of pop's most influential songwriters, but on this telling, life in The Kinks was a maelstrom of tension, disillusion and frustration. The band are usually at daggers drawn. Ray fights with Dave, Dave fights onstage with drummer Mick Avory, bassist Pete Quaife wants to quit because Dave hates him. "No!" corrects Ray, "Dave hates Mick." When they tour America, it goes from bad to worse when the local musicians' union bans them from performing. "We need each other but we hate each other," wails Quaife.
The band-members are sharply drawn, with George Maguire's combustible, vodka-swilling Dave making a chalk-and-cheese foil for his older brother (played with droopy-eyed dreaminess by John Dagleish). If they ever do All or Nothing: The Small Faces Story, Maguire would make a great Steve Marriott. But naturally the show is more than a little Ray-centric. Davies Snr floats through the action shrouded in narcissistic melancholy, haunted by the death of his sister Rene, who gave him his first guitar when he was 13 and died of a heart defect that same day. Ray is depicted as being on an endless quest for some lost, perfect song.
Raised alongside seven siblings in a rented home in Muswell Hill, Ray is a socially awkward eccentric with chippy socialist convictions, more likely to communicate in song than in conversation. Happily this doesn't prevent the Davies household from erupting into one of the show's many ebullient ensemble pieces, "Dead End Street", embellished with rousing trombone parts supplied by The Kinks' cartoonishly posh first managers, Robert Wace (Dominic Tighe) and Grenville Collins (Tam Williams).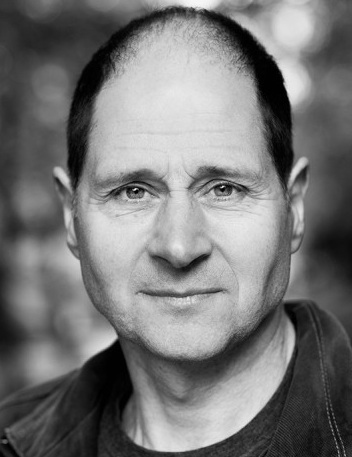 The set has been designed with a long ramp running out into the stalls, enabling the action to flow constantly into the audience and back onto the stage. The scene can switch fluently from lounge or studio to hotel room or the interior of an aircraft, with dancing girls, screaming fans or a TV studio full of technicians available at the snap of a finger. The musical performances sizzle with gig-like energy.
The narrative traces The Kinks' trajectory from their raw and rude early rockers like "You Really Got Me" (which gets a brilliant set-piece performance on Top of the Pops) and "All Day and All of the Night" to the mordant wistfulness which became Davies's trademark. You get "Sunny Afternoon" (spliced together tear-jerkingly with England's 1966 World Cup victory), "Dedicated Follower of Fashion", "Days" and "A Well Respected Man" as well as less obvious ones like "I Go To Sleep" or "This Strange Effect" (a hit for Dave Berry in 1965, as you will of course recall). The piece reaches a personal and musical apotheosis with The Kinks coming back together to create the mellow balm of "Waterloo Sunset".
Sunny Afternoon doesn't try to sell us a cosmetic happy ending, but it ends on a high with The Kinks making a triumphant appearance at New York's Madison Square Garden, thanks to the machinations of their new manager Allen Klein (impersonated with bombastic relish by Philip Bird, pictured above). We've seen Ray Davies sign up with the notorious Klein against his better judgment, because not signing would have been even worse. Many of his pop contemporaries felt that same dilemma all too painfully.