Shakespeare Trilogy, Donmar at King's Cross |

reviews, news & interviews
Shakespeare Trilogy, Donmar at King's Cross
Shakespeare Trilogy, Donmar at King's Cross
'Tempest' time: Phyllida Lloyd's ambitious Shakespeare cycle reaches completion with his final play
Thursday, 24 November 2016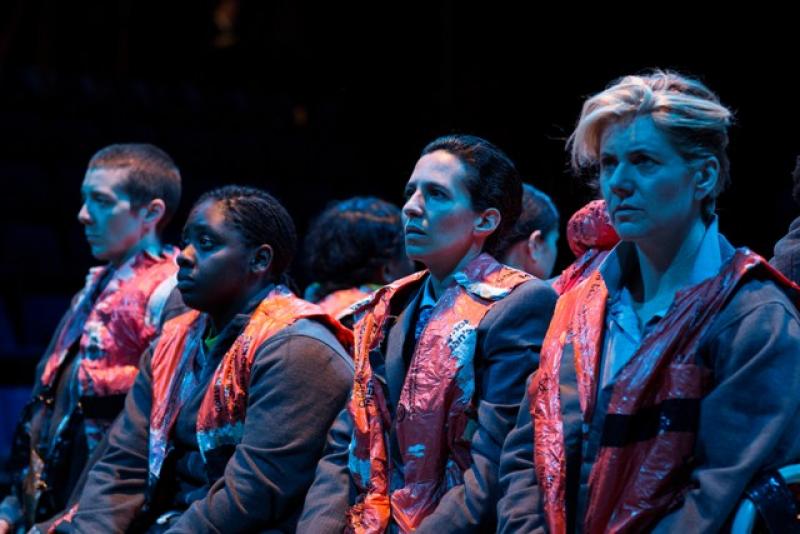 "Bountiful Fortune... hath mine enemies/Brought to this shore": power to the women
If you are new to the Donmar Warehouse all-female stagings of Shakespeare's Julius Caesar and Henry IV – 2012 and 2014 respectively – the biggest surprise is not so much that these highly masculine dramas are performed entirely by women. It is their being set in a prison.
With the long-planned trilogy now rounded off with
The Tempest
, which has premiered in the Donmar's purpose-built 420-seater just north of King's Cross, the device has attained lock-stock-and-barrel totality.
The acting space is a square, with steeply raked seating on each side. Behind the last row runs prison caging, punctured by doors (four of them), each guarded by a black-capped, white-bloused prison officer: stairs descend to the stage. These women bellow instructions, too, to the audience as they are ushered, before entering the arena, into a holding area. It is hard to know whether to be amused or spooked. It is certainly novel.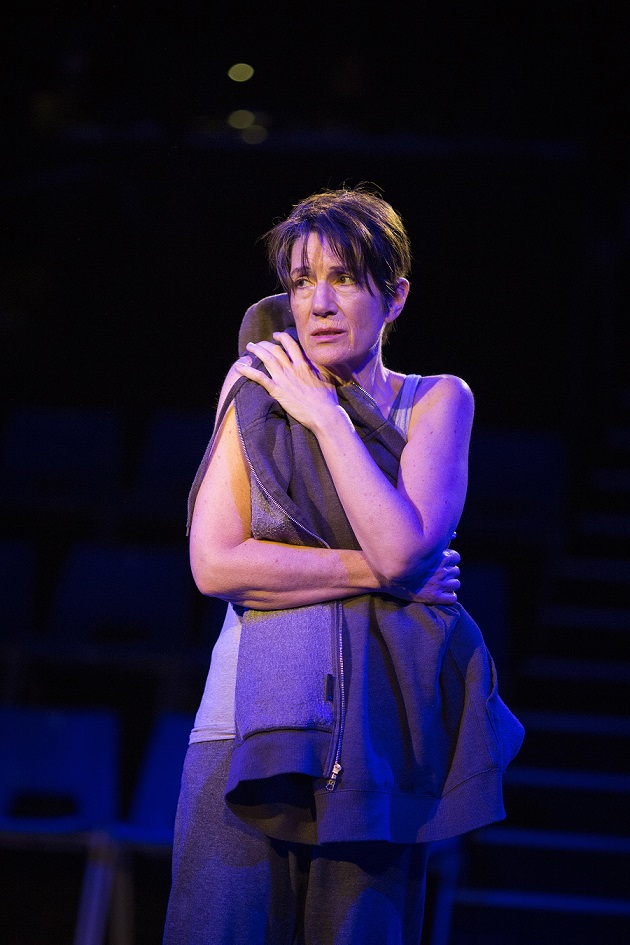 Julius Caesar kicks off with an actor impersonating an inmate reading a short text about her crime's origins in domestic abuse; Henry IV similarly with a tale of substance abuse. As Brutus in the first and the king in the second, Harriet Walter – inevitably, correctly Prospero (pictured right) – preludes The Tempest as "Hannah", or Judith Clark, jailed in upstate New York since the early 1980s. Clark was a getaway driver after an armed robbery in which two policemen and a security guard were killed. She is serving 75 years. Director Phyllida Lloyd and Walter have had access to her.
"Places, ladies," barks a guard as the cast line up at the start, the sole props being a cell bed and a stool that could be for a guard to observe from but becomes Prospero's seat of command. The floor is also strewn with plastic detritus, "Tracey Emin shite" as it's later dubbed by an actor in one of numerous departures from Shakespeare.
That and other real-life contexts for this most challenging of trilogies – the play-combination itself seems so strange – include the actresses' work with a London theatre company of women ex-inmates and research at St John York University. During the day-long event, the action is interrupted by prison goings-on and this is particularly true of The Tempest. Sirens honk, doors clunk and wardens break up the play to upbraid their charges throughout.
The play is essentially there, even if a binding tone is elusive because of the frequency of the prison interludes. It seems that once Lloyd fixed on to the trope – it works quite well in Caesar, though less so in Henry IV, the original dense enough with a fascinating dichotomy of grave politics and verbally anarchic humour – she had implacably to rely on it for both setting and message. It becomes heavy-handed in The Tempest. Left alone, this play describes a journey from cruel captivity and bondage to freedom and forgiveness. Much less director and more author would have been desirable at this step of Lloyd's ingenious project.
All the acting is delightfully androgynous. The plays feature women largely as complainers against their husbands' impetuosity and negligence (Portia-Brutus, Kate Percy-Hotspur) or as low-lifes (the hostess in Henry IV). While the point about allowing actresses into Shakespeare at his most man-strong has been well argued (on theartsdesk and elsewhere), it can be added that to her credit Lloyd has deliberately gone for a trio of works where girls playing boys clearly test her performers' mettle and our credulity.
The test is easily won. Whatever sex Shakespeare intended for Caliban (a watchful, plastic-encumbered Sophie Stanton) and Ariel (an enormously versatile Jade Anouka: pictured above), there is only one human woman in The Tempest: the young Miranda (played by a callow and rather boyish newcomer, Leah Harvey). But by then we are more in thrall to the sheer exuberance, musicality and athleticism of the ensemble than remotely concerned about the gender-transgression. The willowy Sheila Atim is simply gorgeous – and very male – as Ferdinand. Also playing Lucius in Caesar and Kate Percy in Henry IV, she remains for me the revelation of the day (pictured below, Sheila Atim dancing with Leah Harvey).
Dame Harriet's achievement cannot be sidelined. She is a bit the same throughout – fretful, terribly skinny, defiantly male – yet always authoritative and speaking every syllable soaked in the rich marinade of decades' practice. Most of her colleagues are new to Shakespeare; when Walter is on stage the text is 100% safe. Her feat of memory alone deserves a solo standing ovation.
It is probably unfair to praise or indeed dispraise any individual in a very tight team display. Clare Dunne's Irish Prince Hal is sexily charismatic and cabaret performer Jackie Clune – Caesar, and Stefano in The Tempest – of course has a wonderful singing voice. Joan Armatrading must get a mention for The Tempest's music, which ends on an uplifting song led by Anouka. On press day, with a proportion of critics in the house, the majority paying public were almost riotous in appreciation. Its harshnesses and misfires apart, the show as a whole is a joy.
MORE GREAT SHAKESPEARE CYCLES
Globe to Globe. Shakespeare's Globe stages 37 plays in 37 languages. The Arts Desk reviewed them all
Kings of War, Toneelgroep Amsterdam. Ivo van Hove's lucid, searing distillation of five Shakespeare history plays
The Hollow Crown. The BBC's four-year project to tell the history of Shakespeare's English kings
The Wars of the Roses, Rose Theatre, Kingston. The landmark Hall/Barton Shakespeare trilogy receives a welcome revival from Trevor Nunn

Throughout, the action is interrupted by prison goings-on - in 'The Tempest' sirens honk, doors clunk and wardens upbraid their charges
rating
Explore topics
Share this article