Pride and Prejudice* (*sort of), Bristol Old Vic review - Jane Austen as shallow romcom |

reviews, news & interviews
Pride and Prejudice* (*sort of), Bristol Old Vic review - Jane Austen as shallow romcom
Pride and Prejudice* (*sort of), Bristol Old Vic review - Jane Austen as shallow romcom
A tongue-in-cheek take on the beloved classic misfires
Monday, 16 September 2019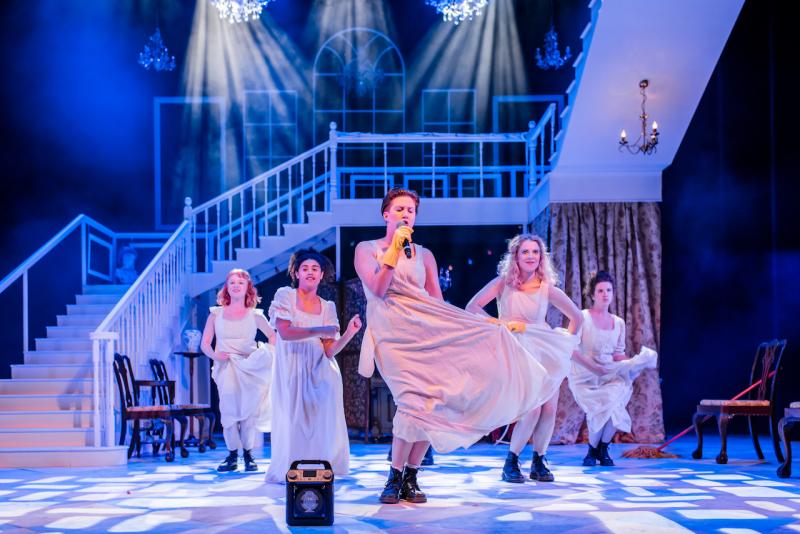 L to R, Tori Burgess, Felixe Forde, Hannah Jarrett-Scott, Meghan Tyler, Isobel McArthur
It is a truth perhaps not quite but almost universally accepted that Jane Austen's Pride and Prejudice, beloved of GSCE English Lit examiners, and often adapted for the screen, is a part of the canon, waiting to be re-interpreted according to the fashions of the day.
The part-musical, part-ironic pastiche, created by the Glasgow companies Blood of the Young and Tron Theatre, written by Isobel McArthur and directed by Paul Brotherston, takes the novel's proto-feminist theme and concern with social inequality, and conjures a lively yet strangely heartless comic remix, with and all-female cast and the servants, hardly mentioned by Austen, in charge of narration.
In her programme notes, the writer suggests we come to the show with a drink and ready for some fun. And much fun this show provides, with tongue-in-cheek dance routines, covers of mostly sentimental pop songs, and a script that proudly brandishes the F word as often as possible – eliciting plenty of laughter from the audience, and has Mr Bingley tell Darcy that he is a "miserable old fart". The female-dominated atmosphere has something of hen-party hysteria: belly-laughs, forced jollity – even an opening rock'n'roll "Hello Bristol!" from Tillie, the main servant-narrator, played with gusto by Hannah Jarrett-Scott. In an orgy of binge-drinking,the Bennetts swig wine from bottles: they are all, to an extent adolescents, poking fun at the adult world. There are no stars here, but team work, with vital and energetic movement. The ensemble cast strut their knowing irony-laden stuff with self-conscious panache. If you're in the mood for light entertainment, the show is polished, at times funny, well-paced, with cleverly choreographed and lit transitions from one layer of narrative to another: the show mostly morphs with ease from the servants' eye-view to more straightforward representation, albeit never attempting anything resembling a naturalistic dramatization of the novel. There are scraps of Jane Austen dialogue, but, more often than not, a "cool", playful and irreverent 21st century riff on the original.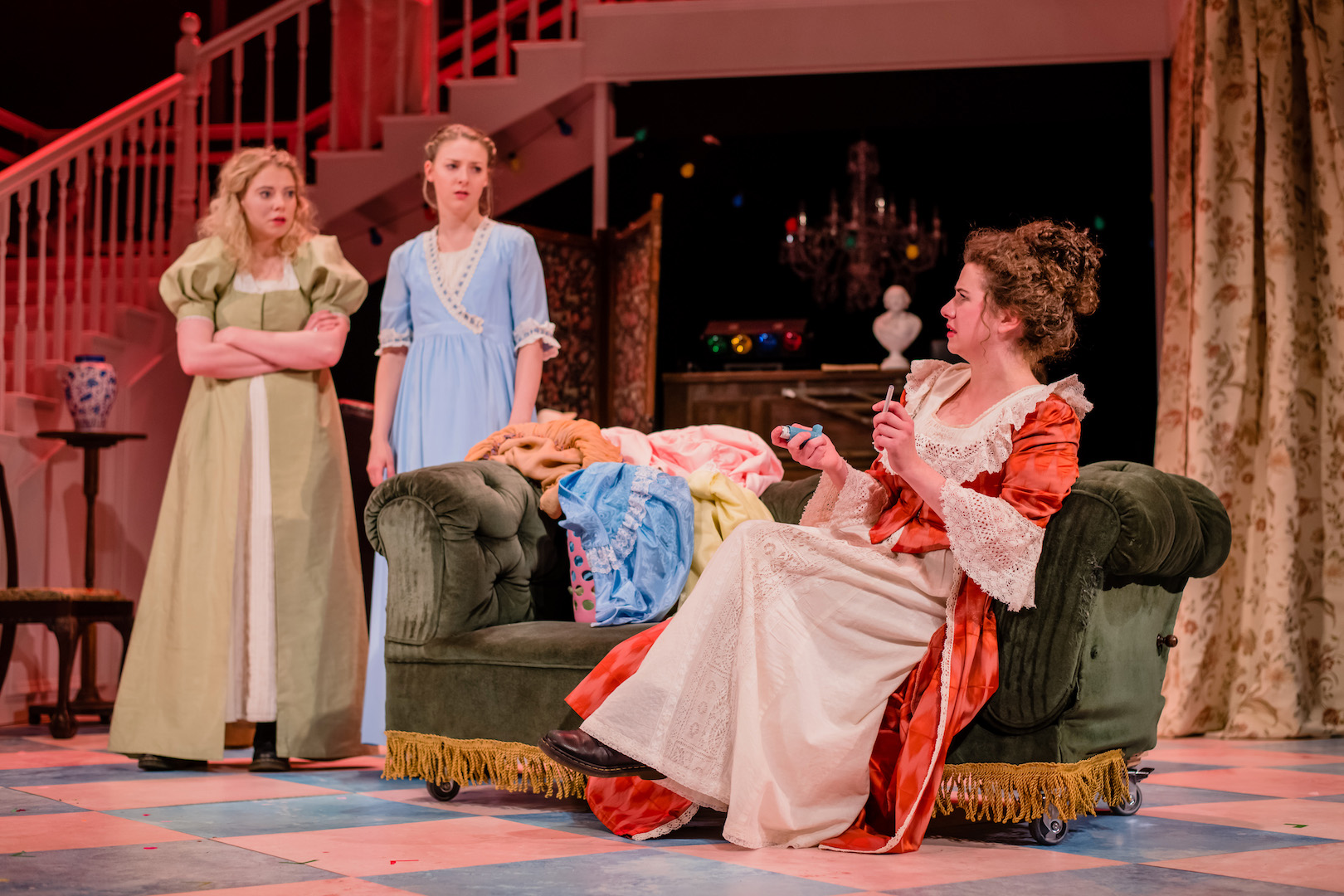 As befits comic-book farce, the performances are inevitably larger than life, toying with carnivalesque excess: Isobel McArthur, often fag in hand (pictured above), captures the neurotic control freakery of Mrs Bennett well – she reaches for her inhaler when things get too much – though her performance is a bit relentless, laughs generated all too easily from comic tropes. When the same actress switches to Mr Darcy, we are once again in the field of caricature, piled on rather too heavily. This is drag of course – a woman playing a man – a genre that brings to the show an extra layer of pantomime and comic transgression. The same technique is displayed, with undeniable skill but little soul, by Hannah Jarrett-Scott: as a souped-up Miss Bingley, a posh air-head, or as a saccharine-sweet Mr Bingley. Felixe Forde plays pompous Mr Collins as a lascivious and opportunistic young cleric – not a trace of subtlety here, the same actress doubling as the Don Juan of the pack, George Wickham, a psychologically much less complex figure here than in the original novel. The book's characters have been reduced to caricatures of themselves, producing something closer to the near-savage mockery of William Hogarth than the forensic but always empathetic satire of Jane Austen.
British comedy is perhaps unique in the world for the almost infinite ways in which it manifests, down to the almost obsessive (and sometimes irritating) play with self-deprecation, the fun with silliness and eccentricity, and most of all a kind of taboo against taking things too seriously. Jane Austen is remarkable in that she manages to walk lightly along the knife-edge between psychological insight and satire. And works skilfully with the reader's emotions. Pride and Prejudice is perhaps most of all a love story – Elizabeth Bennett and Mr Darcy. This new show purports to make of it a romcom, but the best romcoms – take for instance the work of Nora Ephron for Rob Reiner's When Harry Met Sally – are deeply moving. Tongue-in-cheek as default, energetic performances and some generally rather silly jokes is all very well, but without real emotional engagement, it is indeed just "sort of" Pride and Prejudice and remains little more than shallow entertainment, probably best enjoyed through a haze of alcoholic drink.
Pride and Prejudice* (*sort of) is on at the Bristol Old Vic until 28 September and touring nationwide until March 2020

The book's characters have been reduced to caricatures of themselves
rating
Share this article