The police stopped 'To be or not to be' and asked to see our permits |

reviews, news & interviews
The police stopped 'To be or not to be' and asked to see our permits
The police stopped 'To be or not to be' and asked to see our permits
A company member reveals what happened when the Globe's world tour of Hamlet performed for refugees from Central African Republic
Saturday, 30 January 2016
Matthew Romain (Laertes) and Naeem Hayat (Hamlet) duel with hastily sourced swords in Mandjou
Za'atari set a precedent. Our performance in the Syrian refugee camp in Jordan became a template for how to perform Hamlet in every nation in the world – in a world that rendered travel to Syria, Yemen, Libya and Central African Republic out of the question. And it paved the way for our most ad hoc and unconventional performance yet.
The terrible fighting in Central African Republic (C.A.R.) meant that even towns along Cameroon's eastern border were too volatile for us to visit. But in the small Cameroonian village of Mandjou, a couple of hours' drive from C.A.R., a large portion of Central African refugees had settled. So we decided to play there – to people from the country, if not within the country itself.
Our Cameroon performance a couple of days earlier had also been something of an adventure: landing in the country the afternoon of our show only to discover that the airline had left the trunks containing our set, props and costume behind. We made it to Yaoundé an hour before curtain up, just enough time for the actors to wolf down some food and root around our bags for some suitable clothing, and the stage managers to erect some semblance of a set in the university lecture hall we were due to play. We sourced what props we could from where we could; the English department hurriedly, helpfully, mocking up some wooden swords much needed for the final scene. One of them broke mid-fight. (Pictured below: Jennifer Leong as Ophelia)
The next day we drove east for several hours, the landscape lush and green, with red earth and bumpy roads and a bright sun dimming beautifully to cast long shadows as we stopped for snacks of peanuts and corn-cob, roasted on fires by the side of the road. None of us got round to eating the spit-roasted grubs, fat and bursting on their skewers. After staying overnight in Bertoua, the eastern region's capital, we woke early and headed to nearby Mandjou, stopping a couple of times for Tom, our producer, to fill in various forms for the necessary permits, showing his letter of permission from the Governor to everyone who felt a need to check it.
There was no venue as such. Indeed, there was no venue at all. We drove around the small town looking for anywhere suitable. The cultural prefect who was with us pointed out the two options he'd considered appropriate, neither of which were. As we sussed them out, one of the group suggested at least seeing the potential venues; we had to explain to him that we just had. Eventually we settled on an open café-front by the side of a busy road, bribing the owner (not ungenerously) to take over the space for a couple of hours. We wrapped some tape around the front posts to denote the edge of the stage and hung a curtain – our one concession to our usual set – from some rope attached to the rafters of the metal awning. It suddenly seemed a small mercy to be unfettered by our usual theatrical clobber, still somewhere in Angola.
Unadvertised and unheralded, we had no audience anticipating our arrival and no way of knowing if any would come at all. But our just being there drew something of a crowd, which increased with our unorthodox activity: tuning our instruments and limbering up for the unexpected. And so, late morning on a Wednesday, to an improvised audience, bewildered and eager in equal measure, we began our play. A man with a stick beat away many of the kids that ought to have been in school, throwing the odd stone in an attempt to scatter them off to lessons. But their curiosity was stronger than his arm, and he eventually tired of his valiant, futile efforts to drive them to their education. Perhaps the education they received in staying was not entirely unvaluable?
The crowd continued to gather and settle along the dusty street, though they rarely settled down. The atmosphere was raucous and full of chatter, but people stayed to watch. We yelled above the din and the road behind and the bustle of the town, an exercise in seizing attention. One ill-tempered passerby demanded to know why we were speaking in English and not French – language being a contentious issue in the dual-lingual country. But most seemed content to listen, if not entirely understand. The language of slapstick is universal, however, and each time Rosencrantz and Guildenstern fell over or slapped Hamlet's bottom, the many children erupted in peals of laughter. They applauded the Ghost on every exit and cheered on the fight with vigour; there were jeers at the death of Claudius, and groans at the death of Hamlet. Without any reason to do so, they watched.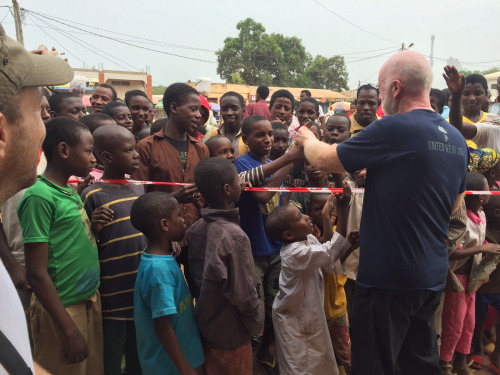 That we managed to perform at all felt like a remarkable feat… though we were not without incident. When Hamlet pondered "To be or not to be", the local police opted for the latter and stopped the production mid-scene, asking to see our permits. Which was particularly unfortunate timing as the person who had them had just gone off in search of a coffee. The police were insistent and closed us down, dispersing our audience and forbidding anyone from lingering while we waited for the paperwork to return. Once it did we started up again, the crowd quickly re-forming as we continued the scene.
It was not obvious who in the audience was Cameroonian and who Central African; nationality is a sensitive subject in Mandjou and not something people were willing to discuss. But we were assured that a large proportion would indeed have come from C.A.R. We stayed long after the show to chat to them all as kids clamboured over one another to take photos with us (pictured above: Keith Bartlett with members of the audience). A couple of small boys put up their dukes in mock challenge towards me – a reference, I assumed, to the stage fight they'd witnessed me enact. Or perhaps they just thought I was fair game. When we left the village, the scores of children continued to wave, running after us, goodbye-ing along the dusty road.
As we grabbed a quick lunch back at our hotel, a group arrived who had just passed through Mandjou. They had heard all about our performance and talked of the excitement left in our wake. We headed back west, visited a gorilla sanctuary on the coast, and travelled onwards to Equatorial Guinea.
Hamlet: The Greatest Theatre Tour on Earth is an inside account of Globe tour written and produced by the company to raise money for Mary's Meals. To purchase a copy send a cheque for £10.50 to Mary's Meals c/o Keith Bartlett, 32 Gap Road, Wimbledon, SW19 8JG