Manchester Lines, Library Theatre, Manchester |

reviews, news & interviews
Manchester Lines, Library Theatre, Manchester
Manchester Lines, Library Theatre, Manchester
Jackie Kay's new play features six characters in search of a connection they never quite find
Tachia Newall (Omar) and Amelia Donkor (Shanti) in 'Manchester Lines'
Visualise a large lost property office, such as that for Transport for London at Baker Street, which inspired this production, its racks stuffed with thousands of items, from false teeth to umbrellas, prosthetic limbs to mobile phones. You name it, it's been lost – and found. Why, only the other day, some loved one's ashes were left on the tram between Manchester and Bury.
Now, think what tales each of those items could tell about their owners and the circumstances of their loss on a journey, especially the journey of life itself. That is the trigger for Jackie Kay's new play, Manchester Lines: how lines - and lives - cross. "The Convergence of the Twain" as Hardy might say.
There is humour and heartache, pathos and hope
But there's an extra twist in the Library Theatre's new site-specific production. This atmospheric lost property office (designer Amanda Stoodley) is on the fifth floor of a new glass-cased office block, Number One First Street, in the city centre. The audience, limited to 100 per show, is transported by lifts to the fifth floor, where a corridor leads them to a space encircled by floor-to-ceiling metal racks, six shelves high, stuffed with the bric-a-brac of lost and found.
Director Wils Wilson specialises in site-specific productions. She did one on a Scottish ferry boat – and was tempted to put this one on a tram. But she chose the untried territory of Number One First Street and it works well. She keeps the action moving along without pause for 90 minutes, punctuated by tangential music and song (composer Errollyn Wallen).
In the enclosed circle of the lost property office, the Keeper (John Branwell, pictured below right with Anne Kidd) is like a ringmaster-philosopher as people come repeatedly to reclaim something lost. Kay uses it as an obvious (and stretched) metaphor for life.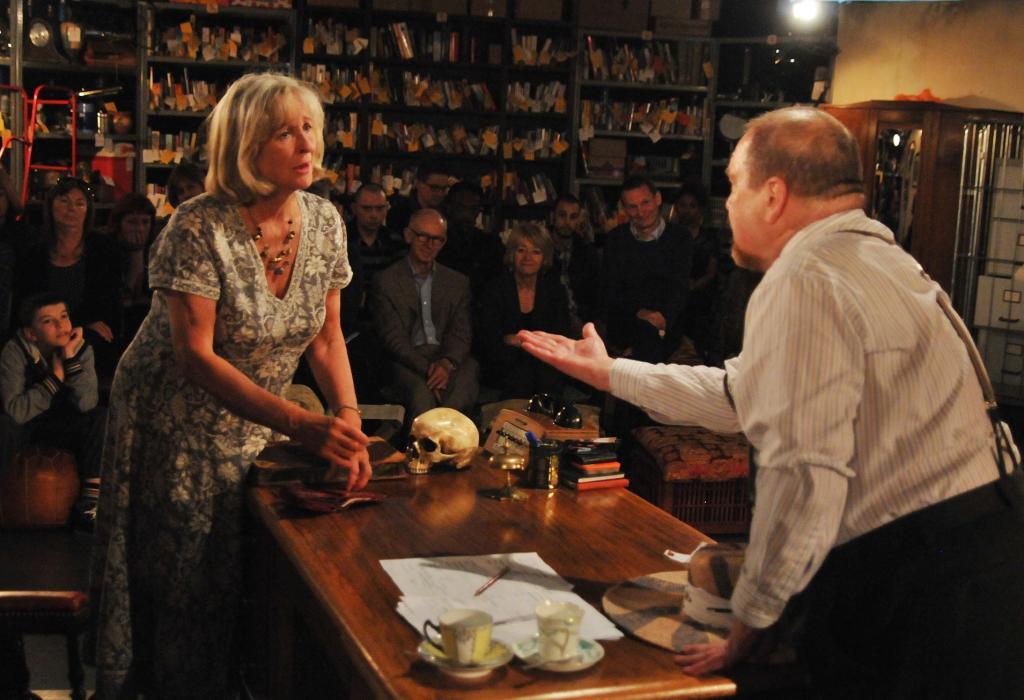 She has six characters in search of a connection. Four of them belong to a three-generational Scottish family, suffering from lost connections and finding them anew. Poignantly, the head of the family, Jessie (Anne Kidd), is now suffering from dementia so that she doesn't recognise her long-lost daughter Pauline (Claire Brown). Then there is Omar, who keeps losing the umbrella his father gave him when he left the West Indies ("If you're going to England, you'll need an umbrella"). And there's 22-year-old Anna, who tragically wants to lose herself. And they are all drawn together by the Keeper.
So, there is humour and heartache, pathos and hope. And it makes you think about the loss of identity. But, ironically, Kay's lines are blurred in the end, the connecting lines unclear. The cast's zestfulness belies the fragility of the play itself.
Misguidedly, in my view, it ends with the audience being led by the Keeper into an office space with huge windows giving a panoramic view of the city. Unnecessarily, he points out its lines – railway, buildings, roads, tramway, people in the street. Then, for some unknown reason, a community choir appears, singing an alphabet song related to the lost items. So, the tension built by the intimate theatre dissipates.

In terms of the novelty and appropriateness of it being site-specific, Manchester Lines is nowhere near as successful as the Library Theatre's first venture into the genre last year, when Dickens' Hard Times was performed so effectively in an old cotton mill. It is inventive, but it might just as well be located in a normal theatre. Or better still a disused railway station. But all credit to the company for turning their temporary homelessness (new theatre scheduled for 2014) into positive experiment.
The lines are blurred in the end, the connecting lines unclear. The cast's zestfulness belies the fragility of the play itself
rating
Explore topics
Share this article