The Ladykillers, Gielgud Theatre |

reviews, news & interviews
The Ladykillers, Gielgud Theatre
The Ladykillers, Gielgud Theatre
Graham Linehan comprehensively revamps the much-loved 1955 Ealing comedy classic
Thursday, 08 December 2011
An ensemble piece, not a star vehicle: the villainous quintet and the object of their obsession in 'The Ladykillers'
The great Ealing film comedies are often viewed as sacred cows, no matter that a small but significant number of them were decidedly sacrilegious. Indeed, one of the studio's last productions, Alexander Mackendrick's The Ladykillers (1955), was also one of its cruellest. Now it has been adapted by Graham Linehan, who asserts that his aim was not to emulate Mackendrick's jet-black satire but to translate it into farce. And that's just what he has done, most enjoyably.
Linehan respects the film but isn't about to be intimidated by it: "Being fooled by art is one of the primary pleasures of the middle classes," says one of his characters to barbed effect. He follows the contours of the original story (a gang of criminals posing as classical musicians enlist a sweet little old lady as their unwitting accomplice, then can't bring themselves to bump her off) and echoes certain specific lines and scenes. Some elements, like the LOL's cranky pet parrot, remain, cunningly adapted to the needs of the stage. But much of the play consists of entirely new material.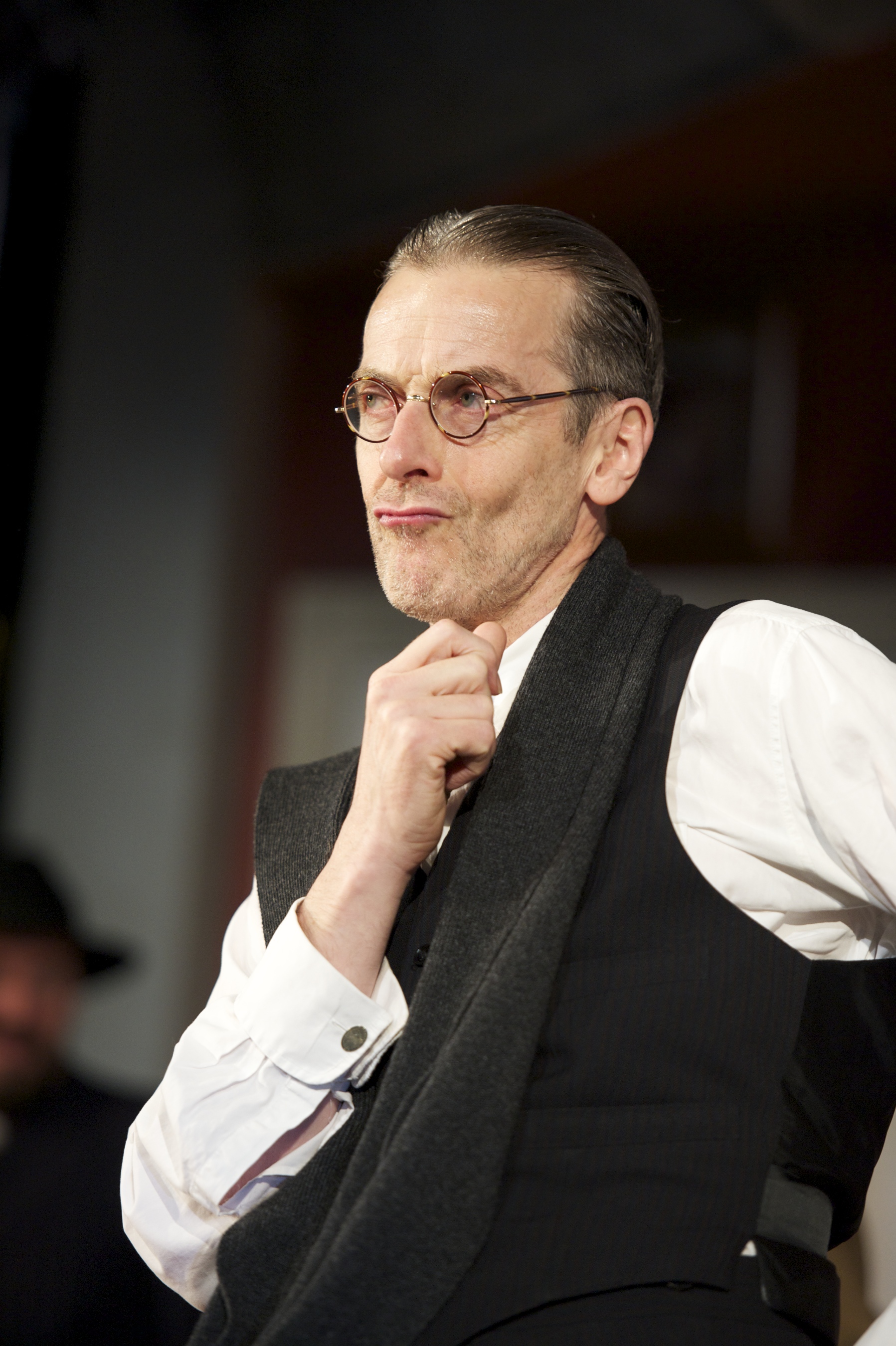 Transferring from a successful run at the Liverpool Playhouse, this production, sleekly directed by Sean Foley, is fleet of foot, crammed with crisp one-liners and finely timed slapstick, and a nice and imaginative attention to detail that even manages to cram an extra gag or two into the curtain call.
Peter Capaldi (pictured right) plays Professor Marcus, the criminal mastermind. I'd half-expected to find Malcolm Tucker's rabid belligerence from The Thick of It, but this was not to be the case. Like both Alec Guinness (pictured below left) in Mackendrick's film and Tom Hanks (pictured below right) in the Coen brothers' 2004 remake, Capaldi brings a slug of unctuous pretension, a creepy but not wholly dislikeable charm and a leering rictus to the character. Less extreme than his predecessors in appearance, his main affection is a theatrically overlong scarf, which inspires some neat physical business in the first half and a delectably – if predictably - nasty pay-off in the second.
As in his previous work, such as Father Ted, Linehan applies an affectionate flair for human eccentricity to the other gang members. They have been fleshed out more fully, making the good Professor slightly less dominant: this is an ensemble piece, not a star vehicle. As the punch-drunk ex-boxer One Round, Clive Rowe – bowing out of his annual pantomime dame duties at the Hackney Empire – compensates for that absence with a grand operatic death scene.
Both Ben Miller as an East European hard man with an unsteady command of English idiom ("Old ladies give me the penises") and James Fleet as the stuttering Major Courtney are given some nifty verbal acrobatics and Stephen Wight's spiv (played in the film by Peter Sellers, whose role was pruned back in the editing room) careens through the story on a deadly cocktail of uppers and downers.
Marcia Warren is a little steelier than was the radiant Katie Johnson, who created Mrs Wilberforce in 1955, but then Mrs W was, and remains, a foil for the excesses of the male characters. A bracingly camp touch is to have a couple of her twittering friends ("We have a loose society of elderly women") played by hulking men in drag who proceed to hit on the disconcerted thugs.
The Ealing comedies aimed consciously to project "Britain and the British character", as a plaque on the studio proclaimed. Much analysed since, they're still seen as state-of-the-nation films. Mackendrick – who, like his screenwriter, William Rose, was an American based in Britain - has famously stated that The Ladykillers was "a comic and ironic joke about the condition of postwar England": a metaphor for a postwar nation locked in its imperial past.
Though this claim is mentioned in the programme notes, the play doesn't try for any such big broad resonances. And it's probably wise not to do so, as the Coen brothers found in their poorly reviewed version set in the contemporary American Deep South. There's a very brief flash of topicality in the play, in a Brechtian interchange about whether the greater crime is to rob a bank or to found one. But it's very much a period piece.
So it's best simply to sit back and savour the performances, script, stagecraft and sound and set design. This has to be the best theatrical house since the one in An Inspector Calls. Surmounted by Gothic tracery that evokes nearby King's Cross Station, Mrs Wilberforce's crooked, caved-in mansion heaves and wheezes, its lamps flickering, pipes clanking and soft furnishings fluttering all with a will of their own.
It pivots too, so that you occasionally leave the chintzy sitting room for dark moments on the roof or the facade (where model cars and a train whizz up and down to enact the bank raid). And just when you thought you had inspected its full 360 degrees, the set turns yet again to discover a railway tunnel for a small but critical scene. Like it, the play reveals new facets in an intimate landscape.
Peter Capaldi brings a slug of pretension, a creepy charm and a leering rictus to criminal mastermind Professor Marcus
rating
Explore topics
Share this article