The IT Crowd, Channel 4 |

reviews, news & interviews
The IT Crowd, Channel 4
The IT Crowd, Channel 4
As ever, nothing has changed in the techie dungeon - praise be
Father Dougal reincarnated as a geek: Richard Ayoade as Moss in The IT Crowd
Aeons ago, and in another place, I had a sense-of-humour malfunction. A sitcom about three priests marooned on a remote Irish island took its bow. I didn't crack a single smile, and said so firmly. Turned out I was in a tiny minority, and just needed time for the flavours of Father Ted to make themselves known. Later, when it came back for a second series, I duly gave myself a very public flagellation.
No such need with
The IT Crowd
, which last night began its fourth series.
The common denominator of the two shows is Graham Linehan, the Irishman who co-wrote Father Ted but conceived, scripted and directed The IT Crowd on his own. None of your American-style gaggery by committee for Linehan. (The US version in 2007, pictured below, no doubt failed not only because of the cast changes but also because Linehan had to budge up and make room for other writers.) The show arrived four years ago as an antidote to the family-scorning yoofcoms emitted by BBC Three and E4. Among the old-fashioned, all but Whitehousian traditions it espoused were plot, character, sofas, and an innate understanding of the eternal, paralysing stasis that underpins all great sitcom. A student alike of Seinfeld and Steptoe, Linehan knows better than any writer in the land that in sitcom it's always 59 all in the final set.
Nor does The IT Crowd have any truck with the faux realism of spoofery. Quite the opposite. Linehan has a soft spot for the random and the surreal - last night, for example, Roy (Chris O'Dowd) was so upset at losing a girlfriend that he photoshopped her out of all their snaps: a very Linehanian sight gag. Sometimes the spot has been too soft. I ran out of patience with the goth who lives in the cupboard, played by Noel Fielding of the Mighty Boosh, who cropped up a lot in the second series. There doesn't seem to be any sign of him these days, although last night Moss (Richard Ayoade, loveable as ever) did mimic his voice in a game of Dungeons and Dragons.
The original joke of The IT Crowd is based on another core principle of good sitcom. The characters have no escape. Upstairs are swanky open-plan offices, magnificent views over London and a sexist boss (played with plummy aplomb by Matt Berry) who just doesn't get the whole feminist p.o.v: "Now you hold on a minute, sugar tits." Downstairs in the suitably dingy basement - the dungeon, indeed - is the department that oils its wheels, staffed by Moss and Roy, two techies with limited social skills, plus their notional boss Jen who knows nothing about computers – not that the show is really interested in technology these days anyway. Roy is loud and exasperated and more or less like Father Ted. Moss, literal and childlike, is not unlike Father Dougal. Jen (Katherine Parkinson) has her own womanly repertoire of weekly disasters – last night she had a tilt at becoming the company's entertainment officer - but the chief one is that she's trapped with these two losers.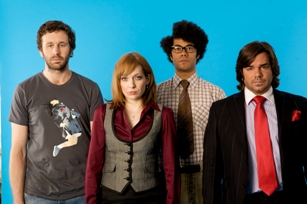 In short, the great thing is that nothing ever changes in The IT Crowd. It is as reliably funny, inclusive and warm-hearted as ever. What keeps it from tedium, unlike that eternal slugathon at Wimbledon this week, is the infinite variety of plots Linehan manages to contrive from limited ingredients. The show is a bit like a great three-piece band in that respect - like The Jam, basically. And then there's the frame of reference. How many other sitcoms would have the breadth of knowledge to base themselves, as with this episode, on a plotline from The Godfather, pay a visit to The Vagina Monologues and refer to Stalin's retroactive skills in the dark room? At the end of this episode as with every other, you just want to ape the celebratory gesture of the posh boorish morons Jen had to entertain for a week. Eiffel Tower!
'Have you tried turning it off and on again?' From the first ever episode of The IT Crowd



Explore topics
Share this article