Edinburgh Festival 2017 review: The Divide |

reviews, news & interviews
Edinburgh Festival 2017 review: The Divide
Edinburgh Festival 2017 review: The Divide
Alan Ayckbourn's vast dystopian fantasy feels cosy rather than alarming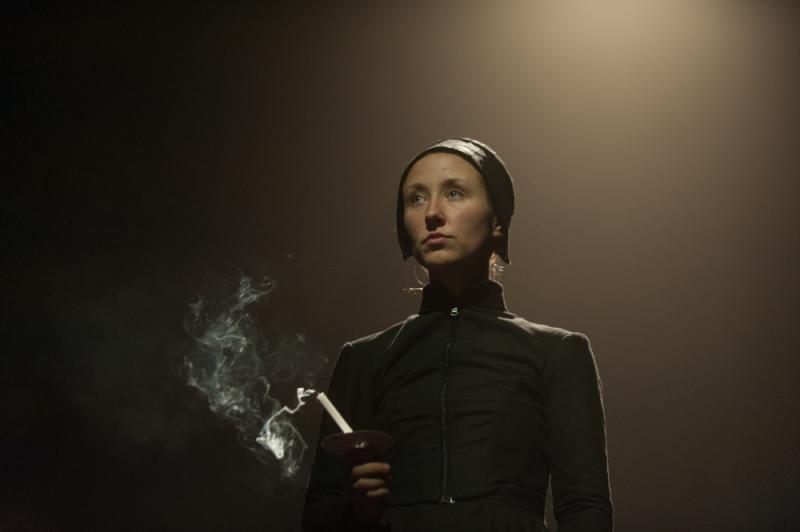 Erin Doherty is very fine as hard-done-by tween Soween in a post-catastrophic world where the sexes are segregated
A society that segregates men and women, prescribes what women can learn, read, wear, even which words they can say. A society willing to sacrifice its own people to maintain its repressive theocratic orthodoxy. Sound familiar?
There are plenty of contemporary resonances in The Divide, the mysterious new Alan Ayckbourn creation unveiled to the world at the Edinburgh International Festival, a co-production with London's Old Vic and travelling to the capital at the start of 2018. And as they say, it's Ayckbourn, but not as we know him. This is a massive, six-hour, two-play event that plays out like Romeo and Juliet meets The Handmaid's Tale, the tale of two teenage siblings attempting to forge their burgeoning lives and understand the brutal world around them.
And Ayckbourn's conception of his future dystopia, while consciously nodding towards countless sci-fi classics, remains compelling. The play's horrific repressions, based on the warped religious teachings of the mysterious Preacher, follow a cataclysmic plague that has reduced Britain's population from millions to just a few thousand. North of the Divide, men are relieved of child-rearing duties but live in gay relationships. To the south, women couple up as Ma-mas and Ma-pas (geddit?) to produce offspring using donated seed, with any rare males produced being whisked away to the north at the age of 18. Prowling Monitors act as the Preacher's all-seeing eyes, ensuring his rules on behaviour and respect are followed to the letter.
It's clearly been an enormous challenge for director Annabel Bolton to bring The Divide to the stage in the first place. Made up of an archive's worth of diary entries, council minutes, emails, newspaper stories and more, it could easily exist as a book or graphic novel, and it's testament to Bolton's fluid way of dividing the text between characters that even after six hours, the format remains engaging. Equally fluid is Laura Hopkins's beautiful staging, all swishing curtains and evocative projections, which remains elegant while leaving us in no doubt as to where and when we are.
Bolton is helped, too, by a very fine cast – central to which is Erin Doherty as hard-done-by tween Soween, daughter of Mama Chayza (Finty Williams) and frighteningly orthodox Mapa Kest (a stern, unforgiving Thusitha Jayasundera), who gets rather a rough ride as a victim of appalling bullying, loser of multiple objects of her affection, and of course neglected sister. Jake Davies is all bubbling, eager energy as her brother Elihu, who discovers a bright world of unorthodox possibilities through the classical nudie art surreptitiously brought to him by his tutor (Richard Katz), and also through the attentions of Soween's radical friend Giella (a confident, assertive Weruche Opia).
Where The Divide is less successful is in its storyline, which is so full of holes and unconvincing inconsistencies that it's hard to know where to begin. One glaring omission early on is any sense of how the Preacher's rigid rules are actually enforced, or what terrifying fate awaits if they're transgressed. Sinister Monitors are mentioned but their powerlessness generally mocked, and we don't get to see them in action until well into the second part – when the regime's harsh crack-down on dissent comes as something of a shock, no doubt intentionally.
Furthermore, a prologue set even further in the future as a university lecture looking back on this dark era of segregation with slightly incredulous indulgence serves to nimbly sketch in the background, but fatally undermines the play's alarming actions. If we know it all comes to an end and there's a better world at the end of it, do we have much invested in it? Perhaps that explains the perplexing laughter at often quite distressing scenes on The Divide's opening night – although there's also a lot of wit in Ayckbourn's depictions of small-town provincialism. There's wit, too, as well as chilling insight in the way he lines up Taliban-style repression and council chamber bickering against low-level schoolyard bullying.
The Divide is full of strong, provocative ideas, and it's superbly staged. But in the end, and despite a sudden swerve into darkness in its last act, it feels surprisingly cosy – hardly a feeling you'd associate with a searing vision of a terrifying future.
The Divide at the King's Theatre until 20 August
The Edinburgh International Festival and Fringe continue until Mon 28 Aug 2017