Edinburgh 2013: The Events/Morning and Afternoon/Live Love Laugh |

reviews, news & interviews
Edinburgh 2013: The Events/Morning and Afternoon/Live Love Laugh
Edinburgh 2013: The Events/Morning and Afternoon/Live Love Laugh
David Greig's powerful new play examines the mind of a mass murderer
Wednesday, 07 August 2013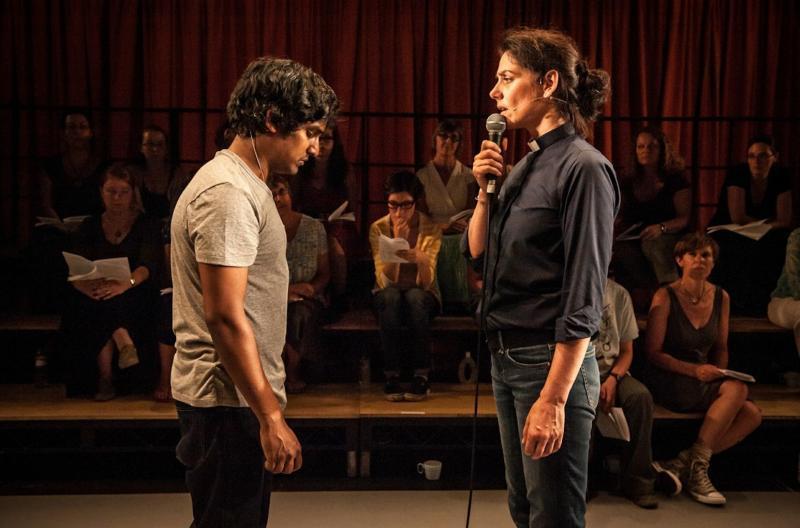 Rudi Dharmalingam as The Boy and Neve McIntosh as Claire in David Greig's new play
The Events, Traverse Theatre ****
Writer David Greig has been at pains to make clear that The Events is not about Anders Breivik's slaughter of 77 people in Oslo and Utoya in July 2011, even though he and director Ramin Gray researched extensively in Norway Sadly, it could have been about Dunblane, Hungerford, Columbine - or any number of mass killings in the United States - and they have produced a powerful examination of why disaffected men on the edge of society (but seemingly part of it) commit such atrocities.
It's essentially a two-hander in which Neve McIntosh is Claire, a pastor in an unnamed town who has survived a mass killing. The victims were members of the choir she ran at the local community centre - immigrants, asylum-seekers, the vulnerable old, single mums - all people that The Boy despises, because they are not part of his tribe, whatever that may be. Rudi Dharmalingam plays The Boy - the killer - and also those who knew him, inspired his actions or who are trying to treat him now, among them a childhood friend, an anti-immigration journalist and a psychiatrist.
There are two strong and vivid performances at its heart and this is a play that will stay in the memory
On stage with them is a choir, who also act as a Chorus and provide various vox pops. A different group sing at each performance and choose their own song to open the action. The Western Connecticut State University's choice included the refrain, "We are all brothers, we are all sisters, together we make a powerful team", words that have a deeper resonance when they reprise the song at the end.
Claire is trying to understand why The Boy did what he did, but little of what she hears as she questions the various characters, including her partner Catriona and the boy's father, comforts her. She has lost her faith, not just in God but also humanity, cannot sleep and is driven almost mad trying to make sense of something that Greig suggests may be beyond our comprehension.
Greig lets no one, liberals, right-wingers, religionists, atheists, off the hook as he tries to prise an answer from his characters, and some uncomfortable questions are posed - among them, is it racist when the least wealthy in society object to council homes or jobs going to immigrants, and are we too respectful of cultural differences? As The Boy puts it: "I don't hate foreigners. I hate foreigners being here" and "In Arabialand …. what do you think they do to lesbians, Claire?"
Terminology that obfuscates or trite opinions are guyed too; when Claire asks if The Boy may be evil, his psychiatrist says: "We would probably prefer to say empathy-impaired", or when she seeks solace in some other belief system there is much fun to be had watching her and the choir act out a soul-finding exercise with a shaman, "Dave from Leith".
The choir/Chorus device gives movement and vibrancy to what may otherwise have been a static or wordy play, although a different choir singing at each performance may mean that some nights are more polished than others. There were times, too, when The Events felt like a work in progress (there were departures from the published text), but there are two strong and vivid performances at its heart and this is a play that will stay in the memory.
Two more Edinburgh reviews overleaf
Morning and Afternoon, Pleasance Courtyard ****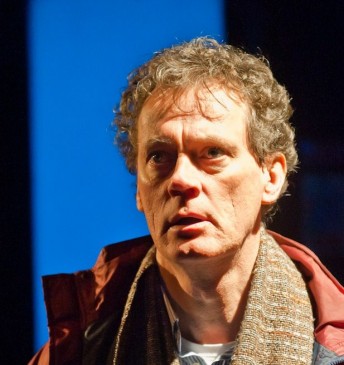 Andy Hinds is a veteran Irish director making an impressive debut with this self-penned one-man show. He tells two interlocking stories. In the first he's Niall, a softly spoken college librarian recounting a rare sexual encounter with his wife, a high-flying businesswoman who has never wanted children. She tells him she's pregnant and he is overjoyed but we soon hear the terrible price he has to pay to become a father.

In the second story he is Niall's older brother, Danny, who has not had the life he thought he would find after leaving Northern Ireland and their violent father. He lost jobs because he could never hold his tongue, but when it came to picking up the phone to his long-lost brother, he couldn't find the words.
Chance and the kindness of a childhood neighbour conspire to bring the two men together but Danny is racked with doubt as he prepares to meet Niall. Will they run out of conversation after five minutes, will they even like each other after all this time, will Niall judge him? We don't know, but we feel there is hope at least. There is a tinge of sentimentality in the writing, but the performances are riveting.
Live Love Laugh, Pleasance Courtyard ****
You may know Eilish O'Carroll from Mrs Brown's Boys, written by and starring her brother Brendan, in which she plays the title character's friend and neighbour Winnie McGoogan. She tells her life story, about a woman's sexual awakening in a repressed society, and it's one with a few twists and turns.
Her mother was Ireland's first Labour member of the Dail and an early campaigner for women's rights, and while she didn't see much of her mother during her childhood, Eilish was enjoying being the youngest of 10 children until Brendan came along and became the apple of their mother's eye and "fecking ruined it for me".
O'Carroll amusingly recounts her first orgasm when she was 13 and travelling on the back seat of a double-decker bus, her Catholic guilt – "Forgive me, Father, but it was the bus" – and her two marriages. The first ended because her husband was violent, the second because she had, in her forties, realised she was gay.
O'Carroll doesn't try to impart any great insights other than about being true to oneself, but she tells her story with a fine turn of phrase.
Greig lets no one, liberals, right-wingers, religionists, atheists, off the hook
Explore topics
Share this article