Break of Noon, Finborough Theatre review - irredeemable? |

reviews, news & interviews
Break of Noon, Finborough Theatre review - irredeemable?
Break of Noon, Finborough Theatre review - irredeemable?
Prolix play woodenly acted; its own satire?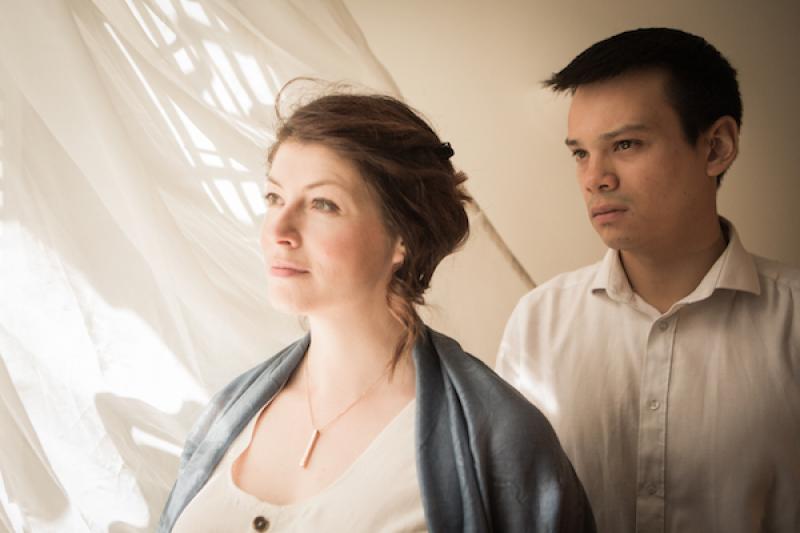 Elizabeth Boag and Matt Lim
I've forgotten my wallet. This is both embarrassing (where did the fun lush part between callow youth and irrefutable senility disappear?) and upsetting because by the interval of the Finborough Theatre's revival of French symbolist writer Paul Claudel's immensely prolix, indulgently semi-autobiographical, astonishingly declamatory and undeniably self-flagellatory play Break of Noon, I'm in need of a drink as stiff as the acting.
How many adjectives can fit into a sentence? How many words can be used when one will suffice? Why say "fearful" when being "scared" and harrowed to the "pith" of your bones can be rolled up, rolled in and rolled out in the space of a single sentence? Admittedly, script screeds are difficult for an actor to digest – let alone deliver well (pity them!) – but think of the parent penguins which feed their chicks the as-yet-undigested labours of their scavenging and think how the chicks thrive on ostensibly revolting things. And now consider how many totally unrelated metaphors can be wedged into a single breath alongside those damn adjectives (the answer – a lot).
The play charts the illicit love affair that takes place between Ysé (played by Elizabeth Boag) and Mesa (Matt Lim, main picture, with Elizabeth Boag), respectively coquettish wife and religious tedious pedant, as they sail towards new futures in China. It is, apparently, an all-compassing love to which, as an audience, we have utterly no dramatic access since it somehow becomes elided between the before and after which make up the bulk of the play. There's a clear parallel here between script and characterisation, because we have as little access to the meat of their affair as we do to their emotions.
The acting is terminally awful. With one exception: David Durham as De Ciz, Ysé's long-suffering, clear-eyed husband at least grasps the character he is playing. The clown of the piece, he is cuckolded twice over (more if you count emotional cuckoldry), and plays a marvellous buffoon. His eyes flash and his eyebrows twitch. He paces the stage, which is more than can be said for the presumptively infatuated lover Mesa whose infatuation appears to render him utterly immobile so that he stands stock still for the duration of a scene while declaiming lines as from a chemistry book. As emotionally thrilling as the droning sound design. (Pictured above: Matt Lim, Elizabeth Boag woth director David Furlong)
It's a bit of a problem when the play's clown is the most moving character, which suggests I might be right to laugh at some of the sillier sententiousnesses which verge on meta-criticism or self-satire ("It's always too long. Everything written about love should be brief as the flower!", or "Words have lost their meanings!", or "There's plenty to laugh at!"). There's a lovely Shakespearean twang about "the shuffle of double adultery" and the "ripening limbs" of the bastard offspring of Ysé and Mesa. But to get to that requires sitting through the entire first half and most of the second, and unless you are either a fool or an enemy I can't in all honesty vouch the wait worthwhile.
The play ends with redemption and salvation – Claudel had a troubled relationship with God, one that he decided, alongside fictionalised biography, he would also inflict on his pitiable audiences – but nothing can redeem the time I've spent pinching my nose in the theatre nor salving my rancour at the same. My neighbour apparently had similar thoughts. As the lights come up he mutters to his companion, "I'm going to dash off and buy myself some paracetamol." For myself, I slope off in search of something stronger.
Subscribe to theartsdesk.com
Thank you for continuing to read our work on theartsdesk.com. For unlimited access to every article in its entirety, including our archive of more than 10,000 pieces, we're asking for £3.95 per month or £30 per year. We feel it's a very good deal, and hope you do too.
To take an annual subscription now simply click here.
And if you're looking for that extra gift for a friend or family member, why not treat them to a theartsdesk.com gift subscription?