Booby's Bay, Finborough Theatre review - a bit fishy |

reviews, news & interviews
Booby's Bay, Finborough Theatre review - a bit fishy
Booby's Bay, Finborough Theatre review - a bit fishy
Play about the Cornish housing crisis isn't so swell
Saturday, 03 February 2018
Oliver Bennett (right) as Huck, and Joseph Chance (left) as his dead brother JT
Carry on out of London past the Finborough Theatre and you hit the A4. Follow it east as it becomes the M4, take a southern turn at Bristol for the M5 and you're in the West Country. Bude and Bodmin, Liskeard, St Austell, Padstow, Mousehole, Newquay and Newlyn.
Out here are fishing villages, tin mines, granite churches, wide seas, surfers, pixies, low mental health indicators, and a great deal of unemployment.
Henry Darke's Booby's Bay takes on the half-twee half-spavined world of the Cornish fishing village in its oddball glory while bringing up the salty issue of regional deprivation. The play centres on Huck (Oliver Bennett, pictured right) the ne'er-do-well of the village, known in all the pubs, who drinks, smokes, shags and between not working and not working, practises transcendental meditation. He's been shacked up all winter in a holiday home run by his obviously long-suffering but woozily insouciant alcohol-addled mother, Liz (Esther Coles) who is attempting to prise him out before the unsuspecting owners arrive for their holidays.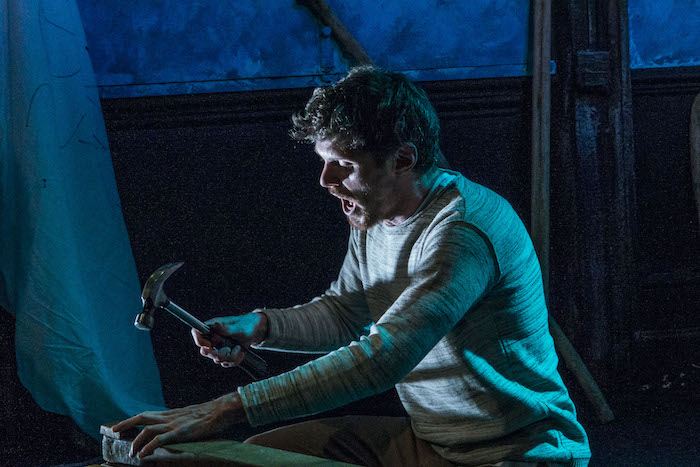 Having realised he can neither stay in the holiday home, nor afford to live elsewhere (even a camper van), Huck decides to make a personal plight a national issue and, by drawing attention to the deleterious social and economic consequences of second-home ownership and the ensuing vacancies and inflated housing market, ensure himself both accommodation and news coverage over the summer months by squatting the property. Trouble is, when recovering alcoholic journo Ivan (Joseph Chance) arrives from the local Herald, it's not Huck he meets, but beefcake surfer Daz. Daz doesn't like Huck because he used to go with his girl, Jeanie (Florence Roberts), and has some suspicions they're not quite as finished as they say, so he feeds Ivan (who has recently fled London and is a sucker for local yarns and myths) the tale of how Huck's hangover got his brother, JT, killed.
And Huck's problems are just beginning, because he is, quite possibly, the father of Jeanie's unborn child. Or rather, she said he was, and then said he wasn't – so who really knows? Probably no-one. It's around this time that a fish is filleted and cooked on stage. To be more precise, a mackerel. A bravura piece of realism, it sends fishy smoke towards the ceiling and clings to nostrils and clothes. It is not strictly necessary – but then Darke's play is filled with the superfluous made hectic through Chris White's direction. In small-town Cornwall neighbourhood "parrots" ensure news travels fast and in copious flows, but the play succumbs to eddies where the focus gets confused and the pace slackens. It doesn't help that Oliver Bennett's Huck is capable of about three emotional registers, so though ostensibly the hero (or if you wish, anti-hero), he is completely overshadowed by Bradley Taylor's gloriously dislikable, swaggeringly wet-suited racist braggart Daz. (Pictured below: from left, Esther Coles as Liz, Bradley Taylor as Daz, Florence Roberts as Jeanie, Joseph Chance as Ivan)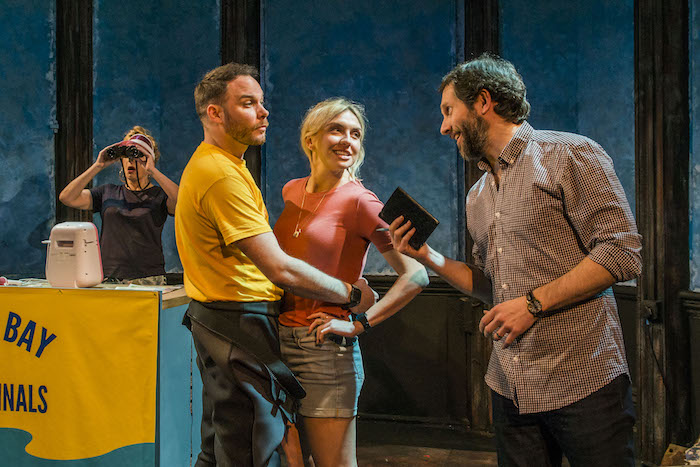 Esther Coles has a great moment hazily MC-ing a surfing contest while sipping cocktails as toxically pink as her sun-shade, and Florence Roberts carries through a pugilistic vulnerability that sits well with Jeanie's character, though why she'd ever consider shacking up with (two!) such woeful specimens remains a puzzle.
For all its obvious sense of place and rootedness (not to mention in-jokes about Cornishness), Booby's Bay feels akin to a TV soap on the stage. Darke's writing is all surface, so while the issues are current, the play lacks depth.
The half-twee half-spavined world of the Cornish fishing village in its oddball glory
rating
Share this article