Best of 2014: Theatre |

reviews, news & interviews
Best of 2014: Theatre
Best of 2014: Theatre
It was ladies' night across the London stage this year
Outsized passions: Helen McCrory as Medea at the National Theatre
That old canard about there being no good roles for women needed revising time and again in the theatre year just gone, so much so that end-of-year judging panels for the year's best faced far more competition among the female contenders than they did among the men (such supreme all-male ensembles as the My Night with Reg team notwithstanding).
Whether it was the Massachusetts class warrior brought mightily to life by Imelda Staunton in the Broadway export
Good People
or Eve Best letting down both her hair and her defenses to suggest a newly sensual if ever-intelligent Cleopatra at Shakespeare's Globe, the women scored time and again. They were even given their own go at the guys' terrain in Phyllida Lloyd's all-female
Henry IV
, a production intended as the middle part of a Shakespearean trio granting the distaff players their due. Not all the shows mentioned below allowed women such significant pride of place, but they all continue to transfix the memory however long it has been since they were so pleasurably experienced live.
1. Assassins, Menier Chocolate Factory
Four years after Jamie Lloyd staged a near-definitive Passion for the Donmar, here the busy director was effecting the same alchemy on a comparably tricky Stephen Sondheim musical, Assassins - a show that was in fact first seen this side of the Atlantic at the Donmar. A dissection, sometimes funny but more often chilling, of a mindset that has too often led its citizenry towards murder, the interval-free piece proved an ideal fit for a space that had been reconfigured to suggest a fairground run amok in keeping with a populace in thrall to an array of psychoses that nonetheless shared a common goal: the assassination of the nation's leader. Can another venue so perfectly contain the show's anarchic energy and a cast headed by Andy Nyman, Broadway's Aaron Tveit, Carly Bawden, and the superlative Mike McShane? We live in hope.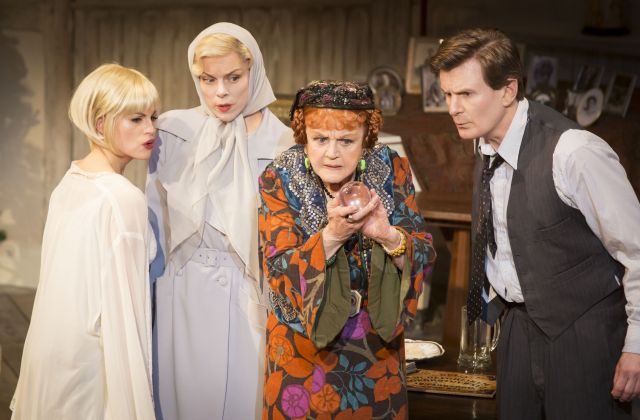 2. Blithe Spirit, Gielgud Theatre
Noel Coward's 1941 comedy about a marriage that quite literally won't give up the ghost tends to roll in and out of the West End like clockwork but rarely with the sense of occasion provided by Dame Angela Lansbury's return to the London stage as that ever-businesslike medium, Madame Arcati, the part which in 2009 brought the UK-born Broadway legend a fifth Tony Award. Though 88 at the time of the London run, Lansbury displayed the keenness and acumen of a performer half her age, and when her Arcati spoke of bicycling some eight miles home, well, let's just say that you fully expected the actress to do precisely that (Lansbury is pictured above right with co-stars Jemima Rooper, Janie Dee, and the incomparable Charles Edwards, photo: Johan Persson.)
3. The Comedy of Errors, Shakespeare's Globe
There were weightier Shakespeare productions this year (the National's bombastic and unmoving King Lear, with Simon Russell Beale) and plenty more high-concept ones (Rupert Goold's Vegas-based Merchant of Venice, to name but one) but few got the shifting terrain of the Bard as tellingly as Globe newbie Blanche McIntyre and her Comedy of Errors: that rare production of an early work from the canon to remind us just how fully this particular play anticipates Shakespeare's later stuff, especially the romances. The physical comedy was at once ingenious and precise, in keeping with a finely modulated cast who played a famously antic piece as if it actually matters. Which it does.
4. Eileen Atkins as Ellen Terry, Sam Wanamaker Playhouse
Appearing in floor-length velvet, her voice as resplendent as her attire, Eileen Atkins gave the Sam Wanamaker Playhouse the spiffy opening-season inaugural that the new indoor playhouse at Shakespeare's Globe deserved. Drawing from the lectures of the renowned actress whose own knowledge of the ways and words of the Bard was movingly refracted through Atkins's own, Dame Eileen across 70 minutes offered a masterclass for the ages, her understatement a timely rebuke to some of the Shakespearean grandstanding that cluttered London stages elsewhere during the year (no names on this occasion).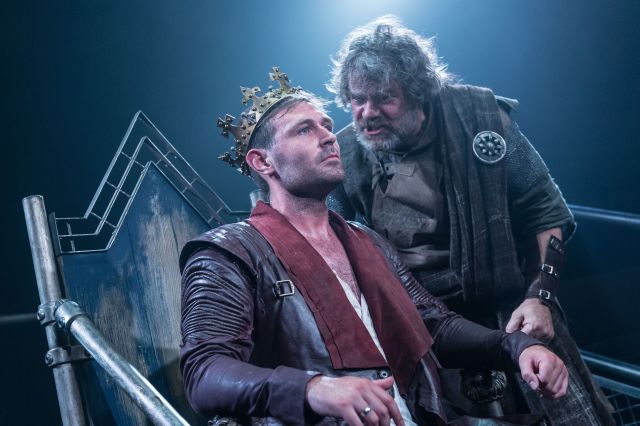 5. The James Plays, National Theatre / Olivier
At last, Scotland got a history play cycle to call its own, and one that deliberately relegated Henry V - yes, that Henry V - to a vivid supporting role in the opening play of Rona Munro's award-winning triptych. First seen at the Edinburgh Festival in a pre-referendum premiere, the plays traveled south to the National Theatre, where their post-referendum inclusion in the repertoire seemed to extend the national debate yet further in witty and unexpected ways. No praise is too high for the director Laurie Sansom's apparently easeful marshalling of what must have been a fiendishly difficult task, or for a ravishing ensemble headed by Jamie Sives, James McArdle (pictured above left, photo: Manuel Harlan), and that queen of Scandinavian TV, Danish actress Sofie Gråbøl, here playing - what else? - a Danish queen.
6. Medea, National Theatre / Olivier
By mining the extraordinary in the ordinary, the director Carrie Cracknell (of A Doll's House renown) transformed a centuries-old play into the year's most pressing theatrical occasion, capped by the finest Medea I have seen in Helen McCrory in an acquaintanceship with the part that extends back to Fiona Shaw, Diana Rigg, and Zoe Caldwell, among others. Whether seen brushing her teeth or rather more dramatically carting off the carcasses of her murdered children as testimonials to an anger that will never be fully slaked, McCrory wasn't just an abstract archetype of vengeance; she was a living, breathing repository of rage and shame, not to mention surprise at her own capacity for cruelty.
7. My Night with Reg, Donmar Warehouse
Time has been kind to Kevin Elyot's era-defining play about a community of gay men quietly rent asunder by AIDS and Robert Hastie's superlative production was even kinder, mining every ounce of pathos and comedy from a script that I recall being chillier when I first encountered it at the Royal Court two decades ago. What seemed all too cruel was that Elyot died aged 62 within weeks of this revival's opening: one can only imagine how pleased he would have been to see his best-known play burning so brightly. The production transfers next month to the Apollo Theatre, its flame - let us hope - still intact (the original image for the production is pictured above.)
8. The Pass, Royal Court Theatre Upstairs
Russell Tovey gave the year's most surprising star performance as a footballer at odds with his own suppressed sexuality, and John Tiffany's traverse staging of John Donnelly's play clocked Tovey's simmering passions every step of the way, though no one among the cast of four put a foot wrong. Tiffany had a good year at the Royal Court, between The Pass at its outset and Jack Thorne's sweetly pointed and touching Hope at its close.
9. Privacy, Donmar Warehouse
How often do you go to the theatre only to find an image of your home flashed up on screen in front of you? That was just one of the many shocks to the system posed by James Graham's surpassingly smart play, which wedded an examination of new technologies with its own newfound form whereby playgoers were encouraged to leave their mobile phones on – can you imagine? Josie Rourke, Donmar artistic director, transformed a genre-defying tease of a script into something resembling a happening, leaving one eager to see what results when she and Graham reteam on an election-themed play in the spring.
10. A View From the Bridge, Young Vic Theatre
Shoes weren't all that went missing from Belgian director Ivo van Hove's breathlessly exciting revival of an Arthur Miller classic that the London theatre has an unusual capacity for getting right. Also absent were a set and any props to speak of, notwithstanding the odd chair – such accoutrements replaced by a forensic and fearless attack on a play centring on a desire that simply cannot be contained. Mark Strong and Nicola Walker – both of them matchless – led a cast that can be seen afresh on the West End starting in February when the staging moves to Wyndham's.