Siegfried, Göteborg Opera online review - a hero for our times |

reviews, news & interviews
Siegfried, Göteborg Opera online review - a hero for our times
Siegfried, Göteborg Opera online review - a hero for our times
Staging and singing in sync for the Ring's scherzo
Singing the blues away: Daniel Brenna (Siegfried) and Sofie Asplund (Woodbird) at the Göteborg Opera
The team of Stephen Langridge (director), Alison Chitty (design) and Paul Pyant (lighting) produced a quietly radical Parsifal at the Royal Opera in 2013, finding both beauty and horror in unexpected corners.
On the strength of its third instalment – I haven't seen the first two – their
Ring
in Gothenburg pursues a no less subtle course of rebellion against some tenaciously held conventions and traditions in staging Wagner.
This is billed as a "green" Ring by an environmentally friendly opera house. It's a notion which, I fancy, would have intrigued Wagner the theorist, dreamer and pragmatist, who originally entertained the notion of building a Bayreuth for the Ring and then burning it down, but whose dramaturgy time and again emphasises our responsibilities to those around us and those to come. There is, in the opening scene's factory setting and partially effaced slogans, a functional symbology of reduce – reuse – recycle which carries through to the junkyard of Neidhöhle – Fafner's lair – and Brünnhilde's mountaintop, which resembles nothing so much as a Brancusi rock installation.
Some small touches make big effects in an opera of one-to-one dialogues and down-to-earth settings. Brünnhilde's grey wig illustrates more succinctly than reams of backstory exegesis that promises of eternal youth mean as little in the Ring as they do in a face-cream advert. In Fafner's bedraggled locks and dirty council-worker tabard is captured the modern image of the miser and loner, inspiring a pity worthy of his dying words (the excellent Mats Almgren, pictured below).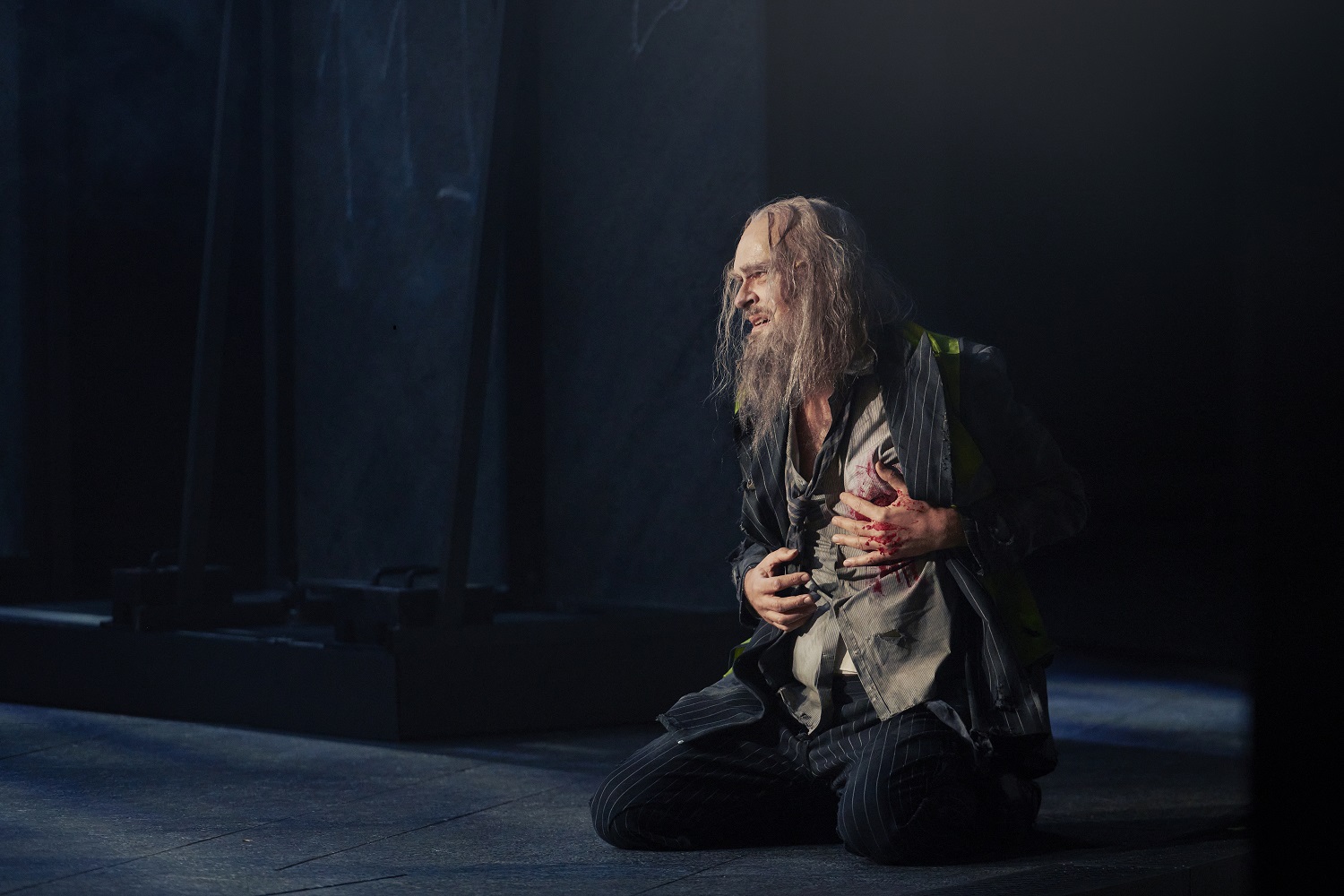 Wagner wrote dialogues, but the Gothenburg stage is busy with extras. Siegfried's dream – every straight man's fantasy – of a warrior maiden lying defenceless on a rock just waiting to be rescued – gains a certain, contemporary realism but also sympathy from the crew who helpfully loosen Brunnhilde's stays, etc. At other times their ubiquitous presence feels like a distancing device too far: the first scene's workplace banter, the everyman fellow in grey overalls who laughs at talk of dragons and fire and watches on while Mime and Alberich argue the toss.
Langridge's staging of Parsifal called out for a leaner, 5% fat account of the score than it received from Antonio Pappano, and in this respect Evan Rogister's conducting is more to the point. His flexible, transparently balanced reading makes a virtue of necessity from the slightly reduced, socially distanced forces ranged across the raised pit, though coordination problems still inevitably arise in the one-to-a-desk strings; the Prelude to Act 3 flickers into life like a low-energy bulb.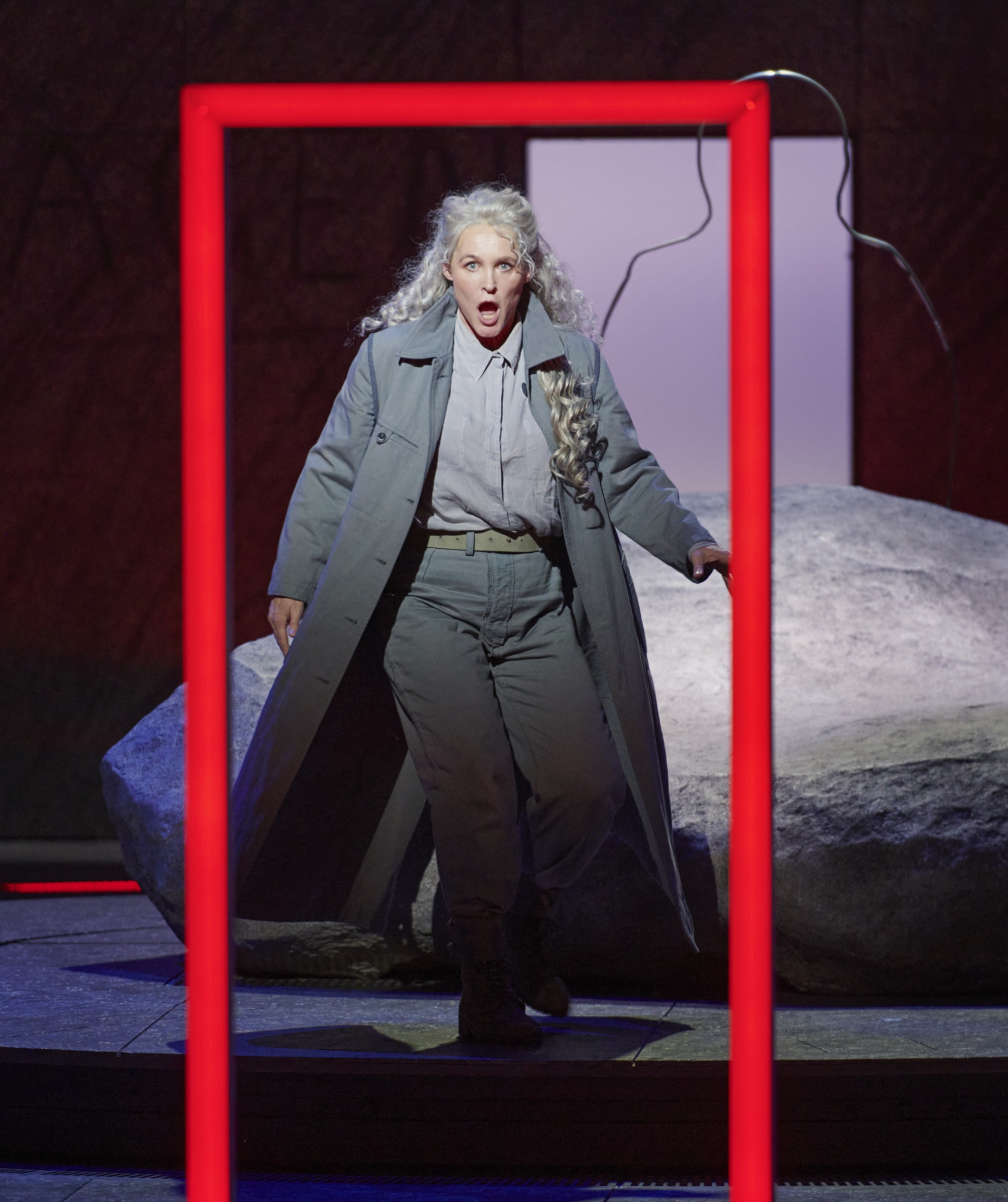 The casting is almost wholly strong, weakened only by a third-act Wanderer (Anders Lorentzson) apparently standing in for the marvellously bluff and grizzled Fredrik Zetterström of the first two acts. Dan Karlström sings a characterful but uncaricatured Mime. Hege Høisæter's Erda married warmth with resonance. Ingela Brimberg (pictured above) has the measure of Brünnhilde's final top C as well as lending an unforced, lyric tenderness to her tricky awakening. Best of all, she was never in danger of outsinging the tireless Daniel Brenna in the title role. Not since Gary Lehman as Tristan a decade ago have I heard a Wagnerian tenor as capable of both honeyed tone in reflection and ringing declamation. Siegfried is only a heedless bully if he is made to look and sound like one; Brenna, Langridge and Rogister between them present a much deeper portrait of this very modern anti-hero.