Senza Sangue/Bluebeard's Castle, Hackney Empire - uneven French-Hungarian mix |

reviews, news & interviews
Senza Sangue/Bluebeard's Castle, Hackney Empire - uneven French-Hungarian mix
Senza Sangue/Bluebeard's Castle, Hackney Empire - uneven French-Hungarian mix
Odd casting undermines the power of Péter Eötvös's answer to Bartók's masterpiece
Wednesday, 20 September 2017
Bluebeard's Judith gets to know her fate at the seventh door
Has Hackney ever seen or heard such a spectacle – a full Hungarian orchestra taking up most of the Empire stalls to complete the semi-circle of a relatively empty stage? And did enough of London get to hear about it?
I certainly wouldn't have done had it not been for a chance conversation with P
é
ter
Eötvös
, a leading figure in Hungary's beleaguered but still thriving cultural life, in an interval of the Budapest Ring. You don't often get to witness a major composer conduct his own response to a masterpiece –
Senza Sangue
, a psychological two-hander fit with
Bartók
's
Bluebeard's Castle
– so what a shame it had to be for one night only.
Not that the spectacle or the casting were perfect by any means in this joint venture between the Armel Opera Festival, l'Opéra Grand Avignon and l'Opéra-Théâtre de Metz Métropole. We had to wait for the Bartók to hear two voices able to match the uncovered glory of the Pannon Philharmonic, resident orchestra in Hungary's beautiful city of Pecs, or for that matter two singers who were right for their demanding roles. Senza Sangue (Bloodless) is a rather stilted-sounding adaptation by Eötvös' wife Mari Mezei, in Italian as the title suggests, of a novel by Alessandro Baricco. A woman who was a girl when her father was shot dead by three men meets – or tracks down – the last of them alive. He's 72, she must be in her early fifties. So why cast two young and inexperienced-sounding – in other words lesser music-college level - French singers, Albane Carrère and Romain Bockler (pictured below)? For ironic effect?
I thought so at first. But there is no irony, no humour, in the situation, its possible naturalism defused by director Róbert Alföldi's unnatural, jerky movements for his puppet-singers (and why slide the three pieces of furniture, a table and two chairs, up and down the stage?) And if the denouement was supposed to show the unrelenting hold of the past on damaged psyches, it came across as surprisingly weak.
With voices as under-supported, and characterisations as uncertain, as this, interest remained with the orchestra. Eötvös excels at high and low timbres, and some of his ideas – the writhing for two clarinets, the string unisons which share something in common with Bartók – really stick. It's understandable, when the dramatic premise is understood very early on, that the score should be mostly thick and angsty – Bluebeard's Castle is a thriller that moves in the opposite direction – but less would often be more, and it is when the lines finally settle down, but actually increase the tension, shortly before the end. I'd like to see Senza Sangue again, with a more mature, richer-sounding double act.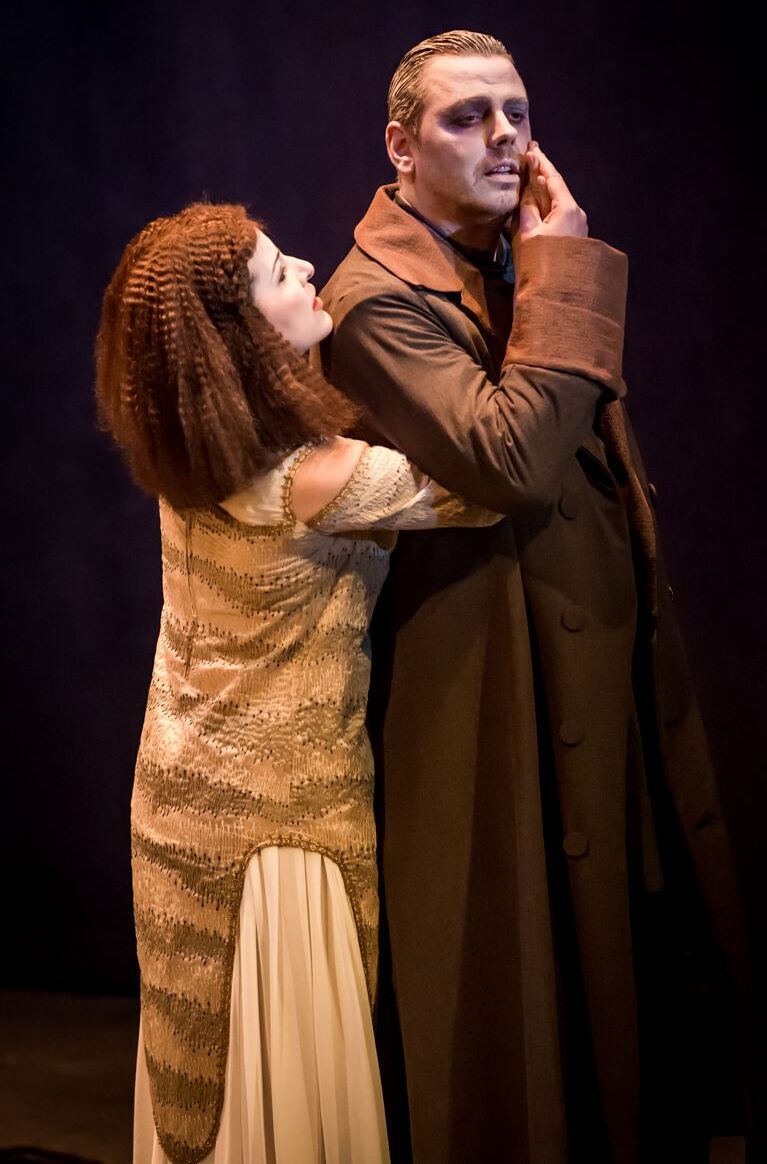 There's no shame in playing second fiddle to Bartók's towering masterpiece: even Schoenberg's Erwartung did that in a Royal Opera double-bill, and that was doubly unwelcome after rather than before the interval. The problem remains: can what's behind the seven doors Judith insists on unlocking in the metaphorical castle of Bluebeard's blighted life ever, visually, match the illustrative power of Bartók's queasy music, where dissonant-chorded blood taints even the prettiest things? The second, and much better, director of the evening, Nadine Duffaut, kept it all closely related to the psychodrama of the man and the woman, producing some bafflements along the way: why the crouching man (narrator of the spoken Prologue Philippe Murgier) and the projected despair of the woman in the torture-chamber (fitfully striking video designs as well as sets, I presume, by Emmanuelle Favre, who sticks to the claustrophobic curved wall for both operas)? Why no blood-red until relatively late in the action, no blaze behind the fifth door to match the orchestra?
Everything was much clearer in the one-to-ones of Adrienn Miksch's sinuous, glinting-toned Judith and Bálint Szabó's powerful yet vulnerable Bluebeard (pictured above) The psychodynamics whereby even as the woman gets closer to the man, her forcefulness weakens him until the point where both become the losers, were compellingly acted out. The evening's most involving moment, both musically and dramatically, was the revelation of Bluebeard's pool of tears – Szabó's now-stricken Duke clutching the throne poignantly, turned away from his Judith – and its aftermath, Hungarian strings ardently and tragically flaming. The terrifying sounds of the climax did not disappoint, either. Not quite on the level of Iván Fischer's Budapest Festival Orchestra concert performance earlier this year, this was still distinguished work from Eötvös and his orchestra.
One last enigma: why did Favre cling on to mythic garb for the regal pair and the Stepfordised former wives? And while you hoped that having a female director might ring the changes on Judith's ultimate submissiveness, I guess what happens on stage is tied to the freezing of Bartók's final pages. Perhaps a sequel where Judith finally emerges from the castle a strong woman rather than an abuse victim (Debussy's and Maeterlinck's Mélisande) might work. Eötvös would certainly be up to the challenge.