Sāvitri, Lauderdale House review - death and life in a Highgate garden |

reviews, news & interviews
Sāvitri, Lauderdale House review - death and life in a Highgate garden
Sāvitri, Lauderdale House review - death and life in a Highgate garden
Hampstead Garden Opera works a little miracle with Holst's mystical music-drama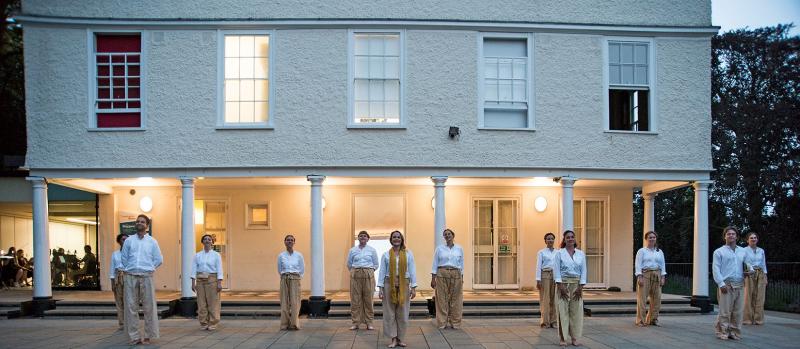 The cast of 'Sāvitri' take a bow, with the orchestra to the left
In seach of Orpheus, and following a route from the Hades of (thankfully) masked beings on the underground to Archway, then up to a windy, grassy plateau just below Highgate village, this wandering critic encountered another myth about the power of life over death.
Holst fashioned his
Sāvitri
, the only successful early (1907-8) fruit of the Sanskrit-translating composer's quest to compose an
Indian
opera, as a short, bittersweet
shoot
from the riches of the epic
Mahabhrata
, remarkably concise (under half an hour) for its pre-war time. The composer thought it would be best performed in the open air – quite a challenge for a music-drama which begins and ends with an unaccompanied solo voice – and Hampstead Garden Opera have shown unique initiative in making it the first out-of-lockdown experience of its kind.
Each live encounter of the new era manages to add some fresh dimension to all that we've been deprived of. In this case, for me (though not for Boyd Tonkin reviewing Opera Holland Park's second offering here) it was a chorus of eight female voices, emerging from the depths of Lauderdale House beyond the lawn on which we were so thoughtfully placed in chalked squares. The 12-piece orchestra conducted by Thomas Payne sat just behind an open door, and minutes after a heavy sudden shower and a rainbow above Waterlow Park's great copper beech, Death, also from within the house, struck up his claim for Sāvitri's husband Satyavān in the handsome physical and vocal personage of Dan D'Souza (pictured below).
The simple narrative could be clearly followed as the three fine young operatic voices in the cast I heard – as well as D'Souza, soprano Lizzie Holmes as Sāvitri and tenor Jack Roberts as her doomed woodsman husband – made themselves heard, valiantly unamplified, against the wind in the trees, the orchestra slightliy less so (though it was as well that the double-bass, for which Holst writes with special eloquencey, happened to be nearest the door).
Director Julia Mintzer didn't add much to the essence with a single dancer (Laura Calcagno, fine in what was asked of her), the one emergence of the heavenly maidens or the significance of the writings on the central mirror (in which at least one could see the clouds massing behind us). It also seemed odd to alter the denouement, Sāvitri's radiant outwitting of Death by asking him the boon of Life, which for her can mean only Satyavān (Roberts, pictured below with Holmes) restored to her, by having our heroine walk into death's domain rather than away with her husband in the opposite direction. Sāvitri become Alcestis, perhaps.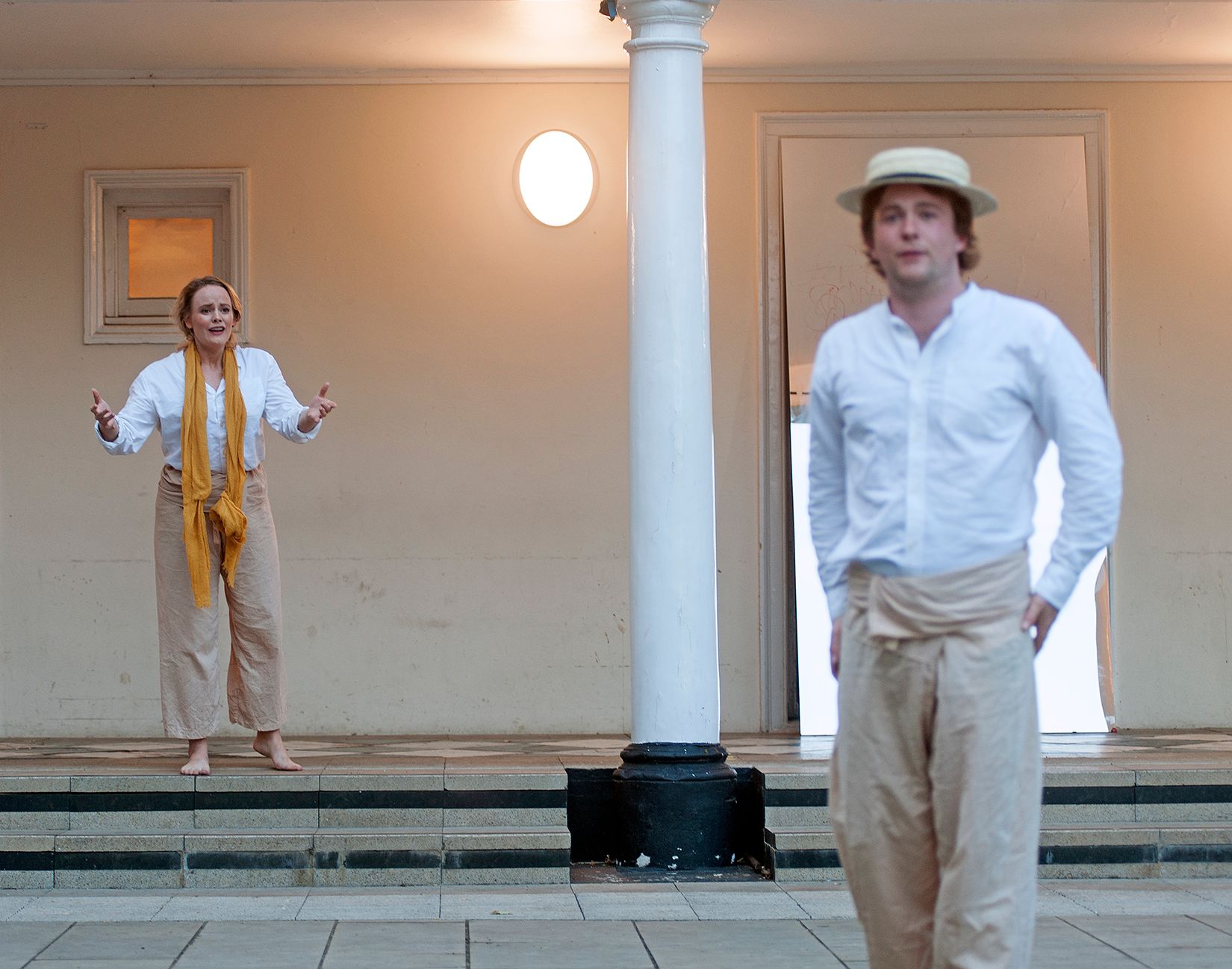 No matter; the essence of Holst's inspiration – adapting the English folksong style alongside the occasional Indian mode, a climax still in thrall to the Wagnerism he thought he had left behind – still shone through, with properly operatic singing matched to plausible acting. It's a pity the excellent vocal ensemble couldn't have taken up Holst's suggestion that they perform the bracing "Hymn of the Traveller" from his slightly later third group of choral settings from the Rig Veda as a prelude - true, that would have meant engaging a harpist - but under the circumstances no-one should have left unhappy with what we did get. And sheer gratitude for enterprise in our still-beleaguered country, where soaring infection rates have ruled out visits to bigger musical experiences elsewhere in Europe, overwhelms any slight quibbles. Magical setting, sublime music.