A new opera about sex trafficking |

reviews, news & interviews
A new opera about sex trafficking
A new opera about sex trafficking
Liverpool opera about women who are far from sempre libera
Wednesday, 15 February 2012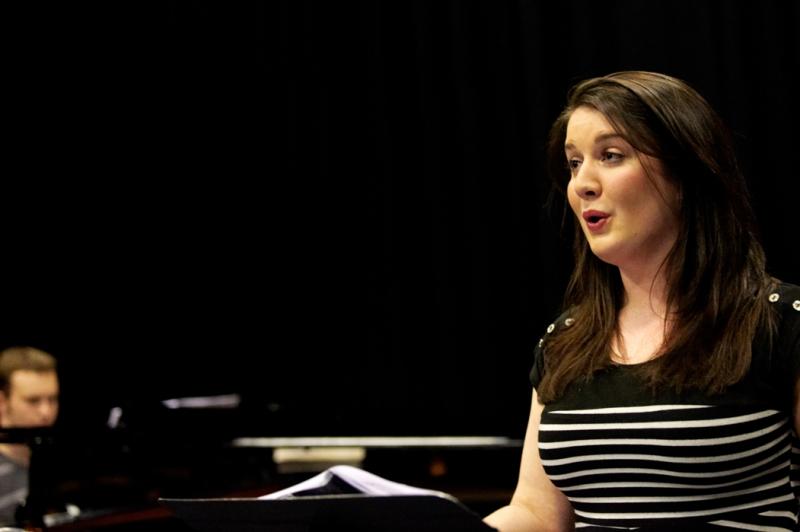 Anya (Andrea Tweedale) pleads for her life in a rehearsal for Anya17
The oldest profession is at the heart of one of the most popular operas in the canon. But the price put on a woman's sexuality will not be quite so glamorously portrayed in a new opera as it is in La Traviata. Ensemble 10/10, the contemporary music ensemble of the Royal Liverpool Philharmonic Orchestra. will premiere Anya17, a new piece by Adam Gorb based on an arresting, highly disturbing libretto by Ben Kaye.
"I've worked with Adam on two pieces before and he was presented with an opportunity to write an opera," explains Kaye. "Adam's brief to me was to explore the clash of cultures between Western and Eastern Europe. Adam has Eastern European roots. I fished around for ideas and, as I was doing so, stumbled across human trafficking and sex trafficking. It seemed to occur again and again and I knew nothing of it. The more I read, the more horrified I was. I wanted the opera to have a something of a platform, to let the public into this awful secret."
Around 800,000 young women and girls are trafficked into EU countries every year, with 90 percent destined for the sex industry. Most are gang-raped on arrival, their passports are confiscated, they are beaten and they work as faceless slaves, often forced to have sex 30 times a day with up to 16 different men. When they can no longer command a high price they are forced out, many murdered and found dead in ditches.
"The human stories flooded out," said Kaye. "Girls are treated as meat – there's an aria in the opera about that – and the charities who try to help these victims tell me you wouldn't have to drive more than 20 minutes from anywhere in this country to come across a victim of human trafficking."
And Anya 17? "Anya's the principal character," said Kaye. "And there's a menu there somewhere . . . but I don't want to give too much away." Both Kaye and Gorb felt any collaboration should relate to something about which few people were aware. "There's more slavery today than when it was abolished," said Gorb. "Now it's all underground. The fact is, though, that traffickers are among the most brutal people you'll come across. Yes, there are gruesome words and graphic descriptions, but it needs to be like this. It's not a nice story but it's based on real events. These girls live in relative poverty in the East. They see the supposed affluence in the West and they think they're coming to a better life. It's a real tragedy."
Unusually for a new opera, charities and NGOs have co-operated in the production of the libretto. MPs have been advised of the production and MEPs have expressed interest in staging a show at the Strasbourg Parliament – which could push the issue up the European agenda. There have also been expressions of interest from the USA and Australia. The world première takes place at the Epstein Theatre, Liverpool on 7 March, with an additional performance at the Royal Northern College of Music in Manchester on 9 March.
Around 800,000 young women and girls are trafficked into EU countries every year, with 90 percent destined for the sex industry
Explore topics
Share this article