Mansfield Park, RNCM, Manchester review - bringing out the best |

reviews, news & interviews
Mansfield Park, RNCM, Manchester review - bringing out the best
Mansfield Park, RNCM, Manchester review - bringing out the best
Costume drama in music, with a bit of a surprise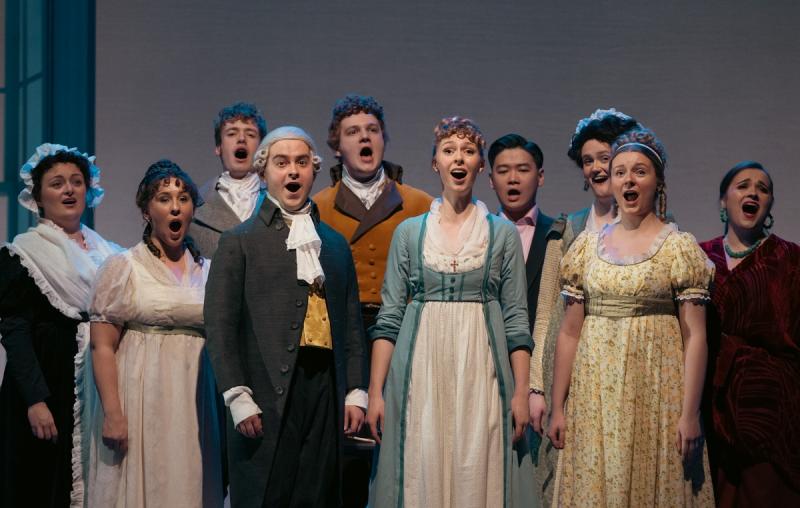 Magnificent ensemble singing: the cast of 'Mansfield Park'
Mansfield Park was written to be a country house opera – that kind where you have a smallish number of performers, no chorus, and the "set" is simply the rooms and furnishings of a gracious residence from an age gone by.
Accompaniment was originally four hands on one piano. But the concept soon grew to be more than that: composer Jonathan Dove made a small-orchestra score of its warm and melodious music, and music training institutions realised that with seven out of the 10 roles in the story being young people, they had a gift for their public theatre shows.
The Royal Northern College of Music had it all ready for its spring opera production of 2020, to be directed by Stephen Barlow. It wasn't far from the first night when Covid and lockdown struck, and (like a number of productions now being seen across the country) everything had to be put on ice.
Barlow, designer Yannis Thavoris and two of the original cast were able to return to it this year, however, and we finally get to see what we missed three years ago. The opera is, as usual with the RNCM, double-cast, and the cast I saw were in fact all new to it.
A positive about this production is the use of surtitles displaying the dialogue. Alasdair Middleton's book is very cleverly written, providing a filleted essence of the novelist's style, but sometimes Dove asks his singers to get through the words at such a rate that it would be hard for any audience to follow them without help.
Barlow and Thavoris have created intimacy as much as possible even though they're working on a big stage. The set is made in a circle, with grooves cut into it so that particular pieces of furniture can be swiftly moved into new positions from back to front or side to side, while other elements of the design are flown in from above, evoking not only the drawing room where much of the action takes place, but also a ship at sea, a trip to another country estate, a ballroom and the exterior of a garden grotto.
In that respect all is in period, but in costuming there's a surprise. While everyone else wears exactly the garments you might expect for a Jane Austen costume drama, Mary and Henry Crawford, the brother and sister who enter rural society with different ideas of moral behaviour from those of its other actors, are dressed in the present, and when the chapter about letters sent to and from the different characters is portrayed, Henry's is seen to be a text message on his mobile phone.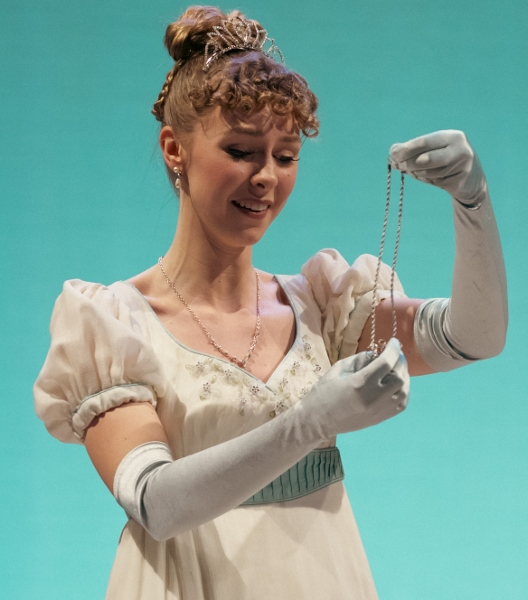 I'm not sure what point is being made by having them as an apparently time-travelling pair from our own era. They behave, after all, very much as a number of other Austen characters without too many scruples do. Maybe it's to universalise the story, but did it really need it?
The staging in every other respect has many delights: the trip by barouche to Mr Rushworth's estate, and the "Music and Astronomy" chapter, for instance. For the ball scene, Bethan Rhys Wiliam has once again taught young singers how to dance adroitly, and some of the orchestra become an off-stage band, which was a nice touch.
With many of the voices on offer here young and in development (and since I've only witnessed one cast of the two appearing) it's not right to say much about individual singers, but it's clear that their RNCM training and Lee Reynolds' conducting are bringing out the best in all of them, the ensemble singing is magnificent, and the orchestral playing is often very beautiful.
It's a lovely score, with touches of period pastiche (and a few little jokes, like quoting Mendelssohn's Wedding March fanfare in this period well before it was written) and all seamlessly woven into a tapestry of Jonathan Dove's characteristic tonal richness. Like Austen's prose, Dove's music tells you things that lie beneath its delightfully crafted surface. The role of Fanny Price, a heroine whose self-description is "I was quiet, but I was not blind" (and perhaps the closest to a self-portrait that Austen ever created), is a challenge precisely because of her subservience through much of the action, and consequently needs a singer who can act with skill and shine immediately when her time comes. The RNCM has certainly found that in Morgana Warren-Jones (pictured above), who was the singer I saw – and Olivia Tringham also takes the role.
Like Austen's prose, Dove's music tells you things that lie beneath its delightfully crafted surface
rating
Explore topics
Share this article