La traviata, English National Opera review - into a vortex of ineptitude |

reviews, news & interviews
La traviata, English National Opera review - into a vortex of ineptitude
La traviata, English National Opera review - into a vortex of ineptitude
Daniel Kramer digs a grave for musical-theatre possibilities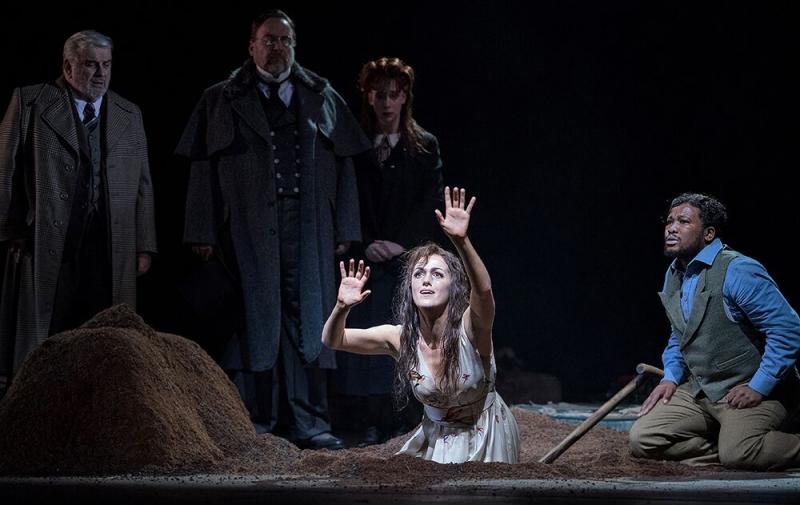 Violetta (Claudia Boyle) welcomes death as Germont (Alan Opie), Dr Grenvil (Henry Waddington), Annina (Martha Jones) and Alfredo (Lukhanyo Moyake) look on
You don't have to be a good director to manage the artistic side of an opera house. Daniel Kramer arrived at ENO and boosted morale at a time when company relations with then-CEO Cressida Pollock had hit rock bottom, and his repertoire choices for the new limited seasons look fine so far.
But auguries for what publicity proclaims his "first opera as ENO Artistic Director" were not good given the two operas he'd previously staged in the Coliseum:
Bluebeard's Castle
as Fritzl's basement, stuck with that one idea, and
Tristan and Isolde
with an ill-conceived first act stylistically different from the other two. Neither could have prepared us for a
Traviata
which commits just about every directorial clumsiness in the book as
Verdi
's perfect score struggles to stay afloat.
Hopes ran higher for soprano Claudia Boyle, a stylish Mabel in the Mike Leigh Pirates of Penzance (yes, that needs dazzling coloratura, too). She'd probably fit perfectly into a smaller house – the austerely beautiful Glyndebourne Traviata would surely bring out the best in her. But this Violetta is lost both visually and vocally, thrown into the shallow end of a ghastly Act One party – Paris or Hollywood, who can tell? – set way back on the vast Coliseum stage, so that even at the front of this limited acting space Boyle can't be properly heard. In any case both she and the even more unfortunately served South African tenor Lukhanyo Moyake are crucified by wildly inappropriate gestures in a relationship we never begin to fathom; this Alfredo, delighted to have touched the tender heart of the flamboyant good-time girl, executes an embarrassing little dance before waving ineptly and repeatedly as he waits for the lift at the back of the stage.
It doesn't get any better once the young man and his reformed girl head off for their country idyll in Act Two. Discovered on a swinging bed in the middle of a circular astroturf garden flanked by curtains which make it look as if the money ran out – designer Lizzie Clachan is better than this – the lovers have to do various stagy things with flowers as unmotivated props; Violetta becomes first Ophelia, distractedly making a floral display when confronted with Germont père – Alan Opie, dramatically limited to helpless arm waving, still in reasonable voice after 50 years with ENO but no longer able to float a seductive baritone legato – and then Lucia with a knife (the start of the duet pictured above). Her deathbed is a grave she's seen digging in a cemetery of mattresses, unconnected to anything that's gone before.
At this point Boyle and her conductor, Leo McFall, show they would have poignancy to offer under different circumstances. McFall and the ENO Orchestra give us the unalloyed pleasure of the evening in an exquisitely phrased Act 1 Prelude with the curtain mercifully down, but then fail to propel the party action (not easy when your company is so far back). The many pauses in Violetta's recitative and aria are not intense but leaden; presumably that's at Kramer's bidding and isn't McFall's fault (there was a similar problem Robin Ticciati couldn't entirely overcome in Claus Guth's Glyndebourne production of Mozart's La clemenza di Tito). They seem to go hand in glove with some desperately flat singing from Boyle, lessening as the evening goes on – and she certainly has the high-lying fireworks for the role, as well as the looks and the pathos nipped in the bud by the director.
Moyake should perhaps have ditched some of the moves Kramer asks of him when it came to the first night; the apogee of silliness is the bum-wiggling on all fours in an attempted childlike playfulness during the duet of reconciliation. He shouldn't attempt the top note Verdi never asked of him in the Act 2 cabaletta; but he does have some conventional Italian-tenor ardour, and ignites with anger at a second party filled with clichéd bondage rubbish. At least the ensemble-finale lets the singers just do their stuff, and the music begins to take off (pictured above). The chorus, orchestra and McFall do their best to atone in the whores/clients divertissement with bags of energy, but Teresa Rotemberg's so-called choreography is a non-starter. Of the smaller roles, only the Annina of Martha Jones emerges with dignity intact.
What saddens me most is that first-time operagoers, who would have been deeply impressed with the visual beauty and dramatic precision of Britten's A Midsummer Night's Dream in the classic Robert Carsen production and hopefully laughed themselves silly at Cal McCrystal's rigorously focused Iolanthe, must wonder what the hell the fuss is about. Traviata is, besides, one of the biggest casualties of opera in English – Martin Fitzpatrick's translation sounds leaden, but that may be the fault of feeble stage motivation – and with Kramer doing little to bring the singers downstage enough of the time, audibility is a problem. Even the chilly Peter Konwitschny predecessor, cutting 20 minutes of music and running straight through without the two intervals given here, woud be preferable If ENO wants Traviata as a moneyspinner in its rep. This Traviata as travesty isn't good enough and makes fools of its singers. The second star is for them, the conductor and the orchestra.
This Violetta is lost both visually and vocally, thrown into the shallow end of a ghastly Act One party set way back on the vast Coliseum stage
rating
Explore topics
Share this article