Jephtha, Buxton Festival |

reviews, news & interviews
Jephtha, Buxton Festival
Jephtha, Buxton Festival
Handel's affecting final oratorio could use some costumes and production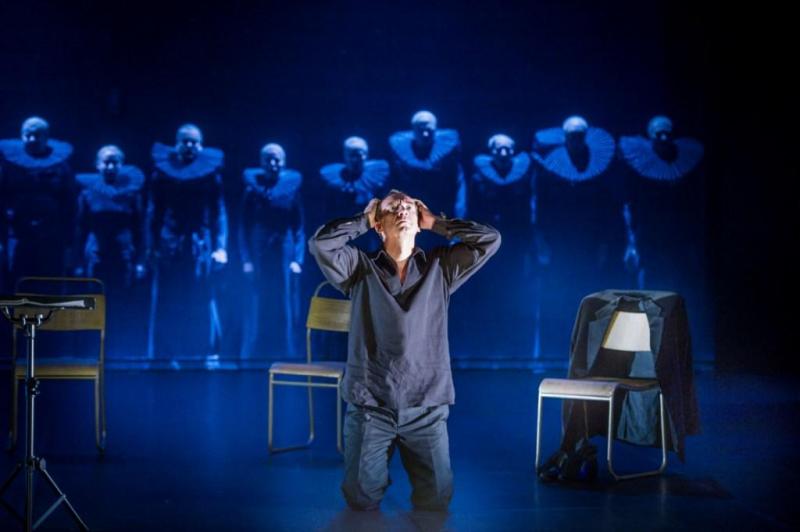 James Gilchrist as Jephtha; 'sings passionately without being given the opportunity to act'
Handel, a national hero at the time, went blind writing Jephtha, his last great oratorio, and sadly thence into terminal decline. Now, 260 years after its first performance at Covent Garden, we have a new production by Frederic Wake-Walker, who is also responsible for the design. So, it's very much his show.
Being an oratorio, Jephtha wasn't written to be staged. So, what do you do? After all, the story is about a man with ambition whose success on the battlefield brings him national acclaim but personal tragedy. You could go traditional or modern. Or make him a character recognisable in today's warring world.
The chorus are given quite a lot of walking to do
On this showing, Wake-Walker belongs to the hands-off, non-interventionist school of directing. You can see his argument – let the music speak for itself. But in that case why not perform the oratorio rather than place it in an opera festival? In the event, it is neither one thing nor the other, which could be the point he's trying to make. Essentially, there are no costumes, no scenery except for five ordinary tubular chairs and a music stand, a blacked-out stage open to the back wall of black brick, old pipes and radiator included. The five principals wear everyday black clothes and the 16-strong chorus are dressed like pierrots in black with neck ruffs and stockings over their heads.
He starts the performance with the house lights up for half an hour. The principals return to that oratorio mode at the end, two-and-a-half hours later, even being presented with faux bouquets and taking a bow. In between, the story unfolds.
Jephtha, bastard offspring of a prostitute, leads the Israelites into battle against the Ammonites and vows to God that if he is victorious he will sacrifice the first living thing he meets on his return. The good news is that he wins, but the bad news is that the first creature he meets is his only daughter, Iphis, a beautiful virgin. In the oratorio, as distinct from the Old Testament account, the reverend librettist Dr Thomas Morell has an angel stay Jephtha's murderous hand at the last minute. His daughter's death sentence is commuted; instead she must give her life to God by spending it as a virgin in a nunnery.
In the title role, James Gilchrist sings expressively and passionately, without being given the opportunity to act out the part, get into character or interact with the other principals, although he does briefly agonise over his daughter as she puts her head on the music stand. All the principals sing well. Gillian Keith (pictured right) makes a pert and touching Iphis, symbolically appearing in a red coat in this black world and singing of light as she unknowingly faces death, and she is well supported by counter-tenor William Purefoy as her sad fiancé. It would have been good to hear more of the excellent Susan Bickley as Jephtha's wife, while Jonathan Best sings powerfully as Zebul. In the cameo role of Angel, Elizabeth Karani is one to watch.
Harry Christophers, conducting the Orchestra of the Sixteen, sweeps Handel's score along spiritedly. The hand-picked 16-strong Festival Chorus has impressive force and quality. Their first appearance in a spot-lit line at the back of the stage comes as a spooky surprise. As time goes on they are given quite a lot of walking to do, up and downstage, like waves of soldiers, and they wrestle with the five chairs.
They also do quite a bit of hand choreography, white on black, which is effective in its way. So, there is some "production". And their entrance, one by one, near the end, on their knees pushing night lights along the ground to accompany the bleak chorus "How dark, O Lord" is most effective. Lighting designer John Bishop's contribution to the staging is immense, throwing spots and shafts of light atmospherically into the gloom. Of course, the oratorio has a real depth, but however powerfully affecting, this production could use some costumed characters and stage action.