I, Object review - this operatic double-bill delivers just a single hit |

reviews, news & interviews
I, Object review - this operatic double-bill delivers just a single hit
I, Object review - this operatic double-bill delivers just a single hit
A bright new talent and a tired old bore make for uneasy bedfellows
Saturday, 02 December 2017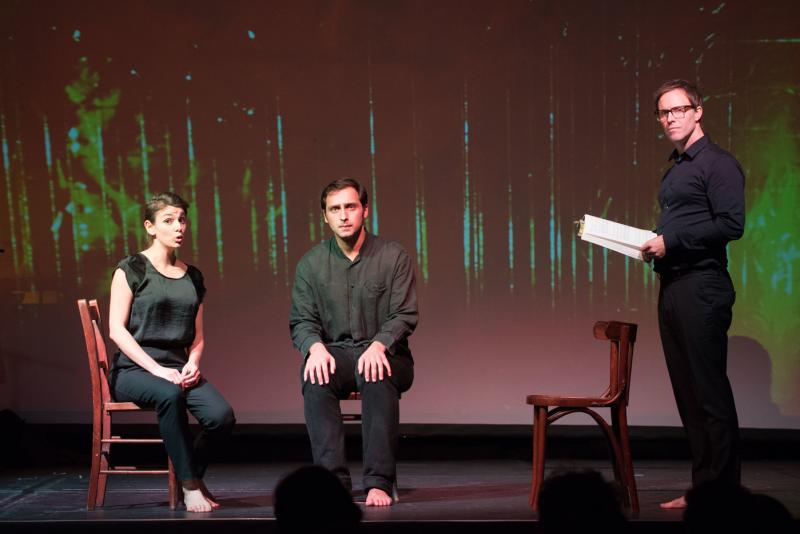 The doctor will see you: Raphaela Papadakis, Nathan Vale andJoseph Padfield in Nyman's opera
A comma divides the title of this opera double-bill in two, but the works paired here (Michael Nyman's The Man Who Mistook His Wife for a Hat and Kate Whitley's Unknown Position) each explore what happens when you take it away – when natural divisions, between human and object, self and other, perception and reality are dissolved, dismantled or elided.
It's an interesting premise, but one that only translates here into a single interesting opera.
A bit of a buzz is building around young British composer Kate Whitley. A recent NMC release of her works gives a taste of a musician with a wonderfully precise language in which little is wasted, and nothing feels purely decorative or gratuitous. Her music also has the capacity to be genuinely dramatic which, after a spate of oratori-operas on main stages around the world, should immediately catapult her up the commissioning list.
At barely half-an-hour, this is a tantalising hint of an opera
Premiered in 2011, the two-hander Unknown Position takes real-life stories of people drawn to forge relationships with inanimate objects – including (but not limited to) a fairground ride, a sound-desk, and the Eiffel Tower – as its unlikely starting point. The action itself is simple: a young woman fights with her partner, before expressing her love for a chair.
Whitley and collaborator Emma Hogan are alive both to the absurdity and the pathos of the situation, treading carefully through their sensitive subject matter to produce a taut, tightly constructed work which brims with character. Wonderfully limpid instrumental writing offers stains and sweeps of colour (there are some striking moments for tuned percussion, in particular) without ever clotting the texture. Interestingly the band is considerably larger than for the Nyman, but deployed in such a way that the voices ride easily above it, never having to fight to be heard.
Enchanting soprano Raphaela Papadakis (pictured right) made a complicated Woman, her mercurial moods driving the unshowy rhetoric of her vocal lines (which pull off the rare feat of making a contemporary, vernacular libretto sound quite natural). Her bright, pointed tone swelled into fullness for her love aria – a nice contrast to Nathan Vale's cooler tenor, collapsing into speech just as the Woman releases into song. At barely half-an-hour in length this is a tantalising hint of an opera, a promise (hopefully) of things to come.
The same cannot be said of Michael Nyman's The Man Who Mistook His Wife for a Hat. Premiered at the ICA 30 years ago, there's some logic to restoring it to the venue in this revival, but otherwise I can see little reason for digging it out of retirement. Unlike Philip Glass's operatic minimalism, where repetition achieves a transformative ritual weight, Nyman's simply numbs the ear – neither witty or glossy enough nor musically substantive enough to sustain the length of an opera, certainly not one with quite as much plot to cram in as this.
The Man feels like a wordy slog from its first bars, and nothing that conductor Mark Biggins could do with his onstage band lessened their deadening impact on voices, smothering them and their all-important text in empty clatter and chug. The writing, both for voices and instruments, is ungrateful, exhausting, and both Papadakis and, most obviously, Vale – a late step-in for this performance – tired audibly, with only bass-baritone Joseph Padfield surviving unscathed. Tone wobbled, tuning suffered in the band, and everything felt uncertain. Rosalind Parker's minimal production (making judicious use of projections) just about kept things moving, but there's a limit to the salvage work any director can do here. After the cogent wit and youthful brio of the Whitley, this just felt like the pompous meanderings of the club bore.
The Nyman feels like a wordy slog from its first bars, smothering the text in empty clatter
rating
Explore topics
Share this article