Farinelli and the King, Duke of York's Theatre |

reviews, news & interviews
Farinelli and the King, Duke of York's Theatre
Farinelli and the King, Duke of York's Theatre
Music and Mark Rylance charm, but is it enough?
Wednesday, 30 September 2015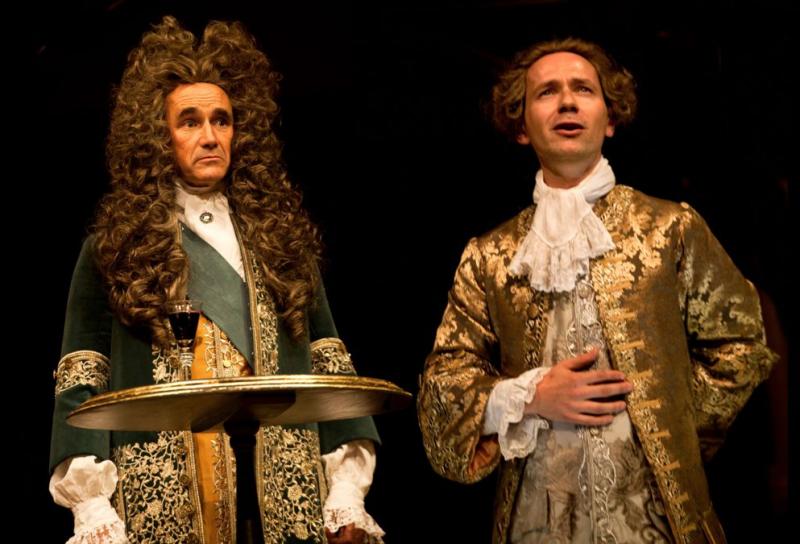 Philippe V (Mark Rylance) bewitched by Farinelli (Iestyn Davies as the singing version)
No doubt this sophisticated bagatelle starring Mark Rylance worked like a charm in the intimate space and woody resonance of the Sam Wanamaker Playhouse.
The Duke of York's Theatre is one of the West End's smaller mainstream venues, its proscenium arch is appropriate to the early 18
th
century operatic world in which castrato Farinelli made a fortune enchanting his audiences, and the recreation of the Southwark gem onstage with its ranks of candles in chandeliers as well as footlights and its pretty boxes has been perfectly achieved by Jonathan Fensom for the transfer of John Dove's production. Yet I'd rather have been up there with the lucky audience members who got ringside seats on the action rather than some way back in the stalls, where the delivery came across as mostly
piano
to
mezzo forte
.
History needs to be streamlined and shaped for drama, but I'm not sure that Claire van Kampen's liberties always hit the mark. We're supposed to believe that the greatest singer of his age turned the mind of Philip(pe) V of Spain, grandson of Louis XIV, from melancholy to action in a minute. But even graced by the most beautiful countertenor voice of our age with fine musical intelligence to match, Iestyn Davies – fellow falsettists Rupert Enticknap and Owen Willetts sing on other nights – supported by a top group of musicians, I wasn't convinced that a sliver of Porpora's "Alto Giove", a striking number in a pleasant sea of mostly Handel, would have done the trick. Much has been made of the play's pivotal point, but it's hardly new: the Pericles of a putative Shakespeare is more movingly transfigured by the music of the spheres.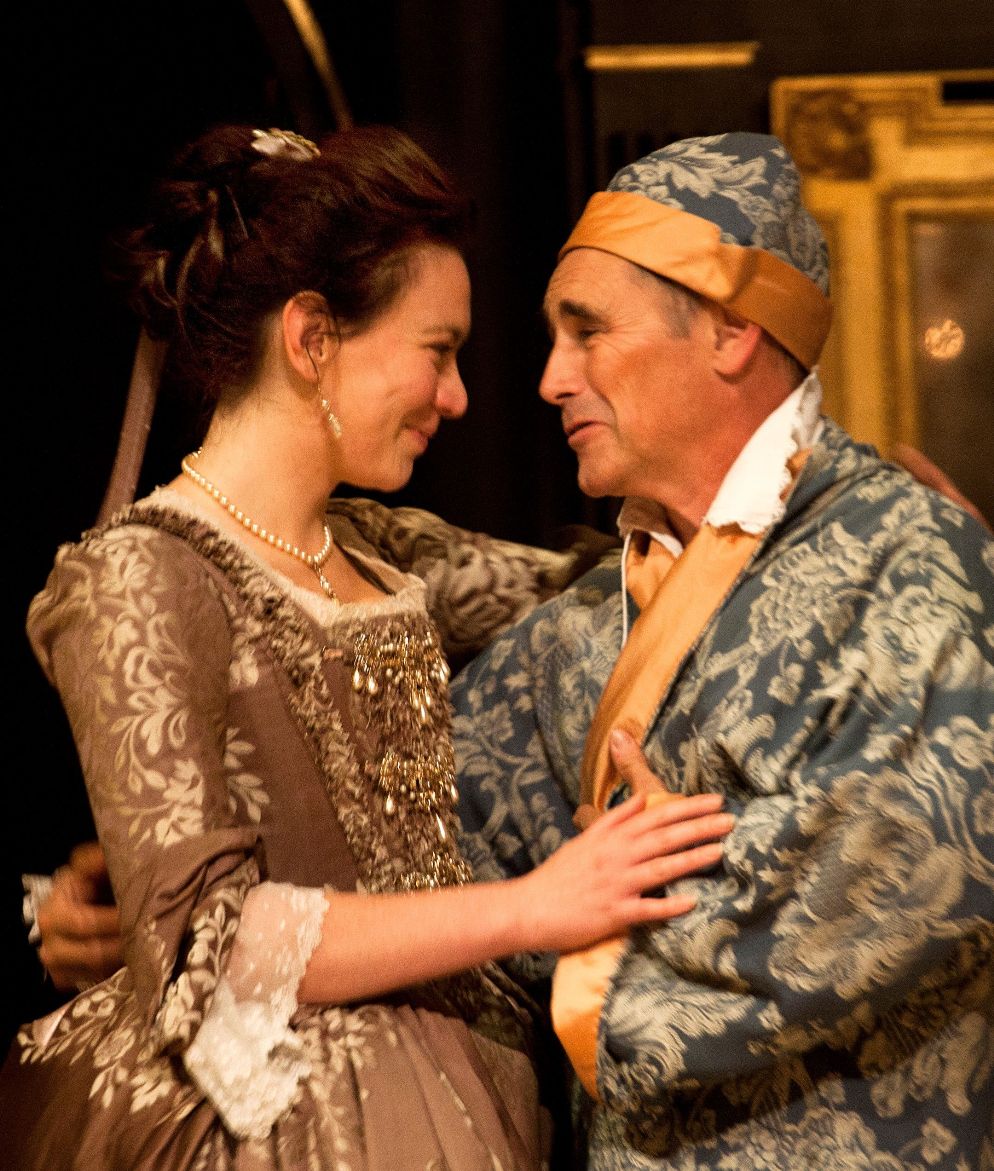 In any case, the proposition of music's healing powers here is a bit glib. It doesn't always work for depression, and we know that Philippe could only have found it a distraction, not a cure, because quite apart from maintaining the depressive's habit of staying up all night, forcing his house-singer to keep him company, and sleeping all day, he soon started howling in dismal imitation. A line here does admit that one voice only temporarily stifles many. But there could have been a more complex probing of music's elusive role in singing truth to power instead of the oldest trick of opera librettos in the book to pad out a plot which has nowhere to go – introduce a love triangle. I didn't believe in Farinelli's passion for Philippe's beautiful consort, Isabella, for a minute. Perhaps that was because the rather weedy delivery of Sam Crane as speaking-Farinelli - there are two, partly to back up the separation between man and artist - didn't kindle sufficient interest.
The supporting cast is good at best (Melody Grove's wise Isabella, Colin Hurley's testy librettist Metastasio and Edward Peel's music-resistant courtier De la Cuadra). We've all really come, though, to see the most spellbinding actor of our stage, Mark Rylance (pictured above with Grove), as the bipolar king. He effortlessly throws his book of engagement, his seemingly improvised hesitations and his charm at us from the start, making us believe he's sane while all around are mad, at least until violence briefly erupts. There are some nice lines about the parallel, unsought-for kingdoms of the ruler and the singer, near-poetry about the music of the spheres and a few laugh-out-loud moments (Farinelli's composer brother Riccardo, who supposedly gave his sibling the snip at the age of 10, becomes "Rick the Knife"). But the richly-worded world of Johnny "Rooster" Byron or Richard III it isn't.
There's a nice quiet coda where Rylance doubles up as a tailor and Davies pierces the soul at length with "Lascia ch'io pianga" (the heroine's hit from Rinaldo, which like most of the other Handel numbers it's unlikely Farinelli would have sung). And the second act overcomes the limitations of the present venue by extending the action into the stalls. But I doubt if the material will really carve a place in your soul.
The proposition of music's healing powers is a bit glib
rating
Share this article