Don Pasquale, Glyndebourne Tour review - winning comeback for a sturdy veteran |

reviews, news & interviews
Don Pasquale, Glyndebourne Tour review - winning comeback for a sturdy veteran
Don Pasquale, Glyndebourne Tour review - winning comeback for a sturdy veteran
Sweet spots abound in Donizetti's much-loved sugar-daddy romp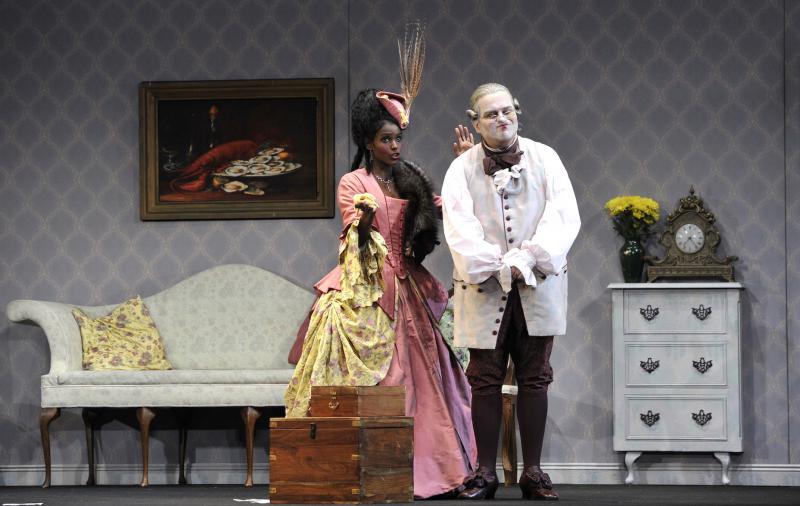 No fool... Mariam Battistelli and Ricardo Seguel
If it ain't broke… on tour and in the Glyndebourne summer festival, Mariame Clément's production of Don Pasquale has gratified audiences for a decade now. It surely will again in Paul Higgins's spirited revival. The show returns to the Sussex house at the start of this year's tour with the leaves about to turn but the gardens still ablaze with late-season colour.
If Julia Hansen's painterly 18th century designs offer an eye-delighting spread of pastoral prettiness, Donizetti's piece itself ripostes with its tough-minded warning not to take appearances on trust, and to avoid confusions between blooming spring and wilting autumn. The titular dotard will be trapped into sham matrimony with Dr Malatesta's "sister": in fact, the disguised and merrily scheming Norina. Their hoax will compel Pasquale to permit her proper wedlock with her true beloved – his nephew Ernesto.
"The moral's easy to find," sings Mariam Battistelli's super-minx Norina as the action ends: "Marriage in old age is for fools". We chuckle, or hum, knowingly along as the irresistibly witty and melodic score helps to set the make-believe world to rights. But, out in what passes for offstage reality, well-heeled elderly patrons – even as ancient as 70-something Don Pasquale, with his madcap urge to take a wife – do seek younger companions. Sometimes they even find them. Remind me, what's the Italian for "sugar daddy"?
I know: looking for psychological realism in Italian opera buffa is like consulting Star Trek for a lesson on astrophysics or Disney's Jungle Book for rainforest ecology. Yet cynical and mercenary truths do lie just below the commedia dell'arte surface, and in this piece the conniving Dr Malatesta understands them better than most. Russian baritone Konstantin Suchkov, especially in his early duets with the hapless Don whom he plots to dupe, has a deliberately abrasive edge to his delivery that reminds you that not all is honeyed sweetness, even in this most mellifluous of scores. Clément makes Malatesta a pretty nasty piece of work, with a mind as full of mischief as his name suggests. She also makes him the night's big winner thanks to a last-gasp reveal which suggests that crime – or at least, conspiracy – does pay. If we can't much warm to Suchkov, we can admire him – above all in the show-stopping patter numbers (such as a terrific "Cheti cheti immantinente") along with the softer, warmer bass of Ricardo Sequel's Pasquale.
If this Malatesta (pictured above, centre, with Mariam Battistelli, Tom Mole, seated, as the notary, and Ricardo Seguel) sometimes seems to have dropped in from opera's harsher verismo future, elsewhere the rococo costumes and designs conjure up a world of regulated intrigue and discreet naughtiness such as Fragonard or Watteau might have painted, as Hansen backdates Donizetti's 1843 work by 70 years or so. Undergarments feature heavily (or rather, scantily), from Pasquale's pyjamas as the old goat falls for the oldest marriage-plot trick in the book, to the culottes in which Norina swaps the moonstruck idiocy of romantic novels for the grown-up fun of deceit in the service of true love (if it really is that…). We glimpse a polite society en déshabillé, with its underlying motives shockingly on show. The revolving stage ensures swift and seamless movement between the three rooms – Pasquale's, Norina's and the ramshackle nephew Ernesto's – where plots hatch and desires come to light.
As the gulled Don, Chilean bass-baritone Seguel injects just the right measure of sympathy into a role that can otherwise feel like a pitiable plot-punchbag. His hopes of marriage to the spotless "Sofronia" (in actual fact, the disguised Norina) high, he dances a little jig and his buoyant tones hint at a kind of vocal rejuvenation too. When, by the third act, Sofronia-Norina has begun to teach him his lesson through her haughty ways and ruinous spending habits, the pathos has to feel authentic – for a moment or two, anyway. Seguel's "E finita Don Pasquale" nicely managed that. The tongue-twisting double-acts with Malatesta prove that he still has plenty of juice in his batteries; Donizetti's music gives him an agile dignity the plot sometimes denies.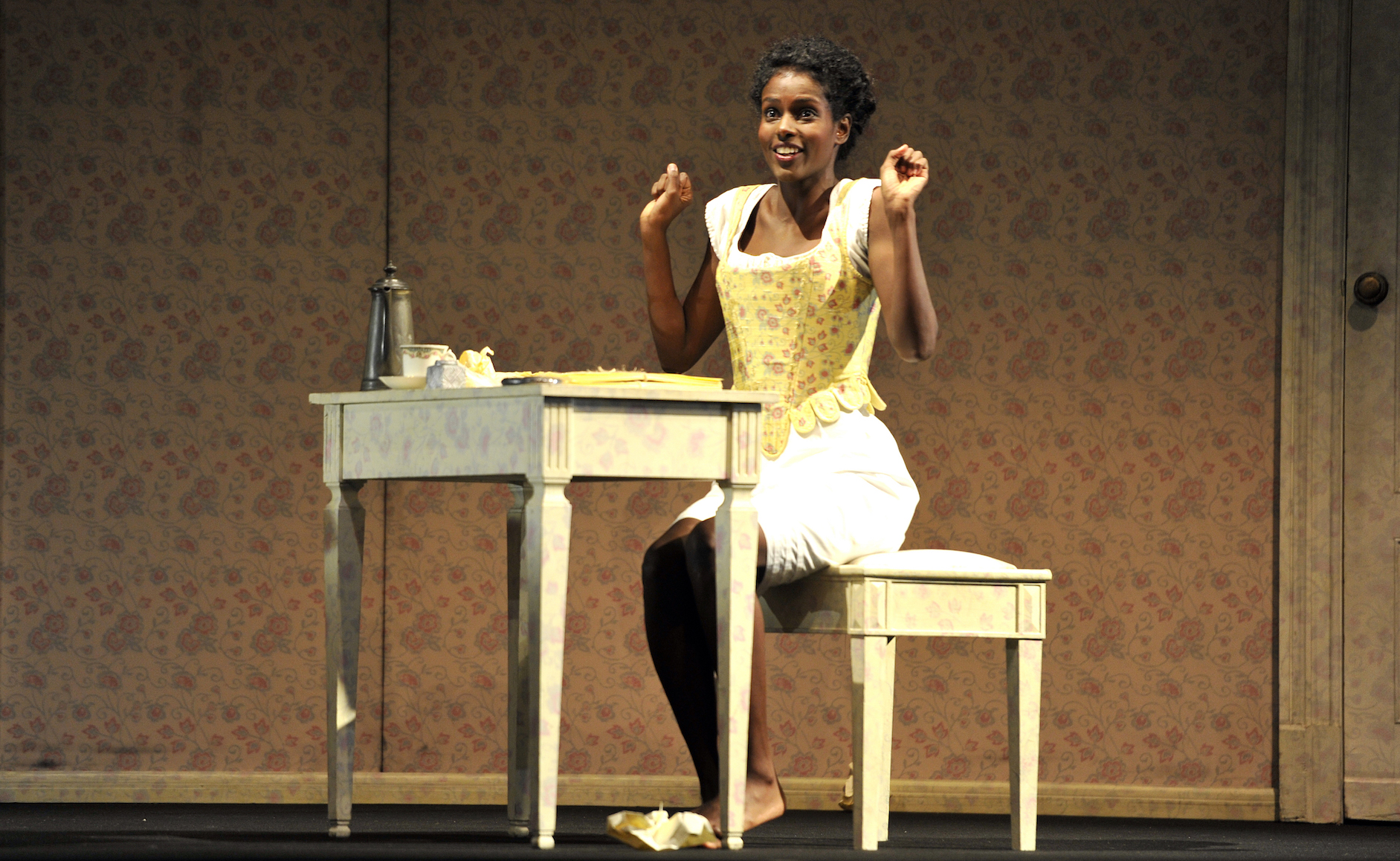 As Norina, the Ethiopian-born Italian soprano Mariam Battistelli (pictured above) had the measure both of the devious comic business the part requires, and its vocal fireworks. Her opening rejection of hi-falutin' literary romance in favour of hard-headed calculation ("So anch'io la virtù magica") has to inveigle the audience as co-conspirators. Battistelli had all the mischievous charisma to achieve it. Her coloratura has an impressively implacable, even steely quality – a weapon wielded to conquer fools, with fortissimo top notes deployed like triumphant battle-cries. But there's charm as well as ruthlessness in this performance. She pulled off the – potentially quite alienating – scenes in which the spendthrift "Sofronia" reduces poor Pasquale to near-despair with a winning dexterity and grace. Her swain Ernesto, sung by Korean tenor Konu Kim (pictured below), has to wait a while before Donizetti really lets him shine, as he forlornly drags his guitar around his threadbare chamber. But Kim rose to his set-piece arias, and bathed the gorgeous garden serenade "Com'è gentil" with a lovely sunset glow to match the painted clouds.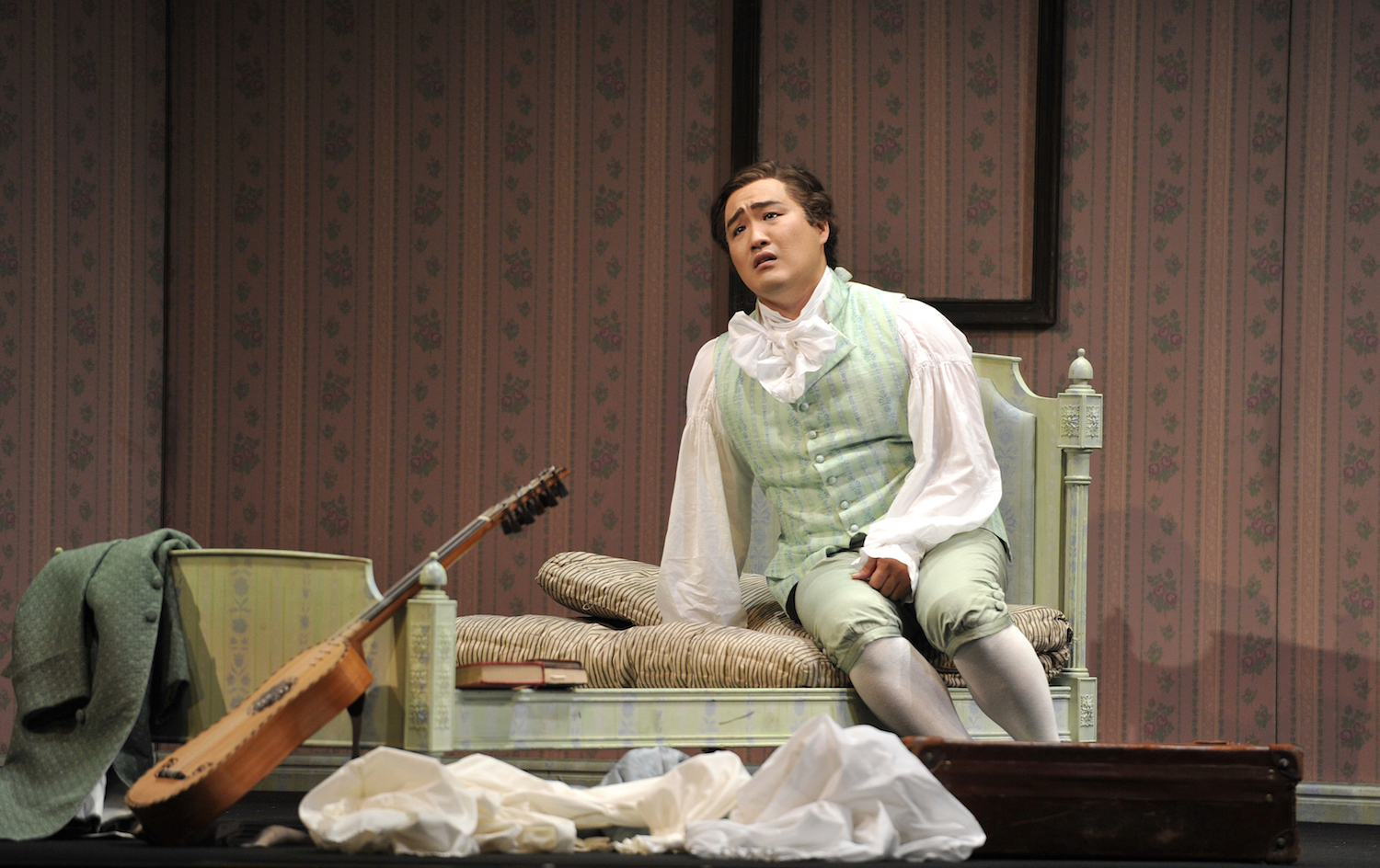 Yet the stand-out moment in this revival perhaps came not in any single aria but in the Act II quartet. Cross-purposes and hidden motives somehow align into a scene that spins harmonious sweetness out of all this silly, or even nasty, intrigue. This, and other ensemble moments, worked with both group coherence and individual finesse. Meanwhile the chorus – repurposed for their numbers as a sort of white-clad onstage audience – threw in their tunefully bitchy commentary on events as Norina's consumer binge punishes Pasquale for his age-defying fantasies. "It's still a good house. There's money to spend," they sang. Well, let's hope so.
In the pit, Jonathan Bloxham conducted Glyndebourne's tour orchestra with clean-lined relish and rigour. The overture had a bracing zing and snap, while the wistful trumpet solo in second act's prelude gestures briefly towards a lyrical expansiveness that this tight-knit, hard-driving score seldom allows itself. Bloxham set a lively pace for a well-drilled production that carries no passengers and never loses its bite. Although Clément's directorial tweaks may hint at a darkness lurking on the edge of the final reconciliation, that hardly spoils the fun. Unlike knackered old Pasquale, this strongly-sung and well-muscled veteran of a show is still capable of giving pleasure up and down the land.