Don Giovanni, Royal Opera |

reviews, news & interviews
Don Giovanni, Royal Opera
Don Giovanni, Royal Opera
Concept still overpowers emotion in this strongly cast revival
Don Giovanni (Christopher Maltman) can't write himself out of his inevitable tragic ending
2013 was the year that pop fans were forced to ponder the ethics of "Blurred Lines". In 2014 classical fans followed suit, when Kasper Holten's Royal Opera Don Giovanni unapologetically redrew the map of sexual boundaries. Suddenly Donna Anna was sneaking off for a quickie with the Don while her beloved laboriously declaimed "Dalla sua pace" – a willing partner (along with Elvira, Zerlina and all other women to hand) rather than a victim.
Now Holten's Don returns, if not precisely a reformed character, then at least a changed one.
It's clear that the director has been doing some thinking since the production's first outing, but what's also clear is that he's lost some of the courage of his earlier convictions. The action is softened, smoothed out, and while that makes for a more palatable evening of sexual politics, it also rather pulls the rug from under Holten's concept.
The big draw for this first revival is a starry cast, led by Christopher Maltman's Don
This is the tale as told by the Don himself (because white, male sexual predators are notoriously under-represented in art). As the Overture's quavers start fidgeting, so the classical façade begins to swarm with scrawled names – the famous list of Don Giovanni's conquests – until the building is blackly covered. Physical architecture is overwritten with sketches (animated by Luke Halls's video designs), until the revolving cube of a world is one entirely created by Giovanni. He even leaves ink blots on the women, a black stain spreading outwards on Donna Anna's dress (Albina Shagimuratova, pictured below) as the action progresses.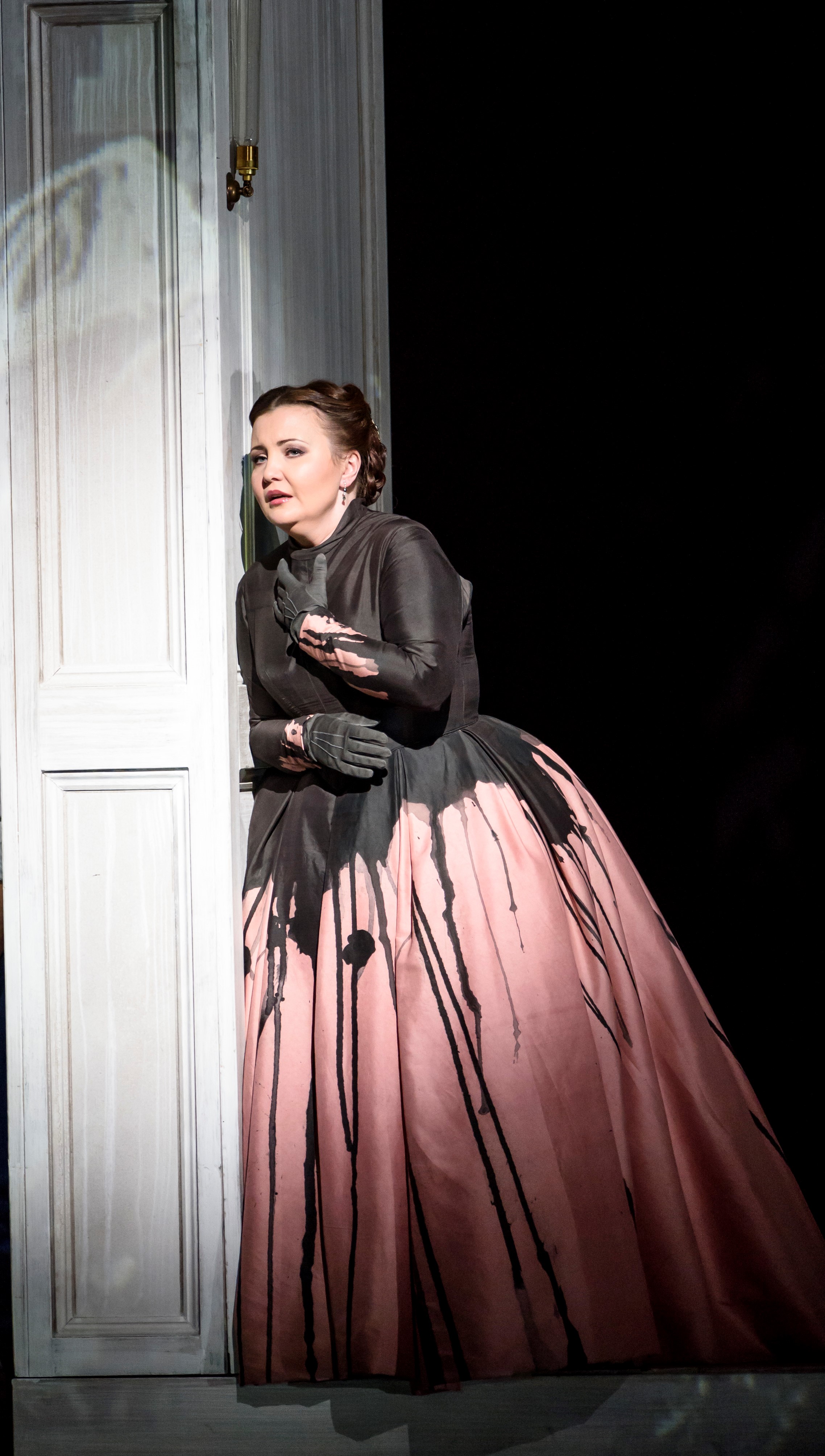 This basic framework remains, but within Es Devlin's rotating world much has changed. Though still an enthusiastic participant in the opening scene, Anna no longer continues to pursue the Don. This raises questions that fail to be answered by the fairly traditional character development that follows. Zerlina too, much less lusty in Julia Lezhneva's hands here than Elizabeth Watts's last year, is altogether more conventional.
Most striking, however, is the rethink of the ending. Despite the confusion that came before it, this was a moment of shattering emotional rupture first time round. Stripped of his animated illusions and imaginings, the Don was left alone in the full glare of stage and house lights, suddenly thrust back to truth, while offstage the ensemble sang the sextet. It was elegant and satisfying in a way that few productions of this opera achieve. Traditionalists may prefer Holten's current thinking, which follows the well-trodden route of cutting the final scene altogether, simply condemning Giovanni to an ever-shrinking spotlight and the curtain, but it makes little sense in the context of what comes before.
The big draw for this first revival is a starry cast, led by Christopher Maltman's Don (pictured below with Lezhneva as Zerlina). Where Mariusz Kwiecien was all about sex, Maltman's seductions are all about power, control. Cold violence in his actions meets heat in the voice, pouring itself into every crack in this familiar role. It's a shame he and the rest of the cast don't get more support from Alain Altinoglu's pit. Veering all over the place in tempos that push and rush, and at one stage on opening night left the onstage band almost a beat behind, Altinoglu brings propulsion but little sensitivity, and the fortepiano still draws far too much attention to itself in the recits.
Of the women, it's Dorothea Röschmann's Elvira that seizes this limp production by the balls – urgent, desperate, at times exquisitely unlovely, deploying every vocal colour and quirk of phrasing with intent. Albina Shagimuratova's Donna Anna offers strong support, though noticeably tires towards the end, a more natural fit for this space than Julia Lezhneva (Zerlina). This voice is still – and may always be – a bit too small for Covent Garden, and especially in this low-lying role, her lack of power exposed in wayward tuning and unbalanced ensembles.
While the rest of the cast were booked for Mozart, Rolando Villazón (Don Ottavio) spent Act I convinced he was doing bel canto, swooping and crooning his way through a troubled "Dalla sua pace". This voice is still not a healthy one, and it's hard to see a future when everything above the stave retreats so far into the nose. Things improved with "Il Mio Tesoro", and despite his issues, Villazón's innate star quality does make this drip of a romantic lead into a more plausible lover than most.
If Holten's Don Giovanni still isn't precisely a success, then it does remain a fascinating failure. There is so much – too much – thought here, but plenty to provoke and engage. What's lacking, however, is desire. Sex, here, is power, control, social currency. What it isn't, and really needs to be, is sexy.