Così fan tutte, Scottish Opera online review - wit and deception in an empty theatre |

reviews, news & interviews
Così fan tutte, Scottish Opera online review - wit and deception in an empty theatre
Così fan tutte, Scottish Opera online review - wit and deception in an empty theatre
Am-dram props and loose directorial ends don't faze a team of fine young singers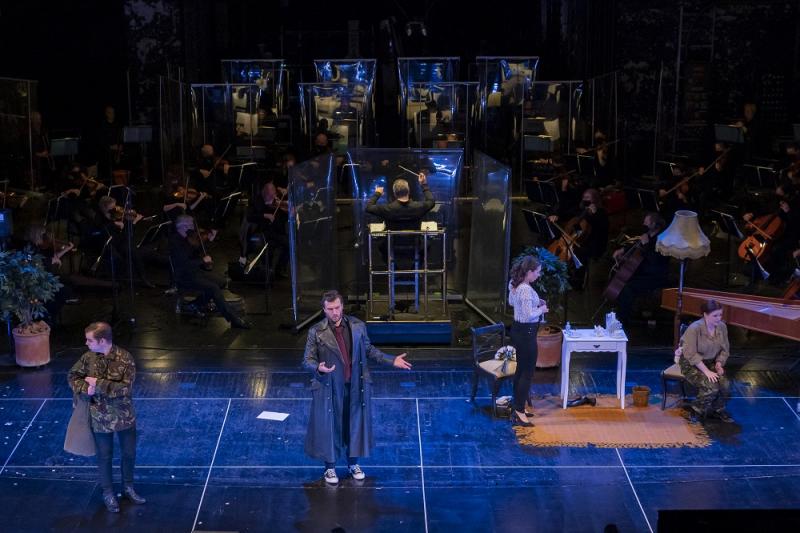 Arthur Bruce, Michael Mofidian, Margo Arsane and Charlie Drummond
For its latest production, unveiled on Sunday evening but recorded in November, Scottish Opera toys playfully with the absurdities of Covid-compliant performance practice. But maybe sensing our weariness with the whole business, it is not overdone.
In fact this is a relatively straightforward concert staging of
Mozart
's dark and unsettling comedy.
The orchestra is on a darkened stage, behind the proscenium arch, ghostly masked figures barely visible behind a multitude of flexible perspex screens. The stage is extended over the orchestra pit and lightly furnished with a table, two chairs and a standard lamp that look as though they may have been borrowed from the Bearsden Amateur Dramatic Society. Around the edge, some potted plants, among them what look like tangerine trees bearing fruit, though at an enforced distance through a computer screen it is difficult to tell if they are real.
The video begins with the orchestra tuning, then a masked conductor, Stuart Stratford, bounds on stage, bows to the non-existent audience, whips off the mask, and the overture begins. Almost immediately we are introduced to some extraneous characters, as a handful of glamourous patrons appear in the audience boxes, start eating popcorn and wave at each other noisily. Your first thought is that they are the cast, blurring theatrical conventions, but they're not, and their antics recur like slightly pointless punctuation marks throughout the ensuing drama.
Director Roxana Haines declares in her programme note that she has recast Così as a reality TV show. It's an astute observation, for the manipulation of Don Alfonso, given an impressive performance by Michael Mofidian (pictured above), is indistinguishable from the moronic and humiliating tasks set for contestants in the TV sub-culture of reality game shows. But beyond dressing Alfonso in a jacket that would make Graham Norton look drab, the TV theme is lightly played, partly because it would stretch the credibility of the dialogue but mainly because Mozart and his librettist da Ponte have already produced a drama as deliciously naughty and dangerous as anything that could be dreamt up by a 21st century TV producer.
Of course we are, in any case, viewing this through the camera lens, something we are reminded of by one camera, that used by Alfonso for asides to the audience, having an "ON AIR" button visible on screen. The other cameras, incidentally, were inclined to be a bit static, achieving motion through intercutting rather than panning, zooming, or indeed moving. But Scottish Opera probably don't have access to those amazing camera gantries used by the BBC when filming opera.
A young cast of Scottish Opera Emerging Artists took these unusual performance circumstances in their stride, the Act 2 duet between false lovers Dorabella (Margo Arsane) and Guglielmo (Arthur Bruce) exquisitely tender and slightly more convincing and better matched than the equivalent outpouring between Fiordiligi (Charlie Drummond) and Ferrando (Shengzhi Ren). Despina (Catriona Hewitson) was allowed some comic latitude, singing the lawyer's plaintive lines excruciatingly out of tune.
A chorus of 12 appeared occasionally, standing in the grand circle two metres apart from one another (pictured above). The other Covid stuff worked pretty well. The stage had two-metre squares drawn out and at no point was any member of the cast sharing a box with another. Drinks, champagne and tea, were poured at arm's length and there was enough movement to make the two metre squares seem incidental, not structural, avoiding any sense that the characters were stuck in their boxes The doctor came on to attend the poisoned lovers in a mask (of course, but soon removed) and NHS uniform, and the vast magnet used to revive the victims was capable of doing so at a compliant distance.
The absence of embracing and kissing and all the intimacy you might have expected in a conventional production of Così is not as jarring as you would think. This is, after all, a comedy of seduction and the lovers, false or true, spend as much time recoiling from each other as coming together. When the men ask for "just one kiss", the women greet the suggestion with such visible horror that a mere two-metre spacing would scarcely be enough to satisfy them.
At the very end, the cast bow to the sound of an invisible small audience, presumably recorded elsewhere. It was a faintly unsettling end to an otherwise competently assembled show – if it's all we can do in these times, then hats off to Scottish Opera for trying.
The women recoil from the request for 'just one kiss' with such horror that a mere two-metre spacing would scarcely be enough to satisfy them
rating
Explore topics
Share this article