Così fan tutte, Longborough Festival |

reviews, news & interviews
Così fan tutte, Longborough Festival
Così fan tutte, Longborough Festival
Converted barn an unlikely home for Wagner and an unhappy home for Mozart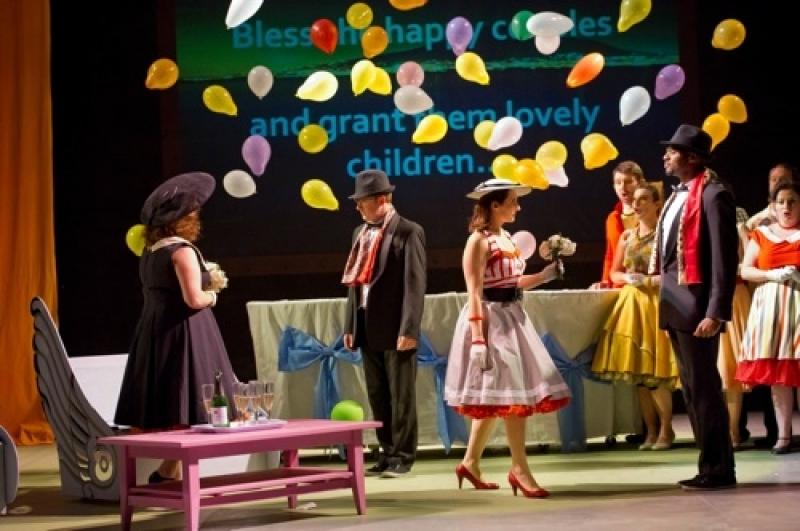 Cosi fan everyone: The final reckoning, with balloons
The extraordinary Longborough Opera Festival is with us again and for the next six weeks, in Martin and Lizzie Graham's Palladian barn theatre near Stow-on-the-Wold. This year the world's unlikeliest Ring cycle reaches Siegfried. But the improbability doesn't end with Wagner; there is also Verdi (Falstaff) and Mozart – also, typically, a cyclic project, which has arrived at Così fan tutte. The whole set-up is so amazing that one longs to be enthusiastic about everything.
But that can sometimes be difficult.
What is it about Così fan tutte? In Cardiff, Benjamin Davis set it on Clacton pier circa 1960. At Longborough Jenny Miller starts it off, apparently, in a tacky waterfront bar, furnished out of Ikea, more or less now. Davis cluttered his stage with the impedimenta of McGill-style seaside holidays; Miller and her designer Jane Bruce wheel on a Mickey Mouse lucky dip, balloons and a stray roundabout chair. Opera directors perhaps imagine they are being wildly original in relocating and destyling period masterpieces, when the truth is that they are as cliché-ridden as any hack journalist chasing a deadline (I speak with feeling).
This is old ground, and repeating oneself is tedious. But isn't it obvious that Così fan tutte is a context-based work par excellence? Even without the music, its plot depends on conventions of love, philosophies of reason, and social and theatrical mores that simply don't transplant with advantage. The music leans heavily on these conventions as well; it sometimes parodies them, but it also uses them to create targets which it proceeds to pepper with emotional buckshot.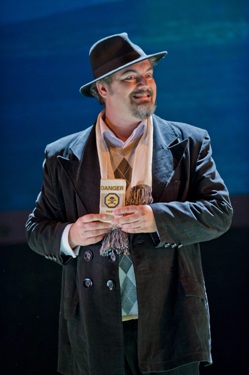 But in Jenny Miller's world, such things have little meaning. Her Fiordiligi and Dorabella, coarsely dressed by Hannah-Lauren Whitham off the peg from Carnaby Street, are just another pair of available girls, and when Despina complains about being a servant one is vaguely surprised to be reminded that she is one, so like her supposed employers is she. Like Davis's men, Miller's Ferrando and Guglielmo start as sailors, but come back, not as fitness freaks, but as men from the electricity board in raincoats, trilbies and false moustaches (which soon fall off, though whether this is a production device or bad glue is unclear). Simply to look at, this is one of the flattest opera buffa settings I can remember.
But that's not all. Miller, a singer-turned-director, is surprisingly unwilling to let the music alone. As is now inevitable the overture is heavily, distractingly choreographed, but so, unexpectedly, is much of the rest of the opera. The stage business is pretty much non-stop, reaching its zenith with Fiordiligi being wheeled round the stage as she battles with "Come scoglio", and Guglielmo delivering his diatribe against womanhood in the by no means statuesque presence of all three of Mozart's females. One audience member was overheard saying that he was enjoying the hilarity but missing the continuity. I couldn't have put it better myself.
The musicians survive all this well enough, sometimes very well indeed. The Longborough orchestra is a pick-up, but they play efficiently and with plenty of vitality under the sprightly Gianluca Marcianò, and I liked Miller's handling of her tiny but perfectly adequate chorus of half a dozen, who pop up discreetly when needed but also shift the furniture and generally make themselves useful.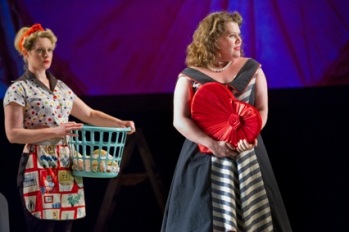 The soloists are patchier. Elizabeth Donovan (pictured with Martene Grimson, left) is a steady Fiordiligi, with better control in "Come scoglio" than the production deserves and a touching manner if not the warmest line in "Per pietà", sung uncanonically under the stern scrutiny of her lover Guglielmo (who has just, one may observe, been two-timing her with her sister). Louise Callinan is excellent in "Smanie implacabili", just not over the top and genuinely funny, but at other times a shade gusty: a bright-voiced, soprano-ish Dorabella, short on warmth low down and vocally too little differentiated from Fiordiligi (is the genuine mezzo following the contralto into oblivion, one idly wonders? – but watch this space: the Cardiff Singer of the World may have other ideas). Martene Grimson supplies a very watchable and well-sung Despina, though more au pair than maid, this important element in the character having been jettisoned by the director.
The men are so-so: Nicholas Watts, an attractive light tenor but inclined to coarsen in the upper reaches; Rodney Clarke, lively on stage, and vocally athletic in "Donne mie", but without the hoped-for sensual allure in "Il core vi dono"; Sasa Cano (pictured above right) a disappointing Don Alfonso, woolly of voice and seedy of manner. You might buy his second-hand car. Would you take his advice on women?