Yxng Bane, Brixton Academy review - all the fam on stage |

reviews, news & interviews
Yxng Bane, Brixton Academy review - all the fam on stage
Yxng Bane, Brixton Academy review - all the fam on stage
Lit gig from star on the rise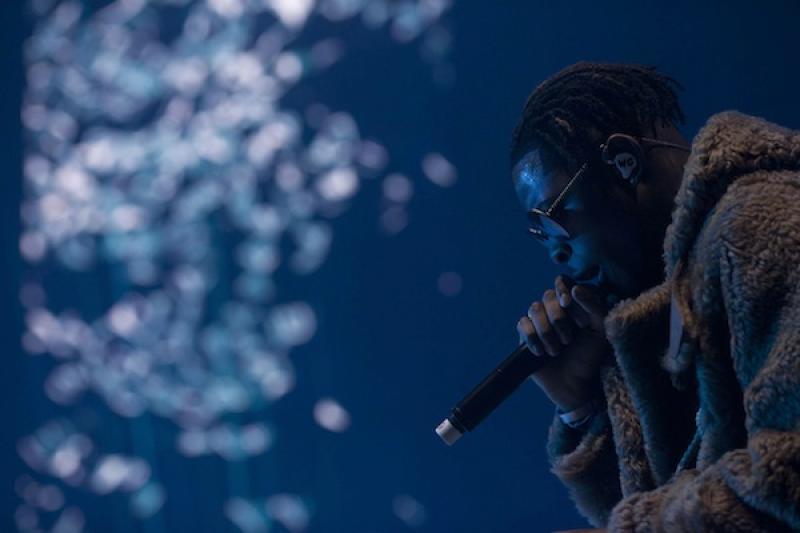 Yxng Bane at Brixton Academy
There's a wolf howl and Yxng Bane (pronounced Young Bane) jumps off a block on stage and his furry hooded coat flies open and the arena erupts in screams. The pit is filled almost exclusively with seventeen year old girls, excellently contoured and sporting chunky trainers and crop tops like it's the early 2000s all over again, and he's wearing nothing underneath except many hours at the gym. The 22 year old musician from Canning Town has already shared the stage with the likes of Wiley, Tinie Tempah, Yungen and Shy FX - and it's not just his music that's got pull. He's not flirting with fame; he's in a full on relationship with it and putting his fam on stage.
And who's his fam? Well, Kojo Funds for one who lights up the Arena. Smart phones rise up like pistils and the crowd starts swaying and bopping for Dun Talkin'. A few songs later and we have Headie One on with bass rising up through the juddering floor and a little later Answerphone with Ella Eyre grooving and whipping up the crowd, seriously putting a spoke in the slick spiel Yxng Bane is spinning for the crowd and stealing his limelight. But it's not just the stage that's peopled; his music is too. There's mini homages to Cam'ron and Rihanna in Bestie followed later by an entire rendition of Sean Paul's Turn Me On.
A starry appearance from a genre-defining musician
The very fabric of the Academy feels pressured. There's couples grinding and groups of friends dancing. The whole place is in movement and the bar is almost empty. It's a kind of a throwback school disco vibe, with the crowd being whipped up in a charmingly tacky way. Yxng Bane, simultaneously strutting and sweet, loves it. "Is it anyone's birthday here?" gets a massive response and the audience sings in celebration; likewise, Problem gets full throated ai yi yi's and in Diamonds there's loose, outrageous and easy dance moves like De La Soul before they got famous. In fact for almost every song, the whole audience is with him, singing, pushing him along. Every new song is a kind of one-upmanship — but to render the entire Academy totally silent (which he successfully entreats at the beginning of the set) is one hell of a feat. This is charisma in action.
No surprises for an audience ranging from late teens to early twenties, one consistent thread through Yxng Bane's lyrics is how woven into friendships, love and dating social media now is — ironic for the ocean of glowing screens in front of him. People seem too busy grinding or selfie-ing to pay full attention to the bizarre exploding tulip and watch chain-link videos — though the grass and coral lasers get Insta attention as do the curtains of golden fireworks. The point the energy drops is when Yxng Bane gets all serious and starts laying his bare heart out in front of the audience — slower numbers don't go down so well and the number of raised glowing portals decreases — but with the acid-tang melodies of Rihanna things pick up again and the final round of songs moves into view.
Among all this digital recording, it's pertinent to consider the difference between dancing to a laptop and getting down in Brixton. Well, first of all there's the hormones and the atmosphere — there's also the fact that his voice is stage is less angsty, more languid and honey than in his recordings, and he gets to bring on other artists, on whose records he's featured, as guests. But the main fact is that Yxng Bane is gradually stripping on stage. He knows what the girls are here for and he's willing to give it to them. He gets as much from the crowd as they do from him — this is his home town, after all, and he shouts out to South, East, North and West London (West is noticeably muted). His charisma is as much a part of the excitement as the hits he rolls out and out and out — seemingly without end.
But end it does. To extreme excitement, his shirt comes off and the last two numbers are done topless. This is when the fireworks really come out and those glowing pistils grow again. It ends as it begins — with a wolf howl — and then it's over. It's a starry appearance from a genre-defining musician who has far to go.
He's not flirting with fame; he's in a full-on relationship with it
rating
Share this article