theartsdesk on Vinyl 38: Led Zeppelin, Lissie, Holger Czukay, Gomez, Ringo Starr, Moscoman and more |

reviews, news & interviews
theartsdesk on Vinyl 38: Led Zeppelin, Lissie, Holger Czukay, Gomez, Ringo Starr, Moscoman and more
theartsdesk on Vinyl 38: Led Zeppelin, Lissie, Holger Czukay, Gomez, Ringo Starr, Moscoman and more
The giant monthly vinyl reviews round-up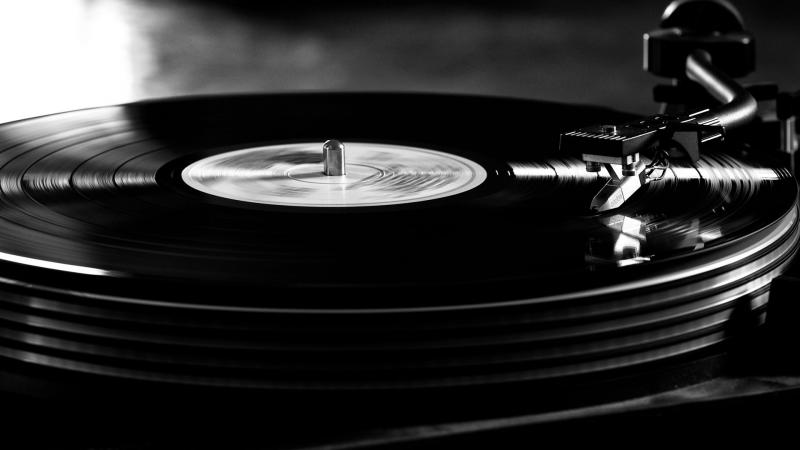 A black plastic wonderland of sounds
Can you find a more extensive and comprehensive rundown of monthly vinyl releases than theartsdesk on Vinyl? We can't. But then we would say that. Don't believe us, though; below we surf punk, techno, film soundtracks, folk, major label boxset retrospectives, avant-garde electronica, pop, R&B and tons more. Dive in!
VINYL OF THE MONTH
Belako Render Me Numb, Trivial Violence (Belako)
Basque four-piece Belako create the most exciting new version of indie rock that theartsdesk on Vinyl has heard in a long while. In fact, it's belittling to term it "indie" for this is a galloping hybrid that incorporates multiple styles, right from the opening punch-out dynamism of single "Maskenfreiheit". There are synths in there too but really only to add texture and trimmings, except on the ram-raiding punk Euro-disco of "The Fiend Thinker". Belako's third album is about brilliantly shoehorning traditional ideas of the pop song into any unexpected – and usually furiously delivered – style that takes their fancy. On the other hand, there's also the muffled piano balladry of "Stumble II", the outright riffage of "Over the Edge", the weird steel drum doodle "5 Strangers in a Box", the sludge metal-flavoured "Hegodun Baleak 2", and loads of other stuff. On double vinyl at 45RPM, with a David Shrigley-alike art/lyric insert, Render Me Dumb, Trivial Violence, demonstrates a rare thing: that there are still original and rivetingly exciting ways to be a guitar band.
Zapatilla Crumbling Down EP (Zap Music)
There is no clue online or on the basic packaging as to who Zapatilla is but this debut 12" EP, or at least the lead title track, is already one of the year's essential dancefloor records. After the summer's Ibiza season it should also be one of the year's major club hits. It builds a head of steam with rolling Afro-tech percussion, sweeping the listener off, then drops out to a sedate string section and falsetto voice emotively singing, "As it all starts crumbling down", before returning with submarine bleeps and boosted percussion. It is as simple as it is beautifully effective. The flipside, "Thumb Piano", takes the titular instrument and creates a rain-forest groove that's politely pleasing, but it's the A-side that everyone will be gasping for. It's a monster that never overstates its case.
Led Zeppelin How The West Was Won (Atlantic)
Later this year, in the autumn, it will be 50 years since session guitarist Jimmy Page asked Robert Plant, John Bonham and John Paul Jones to form a new band with him. They would, of course, become one of rock music's definitive acts. To kick off celebrations Atlantic releases a monster boxset of a live album, originally out in 2003, recorded at two concerts in L.A. in June 1972. It's here for the first time on quadruple vinyl but, since this is a band never afraid of excess, it also includes three CDs, a DVD, a download code for the whole thing in 96kHz/24bit audio, and a 12" x 12" coffee table book full of photos, programmes, tickets and the like. The recordings really do showcase a band on fire. An oft-forgotten fact about Led Zep, in an age when greying heritage rock mags fawn over them, is that the music press disliked them when they were actually around, sneering at them first because they weren't brainy, pretentious prog and then, conversely, that they weren't yob-punk anarchists. I can see the post-punk perspective, as by '77 the band were past their heyday, but the early Seventies angle: what a load on poncey nonsense. These records show a band on fire, whether indulging in the folk-acoustica of "Going to California" or rending the universe apart with a 20 minute version of "Whole Lotta Love" that skiddaddles where it pleases from a rockin'n'rollin' tribute to Wanda Jackson's "Let's Have a Party" to inventing heavy metal to a tribal drum circle moment. When Led Zep do something, they're happy to overdo it, and listening to them do so, when it works, remains quite a thing.
Keinemusik (Rampa, Adam Port & ME) You Are Safe (Keinemusik)
Keinemusik, the Berlin-based collective and label, describe themselves as five DJs, one graphic designer and one painter. They have been around for almost a decade and their latest output shows off an admirable eclecticism rather than the usual, unimaginative aimed-at-DJs fare. Thus You Are Safe runs the gamut from the piano-jammed, tribal chant rhythm track "Muyé", to straightforward(ish) techno such as "Civilist" and "Operator". The latter is immediately followed by the Eighties-style R&B of "Bumper" sung by Jessica 6/Hercules & Love Affair vocalist Nomi Ruiz, and there are also odder, murkier cuts such as "MBH" and the album's best track, the primal echo and dubbed palpitations of "Café des Schicksalls". One for those who like their electronic dance music to wander outside categories as it pleases.
Black Moth Anatomical Venus (Spinefarm)
Leeds rockers Black Moth's third album burns. They've taken a move sideways and forwards from what came before. While their last couple of albums ventured sometimes into more alternative territory to good effect, scuzzy punk and swampier sounds, perhaps assisted by former producer, Bad Seeds' Jim Sclavunos, this time round they simply riff hard. The songs are built on great fat wodges of angry guitar that often boast down-tuned stoner attitude, and even twin fret-play of the Iron Maiden metalhead variety. The result is songs such as "Istra" and "Screen Queen", major slamming numbers that deserve to reverberate beyond the band's moshpit. The lyrics throughout are also an intriguing gothic concoction. Also, the album's titular theme of disturbing eighteenth century eroticized medical wax models (explicitly continued on the insert poster) may subtly represent a symbolic feminine agenda of the band's two women, the singer and the guitarist. Who knows? It's easy to read too much into these things. The main thing is that Anatomical Venus rocks like an ornery snake-bit bastard. Comes in lyric inner sleeve on grey vinyl the mottled shade of a clouded, bolshy dusk.
Saint Etienne So Tough + Tiger Bay + Continental + Good Humor + Sound of Water + Finisterre + Tales From Turnpike House (PIAS)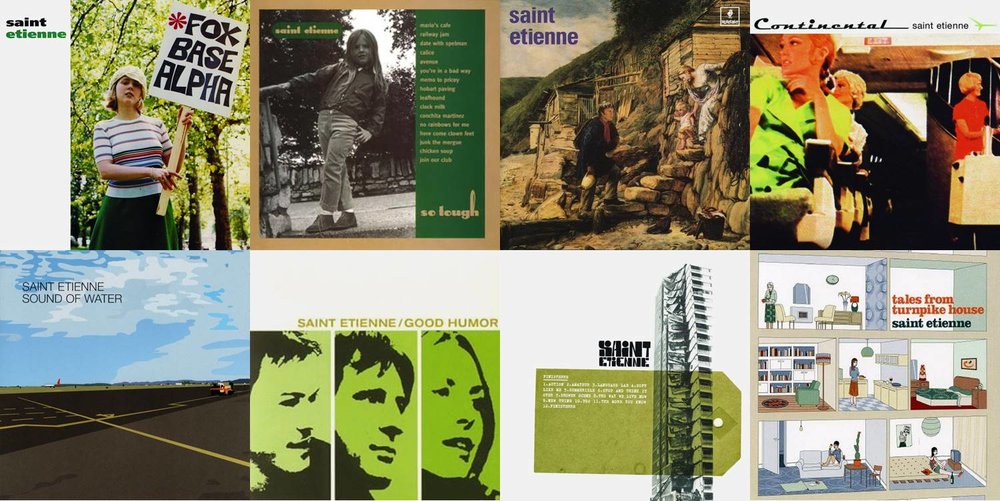 Sainted Etienne's entire studio output, from 1993 to 2005, reappears on vinyl, neatly packaged, with inner sleeves intact and the original sound well-recaptured on black plastic (I think Foxbase Alpha was released in the same run, as per illustration, but that reached us earlier and was reviewed here). Bob Stanley, Pete Wiggs and Sarah Cracknell consistently combined 1990s club vigour with a very English songwriting, creating a unique slant midway between European disco sensibilities and Kinks-ian Britpop. Put on a track such as "Shower Scene" from Finisterre and it's just easy and immediate, Cracknell's plain, sweet vocals playing off the 4/4 jolliness, somehow amounting to something more than the sum of its parts. Continental is the odd one out, a bits'n'pieces collection from 1997 that contains the hit "She's On the Phone", and various curios such as the drum'n'bass'n'flute noodle "Public Information Film" and a bizarre cover of Paul Gardiner & Gary Numan's "Stormtrooper in Drag", originally recorded for a Numan covers collection. Throughout these albums there's consistency. So Tough from '93 features the hit "You're in a Bad Way" which has the lyric "Put the TV on, get your kicks watching Bruce on the old Generation Game", while "Milk Bottle Symphony', 12 years later, from Tales From Turnpike House starts, "Tony leaves the depot late/Seventeen years with the Unigate/Drives his float down Goswall Road at 25 to eight". Their poetic suburban vignettes reveal a band that has more in common with The Beautiful South, The TV Personalities and The Jam than it does with contemporaries such as Underworld or Orbital. Saint Etienne, however, have no desire to be pigeonholed so Sound of Water is a more laidback affair, akin to what Air were doing at the time (2000), and with less lyrical specificity, while Good Humor (1998) is created on a larger, more ambitious sonic palette. For theartsdesk on Vinyl's money, Tiger Bay is the most fun, somewhere between Pet Shop Boys and a fascination with all the new clubland styles that were blossoming upon its release in 1994.
Howard Shore Lord of the Rings: The Fellowship of the Ring: The Complete Recordings (Reprise)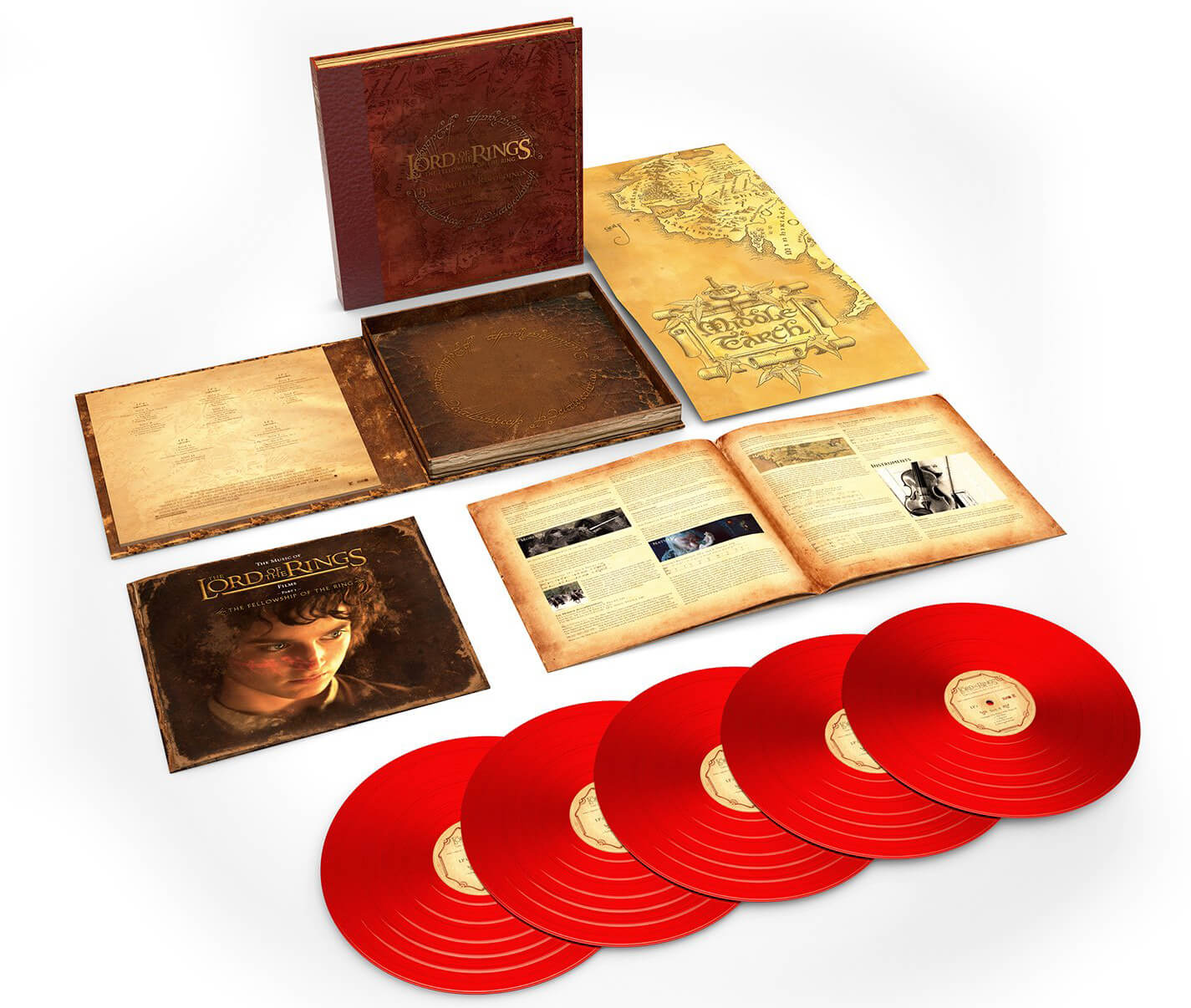 For most of us, there's plenty to like about the first two Lord of the Rings films, but this boxset is aimed firmly at fanboys and fangirls who have a deeper love for Peter Jackson's fantasy blockbuster. In a faux-leather bound-book cover, it consists of five records on bright red vinyl, and also includes a 12" x 12" booklet on background and detail, and a 12" x 24" third of a map of Middle Earth (the other two thirds, presumably, to appear with boxsets of the next two films). In terms of a purely musical experience, rather than a never-to-be-opened collectors' item, it's often surprisingly liturgical, emanating the epic import of the first film via grand orchestral pieces but also in the famously Celtic pipe-dances that crop up, especially the cutesy flute'n'strings of "The Shire". The whole is a play-off between the bombast of Shore's gigantic theme, which reoccurs in multiple guises, and smaller scale hobbity amusements. Notable interludes, some on vinyl for the first time, include ex-Cocteau Twin Elizabeth Fraser's elegy for Gandalf and various pieces wherein Enya does her thing, such as "The Council of Elrond Assembles". For those deep into this scene, it's a completist treat.
Lissie Castles (Cooking Vinyl)
This is here because it's a good, unabashed contemporary pop album. Cooking Vinyl have a track record for picking up bands whose popularity has ostensibly peaked, whose records are only bought by proper fans, then giving them impact on a wider audience. Remember what they did with The Prodigy! That was incredible – and shrewd. However, Lissie was only a few rungs up her slow-blossoming career ladder when Columbia dropped her and Cooking Vinyl picked her up a few years back. Cooking Vinyl knew what they were doing and she's actually had more US success since. And Castles deserves even wider attention. It's a perfectly calculated combination of 21st century pop seamlessly integrated with the catchy country-rock she does so well. In photo/info inner sleeve, it's an album full of juicy melodic heft, polished and modern but lyrically thoughtful and lathered in lush production. Anyone who doubts should simply set the needle down at the beginning of "Crazy Girl" and listen through to the end of the following title track. It's hard to argue with such hooky, well-put-together songwriting.
Holger Czukay Cinema (Grönland)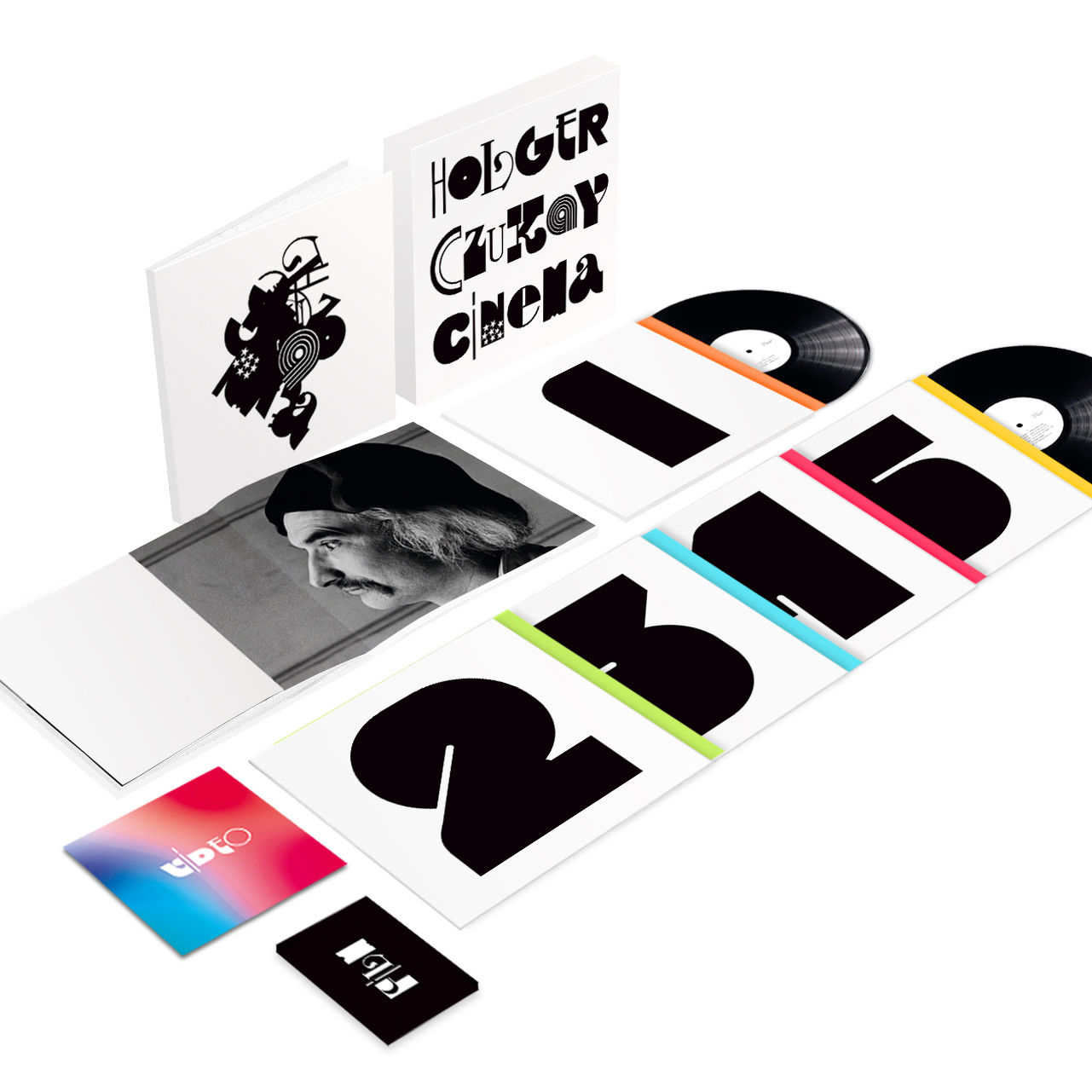 So Can turned out to be one of the most influential groups of all time. Who knew that back in the proverbial day? Well, quite a few people, actually, but I wasn't one of them. I came late to that particular party. Founding member Holger Czukay died last year and Grönland Records now release this five disc boxset. It also includes the DVD Krieg der Töne (Sound Wars), a bizarre TV comedy about a 12 year old pianist who falls under Czukay's wing, a 26 page 12" x 12" booklet of photos and quotations about Czukay from his peers and admirers and, strangest of all, a 7" VinylVideo single, a video stored on vinyl that can be "reproduced by connecting a special decoder unit". Apart from all that lot, though – what music! It wasn't just in Can that Czukay strutted his vanguard brilliance. From his previously unreleased tribal-electronic 1960 experiment "Konfigurationen" to Cluster & Eno's 1977 "Ho Renomo" to brilliant funky late Seventies pop songs, miles ahead in the sampling game, to ON-U-style dub fare with Jah Wobble to spooked Teutonic chanson in the 21st century, the whole lot amazes, and each sleeve lays out the timeline of his life. Czukay was, in his way, a genius, and Cinema does him justice.
The Low Anthem The Salt Doll Went to Measure the Depth of the Sea (Joyful Noise) + Gitta de Ridder For Everything a Season (Little Memories) + Susanna Go Dig My Grave (SusannaSonata) + Kacy & Clayton The Siren's Song (New West) + Wyvern Lingo Wyvern Lingo (Rubyworks)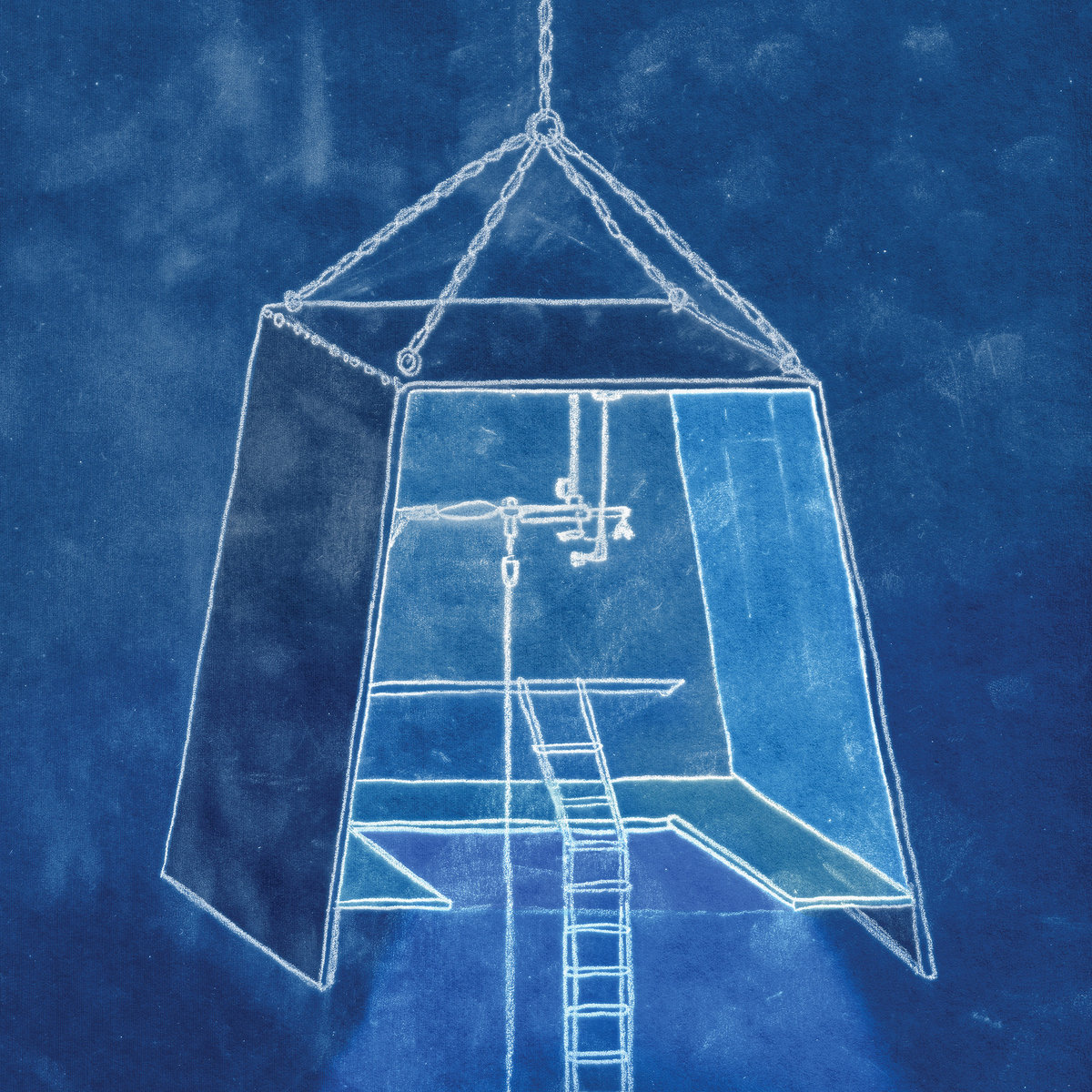 A rich selection of folky fare this month. The best of which are these five albums. US band The Low Anthem are the best-known, being a dozen years into their career. Their sixth album has a drowsy, electronically-enhanced charm (as is made explicit on the wibbly instrumental "Dotwav"). Marine-themed, and lazily paced, the songs are still sturdily constructed with numbers such as "River Brine" holding a memorable tune that the listener carries off with them. Anglo-Dutch singer Gitta de Ridder takes a simple template, the usual acoustic strumming, but her songs have a lightness that, as song follows song, is persuasive. Aided by
sparse but imaginative instrumentation, such as the clock-metronome on "Here's the Plan", she leads the listener through her metaphoric seasonal cycle until she reaches the lonesome moods of winter on "The Seasons Will Change" and "No Words". Yet it's not a depressing exercise, merely human and open. If you're after something more mournful, Norway's Susanna Wallumrød might be just the thing, opening with the graveyard accordion blues of "Freight Train" and seldom veering far from the existentially bleak. Fortunately, it's also vital stuff,
whether bemoaning the effects of "Rye Whiskey" on that trad number, making Joy Division's "Wilderness" even starker, or taking Lou Reed's "Perfect Day" somewhere desolate. For the record, the Dryden/Purcell chamber classic "Cold Song" sounds just like the theme from Scarface. I never knew that's where Moroder got it from. Comes with 12" x 12" four page art/lyric pamphlet. A very different kettle of fish, Canadian singer Kacy Anderson and guitarist Clayton Linthicum, are assisted by Wilco's Jeff Tweedy who adds country-rock weight to their easy-going songs. Their Americana varies from the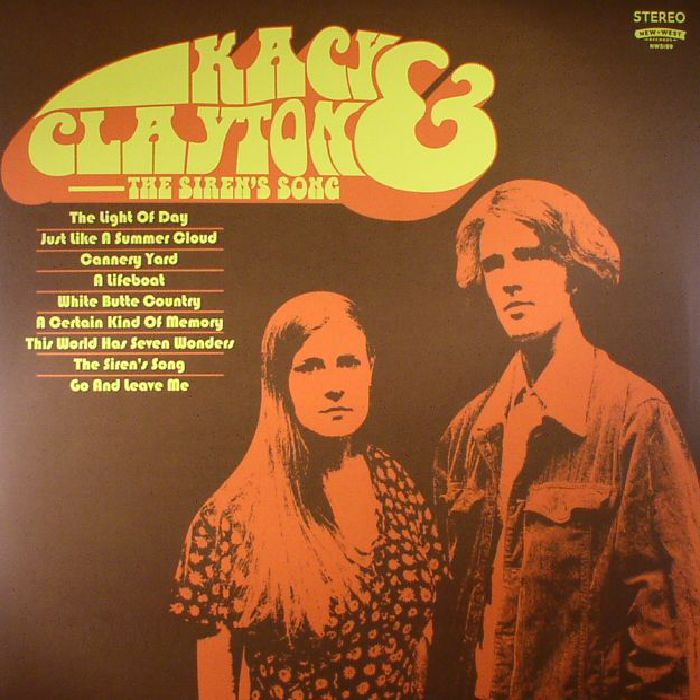 pared back styling of "Cannery Yard" to the almost honkytonk "White Butte Country" (sung by Linthicum). Their fourth album (and second on a label that has any reach) is an enjoyable wander across zesty US roots music. Finally, Wyvern Lingo aren't really folk at all but that's where they come from and you can hear it in their music. They are an all-girl trio from County Wicklow, Ireland, affiliated with Hosier earlier in their career, and who previously released music that could be loosely filed as folk/country. Now they return with a debut album in photo/lyric inner sleeve, utilising their innate folk harmonies to deal out their very
own tilt at R&B, replete with sassy modern girl lyrics. It's not my bag but it's fresh. That said, the opening song's lyrics are grotesque. Titled "Out of My Hands", unless it's ironic, of which there's no indication, it's one long selfish Daily Mail-ish screed that starts "Have to say I'm tired of reading all this tragedy", then goes onto say we should just "look after our own", ignoring "refugees", and concludes, "I know it's sad but what can I do/See, my world still turns round". It's a very ugly blot on an otherwise interesting debut. Of these five albums Susanna's Go Dig My Grave is theartsdesk on Vinyl's pick.
Gabriele Poso Awakening (BBE)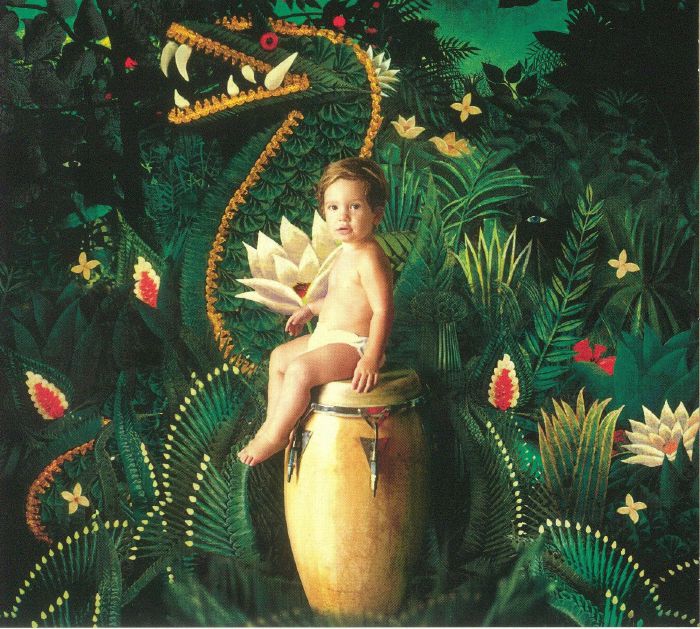 Brilliant Sardinian percussionist Gabriele Poso last year released The Languages of Tambores, a vital compilation of tribalistic drum pieces from around the world. It took a moment for this writer to adjust to the fact that his latest solo album, on double vinyl, would not be more of the same. There are segments of it, notably the rambunctious "6 In 4" and "Night Falls", but for the most part Awakening is a jammed with joyous and adventurous Latin jazz. The highlights are many, from the hugely ebullient likes of "Cumbanchero" and "Otro Barrio" to the Santana-like jam "Words Never Work" to less straightforward work such as the mumbling monologue-laden "Otro Barrio". On the gatefold sleeve notes Poso describes how he nearly gave up the itinerant unreliable life of a musician when his first son was recently born but, persuaded by his wife, he decided to stick at it. theartsdesk on Vinyl is thankful he did. Let's hope he brings a live version over to the UK soon.
Jason Sharp Stand Above the Streams (Constellation)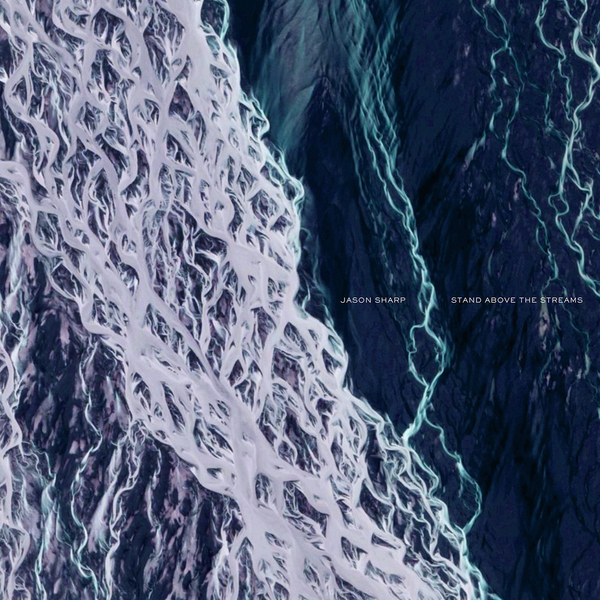 You want avant-garde? You got it. Key to this record, a four track EP that arrives with a 12" x 24" poster, is installation artist Adam Basanta who has designed a "controlled feedback amplification system" that's attuned to Sharp's heartbeat and breathing. Via this, Sharp's own "signal-bending synthesis rig", and his bass and baritone saxophones, he creates an immersive, moody soundscape. Best of the four tracks, by far, is "Part 1", which is firmly attached to the audible pumping of Sharp's heart, giving the piece a dynamism lacking in "Part 2" (free jazz skronking), "Part 3" (Eno-esque tone music) and "Part 4" (free jazz skronking meets Eno-esque tone music). Sharp is a Canadian with a background in jazz improv and Stand Above the Streams is a fascinating experiment that might be even better live. For the moment, "Part 1" is the only one theartsdesk on Vinyl will be returning to regularly.
Amaya Laucirica Rituals (Opposite Number) + Son Lux Brighter Wounds (City Slang)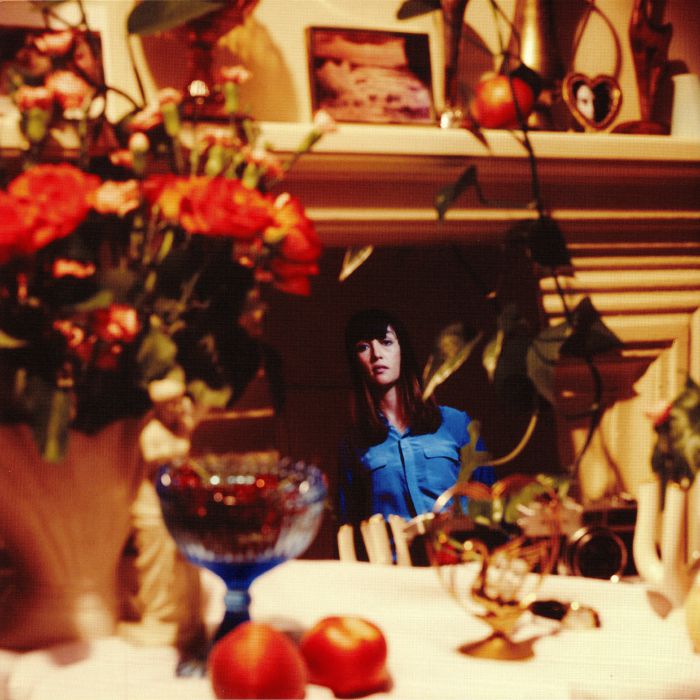 These two albums both point towards alternative directions popular music might want to take (as opposed to toilet phone wallpaper). Wandering Australian Amaya Laucirica, who began recording her Rituals album in Germany but finished it in her homeland, harks back to the past, to the swirling shoegaze of Slowdive and the like, but, unlike the majority who currently embrace this direction, she keeps it light and, more importantly, lusciously tuneful and sweet. Thus songs such as "More Than This" may eventually be overcome by squalling guitar but, for the most-part Laucirica's silvery voice leads the charge, creating 21st century Byrds-ian ear-sugar and sleekly floating ambo-pop. Comes in art-photo/info inner sleeve, mastered richly.
Son Lux, on the other hand, major in a quavering theatrical baroque pop, like Wild Beasts running smash bang into Yeasayer and Hurts, but without any of the latter's dreadfulness. The New York trio, who have worked with Lorde in the past, are ten years into their career, but their fifth album (excluding one they did with Sufjan Stevens) sounds fresh and new. I'm no fan of male falsetto vocals, but find it more appealing when they have the hysterical melodramatic tone adopted here (it's the faux-vulnerable shtick, I despise). Combined with their glitched curio-pop, it adds up to something worth investigating. Comes in art-info inner sleeve and my edition has been personally signed by them in gold pen. Which is nice.
Molécule -22.7°C (Because)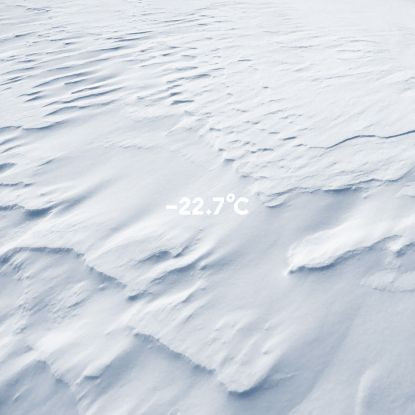 French producer Romaine Delahaye's latest is presented with a glacial transparency that's literal. On double, it comes in a clear plastic gatefold with each disc also enclosed in a further see-through sleeve. The records themselves aim for the appearance of the iciness that is the album's theme, both in different shades of grey-blue-white that are, indeed, Arctic in tone. Finally there is a cardboard sleeve with the titles, a large photograph of snow and a basic map of the top of the world. Delahaye went to Greenland for a month to gather found sounds and inspiration. He has form in this area. His last album, 60°43′ Nord, was recorded aboard a fishing boat in the Atlantic and eventually given a special vinyl release by Ed Banger Records (after first appearing, like much of his output, on Delahey's own Mille Feuilles label). -22.7°C has a starkness, an echoing emptiness wedged amidst clashes, throbs and crunch that occasionally borders on industrialism, also redolent in places of Iceland's recently revitalized Thule label. Molécule, however, is unafraid of red-blooded intrusions, dog yelps, human whoops, and he's also willing to allow melody to bloom, notably on the almosty poppy "Délivrance". The album, listened to in full, does indeed capture a sense of the unpredictable weather systems of the region where it was recorded, from placid swirling nothingness to sudden explosions of meteorogical rage, taking the techno-inclined listener off on a new kind of adventure.
Equals 1997 (Equals Music) + Ady Suleiman Memories (Pemba)
These two albums are gathered together here for review because they're both in musical styles I don't especially enjoy. Now, that's not much of an introduction, is it! Thing is, they both do what they do so well it would be churlish not to acknowledge their qualities, despite having little affinity. They both have something about them which speaks of wide appeal, of possible commercial potential. Equals are a London duo whose territory is an electronically enhanced update of soulful Eighties/Nineties R&B. Singer Ade Omotayo originally made his name as one of Amy Winehouse's backing singers and has a voice that can bounce passionately into the upper registers with ease, but which doesn't go OTT for the sake of it. He's backed by songwriter-producer James Low who has stated his work is influenced by the recent output of Kendrick Lamar and Solange Knowles, which you can hear on 1997.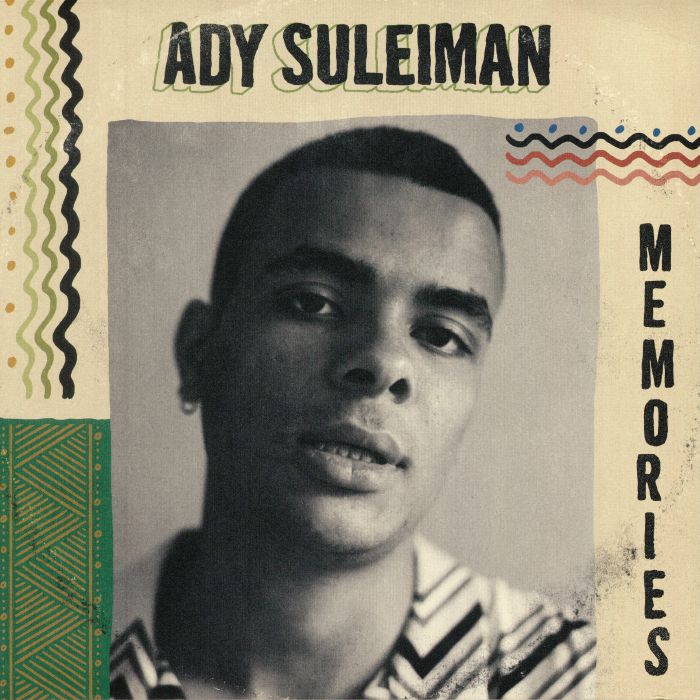 Ady Suleiman, on the other hand, is a jazzier proposition. BBC doyen Gilles Peterson has already recognised his talent, giving him the Breakthrough Act of the Year at his Worldwide Awards back in 2014. If he broke through then, he's certainly spent his time honing this debut album into shape. The music ranges from the string-swelling traditionalism of "If I Die" to the brass-backed, strummed colloquialism of the title track, which has more in common with Ed Sheeran. Suleiman combines with a range of pro' songwriters, and it shows in the lyrics, but Memories is equally about the light, bubbly instrumental backing. While he sounds nothing like her, this is just the sort of thing that might catch fire with the urbane, cosmopolitan sorts who made Norah Jones very rich. Comes on white vinyl in lyric inner sleeve.
Nina Simone The Colpix Singles ($tateside)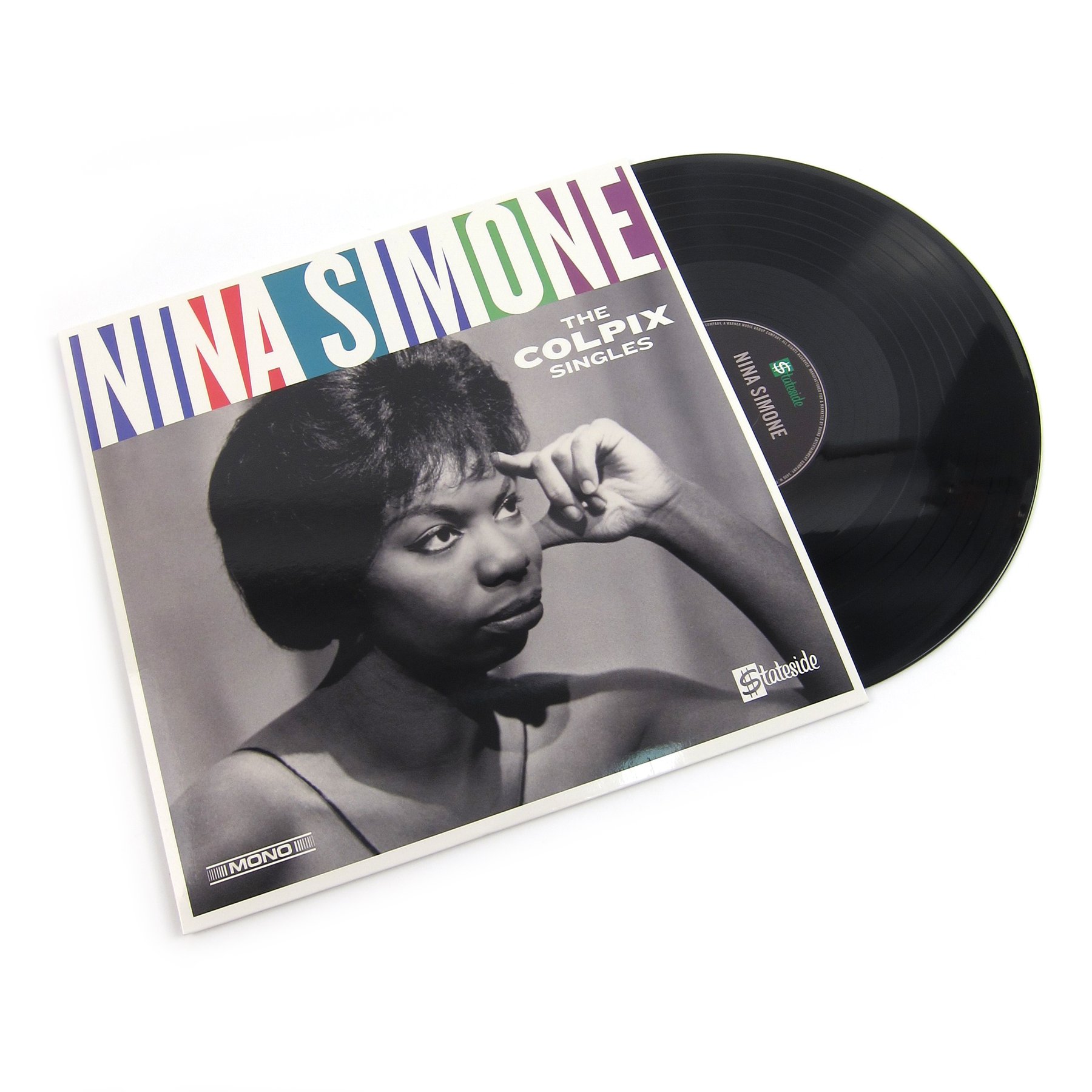 This album starts patchily rather than promisingly. This is because it's a straightforward chronological archive of Nina Simone's singles for the Colpix label, and on the back sleeve all is explained. Colpix was a subsidiary of Columbia's movie arm and signed Simone in 1959 on the back of her debut hit the previous year, a version of 'I Loves You Porgy". But Colpix didn't know what to do with their new talent and tried various styles, including a not-very-loveable version of the Christmassy spiritual "Children Go Where I Send You", produced by novelty kingpin Hecky Krasnow. However, with "The Other Woman" and a version of the ever-fantastic "Nobody Knows You When You're Down and Out" she hit her stride. By side two, well, we're into Simone gold. "Gin House Blues" is just classic, and her reply record to Ray Charles – "Come On Back Jack" – is also a peach. Simone left Colpix in 1964, going on to greater heights but this collection is, eventually, a tasty snapshot of one of the 20th Century's greatest singers finding her path.
Sam Vance-Law Homotopia (Caroline International)
Given the era we live in, this should probably be Vinyl of the Month as it's the most bang on PC release this month, a young gay man's concept album about homosexual life. That it isn't is more down to theartsdesk on Vinyl's lack of affinity with Rufus Wainwright-ish chamber pop rather than rabid reactionary attitudes, we hope. It is, nonetheless, an entertaining, ahem, outing with much heart and many witty lyrics, as well as arch, semi-classical instrumentation redolent of Pink Martini and their Ivy League ilk. Sam Vance-Law is a Canadian, raised in Oxford, UK, and now based in Berlin, and he's clearly a songwriting talent in the wordy, pre-rock'n'roll mold. "Narcissus 2.00" is especially funny – "Yes, I would sleep with myself if I were you!" – but there are also songs that touch other nerves. The opening "Wanted To" is an aching tale of downfall of a result of dancing with a boy at the school prom, "Faggot" is a punk-tinged middle finger stuck up to religious prejudice, and "I Think We Should Take It Fast" is an elegant outburst of cocktail bar lust. All in all, a finely wrought ten numbers that, collated, make their point while being cheekily entertaining. Comes in lyric gatefold in art inner sleeve.
Gomez Bring It On (Universal) + Fatboy Slim You've Come A Long Way, Baby (BMG)
For some reason, when it came out twenty years ago, I took against Gomez' Bring It On. Listening to it now, I've little idea why. Actually, come to think of it, I do know why, it was because the music press – which still had some power, then – used to wank on and on and on about any new guitar band that came along rather than ever write properly about the electronic music that, in fact, ruled the Nineties. That pissed me off FOR A WHOLE DECADE! Anyway, all that aside, and hearing this Mercury Music Prize-winner again in the cold light of 2018, it's clearly a sharp, smart album that deserves its reputation. The opener alone, "Get Miles", sets the tone, a blues that is rendered quirky and different, tinted with a mildly psychedelic art-rock sensibility. And so it is with most of the rest, with added doses of indie-style vocals and melodies cropping up from time to time. For its 20th birthday Bring It On comes dressed in new glad-rags, a gatefold double, mastered with ample clarity, in art inner sleeves.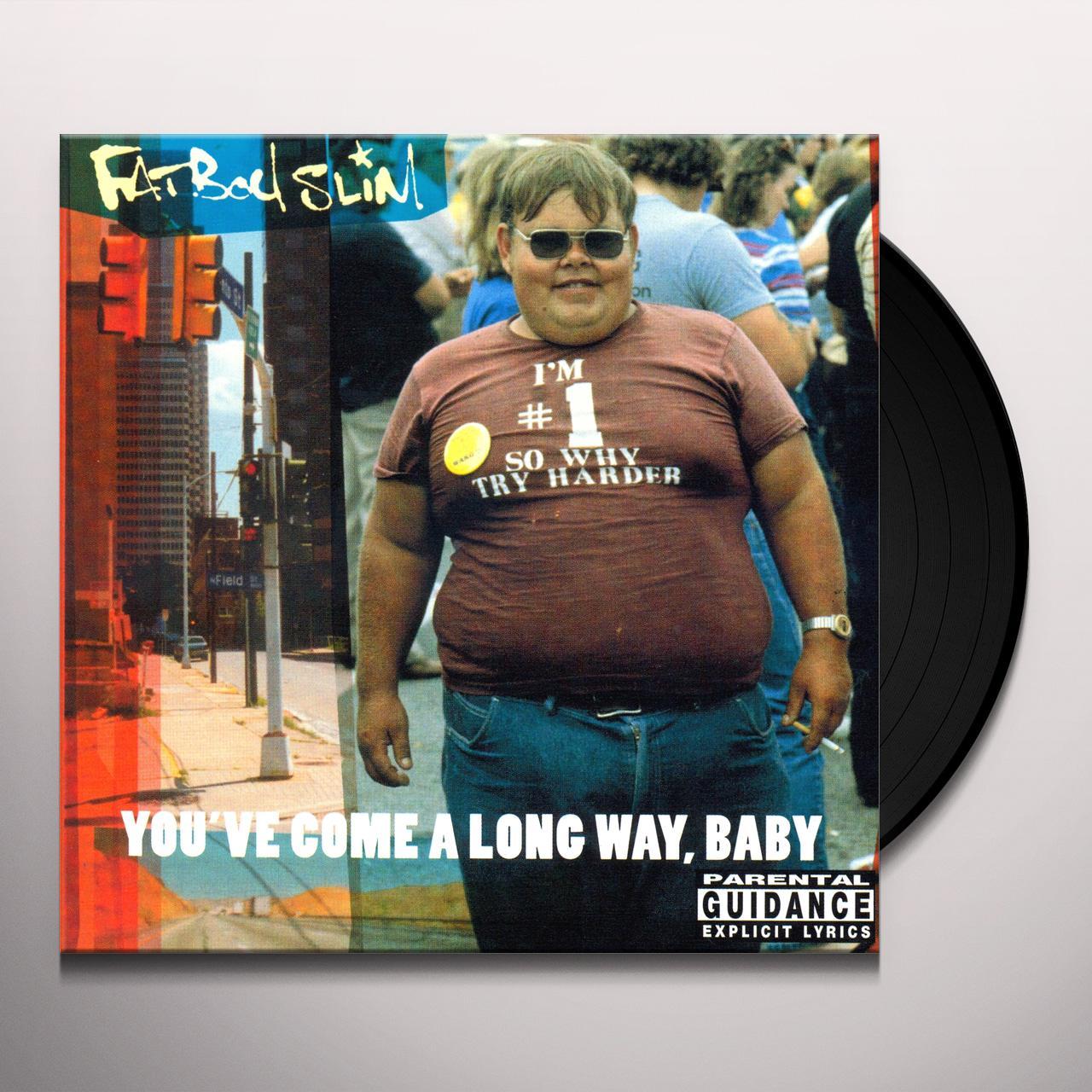 Fatboy Slim's second album (as Fatboy Slim) is also 20 years old. It has dated well. For sure, the cut-up techniques and slammed-in samples have a certain crudeness to them but they now give everything a punk edge – perhaps they always did – only adding to the energy of an album that defined peak "big beat" as the Nineties carnaged to their wasted end in a wonderful haze of drugs and excess. Christ, don't you hate gyms. I do. I haven't been to one since 1985 and even that was to just see what they looked like and have a go in a Jacuzzi for the first time. I digress. Four of Norman Cook's most monster hits are here, "The Rockafeller Skank" (reached No.6 in the charts), "Gangster Trippin'" (No.3), "Right Here, Right Now" (No.2) and "Praise You" (No.1!). They all sound unlikely candidates for giant success in the age of Drake's pony-farts, which only makes them more intriguing. The best cuts, though, were never singles, gigantic belters such as "Kalifornia" and, especially, "Acid 8000". Fatboy Slim is fucking in Heaven, indeed. Comes on double in gatefold with 12" x 12" art insert and a fold-out 12" x 36" tight-printed booklet by writer Ralph Moore on the story behind the whole thing.
Submotion Orchestra Kites (SMO)
A weird thing is that every month theartsdesk on Vinyl receives a preponderance of one genre or another, a different one each time. This month it's that place where female vocals meets stoned beats and easy orchestral aspirations, the sound we would once have known as trip hop. It was always a style ever-ready to slip into dinner party background blandness so I'll admit to difficulty devoting my focus to this deluge. However, decade-old Yorkshire outfit Submotion Orchestra bring a delicacy to what they do, crystal classy vocals that still have a touch of the late night jazz club about them, elegantly melancholic instrumental arrangements, and, most importantly off all, just when things seem about to drift towards a post-quinoa salad spliff on Primrose Hill, in comes serious electronic bass, notably on the title track. In all honesty, it passes me by a bit, especially this month, but if you like this sort of thing, it's done with impeccable smartness.
Moscoman I Ran (Disco Halal)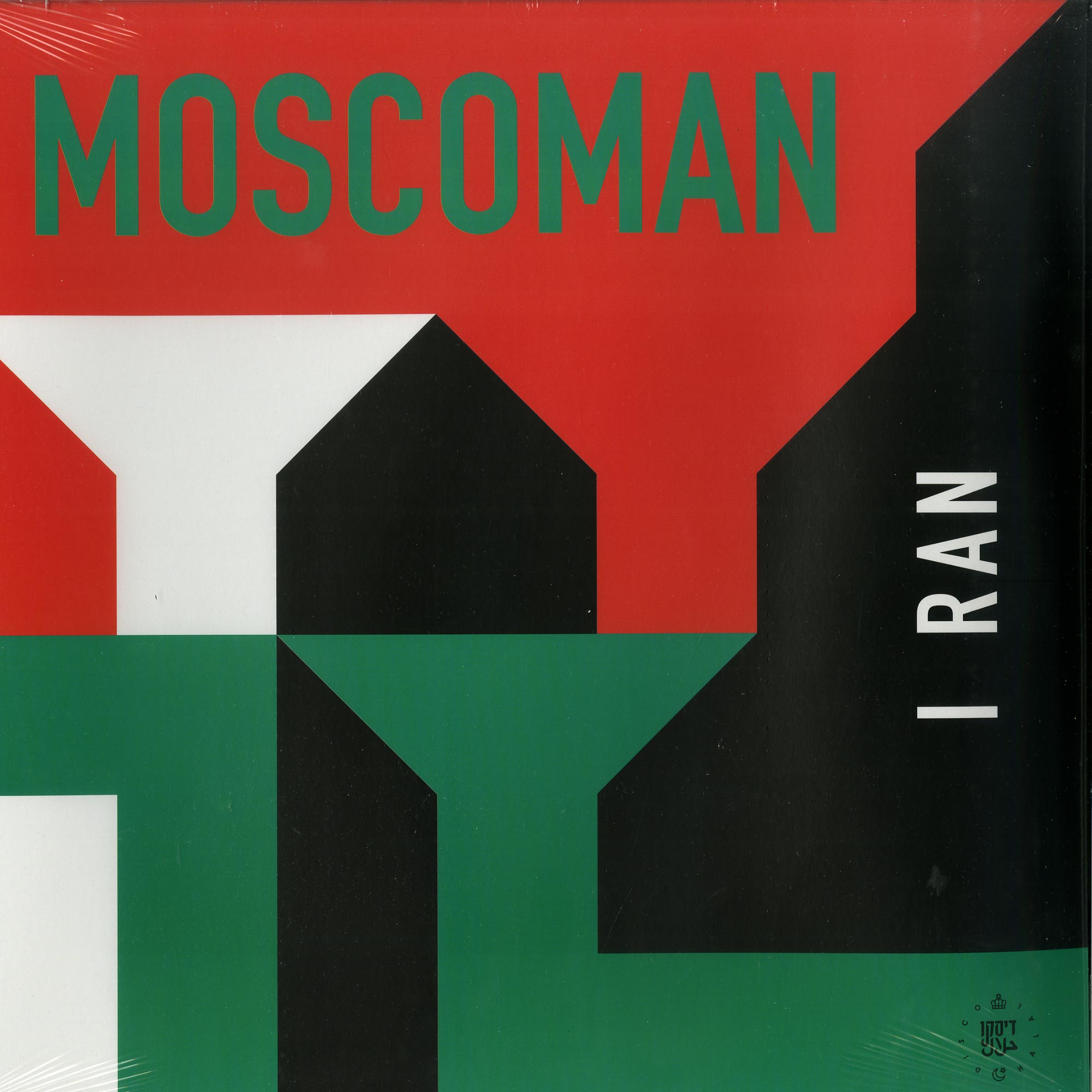 Another juicy 12" from Chen Moscovici, the Berlin-based Israeli producer who is unafraid to bring Middle Eastern sounds and synth-pop influences into his club-centric cuts. His latest has that souk-ish, snake-charmery feel, to be crass about it. The A-side contains Arabic-sounding vocals and instrumentation but has a trancey pulse to the rhythm section. Less driving and immediate but more hypnotic and involving is the flipside remix by Moscovite sibling duo Simple Symmetry. If you like your dance music characterful and likely to hold your attention for years rather than just when strutting your stuff, it's worth checking out.
Ringo Starr Ringo + Goodnight Vienna (Capitol)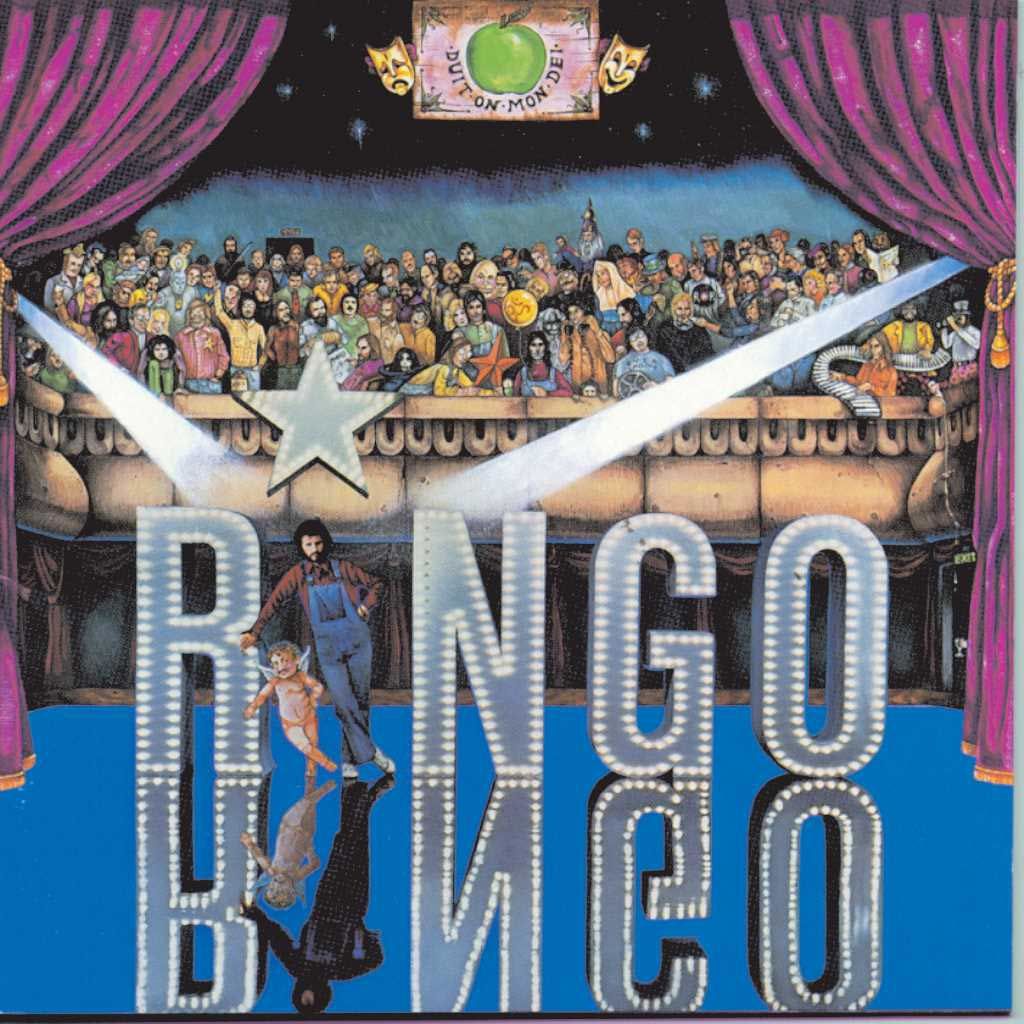 These two albums, the ex-Beatles drummer's third and fourth, see him in his early-Seventies pomp. From the "Billy Shears"-reference in the grand-standing, John Lennon-written "I'm the Greatest" to the cheerfully throwaway also-Lennon-written reprise of the title track that closes "Goodnight Vienna", there's a top-of-the-world exuberance to these albums. Ringo didn't suffer the self-analysing torments of his fellow Beatles (at this point) and simply revels in his newfound freedom, and his connections go his ex-bandmates who assist on the best songwriting (eg, "Photograph" ). By 1973 Starr had two major non-album hits, an entertainingly ramshackle film career, and two hobbyist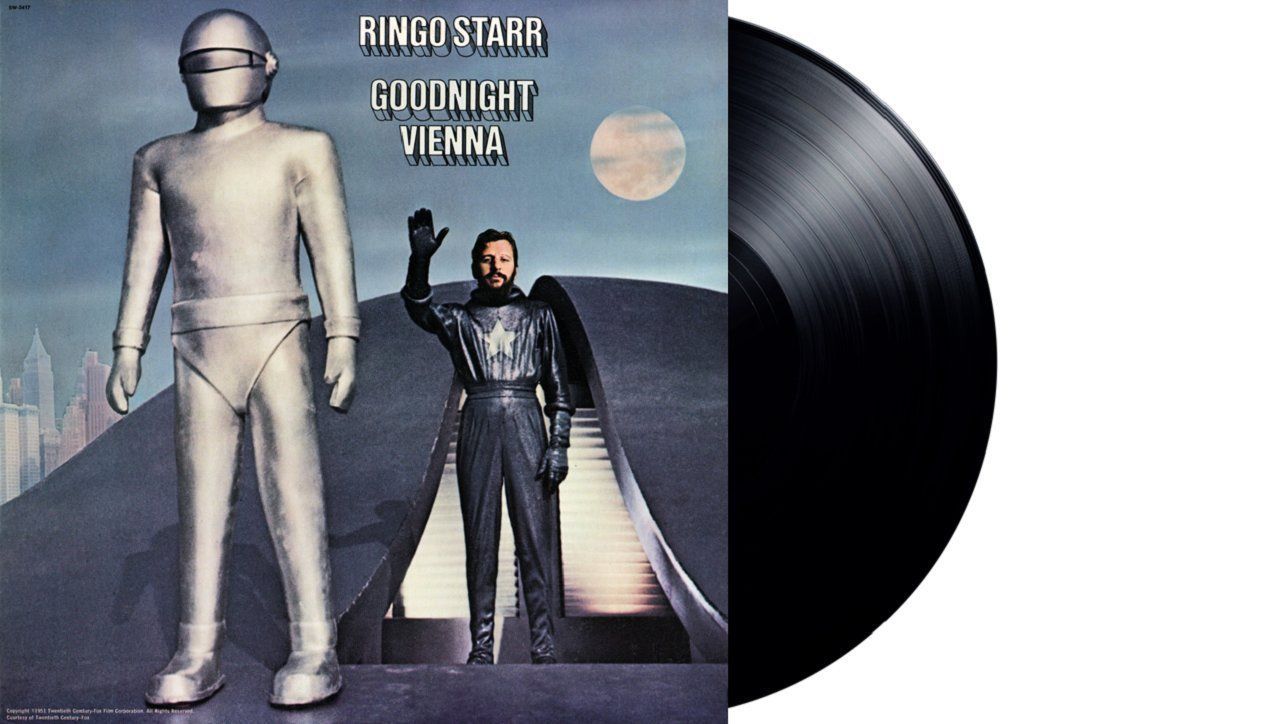 side-project albums under his belt, when he decided to go large with first Ringo, then Goodnight Vienna a year later. They are jolly affairs, rife with big band frolicking, music hall laughs and bouncy rock'n'roll, When not assisted by Lennon/Harrison/McCartney or Bernie Taupin, Harry Nillson and others, he has pro' US songwriter Vini Poncia at his side, marshalling musical solidity. Basically, Starr can't fail and he knows it, feeling shored up on all sides by major talent. These albums contain two US chart-toppers and a further four Top 10 hits. It's the sound of a man thoroughly enjoying himself, without a care in the world and, in places, that feeling is contagious.
ALSO WORTHY OF MENTION
Up High Collective Solitude (Tangram) + JB Dunckel H+ (Sony France) + Ryuichi Sakamoto async remodels (Milan Music): These three albums represent very different faces of long-playing electronic music and its possibilities. The Tangram-affiliated trio of Oddlaner, Ducap and Sir-5 – AKA Up High Collective – have recorded for Gilles Peterson's Brownswood label in the past but their first full album is more purely electronic than jazzual. Certainly, there's keyboard soloing of tracks such as "Syncu" that has a jazzy edge but most of the material on Solitude is closer in scope to the squiggly experimentalism of Hype Williams and the like, albeit more spacious and ambient in scope. Comes in art-photo inner sleeve. Air are an underrated band. They may have hit gold early with Moon Safari 20 years ago, but the plethora of excellent material they've released since has remained underheard and, in any case, they haven't released a proper studio album in almost a decade. One half of that equation, JB Dunckel, released an album as Darkel, over ten years ago, a patchy but sometimes gorgeous thing. H+ is much more Air-y, and forefronts his breathy, fey vocals. It's a love letter of an album, unashamedly saccharine in uplift and joy, therefore an acquired taste in places. Air's soundtrack-flavoured orchestration and easy listening analogue synths are here but sublimated to Dunckel's light, Gallic pop sensibility. It's sometimes too lethargically sugary but gets it right on songs such as "Slow Down the Wind", "Love Machine" and the instrumental, "Qwartz". Comes on bright scarlet vinyl in info-art photo inner sleeve. Ryuichi Sakamoto's async album received critical acclaim last year in the ambient/modern classical arena, a beautiful, sedate and deceptively complex work. It now receives the remix treatment. This will sound crass to those who don't wish to see its carefully wrought bliss mucked about with, but there's much to enjoy here for anyone not bothered by that. Only Canadian synth-poppers Electric Youth go for a 4/4 beat, a very gentle one. The other remixers veer between the starkness of New York producer Motion Graphic's rework to the shimmering deliciousness of Japanese artist Cornelius's version, a highlight. Comes on double in minimalist art gatefold
Eels The Deconstruction (E Works): Who'd have thunk, when he appeared over two decades ago, that Mark "E" Everett would still have a thriving ongoing musical career in 2018? He's been through death and misery in that time, and feeds it into his music, a more poetic progenitor to the droves of tormented-sounding, heart-on-sleeve singer-songwriters that have poured forth in the 21st century. His voice seems to show the scars on this, his fourteenth Eels album, whether he's mustering catchy pop-rock such as "Bone Dry" or more bruised strummed cuts such as "Premonition". What's undoubted is he's honed his talent, and is now here to stay. The Deconstruction is available as a rather cool 10" gatefold doublepack on yellow vinyl.
Various Gumba Fire: Bubblegum Soul & Synth-Boogie in 1980s South Africa (Soundway): Soundway Records don't do things by halves and when they say they're going to explore "bubblegum soul" and "synth-boogie" from Eighties South Africa, you know they're likely to mine deep. Put together by the label's Miles Cleret with DJ Okapi, a globe-trotting DJ expert on African pop-dance, it's a triple album set within a gatefold covered in record sleeve images and close-printed extensive background text. The music is South African stabs at Eighties soul-funk, but riddled with tics drawn from mbaqanga (a kind of rough, rustic mid-20th century Afro take on swing and jazz-pop). It ranges widely. I've never been a fan of that whole Luther Vandross/Atlantic Starr-style R&B so the ones that go heavily in that direction, such as Stimela's "Mind Games", don't appeal, but other cuts, such as General Peter Maringa's "Listen to Me", a melting pot of keys, Afro percussion, soul vocals and jit guitar play, or the raw instrumental P-funk of "Picnicing" [sic] are much more vibey.
Jing Adularescence (6Dimensions): Jing is a Berlin-based Taiwanese artist (how many times each month do I write "Berlin-based" before the name of an electronic musician from somewhere else in the world?). She has been involved with various projects, including more pop-orientated ones, but this solo album is an exercise in experimental soundscaping and is challenging stuff. Occasionally a male voice makes gnomic pronouncements but, mostly it's glooping, dark angular sounds, clanks, down-the-plughole hauntings, the noise schizophrenic androids hear in their brain circuits as they descend into their own cyber-psychic abyss. That this album is released on harsh techno bod Steve Bicknell's label tells much about where its appeal may lie.
Ernie Hawks and the Soul Investigators Scorpio Man (Timmion): Finnish flautist (and trombonist) Ernie Hawks (you can bet that's not his real name!), appears on the front of his debut album in a tasselled suede leather jacket of the kind The Eagles might have worn back in 1974. And the whole album has a retro touch; easy-sleazy soundtrack low-funk with a Blaxploitation feel and Hawks's flute leading the charge. It looks like an old album and it sounds like one. The truth is, though, that unless you've just done a large bong, less is more with this one. Opening track "The Scorpio Walk" hits the ears like the grooviest thing ever but by the final track, the unfortunately-titled "Journey to the Bottom", the novelty has begun to pall. Still great fun to cherrypick.
NHOAH West Berlin (R.O.T.): Nhoah Hoena has been a perennial on the German scene for decades, right back to playing with punk bands at the dawn on the Eighties. For a long time he was mainly behind the scenes, engineering, managing, producing at the famous Hansa Studios. He's worked with everyone from Depeche Mode to M.I.A. to The Pogues to David Hasselhof. He's also respected in his homeland as an artist in his own right and this double album gatefold paean to his home city's history showcases why. It includes a 12" x 12" insert with a couple of autobiographical anecdotes about pre-1989 Berlin and about the wall coming down. It arrives in art-photo gatefold, one record, "Pop", on red vinyl, and the other, "Club", black-flecked grey, like the coat of wolf. NHOAH's music is stentorian, very Teutonic, but run through with luscious filmic tunes and harmonics. His "Pop" is techno-ish and his "Club" is poppy but it's all very palatable. For those thinking, "Well, why's it in the ALSO WORTHY OF MENTION section of theartsdesk on Vinyl, then?", well, it's a busy month. To give balance, I just checked and every track on West Berlin is more enjoyable than anything in the current UK Top 50 (except maybe Dua Lipa's "New Rules" and that Stormzy one).
The Expansions Mumuration (Alberts Favourites): Just when you've reached the stage when you're thinking, "Enough with the smooth jazz tinkering and endless mellowness," The Expansions pull startling instrumental interplay out of the bag on "Pocket 5". And so it is with about half of this six track mini-album by the south London instrumental outfit. In truth, it's too noodly for theartsdesk on Vinyl but there's class and sunshine amongst it and these sparks stand out from the general laidbackery on three of the tracks, the aforementioned "Pocket 5", the slow-burning "Miles Away" and the Peter Hammil-esque organ-funk of "Dragonfly".
Jonathan Wilson Rare Birds (Bella Union): This album is presented beautifully. It arrives on double in gaudy kitsch modernist pop art gatefold on gold-ish vinyl in eye-satisfying inner sleeves. There's also a stoner-friendly 24" x 24" poster and a 7" x 7" booklet containing not only the lyrics but also their "schematics", which turn out to be mystical-looking diagrams that turn the album's sheet music into wonderfully off-kilter art. The music itself is not quite a match for this introduction. It's considered and occasionally funky psychedelic pop vaguely reminiscent of Peter Gabriel-era Genesis in places, and also Wilson's surname-sake, 21st Century prog success story Steven Wilson. Jonathan Wilson is a mate of the stars, a collaborator with Roger Waters, produced Father John Misty's Pure Comedy album last year, and Lana del Rey appears on one song (the lyric book suggests the song in question is "Loving You" but I can only hear her on "Living With Myself"). The mood the album creates is likeable but the only song that really leapt out and bit is the opulent country number "Hi-Ho The Righteous".
Blue Lab Beats Xver (Blue Adventure/All Points): Youthful north London duo Namali Kwaten and David Mrakpor drop their debut album, which can be very loosely filed alongside the likes of Sampha, SBTRKT or Kelela, although it's a far more jazz-centric affair. Blue Lab Beats may adhere to heavy beats but they're more indebted to Roy Ayers' light funk and a host of other, purer jazz influences. Thus there's plenty of saxophone, trumpet and smoothly played piano along the way, as well as a mass of rising guests such as saxophonist Kaidi Akinnibi, drummer Moses Boyd and the MC Kojey Radical. There's an off-putting series of phone message from people bigging up the band in a very bland way on the last track but, aside from that, for those who like their head-nod sounds smoother than silk, easy-rolling, technically virtuosic, and very Ronnie Scott's, this will likely do the trick. Comes with one-sided 12" x 12" info sheet.
Saxon Saxon + Wheels of Steel + Strong Arm of the Law (BMG): These three albums mark the rise and pomp of Yorkshire rockers Saxon, showcasing them as leaders of the New Wave of British Heavy Metal. Their eponymous 1979 opening shot is strangely old-fashioned for the time, boasting none of the speeding propulsion of their peers Motörhead and Iron Maiden, even coming on prog-rocky in places (especially the epic "Rainbow Theme"/"Frozen Rainbow"), however, by the time of the following year's Wheels of Steel Saxon are all about the riffs, veering between terrace chant shouters and their natural inclination towards American-sounding blues-rockin' (check out the title track, which manages both). Finally, Strong Arm of the Law – released the same year! – sees Saxon finally define their sound, fast, with widdly guitars, but also unashamedly crowd-pleasing and hammy. All three are a trip to a time when such rock could be delivered without irony and, as such, are enjoyable. Wheels of Steel and Strong Arm of the Law are the preferred twosome, although "Sixth Form Girls", from the latter, is not only a poor song but might run afoul of today's arbiters of cultural decency. Strong Arm of the Law comes on gatefold and all three albums have different and imaginative shades of splattery coloured vinyl, ranging from spin picture-style to unformed grey-white ring patterns.
Bass Junkie Low Frequency Fugitive (Bass Agenda) + Rich NxT The Brigade EP (Fuse London) + Rico Casazza Yurican EP (Beef): Three electronic dance music 12" singles . Bass Junkie deals in electro at its most techno and abrasive and the new four track EP is a relentless attack in this vein. The best track, "Surrender or Be Destroyed" might, in fact, sum up the ethos of the whole EP, coming on like factory droids who want to tear your head off and make soup from your ears. Comes on vinyl the same grey shade as the android who appears to be announcing the vocal of the track "?Everything" [sic]. Fuse is a ten year old London clubland institution and resident Rich NxT here releases a three-tracker that showcases some of the fire that holds the dancefloor hour after hour. Keeping it both techno and house, retaining a big phat bass end at all times, the title tracks goes for a chopped, skittish, solidly tough house track, while "Serious" attaches a fried disco vocal and feel to proceedings, only leaving it to "Eight", the vinyl-only cut, to go on an electro-iced techno exploration. Reliable London label Beef release four tracks of august but potent techno throb, never hammering but never softening up too much either. These are DJ tools but "Macabre" has a warped tunefulness swirling about its groove, and German producer Dircsen wins the day with his acid housey remix of "End 2016" which spirals off down a mulchy K-hole to who-knows-where.
Wylderness Wylderness (Succulent): Wylderness are a Welsh shoegaze band and they basically do what you would expect of them, mustering a sound somewhere between Ride and FEWS with the emphasis very much on the former. Indeed, there's little new here but they do what they do with a certain aplomb. Not one for me but those living in isolation who haven't heard this sort of sound may find a freshness to such tuneful feedback noisery. Thus is the nature of each generation discovering afresh something that was done many, many moons before. After all, when Wylderness eventually riff themselves into a good squall, as on "Sunography", there's little to do but head-nod down and go with them.
We welcome any and all vinyl for review. Please hit thomash.green@theartsdesk.com for a postal address.
The noise schizophrenic androids hear in their brain circuits as they descend into their own cyber-psychic abyss
Explore topics
Share this article