theartsdesk on Vinyl 26: George Harrison, Vitalic, Scott Bradlee and more |

reviews, news & interviews
theartsdesk on Vinyl 26: George Harrison, Vitalic, Scott Bradlee and more
theartsdesk on Vinyl 26: George Harrison, Vitalic, Scott Bradlee and more
The most wide-ranging record reviews on the World Wide Web
Clean, green, and ready for the needle
Record shops are now doing good business in the UK. Just five years ago, who'd have thought that could happen? So does the current fetishisation of vinyl mark a growing desire to be back to physical formats, rather than disembodied technologies?
Almost certainly not but it's of no matter, those that want to enjoy records now can,
en masse
, and
theartsdesk on Vinyl
is here to critique the very best sounds on plastic, taking in every imaginable style, as well as a few genres that we didn't know existed until the needle hit the groove. Dive in.
VINYL OF THE MONTH
Vitalic Voyager (Citizen)
French producer Vitalic – Pascal Arbez – created one this century's great techno albums, 2005's OK Cowboy. He was never techno in the original Detroit idiom, in terms of faceless futurist cybernetic music for DJs, he was techno in that he created tough machine-bound sounds that referred backwards to the genre's history. His was a very European and self-consciously vintage form of techno. In the years since, his music has veered towards pop, and his new album is certainly not short of that. The electroclash stylings of "Hans is Driving", featuring Miss Kittin, and the cover of Supertramp's "Don't Leave Me Now" are cases in point. They are techno-pop in pure form, bedded down in the genre's glacial aesthetics. Vitalic has a toe dipped into synth-pop's 1979-82 golden age (especially the "Warm Leatherette"-like "Sweet Cigarette"), and right back to Moroder and Vangelis, the dawn of electronic pop, but he's equally capable of ram-raiding the dancefloor with whopping bangers such as "Lightspeed" and "Levitation". Arriving in a gatefold that features its maker beneath a non-PC bridge of naked womanhood, Voyager is joyously accessible – and will be too much so for doyens of cutting edge dance music – but for those who recognise it for what it is, it's a tune-laden, party-starting classic.
George Harrison The Vinyl Collection Boxset (UMG)
The complete solo works of Transcendental Spice are gathered 16 years after his death (or, possibly, his move to another, more conducive, spiritual dimension). Like Martin Scorcese's fantastic three-and-a-half hour 2011 documentary, George Harrison: Living in the Material World, Harrison's output reveals an enigmatic, rounded Englishman with a sense of humour and a grounded desire to discover spirituality in the everyday. The albums included are Wonderwall Music (1968), Electronic Sounds (1969), All Things Must Pass (1970), Living In The Material World (1973), Dark Horse (1974), Extra Texture (1975), Thirty Three & 1/3 (1976), George Harrison (1979), Somewhere in England (1981), Gone Troppo (1982), Cloud Nine (1987), and Brainwashed (2002), plus the concert album Live in Japan (1992), and picture disc 12" singles of the late-Eighties hits "When We Was Fab' and "Got My Mind Set On You". His first two releases were appealingly esoteric oddities, projects only a Beatle or a Stone could get away with. Wonderwall Music contains Indian music experiments interspersed with incongruous instrumentals (such as the jaunty Mrs Mill-smokes-a-bong mania of "Drilling a Home"), while Electronic Music consists of two side-long noodles that only occasionally hint at what Vangelis et al would do later. This isn't the place for a full review of every album, but All Things Must Pass, the triple (in a sturdy box) is a spewing of the blocked-up tunes in Harrison's head, including "My Sweet Lord" which topped and tailed his solo career, hitting the No.1 slot at its start, then again after his death. Some albums don't hold up well, notably the horrible Eighties session musician funkiness of Gone Troppo. The double album, Live in Japan, shows Harrison in fine form, enjoying a career resurrection, mixing solo fare with his Beatles songs, "Here Comes the Sun", "While My Guitar Gently Weeps" (featuring a mass of Eric Clapton fret-widdling) and, from the White Album, the anti-establishment, baroque Charlie Manson favourite, "Piggies". In terms of presentation the boxset adheres to the original releases. Extra Texture's bright orange, dimpled leather effect cover is die-cut so the blue inner sleeve photo is visible. 33 and 1/3, Dark Horse and Living in the Material World are gatefold. For the truly maniacal Harrison fan there's even a 2500 limited edition Project Audio Systems turntable embossed with a Shepard Fairey lithograph art-print of his face. It seems likely that the retiring Harrison, never a fan of consumer culture, wouldn't have embraced this strange development. He might, however, have twitched into that enigmatic smile, knowing that in 2017 much of his stuff stands up well, even beside The Beatles.
Jeb Loy Nichols Country Hustle (City Country City)
Coming with a 12" x 12 info/art print insert, the latest from the Brit-based, uncategorizable American singer is his best in a while. Given he's expert at writing a song, Nichols could have carved himself out a generic career, building up a big fan base in any one area (probably country or indie), but he's too interested in wandering off along side-roads, in recent times taking in the dubby (2010's Long Time Traveller with Adrian Sherwood), the jazzy (2012's The Jeb Loy Nichols Special with Nostalgia 77) and much else. His voice his gently gritted honey, like a proper old school soul singer, and he uses it to that effect on songs such as "Don't Drop Me" and "That's How We're Living", which could easily fit into the catalogue of Seal or Bruno Mars, respectively, but he's as happy paring things back to very modern-sounding blues, rough but smooth, as on "That's All I Want" or album opener "Come See Me". Easy, but with an honesty to his music, Jeb Loy Nichols' latest sounds like an album that should be streaming from tens of thousands of suburban stereo systems.
Bastien Keb 22-02-85 (First Word)
Bastien Keb – actor and multi-instrumentalist Seb Jones - is something of an enigma. His second album is a fluid, loose concoction that mingles jazz and R&B to unlikely effect. It's late night music that sounds both smooth and lo-fi at the same time. He comes from Leamington Spa but his music sounds like it was created by recording snippets of a jam in some New York jazz cellar at 5.00 AM, with everyone spiked on psychoactives. There are numbers that have a semblance of a trad pop form, such as the catchily chorused "Pick Up", but much of it, liberally sprayed with jazz trumpet, may be offcuts of an unrecorded occasion when Marvin Gaye's pick-up band TARDISed into a Frank Ocean recording session. 22-02-85 isn't host to great songs but the overall sound definitely has something.
Françoise Hardy Ma Jeunesse Fout + Comment Te Dire Adieu Le Camp + Soleil + Le Danger (Parlophone/Warner Music France)
Four vinyl reissues for the Gallic pop icon, covering three different eras of her career. The two late-Sixties albums, Ma Jeunesse Fout and Comment Te Dire Adieu Le Camp, are singles in gatefold, while 1970's Soleil is the same but comes with an eight page black'n'white booklet of portrait prints. The much later Le Danger also comes in gatefold with each album in photo/lyric inner sleeves. The first two were recorded for Disques Vogue and are a highly stylised continuation of her earlier Beatles-pop-meets-chanson, with the emphasis drifting towards the latter. Soleil is often overshadowed by the album that followed it, the game-changing Le Question, but is, in its own right, worth investigating. On it Hardy heads towards a more adult, considered version of herself. The opener, "Point", even sounds a little like the Rolling Stones of the same period, and spiky piano blues, "Le Crabe", is a stand-out. Le Danger is a very different creature. Having retired in the late Eighties, Hardy was persuaded by her nation's chief new wave pin-up, Étienne Daho, to record again. The results appeared in 1996 and, from the moment things kick off with the rockin' "Mode E'Emploi", electric guitar riffage is never far away. The curious aspect is how well Hardy's style sits within it, the whole coming over rather like those albums where an indie band signed to a major, circa 1985-95, and had their sound somewhat – but not completely – cleaned up. I'm unclear why these four albums have been chosen for reissue. Seems a bit random, but the latter two, especially, have much to recommend them for those who wish to dig into one of France's biggest pop names.
Homeshake Fresh Air (Sinderlyn)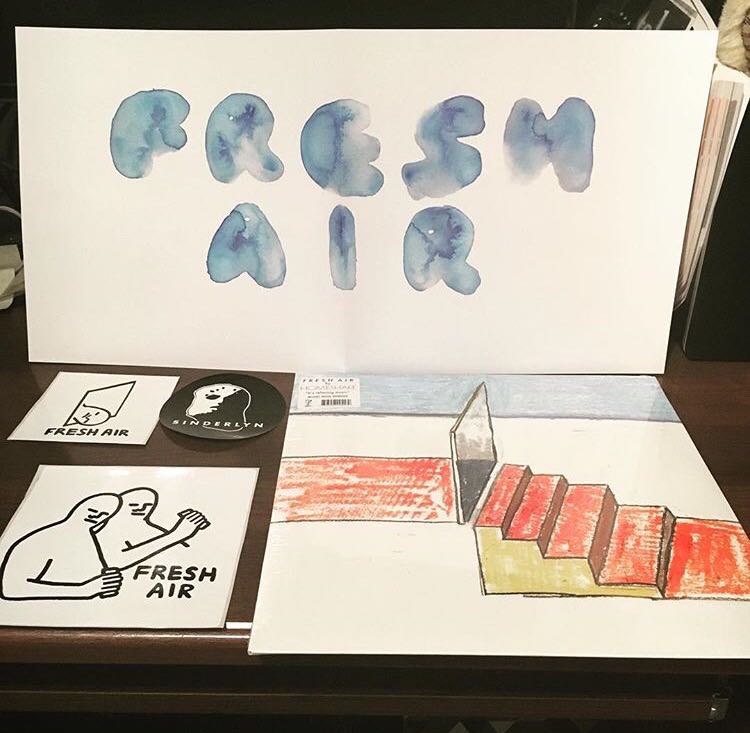 It's appealing that this album sells itself with a sticker on the front that says, "It's relaxing music". Coming on apt, airily transparent vinyl, with a 12" x 12" art-photo insert and a 12" x 24" poster of the album's title in blue, blobby watercolour, as well as a couple of black'n'white cartoon stickers, midway between Mr Scruff and David Shrigley, these sounds are, indeed, relaxing. Homeshake is Canadian producer Peter Sagar who has previously gone for a more alt-R&B lo-fi pop angle but this time, while the synths are present, he's aiming squarely for super-mellow electro-jazz. If it wasn't so woozy it would occasionally be bland, but there's a queasy quality to Sagar's music, so that it's spaced out but, like marijuana, there's also a very slight weird edge to it which you have to watch out for. Basically, it's future jazz for weirdoes.
Police Dog Hogan Wild by the Side of the Road (Major Tom) + Fairport Convention @50 (Matty Grooves)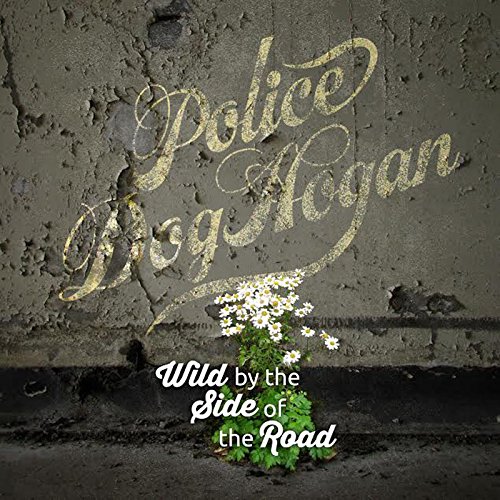 Would that Brit folk-rockers Police Dog Hogan had a sniff of Mumford & Sons's success. The festival favourites' fourth album, in gatefold with photo inner sleeve, is a feisty outing, somewhere between Skinny Lister, The Levellers and The Rockingbirds, which is to say folk is their species, but they've interbred with witty, narrative songwriting, plenty of country'n'western and a mainstream dad-rock sensibility. "Her middle name was Dixie/strange name for a girl from Birmingham" runs the opening couplet of "Dixie" and there's cheery humour throughout, with every other song a barn-dancin' jig ("Black Road", especially, appears to be a hoedown for lost hedonism). Their singer, in particular, has a very BBC Radio-2-friendly voice. Police Dog Hogan are loosely associated with Fairport Convention, a band whose spirit I admire, even if I only ever listen to a very small percentage of their vast back catalogue. As Tracy Thorn observes of them in her spirited autobiography, Bedsit Disco Queen, "Fairport Convention were not of my punky generation: they were dyed-in-the-wool, ale-drinking, jumper-wearing folkies, but they were as DIY and indie as anyone I'd met. It was inspiring." Now this folk institution are a half century old and celebrate with a black-clad lyric-gatefold collection of new cuts, old cuts, live cuts and guest vocals from Robert Plant (a live take of "Jesus on the Mainline") and Pentangle's Jacqui McShee ("The Lady of Carlisle"). For me the psychedelia-tinged live version of the moody 2011 song "Mercy Bay" is ahead-and-shoulders above the rest, but fans will surely enjoy the jolly self-celebratory jig "Our Bus Rolls On". The whole thing is solid evidence that Fairport's creative juices are far from dried up and, barring acts of God, will surely continue flowing to their diamond jubilee and beyond.
Clovis XIV Golden Hours (Clovis XIV)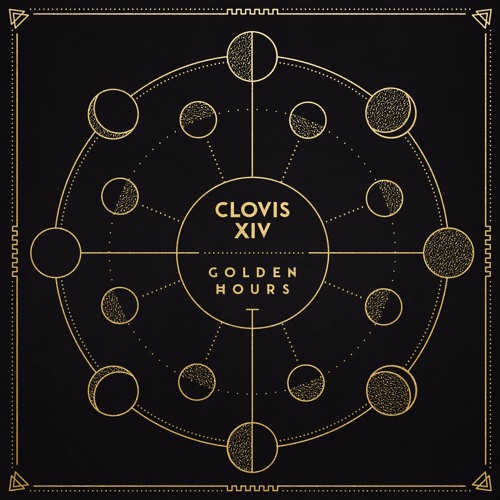 It's impossible to listen to the music of Clovis XIV, a Parisian transposed to Los Angeles, without thinking of two other Parisians who rather successfully got lucky making the same move. There are stylistic similarities. However, drummer-turned-electronic musician Clovis XIV has much to recommend him in his own right, not least this one-sided concept suite of five songs that attempts to take the listener on a journey through the LA night. There are hints of Jean-Michael Jarre somewhere deep in there and also of sunshine EDM, but neither of those references does this often gorgeous music justice. Golden Hours twinkles with artifice, yet has a delicious, cinematic depth, as well as luscious tunes. Like the films of Nicolas Winding Refn, it revels in LA's plasticity yet renders it stunning. One of a limited edition of 300, it comes in a black and gold tote bag featuring the cover art.
ADULT. Detroit House Guests (Mute)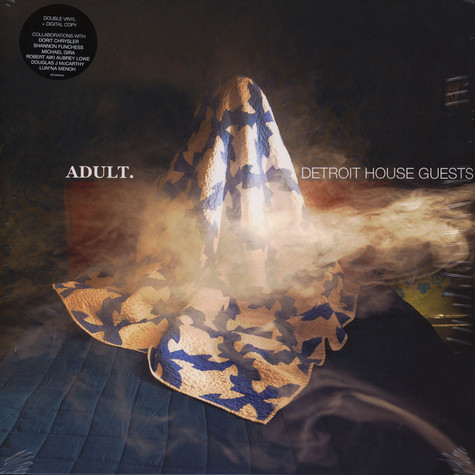 Detroit husband'n'wife electronic duo, Nicola Kuperus and Adam Lee Miller have been around for a decade-and-a-half. Their work tends to wend its way between pop and electro's less palatable corners, whether going for punk raucousness or simply a glacial techno coldness. Their latest album, their seventh, is two discs of collaborations with names who exemplify their appetite for the anti-norm, including Michael Gira of Swans, Douglas McCarthy of EBM duo Frontline Assembly, and Robert Aiki Aubrey Lowe of sonic strangeness merchants Lichens. Detroit House Guests is the result of a grant that allowed the pair to have chosen artists live and work with them. The results are more abstract than ADULT. generally are – songs such as "P rts M ss ng" and "As You Dream" flit about twitchy electronic soundscapes rather than hammer home (although "We Chase the Sound" is a tasty 4/4 assault for EBM fans). While it's not as immediate as some of their work - indeed, much of it is freeform and sonically abstruse - it may also be the duo's most adventurous album.
Molly Burch Please Be Mine (Captured Tracks)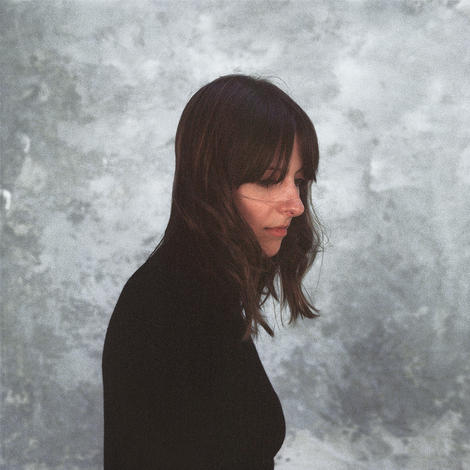 LA-raised, Austin, Texas-based singer-songwriter Molly Burch has something of classic easy listening, swing and jazz about her songwriting, and also a little of Duane Eddy's cheeky twang. Her theatrically projected vocal style is a pleasure. The way she sing-says "You make me feel like quite a woman" on "Wrong For You" is pure camp, as is her occasionally hiccupping vocal style. It's great she doesn't feel obligated to emulate all the usual contemporary tics to express emotion. Her style is, in many ways, old-fashioned, but she brings a freshness to what she does and her material has lively sass. Also songs such as "Torn to Pieces" and "Not Today" have a winning Deep South torch song simplicity. Contains 11" X 11" art/info insert.
Seafoam Green Topanga Mansion (Mellowtone)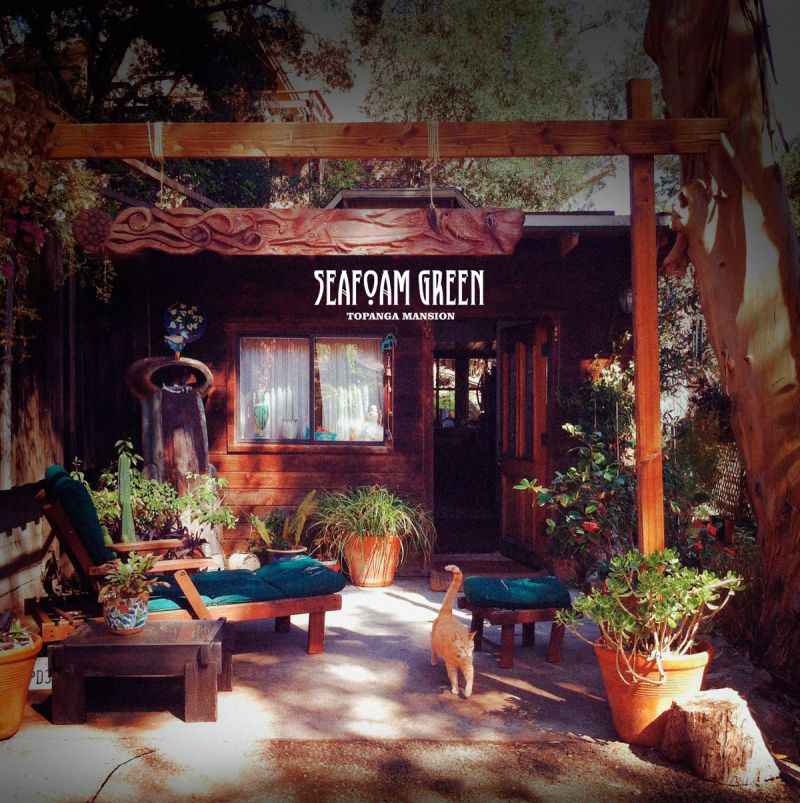 What a strange name for a band. That aside, this debut album (in lyric gatefold) by Liverpool-based Irish singer Dave O'Grady is a feast of pure retro, early Seventies rock, leavened here and there with a seasoning of Celtic folk. O'Grady's original launch pad was when he fell in with ex-Black Crowe Rich Robinson a few years back and the pair wrote songs and toured together. The Black Crowes were all about emulating the Rolling Stones circa 1972, and so is Topanga Mansion, from the maudlin steel guitar balladry of "Sister" and "Petty Tryants" to the tougher southern boogie of "Down the River", although the album's opening section takes an Irish folk moment. There's nothing new about what Seafoam Green are doing but they do it well enough to be worth noting.
DJ Spider 1° EP (Green Village)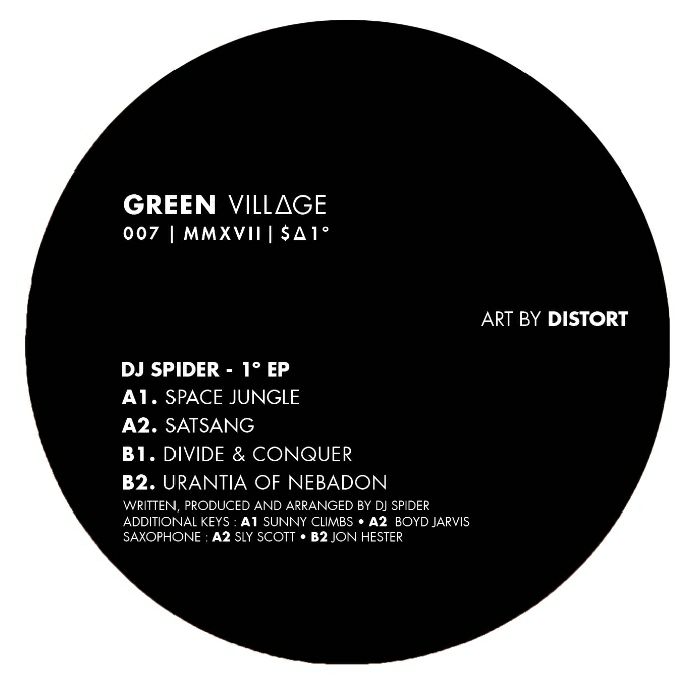 New Jersey label Green Village sent theartsdesk on Vinyl a package containing their entire output of six 12" singles. Thank you, Green Village! The latest and the one we lead off with is DJ Spider's 1° EP, a four tracker featuring the low-slung understated groove of "Space Jungle", a squelchy electro-soul/funk tune with jazz sax called "Satsung", the more trad techno of "Divide and Conquer", and "Urantia of Nebadon" which features sinister Middle Eastern vibes amid a compote of murkiness. There are other DJ Spiders out there but Green Village's is the one to watch, a New York house merchant who's always looking for a gritty dark-side twist. Of Green Village's other tunes - by Dakini9, Policy, Disaroen, Fox, Nicuri and Franklin de Costa - the flavour of heads-down DJ tool techno is regularly spiked by glimpse of light such as Nicuri's spacey, soul-flecked "Ripples of Time" (from the various artists Village Elders EP). My favourite cuts are Fox's brain-frying, mesmeric, druggy bass/percussion odyssey "Yokai" and Franklin de Costa's haunted, glooping, semi-industrial slowie "Derp Journal". Green Village's originality marks them out as a label to watch.
Various Keb Darge and Cut Chemist present The Dark Side (BBE)
To my mind, the second-greatest, most thrilling historical narrative of the Twentieth Centry is the story of LSD, from Hoffman to Huxley to Leary to San Francisco and to the world. It bled pure mischief into everything and disconnected multitudes of Western young people, briefly and beautifully, from predictable materialist norms. If that was the big picture, check the microcosm; just have a listen to Teddy and his Patches' "Suzy Creamcheese" from this double album of Sixties US garage corkers. It's seriously unhinged, all freaky bass patterns, distortion and tuned-in, turned-on sloganeering. Like all the bands on here, Teddy and his Patches had likely been another suburban Yardbirds/Stones clone until the acid hit – whether they took it or not! – but afterwards the racket just had to be consiousness-altering. "Nowadays you will find there's always someone ready, ready to blow your mind," announce Ohio's Captain Crunch and The Crew, over a circular, spidery, rockabilly riff. Curators Keb Sarge and Cut Chemist make no apologies that they're garage neophytes, walking in the steps of Lenny Kaye's groundbreaking Nuggets compilation and its many successors, but the cheap psychedelic scuzz they've dug up – The Aventés, The Tigermen, Al's Untouchables, The Mach 5, The Choab, Caretakers of Deception and many more – make a time trip worth taking to a lost land of pupil-popped teenagers briefly, zealously punching way above their weight, seizing their Sixties moment forever on 7" plastic. Comes in picture/info gatefold with a busy, informative 12" x 12" explanatory/biographical insert.
Emptyset Borders (Thrill Jockey) + Tycho Epoch (Ghostly International) + Heinali Anthem (Injazero) + Various [STAUB] (I/Y) + Nathan Fake Providence (Ninja Tune) + Children of Alice Children of Alice (Warp) + Sandro Brugnolini & Giorgio Carnini UST 7010 (Schema)
Here's a bunch of electronic releases that deserve reviews in their own right but, due to weight of incoming material, are bundled together. Emptyset are a long-standing Brisol duo as well-known in the art world as for their music. Conceptualists whose installation work has graced the V&A and Tate Britain, among others, their seventh album is a moody beast, redolent of Dead Fader and the like, an aggressive sting of angry robot fuzz, buzzing distortion and twisted, revolving machine assault. On transparent vinyl, it's less a music than a filmic ambiance, imbued with Skynet's darkest dreams. The latest album from San Francisco sound explorer Tycho, AKA Scott Hansen, on the other hand, would almost be new agey, proggy, if it weren't for a certain warm organic propulsion, enhanced by the use of electric guitar. Hansen has long majored in combining the synthetic and the human and the Grammy-nominated Epoch, which has been out for yonks but only just appeared on vinyl (in print/detail inner sleeve) may be his most cohesive work. It sounds like The Egg produced by Brian Eno, which is no bad thing.
It's oddly annoying when a press release nails all an album's reference points perfectly but Heinali's does so I'm reduced to paraphrasing. The Ukrainian composer-producer Oleg Shpudeiko gives us two sides of transparent red vinyl that hum with echoing, floating tones, adding up to a fusion of Clint Mansell's soundtrack work, Max Richter, Popol Vuh and Oneohtrix Point Never (thank you, astute press person). It's a soup of sound that goes down easily but is spiced with metallic elements and synth swoops that give the whole thing more edge. A decade and a half into his career Heinali's taste for abstraction has given his woozy music rubbery teeth. Remember when the term "Faceless techno bollocks" was endlessly bandied about? Berlin club [STAUB] still adhere to the principle of stark anonymity and their second release for the same city's I/Y label gives no information about its four tracks. That said, it arrives in a greyly illustrated cardboard sleeve in a white carrier bag, stating in red, "Music washes away from the soul the dust of everyday life," and the record itself is a striking zebra thing, half black, half off-white. Of the tracks, A1 is an opulent John Carpenter-esque beatless piece, A2 opens out to plinky, elegant techno interwoven with a catchy bleep-motif, B1 is a more electro thing and only B2 adheres to techno in its original, propulsive Detroit form. It certainly make me want to go to the club in question!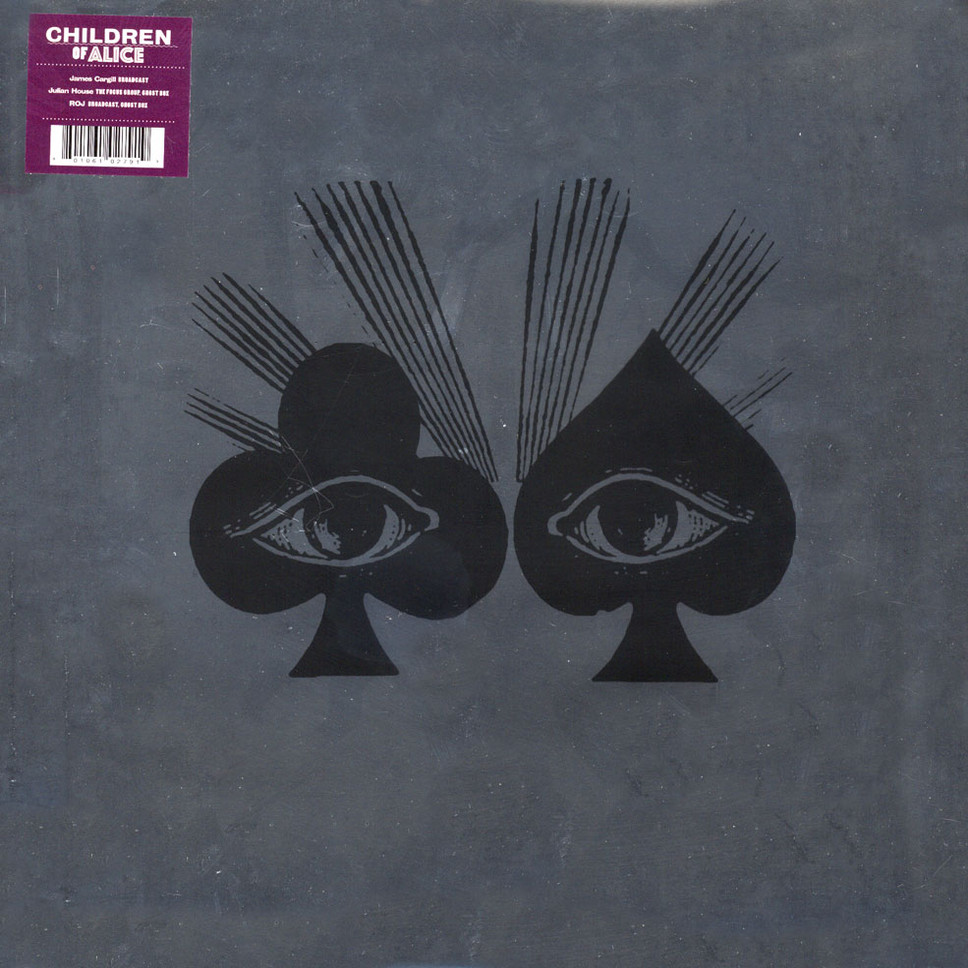 Nathan Fake's debut album, Drowning In a Sea of Love appeared just over a decade ago, a classic of rustic, downtempo electronica. Fake went in a more techno direction in its wake before drying up completely. Now signed to Ninja Tune, he found his new direction via an old Korg Prophecy keyboard which, heavily treated, is all over Providence. A double album in heavy, art-printed glossy inner sleeves, visible through the die-cut outer sleeve, there are a couple of vocal contributions, notably Braids' Raphaelle Standell-Preston, who adds a Björk-ish something to "RVK". Mostly, however, it's unapologetically alien music, sculpted sound architecture that chugs into any dimension it pleases. Children of Alice are James Cargill and Roj Stevens of Broadcast and Julian House of The Focus Group. Together they create a whirlpool of wilful weirdness that has as much to do with the music the BBC Radiophonic Workshop made for sinister 1970s children's TV programmes as with Musique Concrete. Consisting of three long tracks that wuzzle and tssssss and blooooop, its dream-like sound-bumbling that only the oddballs will love. Comes with 12" x 36" purple, red and white art print. Finally, an album that Children of Alice would undoubtedly covet, the re-release of 10 tracks by Italian TV library music dons Sandro Brugnolini and Giorgio Carnini, originally recorded in 1973 using the then-cutting edge ARP 2600 synthesizer. The pair originally termed this music "Beat Drammatico Underground Pop Electtronico", which is pretty much what it is. Brugnolini's side of the record is all madcap instrumentals that have police chase written all over them, while Carnini's is more varied, eccentric and suitable for science fiction or horror (especially the tickering, speeding abjection of "Strutture Generative").
ALSO WORTHY OF MENTION
Rhiannon Giddens Freedom Highway (Nonesuch)
Arriving with a 12" x 12" lyric/photo insert, the second solo album from singer, banjo-player, violinist and American folk music scholar Rhiannon Giddens, is understated and lovely. Giddens' band the Carolina Chocolate Drops was an explicit move to reclaim the Afro-American heritage of US roots music, and her solo career subtly continues the mission. So much harm was done, after all, when Okeh Records marketed music as either "Race" or "Hillbilly" in the 1920s. The categories stuck and became embedded in the popular subconscious. Giddens, who has a lovely voice, albeit with classically-trained precision, offers up a low key set on Freedom Highway, with occasional explosions of gospel flavour, as on the tragedy-laced historical ballad "Birmingham Sunday". It's an album that wears its themes lightly. Whether earthy or ethereal, it's gently strummed but often as powerful as any polemic punk band in full assault mode.
Horizont About Time (Century Media)
Swedish outfit Horizont are a band out of time. Their sound is midway between "Owner of a Lonely Heart"-era Yes, Survivor, early Queen, and heavier old school metal bands such as Dio. Their fifth album, in gatefold, opens with "The Hive", a preposterous slice of Sixties sci-fi psychedelia which Jimmy Webb wrote for the second album of heavyweight Brit actor Richard Harris's unlikely post-Camelot pop career. The five-piece, who look like extras from Easy Rider (and in my world that's a compliment) turn Webb's whimsy into madcap prog and proceed, throughout About Time, to mine a multiplicity of retro rock styles for kicks, unafraid of campy vintage synths (just check the title track!), and maintaining a quirkiness, like The Darkness, that keeps them just this side of AOR indulgence.
Aimee Mann Mental Illness (SuperEgo/Membran)
This arrives on pink vinyl in a die-cut sleeve, redolent of fairytale woods, through which can be seen a strange, spooky duck-monkey creature with a mohawk (perhaps the "Goose Snow Cone" of the opening song). Mental Illness is dressed in uncanny imagery but its contents, while often melancholic, are more straightforward. My music listening life only crossed significantly with Mann's when she did a bunch of songs for Paul Thomas Anderson's extraordinary 1999 film Magnolia, but she has, apparently, maintained a cruising speed career before that and since, a thoughtful singer-songwriter classed as "Adult Alternative" by streaming sites. Her new album proves she still has the pith to lay down sharp lyrics, especially on "Patient Zero" and "Good for Me" ("What a waste of the smoke machine/Took the taste of the Dopamine/And left me high and dry/Call the cops, call the cavalry/Spin the tops that'll dazzle me/And give me a new supply"), while the delightful shuffle of "Lies of Summer" showcases someone thoroughly in charge of their melodic sense. Comes with a 12" x 12" lyric/art print insert.
Various Northern Soul Floorfillers (Demon): Some time ago, when working at a now defunct magazine, we writers were advised to never use the phrase "Does exactly what it says on the tin," the now two decade old Ronseal slogan, when reviewing albums. Lazy journalism. And I never do. Except we should never say never, the occasional album just shrieks for the hackneyed old line to be retrieved, so let's wheel it out just this once. Northern Soul Floorfillers does exactly what it says on the tin. It's not one for the crate-diggers, poring through dusty 7"s in dead people's attics, it's the songs that, as Northern Soul has grown from a geographically tiny cult into an international scene, have become the standard-bearers. It includes such 24 carat classics as Chairmen of the Board's "Give Me Just a Little More Time", Dobie Grfay's "Out On the Floor", Freda Payne's "Band of Gold", and one of my favourite songs of all time, Al Wilson's deathless amphetamine soul fable, "The Snake". With 25 songs that don't quit, this is a one stop shop for Northern Soul vinyl beginners.
Scott Bradlee's Postmodern Jukebox The Essentials (Concord/Postmodern Jukebox): New York jazz pianist Scott Bradlee has become a sensation by posting YouTube videos featuring versions of contemporary pop hits in a variety of vintage styles. This double gatefold in printed inner sleeves, featuring notes, details and cocktail recipes, celebrates the best of their hugely successful output. Achieving global viewing figures of around 650 million, the Postmodern Jukebox has toured the world as a live show, but this collection is a hit and miss affair. It would be great to come across this band, anonymous, in a festival tent, but on record it often sounds forced, twee and self-conscious, with the production bleeding out energy, as they attack songs by Ellie Goulding, Justin Bieber, Radiohead, Guns'n'Roses and more. However, there are a few superlative versions, notably a burlesque take on Miley Cyrus's "We Can't Stop", a showboating exposition of Beyoncé's "Halo" and a shuffling, Dixieland deconstruction of Blackstreet's 1996 smash "No Diggity".
The Seshen Flames & Figures (Tru Thoughts)
From San Francisco, The Seshen major in Afro-centric electronic R&B pop. It's an under-explored musical corner and the six-piece, led by captivating singer Lalin St Juste and bass-playing producer Akiyoshi Ehara, prove there are rich pickings to be found. There's a crossover into Thundercat/Low End Theory territory but it's not extensive and songs such as "Right Here" and "Firewalker" are simply too catchy and poppy to fit in that niche. This is avant-R&B with its pretensions stripped away in favour of an airy, funky contagiousness that's melodic but has a jazzy dancefloor sway. Flames & Figures is their long-playing debut (they previously released a mini-album) and marks them out as contenders.
Lil' Lost Lou Lil' Lost Lou (Bully): The set contained in Lil' Lost Lou sounds exactly the sort of thing that'd set a London pub alight on a boozy Friday night, and that's the circuit frontwoman Lou Psyche hails from. However, her self-titled debut album was recorded over in Nashville with a gaggle of session men who once put in time with the likes of Johnny Cash and Chet Atkins. Lou's core style is upbeat hoedown, country-licked to the hilt, but dosed with the twang of rockabilly too. She knows her way round a tune. "I Kissed Your Man (Jolene)" is a feisty answer record to the Dolly Parton classic and "He Put a Hook in Me (Bones, Feathers Black Boot, Rabbit Foot)" has chugging cow-punk cojones, but she's also capable of more lonesome maudlin moments, such as "Red is the Colour of My Shame" and the Stonesy "Song for Bob Dylan". On single vinyl with photo inner sleeve.
Barb Jungr Every Grain of Sand: Barb Jungr Sings Bob Dylan (Linn): Barb Jungr has been beavering away in cabaret, theatre, TV and music for decades, her name cropping up alongside everyone from Julian Clary to Billy Bragg, but she's perhaps best known for her interpretive singing work. Among the best-known of such ventures is her first album of Bob Dylan covers. Released on vinyl for the first time, Jungr doesn't go for the obvious numbers but brings her own (and arrangers Simon Wallace and James Tomalin's) jazz, chanson and even gypsy stylings to songs such as "I'll Be Your Baby Tonight", "It's All Over Now, Baby Blue" and "Don't Think Twice, It's Alright". Arriving with a 12" x 12" photo/notes insert, Jungr's versions are an acquired taste, veering in places towards easy listening, but with the spikiness of Dylan's lyrics piercing the smoothness sufficiently, and her clean enunciation allowing the songs' poetry to shine.
Klaus Dinger & PreJapandorf 2000! (Grönland): During the last ten years of his life Krautrock key-player Klaus Dinger (of NEU!) formed an association with the ex-pat Japanese musical community of his native Dusseldorf, a friendship that led to much jamming and good times, as well as a number of releases. Foremost among his Japanese friends were Kazuyuki Onouchi and Miki Yui (who Dinger went on to marry) and 2000!, a Record Store Day exclusive, is a collection of cuts that came about when Dinger had a sort of mini-festival in the grounds of his Zeeland Studio, from the high times strum of "Mayday" to many more typically Moterik-rhythm punk attacks. Comes with a 12" x 24" poster featuring Polaroids of the session.
The Flowers of Hell Symphony No.1 (Optical Sounds): Beloved of cosmic noiseniks such as My Bloody Valentine's Kevin Shields and former Spacemen 3 frontman Peter Kember, The Flowers of Hell is the project of Canadian Greg Jarvis. He has led various incarnations though trippy-but-keenly organized sonic explorations but now, after much struggle, and prominently featuring the voice of Toronto soprano Danie Friesen, he achieves his dream of an actual, orchestrated piece in the classical mode. Thus, swirling melodies are mustered from strings and horns rather than rock dissonance and, at its best, it's as if Ennio Morricone has been given a Wagnerian boost, over four movements. "Movement 2" is a tad operatic for my tastes but there's plenty to chew on here.
Bongo ENTP Debut EP (Music for Dreams): Jacob Andersen is a percussionist who was involved with a number of massive-in-Scandinavia-in-the-Eighties pop songs but, judging by this 12" six track EP selection from his debut album as Bongo ENTP, has now mellowed into a human Ibiza sunset. Lead track "Foto Feita Do Avião" is pure easy listening, as is "Lujón", with keys mellower than melted butter and, in the case of the latter, a muted trumpet too. However, there's also enough slithering kick-drum and stoned bongo groove on other tracks (such as the remix of "Foto Feita Do Avião" by São Paulo duo Selvagem) to keep things interesting. One for the marijuana-in-the-tropics crowd.
Venn Runes (Full Time Hobby): In the last chapter of his richly detailed and often fascinating book Future Days: Krautrock and the Building of Modern Germany, David Stubbs observes that "Krautrock is a well that can and will be returned to again and again – an underground river, a self-renewing, self-purifying resource. It's been visited for inspiration for decades now and yet it remains untapped, full of potential." London trio Venn are the latest in a long, long line to embrace the truth of this and their debut album (in manifesto statement inner sleeve) is classy guitar pop riven entirely with motorik intent. Sure, some of it sounds a bit New Order and "Slowly Sinking" sounds like a sweet Eighties synth-pop slowie, but there's enough originality to grab the attention.
Esteban Adame Descendants (EPM): Underground Resistance affiliated Los Angeles producer Esteban Adame updates the classic Detroit techno sound on the original mix, replete with ghost-in-the-machine string lines permeating the gut of the tune. The Tresillo remix is a relentless buzzing thing that hammers away relentlessly but Detroit techno godfather Juan Atkins opens the music out, inflecting it with his Cybotron heritage while retaining its heart. It's the highlight of an EP that is, otherwise, primarily for tough techno DJs.
We welcome any and all vinyl for review. Please hit thomash.green@theartsdesk.com for a postal address.
Basically, it's future jazz for weirdoes
Share this article