theartsdesk in the Faroes: Disco and Dried Fish |

reviews, news & interviews
theartsdesk in the Faroes: Disco and Dried Fish
theartsdesk in the Faroes: Disco and Dried Fish
The usually reserved Faroese get down at G! Festival 2014
Taken over: the village of Syðrugøta hosts G! Festival 2014 on its mountain-fringed beach
"Tonight, in the Faroe Islands, we're going to find the greatest dancer." It's not an exhortation which often rings out. It could even be a first time The Faroes have been invited to demonstrate their disco prowess. Sister Sledge are on stage and about to launch into their 1979 Chic-produced world-wide smash "He's the Greatest Dancer".
This, though, is 2014 and the Sledge sisters are playing G! Festival, the Faroes' annual celebration of their own culture and popular music. The other Nordic countries are here too – bands from Denmark, Iceland, Norway and Sweden are playing.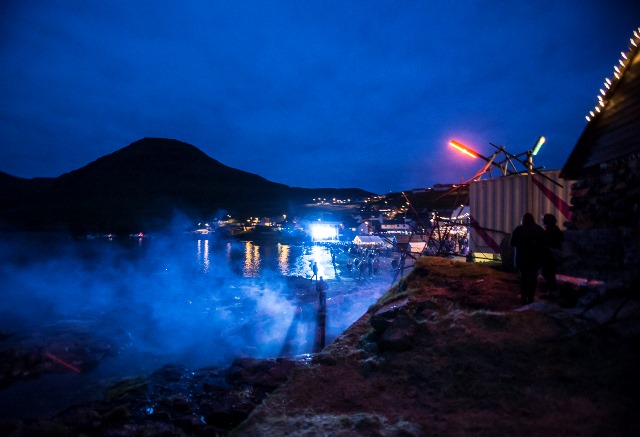 But G! is about the Faroes. It couldn't fail to be as most of the 8,000 tickets have gone to islanders. Also here are ex-pat Faroese from Denmark, Iceland and Norway, along with a smattering of festival-going Brits, French, Germans and Portuguese. With a population of 48,000, the significant chunk of Faroes' residents ensures a resolutely local flavour. And with the ocean-side setting, looming mountains, low cloud base and the ever-present threat of rain, it's evident G! is a festival apart. (pictured right: G! Festival shines brightly in the night. Photo by Finnur Justinussen)
Hosting Sister Sledge could have been an own goal, diluting the local flavour and distracting from what G! is about. The home-grown music scene is strong. The audience here is hospitable. But were the venerable Americans necessary as a cherry on the cake? In the event, any doubts were batted aside by the experience. Sister Sledge were meant to play the main stage, on a beach, but the rising tide and increasingly strong waves meant that was closed and they were transferred to a smaller stage on an AstroTurf football pitch. In the rain, at midnight on Saturday, it didn't matter where or when they were from, the Sledges became another remarkable facet of the unusual G! Nothing can overwhelm this festival's unique atmosphere
G! is held in the village of Syðrugøta (south Gota – gota means street). The population is just under 500. A campsite has been set up for visitors. For returnees to G!, Syðrugøta and the Faroes from overseas, the experience is always fresh. Familiarity cannot dim the impact of this collection of 18 North Atlantic islands.(pictured left: The Faroese capital Tórshavn, seen from the harbour)
Directly north of Scotland, half-way between Norway and Iceland, the Faroes are a self-governing region of Denmark. The Hebrides are 250km to the south. Remarkably, though part of Denmark they are not in the European Union. In the capital, Tórshavn (thor's harbour), despite the Burger King lurking in the indoor SMS shopping centre, there are no chain hotels and few shops with recognisable names. The government, on Tórshavn's rocky Tinganes promontory, is housed in low, turf-roofed wooden buildings, some dating from the 17th century. The Prime Minister's office gives its opening hours on the door. Locals – generally, as G! makes them merry – share the Scandinavian region's reserved yet warm nature. Faroese folk cherish and maintain their otherness.
The mountainous landscape hardly gives way to flat lands. The highest peak is just under 900m and the average elevation is 300m. The ocean is never far, and settlements are either ocean-side, along or at the head of fjords.(pictured right: The Faroese flag stands proud against a fog-shrouded mountain)
As well as the striking landscape and its people, the islands are also inescapably defined by their weather. It rains. A lot. And suddenly, without warning, In Tórshavn, it can be sunny with hardly any wind. Three islands east, in Klaksvík, The Faroes' second biggest town, it's grey, misty and windy. Fog is a big deal. It's not a fog which rolls along the ground. Instead, it's clouds which have decided to nestle on the ground alongside the large, forever-bleating population of sheep.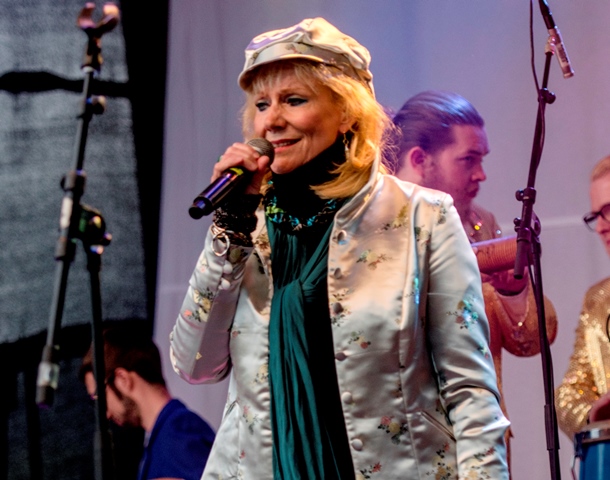 Happily, getting to the Faroes isn't too difficult. There are two return flights a week from the UK and multiple daily arrivals from Copenhagen. Nonetheless, the islands feel cherishably secret.(pictured left: Annika Hoydal at G! 2014's Big Sing Along. Photo by Olaf Olsen)
At G! though, everything is out in the open. Sister Sledge might be the most famous visitors, but the event which most gets the crowd going is "The Big Sing Along". What could this be? A giant Karaoke session? The grey sand of the beach is invisible as it's so packed. The promenade above is crammed. Musicians take the stage in gold, Las Vegas-style jackets. They are joined in succession by a string of Faroese stars who sing local classics. Everyone – G! is a multi-generational festival – sings along. Arms aloft are waved. Local legend and Copenhagen-dweller Annika Hoydal appears and the Faroes go nuts. Singer-songwriter Eivør Pálsdóttir dons local football colours alongside a human-sized puffin mascot. At this point, it's impossible to miss how proud the Faroese are. It's unfussy, but this remote, sparsely populated place is home to an aching pride.
Less charged perhaps are live sets by Sakaris (fantastic electropop with snaky yet anthemic melodies) and the Grammy-nominated, Deadmau5 collaborator Greta Svabo Bech. She only began singing with thoughts of pursuing it while studying in Liverpool – at home, so many people sang she felt there was little point in trying her hand. Away from the Faroes, she stood out. Even more arresting are the dance-oriented duo BYRTA, whose music takes the Euro-electro of Cascada, turns it inside out and adds a take on melody which never steers a song where it seems to be going. (pictured right: Nabiha at G! 2014. Photo by Bjarni Enghamar)
Of the visitors, Norwegian singer-songwriter Moddi charmed by balancing his genial presence with intense, reflective songs. Danish pop R&B diva Nabiha was full-on fun, while Iceland's Kaleo suggested their big music could break through in the same way as fellow countrymen Of Monsters and Men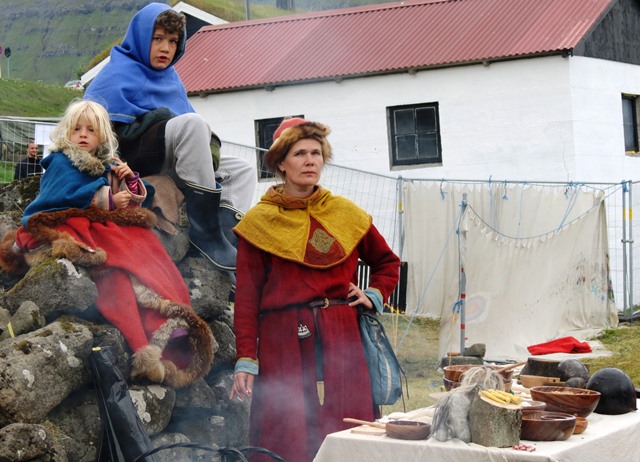 For a little more intimacy, stopping off in a small wooden hut was just the ticket. As well as a counter selling beer, cake and forbiddingly chewy dried fish snacks, it houses an acoustic guitar. Anyone can play and once it was picked up the hut was filled with singing Faroese. (pictured left: Residents of G! 2014's Viking Village survey the scene)
Beyond the music, G! acknowledged history with a small Viking village where appropriately clad men, women and kids show shields off while offering saffron-flavoured toffee. Despite archaeological evidence that people arrived here from Ireland in the 7th century, the first settlers to make a deep impact were Norse adventurers who landed 200 years later. Viking long houses survive and a group can be seen in Leirvík, the other side of the mountain, east of Syðrugøta. The Norse heritage is still embraced: the outstanding Christian's Church in Klaksvík, completed in 1963, was the first building since the Viking era in all Scandinavia to be built in the Old Norse style as a single, open hall.
All this coalesces while sitting munching nachos on the seafront overlooking Syðrugøta's beach. Taking in the view along the Gøtavík fjord past the festival's main stage, it's indisputable that G! is about more than music and more even than the Faroese coming together to celebrate. (pictured right: the view north towards The Arctic, between the islands of Eysturoy, left, and Kalsoy)
Just north, along the headland which needs circling to reach Lerivík – more spectacular than driving through the tunnel – it's possible to look along another stretch of water, the one between Syðrugøta's home island of Eysturoy and its neighbour Kalsoy. From here, the only thing between the Faroes and the Arctic is the tiny island of Jan Mayen. From the Faroes, it's next stop North Pole.
At G!, surrounded by mountain and ocean it's easy to suddenly feel very small. But then, the music rings out and another group of happy festival folk troop past and the mood melts away. But the feeling that the one-off G! is like no other festival remains.
Surrounded by mountain and ocean it's easy to suddenly feel very small
Share this article
Subscribe to theartsdesk.com
Thank you for continuing to read our work on theartsdesk.com. For unlimited access to every article in its entirety, including our archive of more than 10,000 pieces, we're asking for £3.95 per month or £30 per year. We feel it's a very good deal, and hope you do too.
To take an annual subscription now simply click here.
And if you're looking for that extra gift for a friend or family member, why not treat them to a theartsdesk.com gift subscription?