Robbie Williams, O2 Arena |

reviews, news & interviews
Robbie Williams, O2 Arena
Robbie Williams, O2 Arena
Can the bumptious pop showman bounce back to his former commercial glories?
Robbie: proud father, cheeky chappy and arena filler
Frustratingly, the ramshackle rail service from Brighton deposits me at the crammed O2 20 minutes into Robbie Williams's set. After the eerie quiet of the airport-like walkways around the perimeters, the torrid atmosphere inside the gigantic arena is a shocker. It's packed to the rafters with women shrieking and waving their arms in the air while their men sit beside them, sheepishly mouthing lyrics.
Williams, clad fetchingly in black, is playing in the round in the centre of the O2's huge bowl, and the first song I catch is his recent number one single, "Candy". This frankly irritating nursery rhyme number is greeted with unbridled glee.
After a short spree around the country back in September, just as his wife Ayda Field was about to give birth, new father Robbie has returned to play three dates that sold out in an less than an hour. Touting that No 1 single alongside its chart-topping parent album, Take the Crown, Williams is firmly on the comeback trail, but given the scale of his success, he'll need to go flat out to match it. Judging from tonight, he's on his way (Williams at the Diamond Jubilee concert in July, pictured below).
"Showman" is a word regularly thrown at Williams, and he fits the bill. For instance, during "Rock DJ", a collection of giant glitterball Robbie heads descends from the ceiling. He's also an eccentric fellow, given to making matey remarks to the crowd that are strikingly off-piste. Before "Monsoon", with its gigantic "hands across the water" chorus, he analyses the lyrics, notably the line "I've slept with girls on the game". He adds saucily that "Geri Halliwell wasn't strictly on the game... go on then, tweet that."
Midway through, he brings his "good friend" and on-off collaborator Guy Chambers out to play piano while he sits beside him on a stool, bringing an unlikely intimacy to the vast space. He sings "Mr Bojangles" and tells us that the first time he met the Queen she mistook him for a member of Madness, and the second time "for Pudsey Bear's trainer". He belts out "She's the One" while strutting round the edge of the stage, informing us that "I'll carry on pleasing the rim". While his music is a mixed bag, great fun in places but rarely emotionally raw in this cavernous environment, you'd have to be a complete churl not to admit that he's a likeable presence.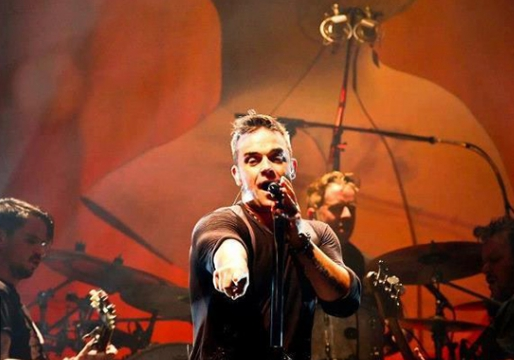 The string of tunes he performs off his new album, with the exception of the Gary Barlow co-write "Different" which he saves for the encore, tend towards the epic without being dramatically memorable, while the older "Bodies" becomes an exercise in music hall goth-rock, adorned with screen projections of skeletons and bones. He climaxes his main set with "Kids", bringing a lithe physicality to his dancing as he jiggles like crazy with his two backing singers, while his band whips the crowd up with wild blasting horns for the euphoric "jump on board" chorus. Then he vanishes, and takes his time before coming back, allowing the "Robbie, Robbie!" chants to surge to appropriately deafening proportions.
Now he heads into the crowd and tells us he loves Gary Barlow. He plays "Strong" and dedicates his final number to "Paul, my only fan in America", whom he picks out of the crowd. He seems very pleased. It's his first gig of this size since 2006, and it's packed out and very loud. He ends, of course, with "Angels", a number he dedicates to his fortnight-old daughter, and the venue becomes a sea of hugging people, men and women grabbing each other and swaying and yelling this song that has become, critical-approval-free, an authentic true-Brit anthem. I can confirm that as music critic guilty pleasures go, howling that clunky couplet "through it all, she offers me protection, a lot of love and affection," along with 20,000 other hysterical voices, is a bit of a peach.