Reissue CDs Weekly: The Mothmen |

reviews, news & interviews
Reissue CDs Weekly: The Mothmen
Reissue CDs Weekly: The Mothmen
Loopy north-African and dub-influenced Mancunian post-punk resurfaces
Manchester's The Mothmen: far out
The Mothmen: Pay Attention!
On their 20-minute "Mothman", Manchester's The Mothmen took a trip fusing bendy Captain Beefheart-style guitar, dub, insistent percussion and a Krautrock sensibility. The side-long track closed their album Pay Attention!, originally issued in March 1981 by the On-U Sound label. As a sign-off, "Mothman" was undoubtedly arresting but however absorbing it was, this was the sound of history. The workout was recorded by a line-up of The Mothmen which split shortly after it was recorded in May 1980.
The band carried on with a reconfigured membership, but Pay Attention! is evidence the original Mothmen's path was unique in post-punk Britain. The album was reviewed by the NME, which declared it "surprisingly accomplished and idiosyncratic." "Mothman" was "harrowing in its intensity." Despite the praise, Pay Attention! slipped between the cracks. This expanded reissue adds six bonus tracks and offers the chance to belatedly appreciate a band who were, indeed, idiosyncratic.
The Mothmen were Tony Bowers (guitar, bass), Bob Harding (bass, guitar, and organ), Chris Joyce (drums) and Dave Rowbotham (guitar, bass). Though mainly instrumental, the album featured Bowers and Harding on vocals, mostly consisting of grunts and shouting.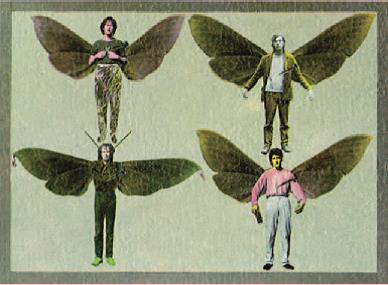 They had come together in late 1978 as a melding of members of two Manchester bands. Harding had been in the satirical group Alberto Y los Trios Paranoias. So had Bowers, who had latterly moved on to The Durutti Column, which also featured Joyce and Rowbotham. The Mothmen were nothing like any of their previous bands or what would come in the future. After The Mothmen, Bowers and Joyce went on to Simply Red. Harding would become managing director of the reggae reissue label Blood and Fire. Rowbotham was murdered in 1991. He was paid tribute to by Happy Mondays' "Cowboy Dave", which featured on their album Yes Please!
In this package's liner notes Joyce describes the band as influenced by "Captain Beefheart, the Moroccan musicians of Joujouka with their endless drum-led rhythms that could last for days on end, the heady sounds of Jamaica and in particular Jamaican dub sounds led by pioneers like Lee Perry and King Tubby; you can also throw some Kraftwerk into the pot" He continues: "a lot of this music was created whilst the musicians were stoned." It sounds like it.
On the stand-out "Mothman", it's as if Space Ritual-era Hawkwind have been taken to a mountain in Morocco and forced to jam with local percussionists. The track is this good. Elsewhere, the Public Image Ltd. of "Careering" are given a similar north-African makeover. Today, a watered-down version of The Mothmen's musical polygamy can be heard in Battles.
Much of Pay Attention! is so far out that its reappearance is not going to rewrite the history of British post-punk – the band did not become posthumously acknowledged as influential and it's unlikely to happen now. Even so, this loopy album has to be heard.
It's as if 'Space Ritual'-era Hawkwind have been taken to a mountain in Morocco and forced to jam with local percussionists
Explore topics
Share this article