Reissue CDs Weekly: The Hollywood Brats |

reviews, news & interviews
Reissue CDs Weekly: The Hollywood Brats
Reissue CDs Weekly: The Hollywood Brats
Another outing for the essential album by Britain's very own New York Dolls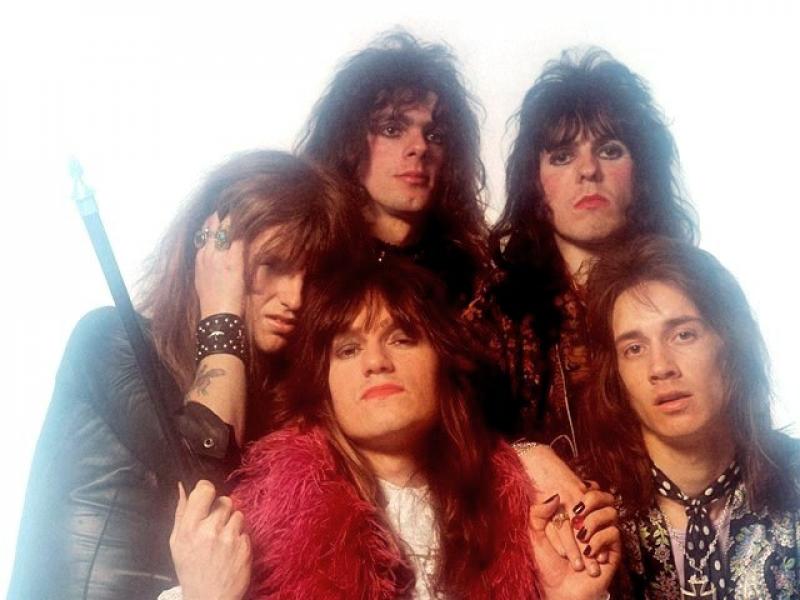 The splendid Hollywood Brats in November 1973, with frontman and author Andrew Matheson, centre front
July last year saw the publication of Sick on You: The Disastrous Story of Britain's Great Lost Punk Band, Andrew Matheson's chronicle of his band The Hollywood Brats. The essential book was impossible to put down. It took in picaresque encounters with Sixties pop star and songwriter-turned impresario Chris Andrews, Andrew Loog Oldham, Keith Moon, Cliff Richard, a pre-Sex Pistols Malcolm McLaren and more.
At the book's core was a band convinced of its greatness, yet painted so excessive and ham-fisted that they were bound to fail. The Hollywood Brats formed as The Queen in 1971 and fell apart during 1974. They thought they were destined to be as big as The Rolling Stones. Instead, they became London's bargain-basement New York Dolls, whose name they had plagiarised. Sick on You was hilarious and if not quite the rock'n'roll Rake's Progress was certainly a cautionary tale in how not to do it. But the glorious failure of four decades ago is today's triumph. History can indeed be written by losers. It's also made by the band's former frontman, a writer of rare flair.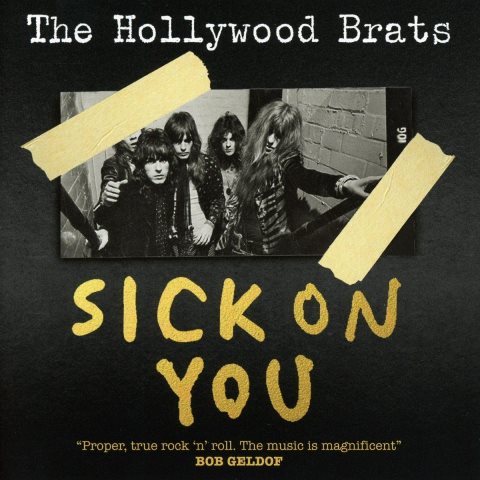 What the book lacked was the actual music. And one year on from it hitting the shops comes Sick on You, a new, expanded 2CD edition of the album they never issued during their lifetime. Although The Hollywood Brats recorded at the swanky Rolling Stones-patronised Olympic Studios from December 1973 to January 1974, no one wanted the release the results. After the band folded, the album leaked out in Norway in 1975 where it was credited to Andrew Matheson & the Brats and titled Grown up Wrong after the Stones' B-side of the same name. It sold in the low hundreds. Copies now fetch upwards of £350.
Although few people had heard of The Hollywood Brats as they unsteadily lurched through the London of the first half of the Seventies, those in their path were deeply affected. Eighteen months before The Clash took shape, Mick Jones was so smitten with the extinct band he adopted the name of their guitarist Brady. Jones' rehearsal-only band The London SS was a direct outgrowth of The Hollywood Brats. When punk came along, the Brats' keyboard player Casino Steel cropped up in The Boys, whose repertoire included his former band's "Sick on You", "Tumble with Me" and their cover version of The Crystals' "Then He Kissed Me". The Boys sounded like a speedier Hollywood Brats, though no one knew this in 1977 as barely anyone had heard the earlier band.
In due course – mostly thanks to a 1978 article in the monthly magazine Zigzag – The Hollywood Brats were identified as integral to Brit-punk's family tree. The first UK issue of their album followed in 1980. It has been available in one form or another ever since. Matheson hadn't vanished. He made a solo album in 1979. In 1978, his former fellow Brat Brady had also resurfaced to play with Wreckless Eric. The disjointed pieces united to ensure their old band had a living legacy and its musical aspect crops up again here.
Disc One of this reissue is another go-round of the 37-minute, 11-track romp first released to no interest as Grown up Wrong (pictured below right), the presumptive proof of The Hollywood Brats as a band worth reckoning with. It first appeared on CD in 1994 and has never been deleted, so it's a fair assumption most people who wanted it before last year already had it. However, the publication of Sick on You has moved the goalposts. As a critical success, the book will have opened new ears to The Hollywood Brats. One thing needs making clear: they were not a punk rock band. Their attitude may have been snotty and don't-care punky, but they were a rough-and-ready Rolling Stones knock-off that also ripped-off The New York Dolls big time. In other words, they were terrific.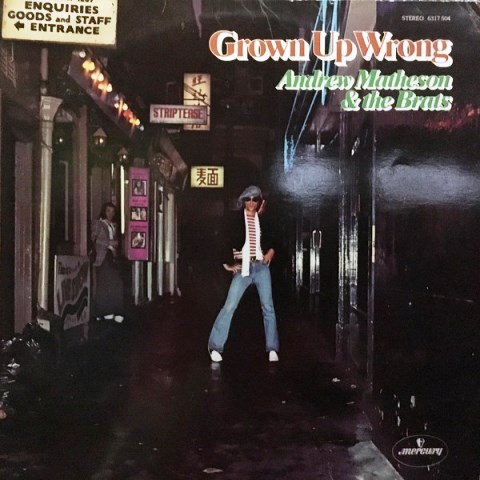 Songs like "Courtesan", "Empty Bottles" and "Drowning Sorrows" are so indebted to the Exile on Main Street Rolling Stones that if they were all The Hollywood Brats were about, the band would be seen in retrospect as a glam-inclined Faces. It's the swaggering Dolls-style songs which make the case. The jagged, absurdist "Sick on You" is a fine starting point, as is the stomping "Chez Maximes" (a rewrite of the Dolls' "Personality Crisis") but it's the hook-filled "Zurich 17" which proves The Hollywood Brats could have found an audience if they had not been the self-sabotaging buffoons of Matheson's account. This was pop as such.
Disc Two is a rag-bag built around half the tracks compiled on the 1986 album Whatever Happened to The Hollywood Brats, which was also issued in Norway. In essence, it collects songs weaker than those on Disc One, in the same style but of demo quality: it is for the committed only. There's some fast-and-loose with the authenticity of what's heard: three of the tracks date from 1980 and are awful. Who they are by is not noted. The dates and sources of five other tracks are not acknowledged. In the same rum spirit of recycling and murkiness, some of the text from the 1994 CD is reused in the package's booklet. There are no new liner notes, though there is an ungenerous and unilluminating three-question Q & A from 2012 with Matheson. The deficiencies seem strange as this new release is issued to tie-in with the American edition of Sick on You the book, with which it shares a cover design. For the full poop then, head to the book.
The Hollywood Brats did not burn brightly: their entire existence took place in the shade. It couldn't have been otherwise. But their monumental chutzpah was underpinned by an unreleased album which really did justify the subsequent interest. On its own, Matheson's book is an extravagant, riveting memoir of excess. But without what his band recorded, it would have been hubris. Engaging, entertaining and essential hubris, but hubris nonetheless. For those without it, which version of The Hollywood Brats album to buy is a matter of choice but it may as well be this latest edition.
Subscribe to theartsdesk.com
Thank you for continuing to read our work on theartsdesk.com. For unlimited access to every article in its entirety, including our archive of more than 10,000 pieces, we're asking for £3.95 per month or £30 per year. We feel it's a very good deal, and hope you do too.
To take an annual subscription now simply click here.
And if you're looking for that extra gift for a friend or family member, why not treat them to a theartsdesk.com gift subscription?