Regina Spektor, Royal Albert Hall |

reviews, news & interviews
Regina Spektor, Royal Albert Hall
Regina Spektor, Royal Albert Hall
Piano girl trades quirkiness for showmanship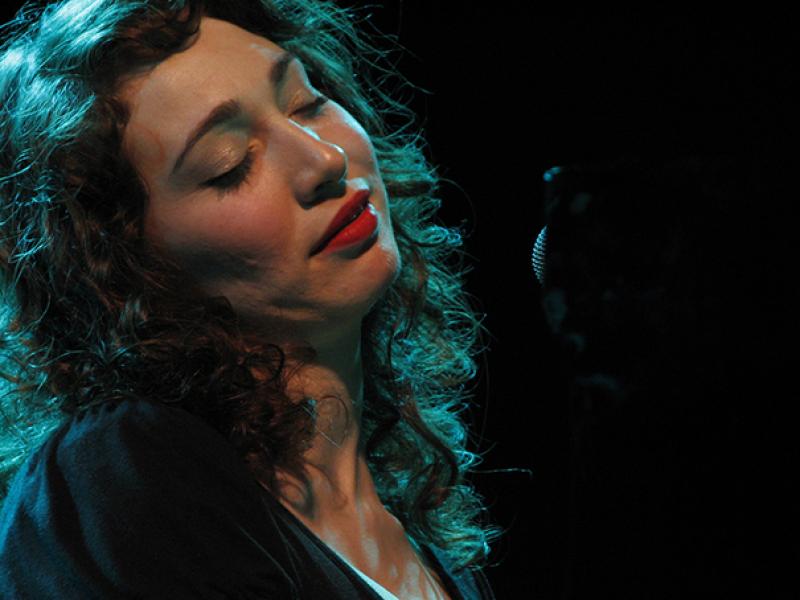 Regina Spektor: moving on from pixie dream girl
Regina's Spektor's kooky New York piano gal shtick sure divides audiences. For every person who finds her a perfect antidote (I refuse to say adorkable) to all that's mainstream and soulless, there is someone else who wants to punch her on the nose for singing "on the Braa-dio-uh-oh" instead of "on the radio."
Mind you, it's not all icing sugar. She might have started her career sounding like an ad man's idea of a pixie dream girl, but time has proved she really means it. Still, it can get a bit syrupy, no? Well, last night it didn't. Thumping out power chords and belting out slogans like "Mary Anne's a bitch," the diminutive prodigy proved anything but saccharine.
Maybe it's all that touring in the Tom Petty support slot, but the Spektor who showed up wasn't the sensitive hipster I'd been expecting. She breezed on to the stage looking confident in a spangly dress and girlish smile, and confessed to being overwhelmed to find herself such an auspicious venue. And then, after a crowd-pleasing yet somewhat showy a capella version of "Ain't No Cover", it was straight down to business at the piano. Despite playing in what is effectively a massive echo chamber, the sound was slick and curiously muscular.
'Eet' and 'Small Town Moon' were transformed from personal, sensitive indie to shine as pop songs
Spektor was joined by three others: Mathius Kunzli on drums, Yoed Nir on cello and Brad Whitely. Even with the 140 ft dome, they managed to gave a real low end to the music and saved songs like "The Calculation" from seeming irritatingly flighty. Not that there really was much whimsy on offer. The set's most likely offender, "The Party" ("You're like a party somebody threw me/ You taste like birthday/ You look like New Years"), felt less like sugar and more the sort of bubblegum Stephin Merritt likes to chew.
With six albums to choose from, the song selection moved on from the light arpeggios and easy melodies that the girl from the Bronx is best known for. She strayed into PJ Harvey territory on "Blue Lips", "How" was rich in Seventies soul, and "Firewood" could have come from the corner of your favourite hotel lounge. And if the Russian folk song Spektor recalled from her childhood was no great surprise, the way "Eet" and "Small Town Moon" were transformed from personal, sensitive indie to shine as pop songs just showed how Spektor had got the hang of showmanship.
Spektor's manner held the audience with the same natural charm as her music. Her gracious nature especially shone when she paused the gig to allow a girl who had fainted to be checked by the St John's Ambulance. The fans might not have looked like an "anti-folk" crowd – in fact most looked like they'd spent the day at Wimbledon – but many in the stalls seemed hell bent on recreating the ambiance of a New York dive bar. After about the 15th "I love you, Regina" she almost started to look nervous. Or maybe it was just that she was embarrassed that the position of the piano dictated that she always had her back to half the fans.
Artist and audience both revelled in the encores of "Us", "Fidelity", "Hotel Song" and "Samson", even when Spektor fluffed and restarted the latter. Unsurprisingly, these songs stood tall as her most accomplished work to date, but for all their loveliness, they are essentially aspects of the same voice. Last night It really was a treat to see another side of Regina Spektor.
Watch Regina Spektor perform "All the Rowboats" on Letterman
Thumping out power chords and belting out slogans like "Mary Anne's a bitch," the diminutive prodigy proved anything but saccharine
rating
Share this article