Prince, Shepherds Bush Empire |

reviews, news & interviews
Prince, Shepherds Bush Empire
Prince, Shepherds Bush Empire
Surprise! Mr Nelson's new band rocks out hard
L-R: Hannah Ford Welton & Ida Nielsen of Third Eye Girl; Prince Rogers Nelson
If you're looking for good vibes, you could do worse than watch people who've queued up for a surprise show by a megastar finally getting through the doors, having paid only a tenner. The buzz on the way into the Shepherds Bush Empire last night, in fact, was a real tonic – people whooping, spontaneously singing, grinning inanely.
A quite peculiar mix of celebrities – Nick Grimshaw, Cara Delevingne, Alan Yentob and George Clinton – all took to their seats looking as excited as the 3,000-odd standard punters. This was what fandom should be about, and it couldn't have started off the evening better.
Now I've never been one of THOSE Prince fans, to the point of mystical symbol tattoos, worrying about the right shade of Purple and collating untold bootleg and fanclub-only releases – but I was an over-serious 13-year-old when Sign o' the Times came out and in the market for something strange and conspicuously Meaningful, so I do really appreciate how intensely people can get into him. So I found myself at my first ever Prince gig, caught between dreading a set of the endless noodling obscurities to which he is notoriously prone, and prickling with adolescent excitement and hope.
The crowd buzz helped, as did the arrangement of the stage. A screen flickered with pretty but sort of banal mandala-style computer graphics, while a Classic FM soundtrack tinkled away; however, you wouldn't need to believe in Feng Shui to see beautiful symmetries in the vast speaker stacks, lighting rigs and scene-dominating drum kit (featuring no fewer than three kickdrums). It was clear that Prince and his band meant business. And sure enough, right on schedule at 8pm – almost to the second – the lights went mental and the three members of his band Third Eye Girl came on.
In a Valley Girl accent, the drummer Hannah Ford Welton made a short but articulate and convincing plea for cameras and phones to be put away, promised the "best night of your life", then went behind the kit as the lights blacked out to kick up an almighty boogie-ing racket. Prince's voice came in, the crowd went nuts, the shadow of a small fellow with a bobbing Afro appeared in the wings and the crowd went double nuts, then the lights came on, he bounced on in his light-up platform heels, and it all went into hyperspace.
The next hour was wild, really wild. Third Eye Girl, looking like exactly the sort of band Eighties Prince probably imagined he'd be playing with in the 21st century, are a proper, kick-ass rock band. From a slowed-down but still grooving "Let's Go Crazy" on in, they made the most amazing noise that sounded, insanely, like some sort of fusion of Guns N' Roses, Funkadelic, Bo Diddley and Chuck Berry fronted by... well... Prince. Really, it was that good.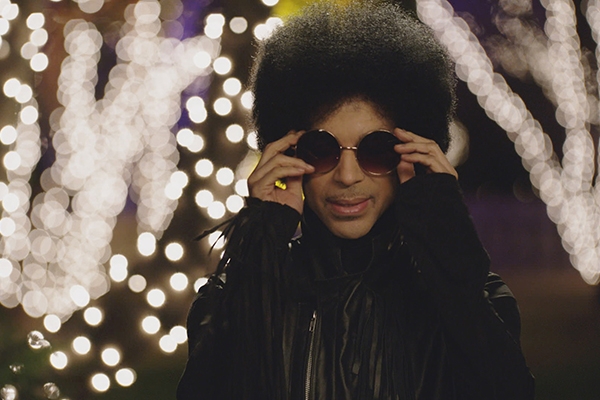 Classic stuff – the B-side ballad "She's Always in My Hair" and a skull-crushingly mighty "I Could Never Take the Place of Your Man" – provided high points. Newer tracks like "Midnight Blues" or the fruit-loopery of 2009's "Colonized Mind" couldn't compare, despite the former's implausibly great opening line "Lost my job at Mickey D's / For giving away too much free food", but it didn't matter. When tracks lacked hooks, it was made up for in pure riff, or in guitar solos dripping like molten gold from the fingers of Donna Grantis and doubly so from Prince himself. The sound mix was 100 percent perfect, the band's control and ability to turn on a dime was jaw-dropping and that hour went in a blink.
Then came the first of the encores, and it was pretty amazing. A solo piano and vocal medley, starting with "How Come U Don't Call Me Any More" wove neatly through "The Beautiful Ones," "Diamonds and Pearls," a heart-stopping and roof-raising "Purple Rain" and on. It could easily have been frustrating to hear just a verse and a chorus of these songs, but the arm-hair-raising feeling of Prince – in the vocal form of his life – sitting there only yards away belting them out more than made up for it.
Then there was a slightly peculiar machine funk section. One lengthy track was just Prince on distorted bass guitar jamming over a drum machine and was just stunning – the planet's hippest DJs could eat off a bootleg of that for quite some time. Then there were snippets of "When Doves Cry" and more hits, wonderful to start with then getting shorter and scrappier until it seemed he was just mucking about, karaoke-style – but at the precise moment of irritation it cut into a slamming "Housequake" and the band returned. If ever there's a Prince song that doesn't need a crunching rock reinterpretation it's that one – but they did it anyway and it was great.
It all blurs a bit after this, as the set degenerated into encore after encore, with five-plus minute gaps of milking applause, and it was almost all new-ish songs. And here he really did test his fans' devotion, but there were enough rewards to keep momentum – just. The batshit-mental "Cause and Effect" (from 2010) was kept alive by demolition riffs that evoked Black Sabbath, and in a moment of extreme cognitive dissonance made it obvious how close Prince's lower vocal registers sound to Ozzy Osbourne.
A massively elongated "Something in the Water" from 1999 included a singalong which at first was so forced it felt chew-your-thumb-off embarrassing – but a furious guitar solo turned the whole track inside out and by the time the song emerged from the other side of it, the audience was still singing completely naturally. And other singalongs with obscure material were downright lovely; if there's one thing you can say about Prince fans it's that they can keep time and hold a tune. New song "Screwdriver" – thus far only ever heard in online clips – was greeted like an oldie, and "Bambi" from his 1979 debut album sounded oddly right next to it. But there was a load of indistinct noodling either side of these moments of rocking clarity, and the incredible momentum of the first part of the show seemed fractured by the amount of work he expected the crowd to put into asking for more.
How can you criticise him for this though? He is the Bob Dylan of funk-rock, the "Imp of the Perverse" in the title of one biography, kept alive and revived by never giving people exactly what they want, and that is why, perhaps against our better judgement, we love him. And when he lets loose the full Hendrix on yet another solo, or screams a perfect scream for 30 seconds straight at the climax of a song, all the faffing and preening are worth it. Even if you're not one of THOSE Prince fans, suddenly check yourself, and go "I'm watching PRINCE!" Nobody else can do what he does. It wasn't a perfect show by any means, but as people thronged out and buzzed around outside, that vibe was still palpable, and that's got to be worth a tenner of anyone's money, right?