Jimi Hendrix, Snap Gallery/Handel House Museum |

reviews, news & interviews
Jimi Hendrix, Snap Gallery/Handel House Museum
Jimi Hendrix, Snap Gallery/Handel House Museum
Two exhibitions devoted to the greatest guitar hero of them all
Saturday, 18 September 2010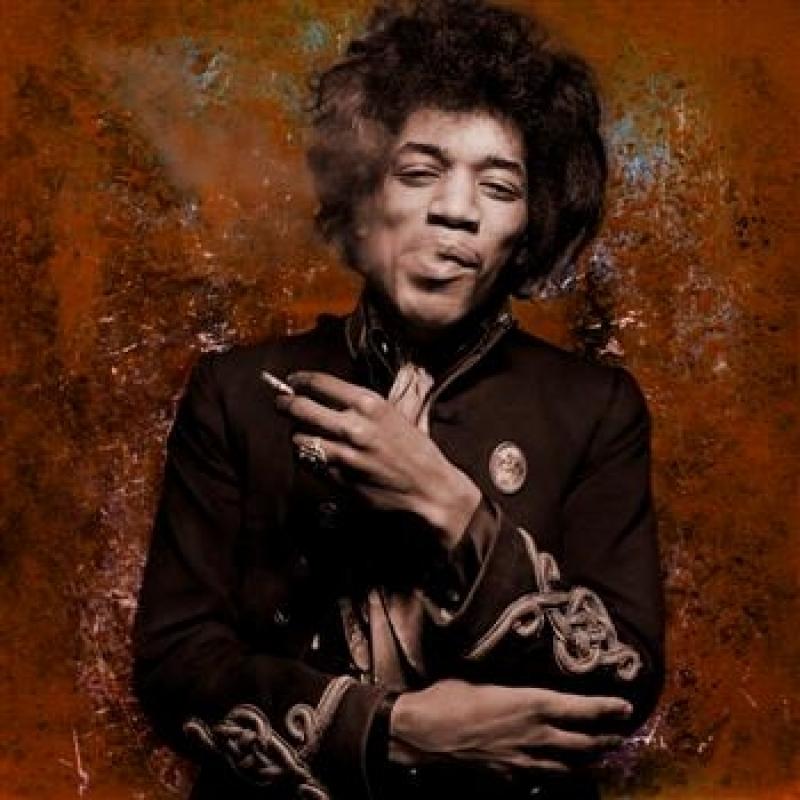 Jimi Hendrix, Smoking sepia and rust
A soundtrack of "Purple Haze", "Hey Joe" and other eternal Jimi Hendrix hits, is currently drifting out of the Snap Gallery along the swanky Piccadilly Arcade in Mayfair. A boutique exhibition space, Snap sits incongruously amongst purveyors of "fine" jewellery and gentlemans' tailoring and its front windows are transforming the chi-chi mall with Gered Mankowitz's photographs of the Sixties guitar genius, Hendrix.
Two large portraits shimmer under acid pinks and blues like sophisticated versions of Warhol's negative/postive prints. "Soft-sharps", as they are known, they cause colour tones and focuses to shift constantly as you move, and they serve as introductions to Mankowitz's digital dark-room skills in transforming 40-year old black and white prints into 21st century psychedelic colour feasts.

Gered Mankowitz is one of the most respected Sixties-generation music photographers. A modest but central character on London's Swinging Sixties scene, he made his name with now classic photographs of the Rolling Stones in 1965, and these portraits of Hendrix taken in two sessions in 1967. He chose his studio at 8 Mason's Yard (now home to Jay Jopling's White Cube gallery) over the guitarist's cramped hippy pad in Handel's house, the venue currently being pored over by fans and pop historians searching for clues of the musician's presence in what is now a mundane office for the Handel Society.


Nothing mundane about Hendrix of course, and the images on show highlight the dandyish ruffled shirts, gold-braided velvet jackets and bouffant hair (which isn't an Afro at all). The monochrome prints lining the upper gallery and shining from inside light-boxes, are the originals, and they emphasise his face, staring earnestly into the camera, occasionally puffing on a cigarette, and once laughing - and that's a revelation. In contrast, the richly reworked colour versions somewhat distract from his presentation as serious, intelligent, self-aware but surprisingly cautious. Standing with his band, the Experience (bassist Noel Redding and drummer, Mitch Mitchell), all three adopt bored rock star expressions.
While Mankowitz's prints don't highlight tonal ranges or contrasts as much as Bailey and other contemporaries, he goes for textures (the trademark hair, furs, the Chelsea boots and velvet trousers) and character. The 35 portraits on show are digital prints created from the original negatives, many from one portrait which the photographer calls "the classic", Hendrix standing with hands in pockets, leaning into the camera. It recurs in different guises throughout the exhibition, created using techniques he won't reveal, which take them into the digital age - and to a new artistic level.
The ground floor and basement galleries illustrate these transformations. The basement is dimly-lit like a Sixties club and the combined effect of zinging colours and raw textures, the over-printing and digital-chemical zeal, simulates an LSD-fuelled light-show.
The most interesting and sophisticated of Mankowitz's techniques are those printed onto metal and treated in processes involving attacks of acids and metal oxidizers which create roughly textured surfaces like lithographic plates, the finest being "Jimi smoking, sepia and rust" (see opening photograph). They come close to abstract expressionist painted surfaces and are reminiscent of Gerhard Richter's experiments with photographs. "Jimi smoking, colour triptych" is unashamedly Warholian with its bright back-grounds and psychedelic exaggeration of Hendrix's clothes. The scientific curiosity behind these digital, scientific-craftsman-artist productions positions him on a line back to the era of Fox Talbot and Daguerre.
The current frenzy for exhibitions by leading 1960s photographers of the rock aristocrats, is unearthing many memorable images. But it is already saturated by another Bob Dylan show, more Rolling Stones portraits. So this collection is a refreshing arrival. And with it, a surprising post-script: by sheer coincidence, the Snap gallery occupies a former Wedgewood china shop run by the late playwright Wolf Mankowitz. He named it "Gered of Picadilly" - after his son.
Watch Jimi Hendrix play "Hey Joe" live on The Old Grey Whistle Test
"Jimi smoking, colour triptych" is unashamedly Warholian with its bright background and psychedelic exaggeration of Hendrix's clothes
Explore topics
Share this article