London Jazz Festival Round-Up |

reviews, news & interviews
London Jazz Festival Round-Up
London Jazz Festival Round-Up
A selection of highlights from a vibrant and eclectic 10 days
Tuesday, 22 November 2011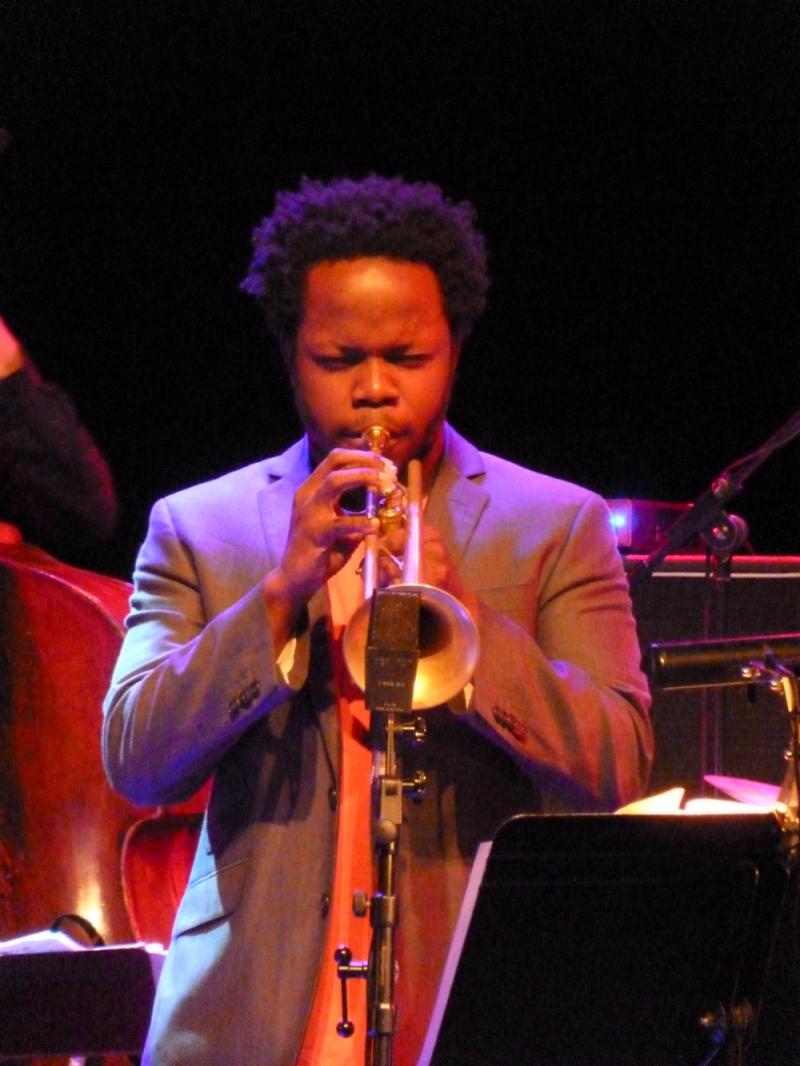 The explosive Ambrose Akinmusire blows up a storm in Michel Portal's quintet
The 10-day London Jazz Festival, now in its 19th year, is a diverse and international festival that embraces the unapologetically commercial Jazz Voice, the outer reaches of (free) free improv and even Abram Wilson's Jazz for Toddlers. Despite a line-up that's both starry and distinguished there was no single name that might encapsulate the festival's rainbow palette.
You can get a taste of its breadth from the three giants competing for our attention on the final night: Brazilian pioneer Hermeto Pascoal, guitarist Bill Frisell and free-jazz pioneer Ornette Coleman.
I rationed myself to one event a day, including an immersive performance by The Necks. If that stuck out as one extreme of the festival's territory, Ben l'Oncle Soul (pictured below right; image by Emile Holba) was at the other, pumping out excitable soul-pop-funk learnt from James Brown and Ray Charles via Prince. Smartly dressed in bow tie and retro eye-glasses, l'Oncle Soul (aka Ben Duterde) clearly aspires to be the hardest-working man in show business. At one point he rushed around the auditorium, up and down every aisle, shaking hands with everyone. Not jazz, but the kind of well-executed, authentic pop music that jazz fans don't feel bad about listening to. His encore was a non-stop string of hits: his own tune "Soulman", "My Guy", "Kiss", "Let's Get it On". Sadly, the poor sound did his excellent band no favours.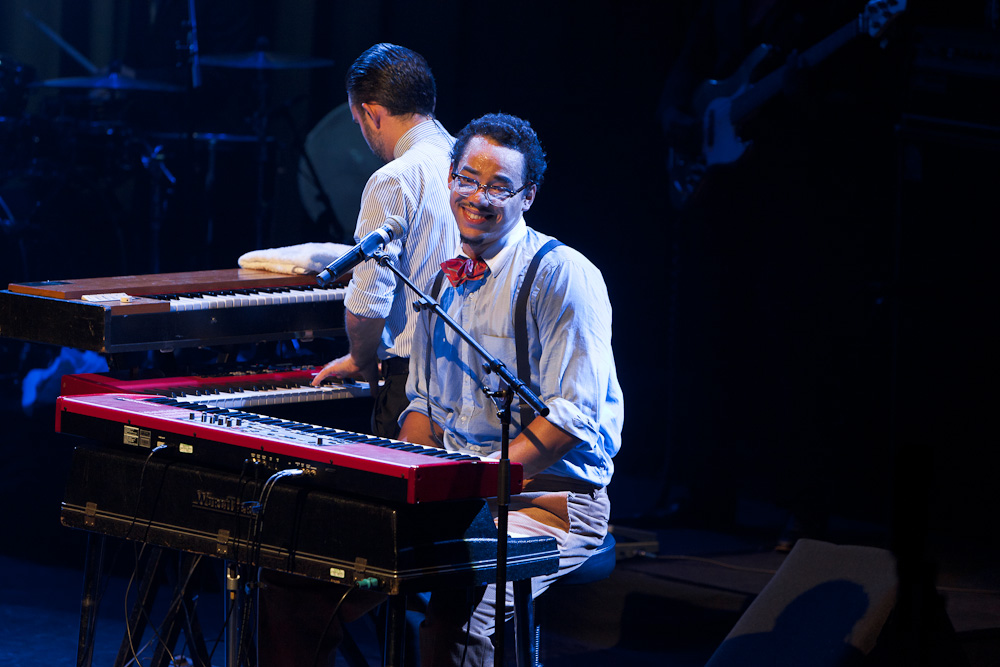 Also negotiating the sonic challenges of the Queen Elizabeth Hall was French clarinettist Michel Portal, with a cracking international band that included bassist Scott Colley and trumpeter Ambrose Akinmusire (see main picture), whose solos exploded into Portal's cerebral chord structures like Miles-ish firecrackers.
The Portico Quartet, in the first of two sold-out shows, presented the new, more densely electronic version of their tuneful, organic music, which was originally centred on the airy resonances of the hang (a Swiss percussion instrument that's a distant relative of the steel pan). Playing material from their forthcoming third album, PQ now boasts a broader and more "urban" range of sounds and beats and samples, which required much expert knob-twiddling on stage. At times it was hard to tell who was playing (or controlling) what.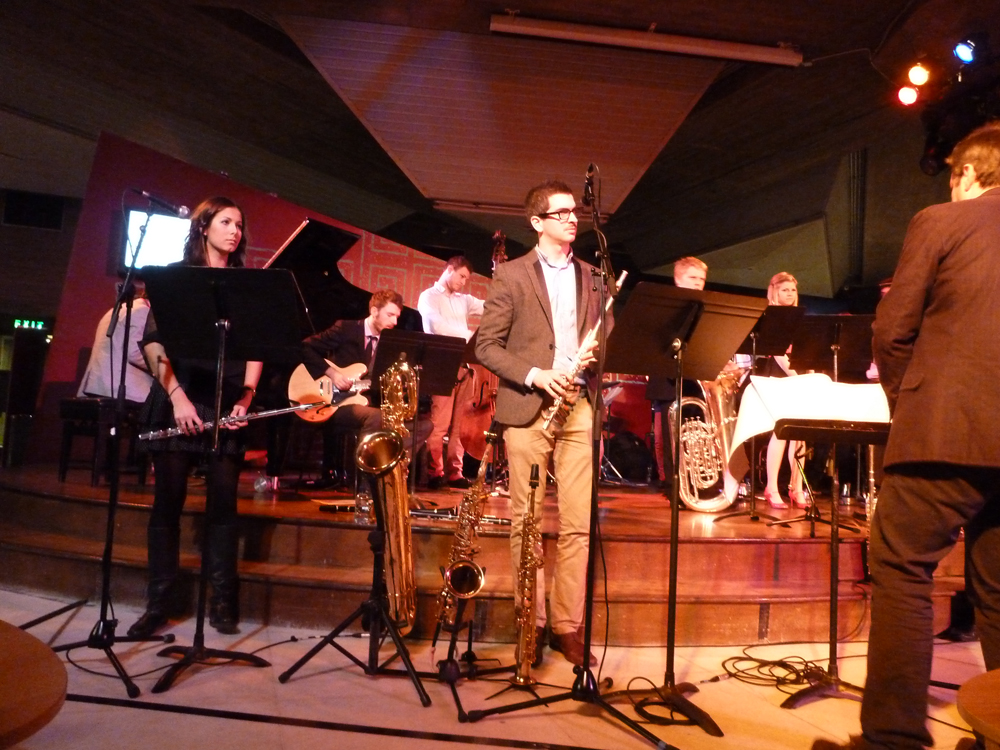 A pleasant surprise of the week was the Trinity Laban Contemporary Jazz Ensemble's (pictured left) uncannily accurate recreation of Gil Evans's Out of the Cool (one of the great albums in the jazz canon). Thanks to brilliant transcriptions by Trinity graduate Simon Marsh and careful direction by Mark Lockheart, these young players proved that Evans's intoxicating and still futuristic blend of low brass, high woodwind, intricate part-writing and relaxed, spacious rhythm section playing can thrive outside the recording studio.
The screening of Dan Pritzker's black-and-white "silent movie" Louis brought us another kind of jazz recreation, with a live band installed beneath the screen in the Barbican Hall. Wynton Marsalis's score is a postmodern collage that combines his own themes with classics by Jelly Roll Morton, Duke Ellington, Charles Mingus and Louis Armstrong, on whose childhood experiences in and around New Orleans brothels in 1907 the film is loosely based.
Watch the trailer for Louis, with score by Wynton Marsalis
The supercharged band, led by trombonist Wycliffe Gordon and with outstanding drummer Herlin Riley, sounded totally uninhibited while synchronising perfectly to every nuance (and slapstick pratfall) of onscreen action. The masterstroke, however, was to alternate jazz episodes with the piano music of 19th-century New Orleans composer Louis Moreau Gottschalk, elegantly interpreted by classical pianist Cecile Licad. The Gottschalk revival starts here.
Marsalis's music for Louis is what most people would recognise as jazz, all blazing horns and swinging drums, but Bill Frisell's 858 Quartet, with Hank Roberts (cello), Eyvind Kang (viola) and Jenny Scheinman (violin) was possibly not. Originally formed to play abstract musical interpretations of paintings by Gerhard Richter, they now sound more like a country band. There's a dialogue between Roberts's supple pizzicato and Frisell's occasionally banjo-like guitar, a cameraderie that goes back decades, yet the precision and subtlety puts one in mind of a string quartet, albeit one that incorporates fuzztone guitar blasts. The 858 Quartet ended their beautifully balanced and varied set with "Skippy", an exhilarating Thelonious Monk tune. For an encore they played a lovely rendition of The Beatles' "Strawberry Fields Forever", a finely crafted cover, that evoked the spine-tingling spirit of John Lennon's original vocal.
Watch Bill Frisell's 858 Quartet

Despite a line-up that was both starry and distinguished there was no single name that might encapsulate the festival's rainbow palette
Share this article