Kris Kristofferson, Royal Festival Hall |

reviews, news & interviews
Kris Kristofferson, Royal Festival Hall
Kris Kristofferson, Royal Festival Hall
The silver-tongued devil transfixes his audience
Saturday, 08 December 2012
Kris Kristofferson: one man and his guitar
From being disowned by his family to writing the ultimate hangover lament, Kris Kristofferson has, partly, led the life of a country song. The other part, however, has included a Rhodes scholarship to Oxford, an illustrious movie career and dating Barbara Streisand. In 1971 he famously sang about being "partly truth and partly fiction - a walking contradiction". Now, at 76, the Texan's clever lines enjoy a lower profile.
Still, this year's
Feeling Mortal
has won widespread praise.
Last night, Kristofferson largely avoided musing on life's final chapter. Instead he leant his gravitas to a retrospective that underscored how moving a tunesmith and pithy a lyricist he is. Fans may need no reminding, but in the mainstream Kristofferson's music can seem under-appreciated. Partly that's because of his other career in movies, but equally it's down to his limited vocal range. His greatest songs are, after all, best-known as covers - Janis Joplin's "Me and Bobby McGee" or Johnny Cash's "Sunday Morning Coming Down".
He was not so much feeling mortal as celebrating a life of seeing poetry in waitresses' smiles
Kristofferson's recent output has also seen the quality of his voice morph from baritone storyteller to something more like an old moonshiner. On record it's a pretty powerful instrument, but live, stretched over two hours? That could be a lot to digest. Kristofferson arrived on stage dressed simply in black. There was no set dressing or fancy lights. Just an old man and his guitar. Throughout the night his playing rarely rose above rudimentary and his voice was often hoarse and trembling. Yet he held the Festival Hall somewhere been transfixed and spellbound. At the end, when he tried to leave, the entire front row stood up and asked him to shake their hands individually. He duly obliged.
This response was down to the sheer quality of the songs, and the clarity with which he sang them. The words were given full rein to transport us to his world of truck stops and open roads. He was not so much feeling mortal as celebrating a life of seeing poetry in waitresses' smiles. Predictably, the biggest songs were the most rapturously received. Maximum pathos was wrung from "I'd trade all my tomorrows for a single yesterday," in "Me and Bobby McGee", and "The beer I had for breakfast wasn't bad/ So I had one more for dessert" on "Sunday Morning" raised smiles all round.
It was the slightly lesser-known songs, however, that really got under your skin. The sudden moment of reflection in "Casey's Last Ride" became a shared epiphany, and if the silver-tongued Kristofferson hadn't looked in such rude health "It's Never Gonna Be The Same Again" might have provoked a tear.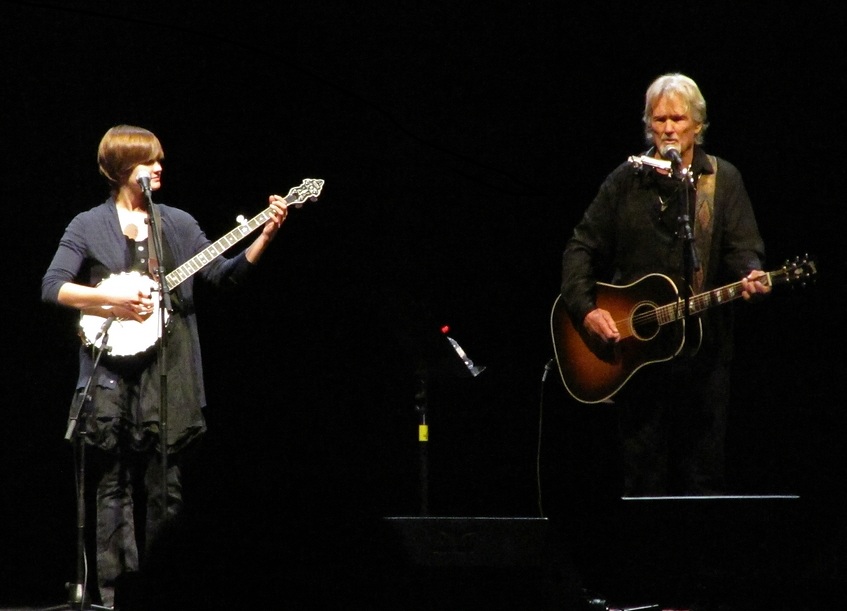 There was only one change of style during the evening. It came when he invited his daughter Kelly (pictured right) to sing half a dozen songs, two thirds of the way through. Their wholesome harmonies, however, trod a thin line between charming and cornball. "Good Love" and "The Hero" were a little too much, but "The Pilgrim" fared significantly better. When Kelly rolled her eyes and nodded at her dad while singing "He's a pilgrim and a preacher/ And a problem when he's stoned," it seemed a genuinely spontaneous moment although you suspected it was far from.
Kristofferson received an ovation after both the set and the encore. Before he could start the latter several members of the audience demanded another rendition of "Bobby McGee". Afterward granting it, he told how many years ago he'd shaken hands with Henry Cooper in London, and now, standing in front of this appreciative audience, felt just as thrilled. He then invited Kelly back for one final song, "Why Me". "What have I ever done to deserve even one of the pleasures I've known," he sang. His crowd looked back as if to say, "Where do we begin?"
When he tried to leave, the entire front row stood up and asked him to shake their hands individually
rating
Explore topics
Share this article