Keith Jarrett, Royal Festival Hall |

reviews, news & interviews
Keith Jarrett, Royal Festival Hall
Keith Jarrett, Royal Festival Hall
Grand piano man in solo mode
Saturday, 21 November 2015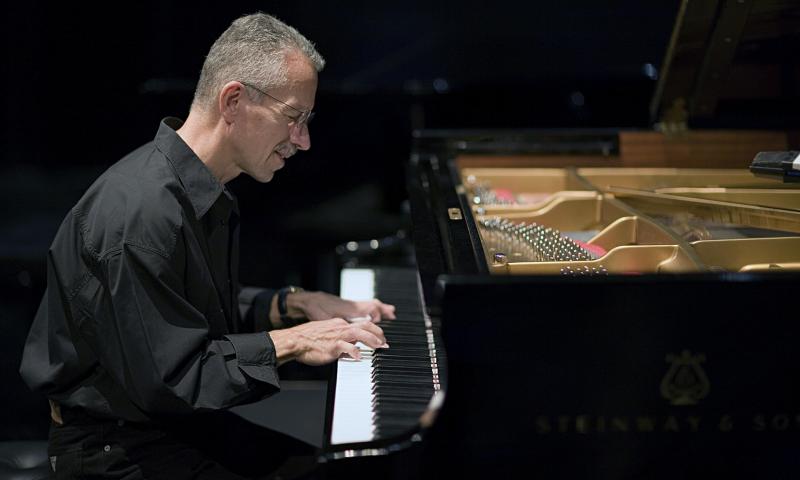 'Taking musical dictation from unseen spirits': Keith Jarrett
How, exactly, are you supposed to review a Keith Jarrett concert – solo, completely improvised, just one man and his Steinway, audience on all sides, ushers walking up and down the aisles bearing signs forbidding any record of the evening's music?
"Someone asked me, 'How do you know what to play?'" he said to us between one of the half dozen improvisations of the first half of his first-ever concert for the EFG London Jazz Festival. Long pause. Good question. He looked down at his instrument. "This is a really good piano." In the second half, he had more: "Here's how I do this." Long pause. "First, no one else does." Great applause. "Second, to do it like this you have to have had 67 years of playing piano."
And it shows. His music making was inspired, concentrated, mesmerising, and in between the man himself displayed some of the famous ill will towards surreptitious snappers. You kind of want it to happen – a bit like seeing Pete Townshend smash his guitar. Midway through the second half, there was a walk-off, then a diatribe against that "fucking camera", followed by a very fast, angrily cascading piece of just a few minutes' length, then a dip – a full immersion – into the mid-century American balladlands, touches of the Silver Screen wafting through its crescendos and pools of calm.
The first half of six pieces opened with a walking rhythm, and the subtle dissonances of mid 20th century classical music. That combination of rolling pace and broken phrasing embodied, for me, the static in the air of the headline events of the past week or so. Concentrated sound. Plenty of glissando of the right hand, and the sudden emergence of one repeatedly struck note that suddenly refastened all the music around it, and you hear how the shape has changed, and the fabric hangs quite differently, and is of a new colour.
Themes and forms slipped in and out of focus, and you got the feeling this music is just hanging in the air, ready to be pressed into service and given body. Rivulets of the blues, of Satie, and Beethoven, and Shostakovich, of the Great American Songbook slipped in and out of the flow. In a blues of impressive filigree and girth, Jarrett half rose from his stool, peering over the grand as if looking to musicians not present, but felt, unseen figures for his rich and focused improvisations. A beautiful lyrical piece that closed the first half conjured up a bejewelled Belle Epoche, his piano shapeshifting this grand hall from 21st-century auditorium to some privileged Mitteleuropean intimacy.
Sometimes, he leant very close to his instrument, head cocked, as if it's a keyhole he's putting his ear to, taking musical dictation from unseen spirits, letting them fill his hands with music new and miraculous. On the other hand, he could just be looking for the light of that fucking camera. ​