Joe Arroyo, 1955-2011 |

reviews, news & interviews
Joe Arroyo, 1955-2011
Joe Arroyo, 1955-2011
Excess, drugs and salsa - a tribute to Colombia's finest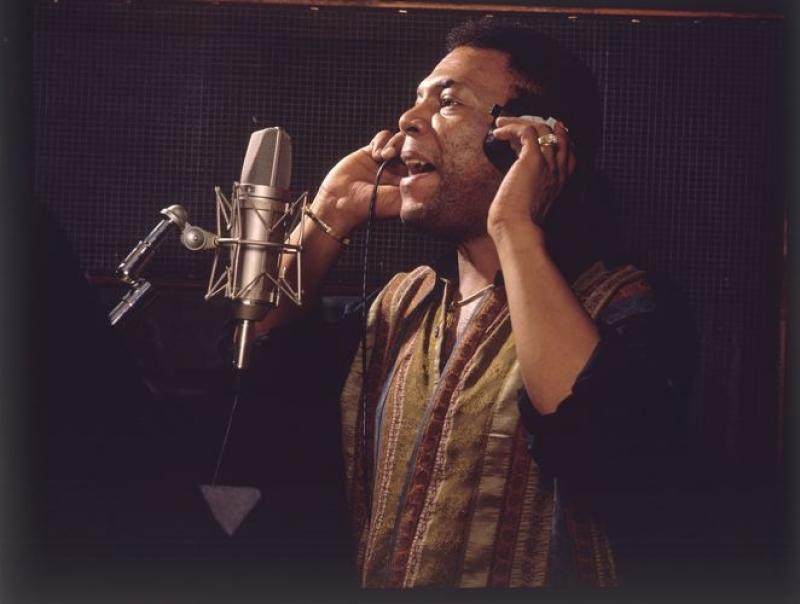 Joe Arroyo in the 1980s: 'He charmed everyone with the enthusiasm and joy with which he sang'
News about the death of Colombia's greatest salsa singer, Joe Arroyo, has sent shock waves through the salsa world and fan bases internationally, and it brought in streams of digital messages.
On the morning of his death two weeks ago, the President Juan Manuel Santos tweeted, "It's a great loss for music and Colombia." Arroyo's life resembled a soap opera, and the irony is that a series based on his life story,
El Joe, le Leyenda,
(Joe, the Legend), has been the most popular soap on primetime Colombian television since May. It remains on air in tribute.
Joe's life was a narrative in the grand Latin musical tradition, packed with dramas, drugs and women. It began in poverty in the Afro-Colombian quarter of the colonial port of Cartagena, where he was one of an extended family of some 40 members, and he leaves behind a legacy of more than 100 compositions and 40 Number One hits.
The boy began singing for money as a 13-year-old in Cartagena's brothel bars - until the local bishop put him in his choir. From there he moved along the Caribbean coast to Barranquilla and began singing professionally. At 16, he joined Colombia's legendary record company, Discos Fuentes, and the band Fruko y Sus Tesos (Fruko and his Hard Men), led by the young bass player and future producer known as Fruko, Ernesto Estrada Rincón. Their hits, such as "El confundido" and "Manyoma", reveal strong influences from the boogaloo craze in New York.
From Los Tesos, Fruko set up a band called The Latin Brothers which modernised Colombian dance music and drew on New York salsa and retro Cuban dance tracks. Their repertoire was young, cheeky and irresistibly danceable. Joe was out front and already holding the audience. In 1981, he jumped ship and launched his own band, La Verdad (The Truth), signed to Discos Fuentes, and sprung hits over the next decades. He re-shaped Colombian salsa - which in Billboard magazine terms was billed as "Tropical Music" to distinguish it from salsa, a separation of North and South Americas.
Listen to Joe and La Verdad sing "Rebelión"
With La Verdad, Joe left Medellin where Discos Fuentes was located and moved back to Barranquilla, the heavily Afro-Colombian town where slaves had been delivered. "En Barranquilla me quedo" (In Barranquilla I shall stay) lived up to its promise; it was where Joe died after years of weakening his body with years of drug abuse and punishing touring schedules.
'His high tenor voice had a strange, shrill, penetrating edge which pierced heart and soul'
What set Joe apart from the scores of other salsa singers was his astonishing, unmistakable voice. A distraught Fruko wrote: "He charmed everyone with his voice, with the enthusiasm and joy with which he sang. He didn't need any instrument but his voice." His high tenor voice had a strange, shrill, penetrating edge which pierced heart and soul, and a strange interjection like a machine's screech, which he would drop into songs in time with the rhythm. Its origins still mystify me.
The 1980s were the peak for Joe when he scored hit after hit, toured continuously and conquered Europe, Asia and Africa. His repertoire was unlike other Colombian salsa bands; he developed a style known as "Joesón", a hybrid referencing the input of influence of Cuban son. The Minister of Culture, Mariana Garces Cordoba, wrote of "his magic with the different rhythms of Caribbean music like cumbia, porro and champeta, and how he mixed them with salsa and other rhythms like soca and reggae". Cumbias are the national dance style and porros and champetas increasingly popular, Afro-based tracks which chime with the singer's deep connection to African music and his political beliefs which infuse his songs.
Watch Joe perform "En Barranquilla me quedo"
Surprisingly, given his legendary spree of drug-taking and womanising (as with most other leading salsa musicians then), he still ran a sizzlingly tight big band. Drawing on the hotly co-ordinated brass, the edgy timbales rhythms and driving congas, he also paid homage to Fruko's focal use of piano with the Latin Brothers. Live, his performances were transcendental.
Each year Joe won the coveted Congo de Oro award and then the super-awards category customised for him. New York's Fania salsa arrived in Colombia but in no way diminished his popularity, but in that salsa capital Colombian music was performed in Colombian neighbourhoods. And in Miami, where the cocaine mafia were busy building the new city, astronomic fees were paid to superstars to perform at their parties.
'An astute promoter brought Joe to Madison Square Gardens, a politically significant attempt at unifying the Americas'
By the late 1980s Joe's Tropical hits were challenging the merengues and salsa romantica hits in Billboard's charts and the astute promoter, Ralphy Mercado, brought him to Madison Square Gardens, a politically significant attempt at unifying the Americas. At the same time, Joe was also touring Europe and filling London's glitzy clubs with the newly arrived Colombians and World Music's Latin fans. BBC's Arena team filmed a live concert for their pioneering Rhythms of the World series and the Latin world took note.
Joe's lifestyle was typically salsa and no details in the soap opera have been spared of his heavy drug-taking, the women in his life, the relentless touring, and in 1983, the collapse. Having laid in a coma for a week as Colombia prayed for him, he returned with a new song (a hit, of course), "A mi Dios, todo le debo" (I owe everything to my God).
Listen to "A mi Dios, todo le debo"
One of his greatest hits, "Rebelión", tells the story of black history, "our history. In the 16th century, when the tyrants (the Spanish colonists) ruled the streets of Cartagena…" he begins, "a man from Spain beat the black girl and it was here that the handsome black boy rebelled and took revenge for his love…" The chorus chants: "Don't you hit my woman". A fabulous dance track, it was an essential play for every Latin DJ in London in the Eighties – but often neither dancers nor DJs were aware of its message.
Other themes include the inevitable dancing, love and passion, and they include two of his most timeless hits, "La noche" (The Night) - about a night of passionate kissing - and "El bailador" (The Dancer). "When I write," he said to a journalist in La Herencia magazine, "I think about the dancer and the maids; those are the ones who make my tracks hits." His loyal original fans.
By the time of his illness and death, Joe was enjoying a renaissance. Discos Fuentes released a set of 150 of his songs and a tour was planned. On the morning of his death, the Latin Academy announced that Joe would receive a Lifetime Achievement Award at the Latin Grammies in November. Shockingly long overdue.