Interview: 10 Questions for Spoek Mathambo |

reviews, news & interviews
Interview: 10 Questions for Spoek Mathambo
Interview: 10 Questions for Spoek Mathambo
The Afro-Futurist star on going from a sexed-up rap prince to post-genre bandleader
Spoek Mathambo: The new sound of Jo'burg
Spoek Mathambo is one the year's brightest new hopes. From Johannesburg but based in Sweden, Spoek (real name Nthato Mokgata) plays with genres like few others. He makes radical, sometimes disjointed music, some of which - like his new single "Let Them Talk" from his recently released album Father Creeper - you can actually dance to.
Spoek got a lot of attention last year with his cover of Joy Division's "She's Lost Control", but I began by asking him about Die Antwoord, the hilarious and brilliant white rap group who created a lot of waves in 2010. He and his band are currently on tour in the U.K.
PETER CULSHAW: What did you make of Die Antwoord? Were they just a joke? They were last year's South African hype, signed to Interscope. And are you this year's South African hype, signed to Sub Pop?
SPOEK MATHAMBO: Die Antwoord were a joke, If you think Ali G or Borat was a joke. It's a role and they are playing out the role. I've known them for years. There's a back catalogue that is very different. I don't think I'm this year's South African hype in that way. I've put out an album on Sub Pop. It's the first album I've taken a lot of care over.
I used to think Graceland was a kind of robbery growing up
The trouble is with writing about you is that us music journalists like to talk in terms of genre. Are you, shall we say, post-genre?
You must have seen the change come. The amount of information. The way people have allegiance that younger people have is different from the days when you were a teddy boy, a punk, a hip-hop head, a jungle raver, or whatever. I pledge no allegiance to all that. And you don't listen to one album a month, It's more like 50 albums a day. So my music is going to reflect that. My generation grew up on the internet, 20 windows open at once.
The first interview I got published was Fela Kuti, there was that mix in him. He loved classical music like Handel, African music, James Brown. Is it really so different?
I'm doing a couple of remixes of Seun Kuti, his son. Fela was torn between European bourgeois influences, in a way he was brought up with that, his dad wanted him to become a doctor or a lawyer and he studied classical music and jazz and then he fought to become an African revolutionary, he became more African as he went along. There was a Red Hot And Riot CD of Fela material in aid of AIDS, there's a new one happening. I'm doing two new tracks. As a prolific musician to have this whole catalogue, a lot of the themes stand so strong even now, think of what's been happening in Egypt – his songs are still relevant.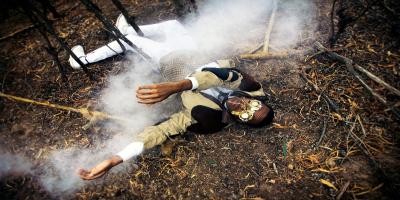 A lot of people were intrigued by your Joy Division cover. There's also some metal and punk influences on the new album, isn't there?
I grew up on hip-hop, I'm 27 now when I finished college I got into metal more. Stuff like Sabbath, immediately impactful, beautiful and big. When I moved to Sweden I got even more into it as well. I was in a mall in Sweden yesterday and they played "Anarchy in the UK." The Joy Division and Suicide "Night Rider" tracks came out of a covers project.
Do you like being called an Afro-Futurist?
It's not as bad as "Hipster Rap" or something. It's a wide label, George Clinton is an Afro-Futurist, isn't he? I prefer "Township Tech." There's a lot of new types of South African sounds, different regions have their own sound. It's so vibrant they don't care about the rest of the world. A lot of stuff isn't on the internet which is redefining the flavour of South Africa right now.
What did you make of Malcolm Mclaren's Duck Rock? Or Paul Simon's Graceland, which introduced many Europeans to South African sounds?
I used to think it was a kind of robbery growing up. But now I think as an artist it was clever borrowing. Even though there is some doubt all the artists got the right credit and payment. Now I'm less resentful and bitter, and also stuff like that make me think of my responsibility to do it, rather than foreigners. Often we don't appreciate our own culture. But I do think McLaren, with punk especially, and his ideas of appropriation have been at the bedrock of a modern culture. Undeniably, hugely influential for my generation.
What exactly is Kwaito?
Kwaito started when I grew up, around 1992/3. The precursor was called Bubblegum with some disdain. Kwaito was basically House records slowed down from 120bpm to 90 something. A lot of Kwaito was one line chants. I liked more cerebral, smarter rappers. But it's become more lyrical, with more more verses and chorus.
This album has more personal themes. I got married three years ago. It's about understanding forever relationships
Didn't the Guardian call you The King of Kwaito, when you don't even do it?
I refused to be in the article, because there are so many people who know the real story, you don't need me to talk half-baked shit. I don't make Kwaito, but there there are so many people who do. They kept pestering me, so eventually I said we could meet at this club. When I got there, they were nowhere to be seen. They said their Guest Lodge had said it was too dangerous. Then they ran the article headlined King Of Kwaito, with a picture of me looking stupid. Foreigner wankers. Assholes. Terrifying.
I'm reading here: "He's moved from being a smart sexed-up rap prince, to a juggernaut band leader using everything that is available". True?
That was written by an American journalist. I used to adore Prince, and do highly sexed up material. This album has more personal themes. I got married three years ago. It's about understanding forever relationships. There's a song for my cousin who committed suicide called "Stuck Together".
What does Spoek mean?
It's a colloquial term for ghost or spook, it came from a character in a TV comedy set in men's hostel. I hope Spoek will be seen not just as Afro-Futurist or whatever, but as someone with a body of work, like Prince.
Spoek Mathambo plays The Ruby Lounge, Manchester tonight, Hoxton Bar, London (May 17) and Bongo Club, Edinburgh (May 18)
My generation grew up on the internet, 20 windows open at once, so my music is going to reflect that
Explore topics
Share this article