Ian Hunter, Shepherds Bush Empire |

reviews, news & interviews
Ian Hunter, Shepherds Bush Empire
Ian Hunter, Shepherds Bush Empire
Rolling back the years with the veteran Mott the Hoople frontman
Saturday, 20 October 2012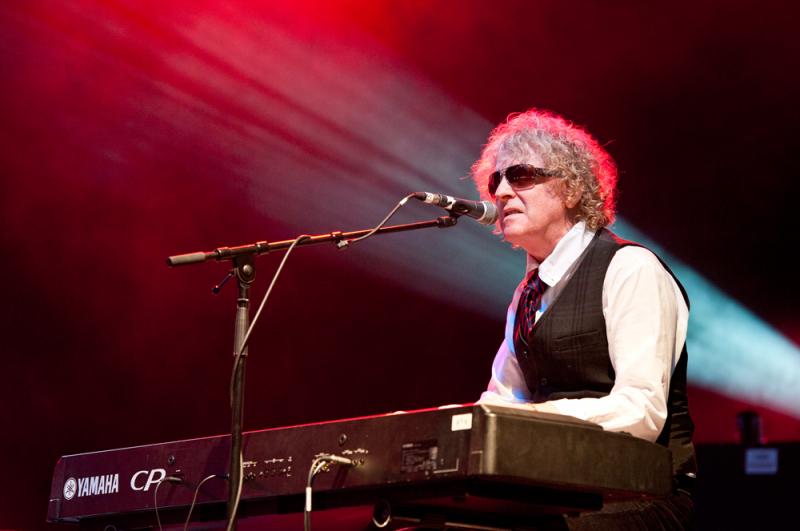 Shades of genius: Ian Hunter has a well-earned sit-down at the keyboard
Can a septuagenarian wear skinny trousers? It is not a question that I ask myself very often, but it was my first thought on seeing the frighteningly fit 73-year-old Ian Hunter stroll onstage at the Shepherds Bush Empire last night. Life in America clearly suits the Shropshire-born former frontman of Mott the Hoople, as he led a band young enough to be his children through a storming, age-defying 110-minute set.
Ian Hunter has been around long enough to know what the fans want and he was happy to give them plenty of it, with a show that mixed tracks from his latest album, When I'm President, with solo material and classic glam rock hits from the golden age of Mott. From the second song, his solo single "Once Bitten, Twice Shy", which started with a familiar "'Allo, 'Allo, 'Allo" – Hunter's dad was a policeman, remember – he had the Empire pretty much at his mercy.
Hunter and his fellow guitarists lined up in front of the drumkit like soldiers preparing to march off to warEven though the sound was not initially great the band certainly looked the part, with plenty posing and gunslinger swagger. Hunter and his two fellow guitarists regularly lined up in front of the drumkit like soldiers preparing to march off to war before powering into another riff. Not that you'll ever see a military man of any age sporting a curly mop and shades like Hunter's. The new songs slotted in neatly with the old, a bit of boogie piano here, a gruff, nasal Dylan-meets-Springsteen whine there, particularly on the new album's title track and the shamelessly wistful "Just The Way You Look Tonight", complete with its references to West Side Story and Julie Christie.
Perhaps it was no surprise, given his age, that after a few songs he put aside his guitar and perched on a keyboard stool, where, after a brief excerpt from the less well-known "Irene Wilde", he nimbly picked out the instantly recognisable piano riff from "All The Way to Memphis". This prompted an appreciative roar, and he followed it with a stridently soulful version of his solo track, "All American Alien Boy", written when Hunter was adjusting to life on the other side of the Atlantic.
As if his own songs weren't spellbinding enough there were some interesting cover versions too. A sparse rendition of John Lennon's "Isolation" and a riotous reworking of the Velvet Underground's "Sweet Jane" – which his old band released as a single outside the UK – went down particularly well. I was concerned that Hoople's own sentimental glam epic "Roll Away the Stone" would not work without the record's female backing singers, but the group huddled around Hunter's microphone and manfully filled in the vocal gaps.
Eventually Hunter left the stage, but there was clearly some unfinished business. Having removed his waistcoat and donned a clean shirt, he came back with the plaintive native American lament from When I'm President, "Ta Shunka Witco (Crazy Horse)", before easing quickly into the definitive rock'n'roll anthem, "Saturday Gigs". It was easy to see why Mott the Hoople were not victims of the punk purges of 1976 and '77. They had the gang mentality romanticism of The Clash (who borrowed their producer Guy Stevens), they were mates with the great survivor David Bowie and, most of all, they wrote bloody good pop songs.
And as if on cue, as I was thinking this they segued into "All the Young Dudes", the bloody good pop song that Bowie gave them. Original Hoople member Mick Ralphs strolled on to add another guitar to the already formidable mix, while two backing singers arrived to add harmonies which were almost drowned out by the audience's appreciative cheers. For three brief minutes it was 1972 all over again. When I'm President might not put Ian Hunter back at the top of the charts, but on the basis of this gig he certainly gets my vote. Can Hunter (pictured above © Ross Halfin) wear skinny trousers? He can wear whatever he likes as long as he does "All the Young Dudes".
Follow Bruce Dessau on Twitter
Ian Hunter performs 'When I'm President' in Seattle
From the second song he had the Empire pretty much at his mercy
Explore topics
Share this article