Elza Soares, Barbican / Calypso Rose, Jazz Café |

reviews, news & interviews
Elza Soares, Barbican / Calypso Rose, Jazz Café
Elza Soares, Barbican / Calypso Rose, Jazz Café
Two of the coolest veteran female singers in the world on scorching form
Wednesday, 16 November 2016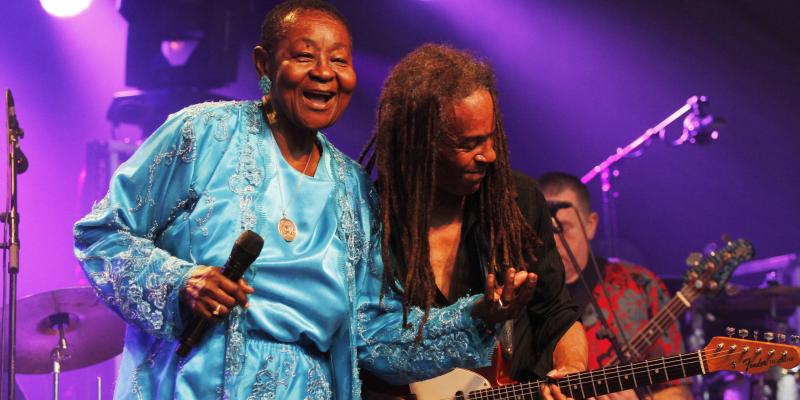 Calypso Rose: the Queen of Trinidad
She calls it "dirty samba". Elza Soares, The Woman at the End of the World - to use the name from her last album - sat on a throne like a warrior from a fantasy sci-fi film at the back of the stage. Her regal, mythic aura has been earned in an epic life story and a series of albums that started in 1960.
She has had hits in every decade - in that sense she is like Cliff Richard, an evergreen. Except while Richard is currently touting a tame retro rock 'n' roll album, Soares (pictured below) is still energetically pushing artistic boundaries at the age of 79.
If Elza Soares was a little icy, Calypso Rose has a big heart
Last year she could have been seen singing with 200 female drummers at the Sāo Paulo Festival. Her new album, which provided the majority of her set at the Barbican as part of the EFG London Jazz Festival, is the brainchild of hip producer Guilherme Kastrup and reflects the new Sāo Paulo sounds of the likes of Metá Metà and Bixinga 70, where rock, funk, prog, samba and afro-beat are all liberatingly put on the musical menu, fearlessly mashed up and appropriated. Among the highlights live were "Benedita", telling the story of a lady living on the street, addicted to crack, and "Pra Fuder", a song about raw sex. "You're my prey, you're going to cry/Like a lamb about to be slaughtered."

Her voice is cracked but powerful - reminiscent of Marianne Faithful circa Broken English. Or perhaps more like Johnny Cash. If you want to get a parallel to her image, imagine Grace Jones at 80, still aloof, damaged, ineffably cool. She has, anyway, lived to tell the tale - born into a rough favela, when she was 12 her father married her off, she gave birth at 13, and was widowed with five children at 21. She had four of seven children die young. Her most famous partner was the great Brazilian footballer Garrincha (she was continally abused for breaking up his previous marriage) for 16 years before he died of alcoholic poisoning.
Her raw voice commanded the hall and, as she sings on the title track of her album "Woman at the end of the world, I am, I go on, singing, till the end", cue post-punk guitars and squealing sax breaks, electronic analogue synth bass lines. This is another world from polite Brazilian lift music.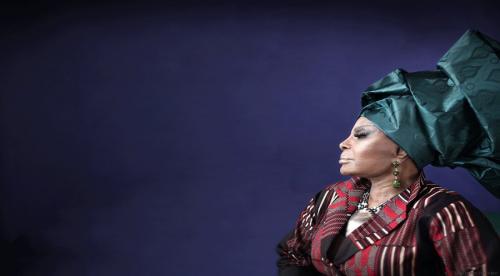 Someone else we imagine will be "singing to the end" (Leonard Cohen and David Bowie being this year's heroes) is Calypso Rose, who was on last night at the Jazz Café. She is another warrior who we hope will go on for a long time, despite a series of heart attacks, arthritis, cancer and other ailments. Her life has been equally epic - finally at 76 she has a hit album in Europe, Far from Home. She's also been collaborating with visionary contemporary producers like Ivan Duran and Manu Chao. Duran provided the bulk of the recording, Chao's editing added frenetic punch.She was brought up in a religious family where calypso was the "devil's music", was horrifically raped as a teenager, had people tell her women should never sing calypso. Her songs have been a force for change, like "No Madame" which she sung with gusto last night - the song helped to alter the law on domestic servants.
Some of her songs are like mini-novels, like "Abatina" with lines like "Harry was a charmer/ No one thought he could harm her/ They said she had married above her/ She just wanted someone to love her" which carry enormous weight despite the light delivery. Her band were more reggaeish than her previous shows this year at the O2 and as a guest at the Serpentine annual party, and she has a warm intense rapport with the audience. On "I Am African" she reminisced about her grandmother singing songs on the beach facing Guinea. If Calypso and Soca can sometimes be banal and almost irritatingly upbeat, her music, like all great pop music, has a dash of sadness, even tragedy. When, on what is now a classic, "Calypso Queen", with its delirious brass hooks, she sings "No man alive or dead/Can take the crown from my head" we totally believed her. If Elza Soares was a little icy, Calypso Rose has a big heart and her music is more soulful, which in the end gave Calypso Rose the edge in two of the most soulful shows of the year.
If you want to get a parallelfor her image, imagine Grace Jones at 80, still aloof, damaged, ineffably cool
rating
Explore topics
Share this article