CD: Freddie Gibbs & Madlib - Bandana |

reviews, news & interviews
CD: Freddie Gibbs & Madlib - Bandana
CD: Freddie Gibbs & Madlib - Bandana
Exploring the depths of Californian noir on ultra-accomplished rap album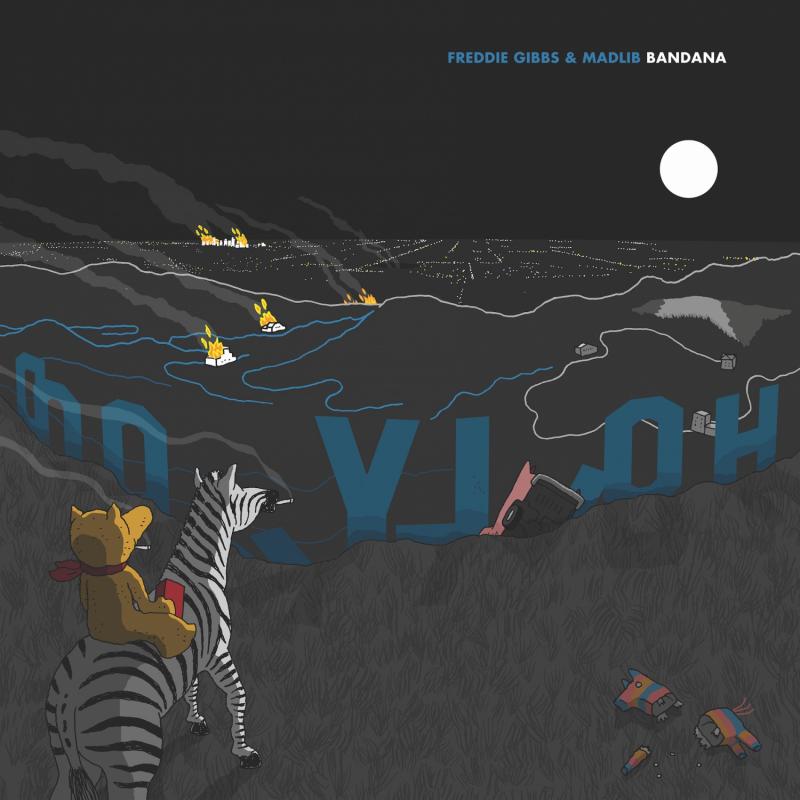 A big bad bastard of a West Coast rap record
Don't let the presence of nerds' favourite Madlib on production duties fool you: this is a big bad bastard of a West Coast rap record. It's a cocaine-wholesaling, n-wording, gun-toting, dog-eat-dog-ing, murderous bastard of a rap record, in fact. The narratives are of jail cells, money laundering, betrayal and domination. When talk turns to politics, it's couched in terms of brutal power, paranoia and "puppetmasters".
Madlib's music is constantly oppressive, its crushing bass and dense mesh of samples and found sounds surrounding you like the most potent narcotic smoke, every detail painfully vivid as it assaults your sensorium.
It's also perhaps the most accomplished record you will hear this year. It's not just Madlib's production that crackles with detail: Gibbs is a lyrical and vocal virtuoso, and not in the sense of, say, Eminem who juggles syllables like Eddie Van Halen twiddles his fretboard. Gibbs, a mature voice at 37 years old, has the vocal tone of a '30s bluesman, the pithy narration of a James Ellroy, and a complexity to his syllables that sounds like a natural phenomenon – turbulence in molten lava, or curlicues in smoke. He makes the horrible compelling, and turns the darkest corners of the human soul into sweet music.
The relentless density of musical and lyrical expression, not to mention the relentless darkness, won't be to everyone's taste. But there is plenty of variation too. Guest rappers – Anderson.Paak, Black Thought, Pusha T, Run The Jewels's Killer Mike, Yasiin Bey (formerly Mos Def) – are used sparingly, and are picked from the very short list of names who can match Gibbs for skill. Madlib's massive cache of dancehall, '70s soul and psychedelia means there's a huge amount of explore sonically, and it keeps giving up more detail with each listen. The way the duo knock off Atlanta-style trap triplets on "Half Man Half Cocaine" – as if to breezily show they can do any style they turn their hand to – is breathtaking. Easy listening it isn't, but if you like your California noir as noir as they come, this is your record.
The crushing bass and dense mesh of samples and found sounds surround you like narcotic smoke
rating
Share this article