CD: Dr John Cooper Clarke and Hugh Cornwell - This Time It's Personal |

reviews, news & interviews
CD: Dr John Cooper Clarke and Hugh Cornwell - This Time It's Personal
CD: Dr John Cooper Clarke and Hugh Cornwell - This Time It's Personal
Punk veterans celebrate the pop songs of their youth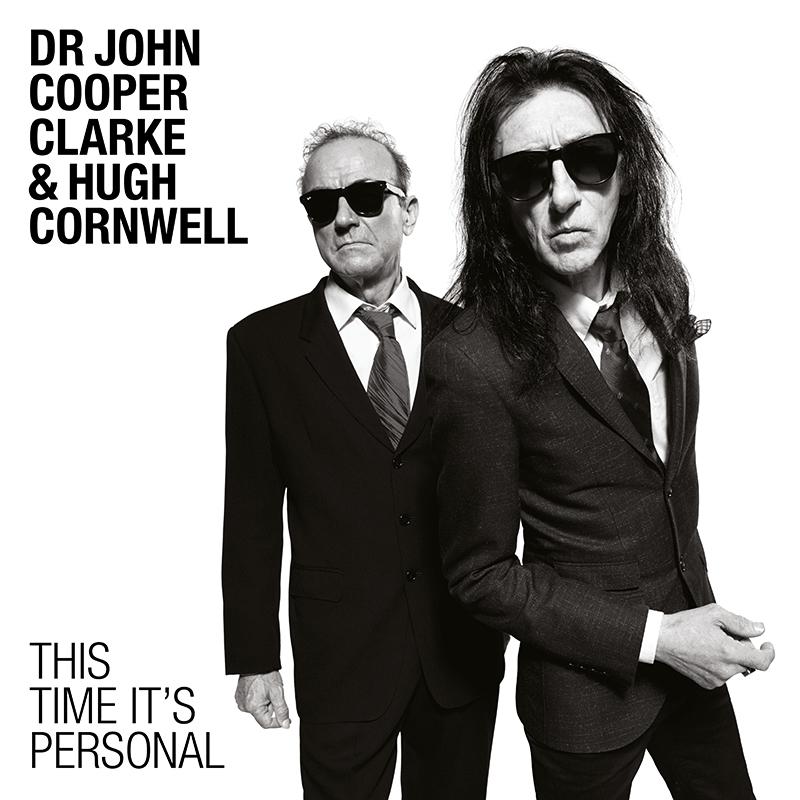 Mr Cornwell and Dr Clarke would like to take you back in time
You get two singular punk-era artists – a poet and a songwriter – together in a room for a few nights, with a rack of guitars, a rack of songs from their sweet youth, and a few musical friends to help out on keyboards, trumpet, flute and sax.
Then you pick up on that idea you had not too many late nights ago for the 67-year-old punk poet to sing for the first time, and not his own words, but words you both know by heart from your youth, and what you end up with is not just personal, strictly personal, but a universal account of great 20
th
-century pop at its shortest, sweetest, and lingering best.
A big hand for Hugh Cornwell and Dr John Cooper Clarke as they trip down memory lane, with Clarke singing and Cornwell handling all the guitars – deftly, with plenty of reverb, and leaving plenty of space around him. Here, on This Time It's Personal, there's no pretence at youth regained, no attempt to pull the curtains across time and what it does – age and experience peel away like layers of old paint in Clarke's dry Mancunian voice, stripping back these Fifties and Sixties classics to their kernels. Indeed, in these hands they sound like the Flying Dutchmen of seven-inch vinyl – haunted, driven, immortal.
It's an unexpected career turn, but a singularly beautiful one. Warm, rich and full of heart, these 10 songs are delivered with a real sense of youth long passed but with youthful feelings as intense as ever. Highlights including Jimmy Webb's "MacArthur Park", Conway Twitty soaring from heaven back down to earth on "It's Only Make Believe", the haunted rookeries of lost love that is Joe Meek's "Johnny Remember Me", and "She's a Woman" – not The Beatles song, but Dr Clarke's very funny rewrite of "Mannish Boy". There are further classic cuts from Ritchie Valens, The Searchers and Frankie Laine ("Donna", "Love Potion No 9", "Jezebel") and Ricky Nelson's "Sweeter Than You" makes for sublime closure. Clarke's delivery works perfectly against the skeletal, echoey guitars of Cornwell, and there's a sense of austere clarity and simplicity, as opposed to indulgence or nostalgia. This is one memory lane well worth wandering down.
These 10 songs are delivered with a real sense of youth long passed but with youthful feelings as intense as ever
rating
Share this article